Access options
Subscribe to Journal
Get full journal access for 1 year
$119.00
only $9.92 per issue
All prices are NET prices.
VAT will be added later in the checkout.
Tax calculation will be finalised during checkout.
Buy article
Get time limited or full article access on ReadCube.
$32.00
All prices are NET prices.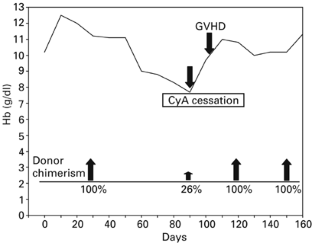 References
Andreani M, Manna M, Lucarelli G, Tonucci P, Agostinelli F, Ripalti M et al. Persistence of mixed chimerism in patients transplanted for the treatment of thalassemia. Blood 1996; 87: 3494–3499.

Aker M, Kapelushnik J, Pugatsch T, Naparstek E, Ben-Neria S, Yehuda O et al. Donor lymphocyte infusions to displace residual host hematopoietic cells after allogeneic bone marrow transplantation for beta-thalassemia major. J Pediatr Hematol Oncol 1998; 20: 145–148.

Akioka S, Itoh H, Ueda I, Matsumoto Y, Iwami H, Tsunamoto K et al. Donor lymphocyte infusion at unstable mixed chimerism in an allogeneic BMT recipient for chronic granulomatous disease. Bone Marrow Transplant 1998; 22: 609–611.

Godder KT, Abhyankar SH, Lamb LS, Best RG, Geier SS, Pati AR et al. Donor leukocyte infusion for treatment of graft rejection post partially mismatched related donor bone marrow transplant. Bone Marrow Transplant 1998; 22: 111–113.

Raiola AM, Van Lint MT, Valbonesi M, Lamparelli T, Gualandi F, Occhini D et al. Factors predicting response and graft-versus-host disease after donor lymphocyte infusions: a study on 593 infusions. Bone Marrow Transplant 2003; 31: 687–693.

Bader P, Beck J, Schlegel PG, Handgretinger R, Niethammer D, Klingebiel T . Additional immunotherapy on the basis of increasing mixed hematopoietic chimerism after allogeneic BMT in children with acute leukemia: is there an option to prevent relapse? Bone Marrow Transplant 1997; 20: 79–81.

Gorczynska E, Turkiewicz D, Toporski J, Kalwak K, Rybka B, Ryczan R et al. Prompt initiation of immunotherapy in children with an increasing number of autologous cells after allogeneic HCT can induce complete donor-type chimerism: a report of 14 children. Bone Marrow Transplant 2004; 33: 211–217.
About this article
Cite this article
Tavil, B., Kazık, M., Kuşkonmaz, B. et al. A prompt graft-versus-thalassemia effect upon withdrawal of cyclosporine A in a child who received allogeneic peripheral blood stem cell transplantation. Bone Marrow Transplant 38, 315–316 (2006). https://doi.org/10.1038/sj.bmt.1705432
Published:

Issue Date:

DOI: https://doi.org/10.1038/sj.bmt.1705432
This article is cited by
I Frugnoli
B Cappelli
S Marktel

Bone Marrow Transplantation (2010)