Summary:
The Sixth International Symposium on Graft-versus-Host and Graft-versus Leukemia Reactions was held in Schloss Ellmau (near Garmisch-Partenkirchen, Germany) between January 21 and 24, 2004. A total of 110 invited participants (scientists and clinicians working in the area of allogeneic stem cell transplantation) discussed current topics. Major topics of the 2004 meeting were: clinical results of donor lymphocyte infusions, basic biology, immunogenetics, function and clinical relevance of natural killer cells, haplo-identical stem cell transplantation, immune monitoring and immune modulation. Further highlights were: adoptive immunotherapy, vaccination and antibody-mediated strategies. As can be seen in the summaries of the individual presentations, important advances have occurred in our understanding of GVH and GVL reactions. Each session was followed by an animated discussion, which resulted in new ideas, insights and projects both for basic research and clinical transplantation. This year's symposium ('From Marrow Transplantation to Cell Therapy') was jointly organized by the Ludwigs-Maximilians-University of Munich (Sonderforschungsbereich 455), GSF (National Research Center for Environment and Health) and the EBMT Immunobiology Working Party. The organizers and authors of the conference proceedings would like to extend their gratitude to all participants for sharing their ideas, slides and manuscripts and making this event possible.
Relevant articles
Open Access articles citing this article.
Christoph Schmid

,

Myriam Labopin

…

Mohamad Mohty

Bone Marrow Transplantation Open Access 08 November 2021
Access options
Subscribe to Journal
Get full journal access for 1 year
$119.00
only $9.92 per issue
All prices are NET prices.
VAT will be added later in the checkout.
Tax calculation will be finalised during checkout.
Buy article
Get time limited or full article access on ReadCube.
$32.00
All prices are NET prices.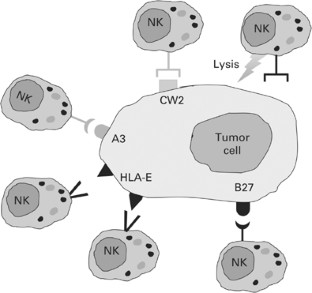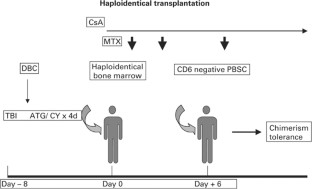 References
Guglielmi C, Arcese W, Dazzi F et al. Donor lymphocyte infusion for relapsed chronic myelogenous leukemia: prognostic relevance of the initial cell dose. Blood 2002; 100: 397–405.

Schmid C, Alessandrino E, Bunjes D et al. Treatment of relapsed AML and MDS after allogeneic stem cell transplantation with donor lymphocyte transfusion – a retrospective analysis of EBMT results (abstract). Blood 2000; 96: 477a.

Woiciechowsky A, Regn S, Kolb HJ et al. Leukemic dendritic cells generated in the presence of FLT3 ligand have the capacity to stimulate an autologous leukemia-specific cytotoxic T cell response from patients with acute myeloid leukemia. Leukemia 2001; 15: 246–255.

Schmid C, Schleuning M, Aschan J et al. Low dose Ara C, donor cells and GM-CSF for treatment of recurrent acute myeloid leukemia after allogeneic stem cell transplantation. Leukemia 2004; 18: 1430–1433.

Kolb HJ, Schmid C, Barrett AJ et al. Graft-versus-leukemia reactions in allogeneic chimeras. Blood 2004; 103: 767–776.

Nijmeijer BA, Mollevanger P, van Zelderen-Bhola SL et al. Monitoring of engraftment and progression of acute lymphoblastic leukemia in individual NOD/SCID mice. Exp Hematol 2001; 29: 322–329.

Nijmeijer BA, Willemze R, Falkenburg JHF . JHF An animal model for human cellular immunotherapy: specific eradication of human acute lymphoblastic leukemia by cytotoxic T lymphocytes in NOD/scid mice. Blood 2002; 100: 654–660.

Peggs K, Thomson K, Hart DP et al. Dose escalated donor lymphocyte infusions following reduced intensity transplantation. Blood 2004; 103: 1548–1556.

Salama M, Neville T, Marcellus D et al. Donor leukocyte infusion for multiple myeloma. Bone Marrow Transplant 2000; 26: 1179–1184.

Lockhurst HM, Schattenberg A, Cornellissen JJ et al. Donor lymphocyte infusion for relapsed multiple myeloma after allogeneic stem cell transplantation: predictive factors for response and long term outcome. J Clin Oncol 2000; 18: 3031–3037.

Bellucci R, Wu CJ, Chiaretti S et al. Complete response to donor lymphocyte infusion in multiple myeloma is associated with antibody responses to highly expressed antigens. Blood 2004; 103: 656–663.

Luft T, Moos M, Goldschmidt H et al. Dissociation of putative graft-versus-haematopoiesis and graft-versus-myeloma effects in patients with rapidly progressive multiple myeloma. Br J Haematol 2003; 123: 646–653.

Ruggeri L, Capanni M, Urbani E et al. Effectiveness of donor natural killer cell alloreactivity in mismatched hematopoietic transplants. Science 2002; 295: 2097–2100.

Giebel S, Locatelli F, Lamparelli T et al. Survival advantage with KIR ligand incompatibility in hematopoietic stem cell transplantation from unrelated donors. Blood 2003; 102: 814–819.

Moretta L, Moretta A . Unravelling natural killer cell function: triggering and inhibitory human NK receptors. EMBO J 2004; 23: 255–259.

Bottino C, Castriconi R, Pende D et al. Identification of PVR (CD155) and Nectin-2 (CD112) as cell surface ligands for the human DNAM-1 (CD226) activating molecule. J Exp Med 2003; 198: 557–567.

Ferlazzo G, Tsang ML, Moretta L et al. Human dendritic cells activate resting natural killer (NK) cells and are recognized via the NKp30 receptor by activated NK cells. J Exp Med 2002; 195: 343–351.

Moretta A . Natural killer cells and dendritic cells: rendezvous in abused tissues. Nat Rev Immunol 2002; 12: 957–964.

Moretta A, Bottino C, Vitale M et al. Activating receptors and coreceptors involved in the natural cytolysis. Annu Rev Immunol 2001; 19: 197–223.

Wagner H . The immunobiology of the toll like receptor 9 (TLR9) subfamily (review). Trends in Immunology (2004); 25: 381–386.

Reisner Y, Gur H, Reich-Zeliger S et al. Hematopoietic stem cell transplantation across major genetic barriers: tolerance induction by megadose CD34 cells and other veto cells. Ann NY Acad Sci 2003; 996: 72–79.

Bachar-Lustig E, Reich-Zeliger S, Reisner Y . Anti-third party veto CTLs overcome rejection of hematopoietic allografts: synergism with rapamycin and BM cell dose. Blood 2003; 102: 1943–1950.

Talvensaari K, Clave E, Douay C et al. A broad T-cell repertoire and an efficient thymic function indicate a favorable long-term immune reconstitution after cord blood stem cell transplantation. Blood 2002; 99: 1458–1464.

Clave E, Agbalika F, Bajzik V et al. Epstein–Barr virus (EBV) reactivation in allogeneic stem-cell transplantation: relationship between viral load, EBV-specific T-cell reconstitution and rituximab therapy. Transplantation 2004; 77: 76–84.

Reddy P, Maeda Y, Hotary H et al. Histone deacetylase inhibitor suberoylanilide hydroxamic acid reduces acute graft-versus-host disease and preserves graft-versus-leukemia effect. Proc Natl Acad Sci USA 2004; 101: 3921–3926.

Keilholz U, Weber J, Finke JH et al. Immunologic monitoring of cancer vaccine therapy: results of a workshop sponsored by the Society for Biological Therapy. J Immunother 2002; 25: 97–138.

Mailänder V, Scheibenbogen C, Thiel E et al. Complete remission in patient with recurrent acute myeloid leukemia induced by vaccination with WT1 peptide in the absence of hematological or renal toxicity. Leukemia 2004; 18: 165–166.

Moosmann A, Khan N, Cobbold M et al. B cells immortalized by a mini-Epstein–Barr virus encoding a foreign antigen efficiently reactivate specific cytotoxic T cells. Blood 2002; 100: 1755–1764.

Weissinger EM, Wittke S, Kaiser T et al. Proteomic patterns established with capillary electrophoresis and mass spectrometry for diagnostic purposes. Kidney Int 2004; 65: 2426–2434.

Kaiser T, Wittke S, Krebs R et al. Capillary electrophoresis coupled to mass spectrometer for automated and robust polypeptide recognition in body fluids for clinical use. Electrophoresis 2004; 25: 2044–2055.

Dickinson A et al. Non-HLA Immunogenetics and Role in Transplant Outcome. EBMT Handbook: Barcelona, 2004, pp 57–64 (Chapter 3).

Lin MT, Storer B, Martin PJ et al. Relation of an interleukin-10 promoter polymorphism to graft-versus-host disease and survival after hematopoietic-cell transplantation. N Engl J Med 2003; 349: 2201–2210.

Rocha V, Franco RF, Porcher R et al. Host defense and inflammatory gene polymorphisms are associated with outcomes after HLA-identical sibling bone marrow transplantation. Blood 2002; 100: 3908–3918.

Rezvani K, Grube M, Brenchley JM et al. Functional leukemia-associated antigen-specific memory CD8+ T cells exist in healthy individuals and in patients with chronic myelogenous leukemia before and after stem cell transplantation. Blood 2003; 102: 2892–2900.

Canque B, Camus S, Dalloul A et al. Characterization of dendritic cell differentiation pathways from cord blood CD34(+)CD7(+)CD45RA(+) hematopoietic progenitor cells. Blood 2000; 96: 3748–3756.

Hartwig UF, Robbers M, Wickenhauser C et al. Murine acute graft-versus-host disease can be prevented by depletion of alloreactive T lymphocytes using activation-induced cell death. Blood 2002; 99: 3041–3049.

Veelken H, Mauerer K, Mikesch K et al. Immune responses and clinical outcome of patients with advanced non-Hodgkin's lymphoma after immunization with a novel recombinant idiotype vaccine. Blood 2003; 102: 898a (abstract 3342).

Jung G, Grosse-Hovest L, Krammer PH et al. Target cell restricted triggering of the CD95 (APO-1/Fas) death receptor with bispecific antibody fragments. Cancer Res 2001; 61: 1846–1848.

Wahl U, Nößner E, Kronenberger K et al. Vaccination against B-cell chronic lymphocytic cells with trioma cells: preclinical evaluation. Clin Cancer Res 2003; 9: 4240–4246.

Meidenbauer N, Marienhagen J, Laumer M et al. Survival and tumor localization of adoptively transferred melan-A-specific T cells in melanoma patients. J Immunol 2003; 170: 2161–2169.

Oelke M, Maus MV, Didiano D et al. Ex vivo induction and expansion of antigen-specific cytotoxic T cells by HLA-Ig-coated artificial antigen-presenting cells. Nat Med 2003; 9: 619–624.

Blankenstein T, Qin Z . The role of IFN-γ in tumor transplantation immunity and inhibition of chemical carcinogenesis. Curr Opin Immunol 2003; 15: 148–154.

Qin Z, Schwartzkopff J, Pradera F et al. A critical requirement of interferon gamma-mediated angiostasis for tumor rejection by CD8+ T cells. Cancer Res 2003; 63: 4095–4100.

Schuler T, Kornig S, Blankenstein T . Tumor rejection by modulation of tumor stromal fibroblasts. J Exp Med 2003; 198: 1487–1493.
About this article
Cite this article
Munker, R., Schmid, C., Madrigal, J. et al. An update on graft-versus-host and graft-versus-leukemia reactions: a summary of the sixth International Symposium held in Schloss Ellmau, Germany, January 22–24, 2004. Bone Marrow Transplant 34, 767–780 (2004). https://doi.org/10.1038/sj.bmt.1704667
Received:

Accepted:

Published:

Issue Date:

DOI: https://doi.org/10.1038/sj.bmt.1704667
Keywords
leukemia

stem cell transplantation

allogeneic

GVH reactions

GVL reactions
Further reading
Christoph Schmid
Myriam Labopin
Mohamad Mohty

Bone Marrow Transplantation (2022)

R Munker
R Reibke
H J Kolb

Bone Marrow Transplantation (2006)