Summary:
Sirolimus is a novel macrolide immunosuppressant widely used in solid organ transplantation. We have conducted three clinical trials using this compound as prophylaxis against GVHD after allogeneic stem cell transplantation. Our studies have demonstrated excellent GVHD control even when mismatched and unrelated donors were used. The morbidity and mortality associated with transplantation were reduced due to the omission or reduction in methotrexate dose. Furthermore, CMV reactivation and fungal infection rates were low. However, we have noted that sirolimus may be associated with increased rates of thrombotic microangiopathy after transplantation. Sirolimus has other uses, such as the treatment of established acute and chronic GVHD, and may be useful for treatment of post transplant lymphoproliferative disorder and perhaps as an antineoplastic agent against a wide variety of hematologic and solid neoplasms.
Access options
Subscribe to this journal
Receive 12 print issues and online access
$259.00 per year
only $21.58 per issue
Rent or buy this article
Get just this article for as long as you need it
$39.95
Prices may be subject to local taxes which are calculated during checkout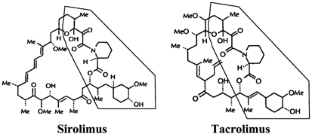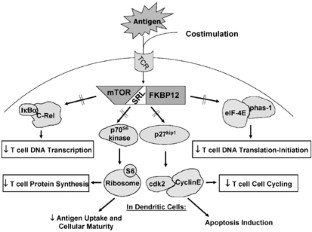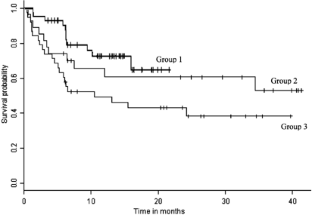 References
Storb R, Deeg HJ, Whitehead J et al. Methotrexate and cyclosporine compared with cyclosporine alone for prophylaxis of acute graft versus host disease after marrow transplantation for leukemia. N Engl J Med 1986; 314: 729–735.

Kirken RA, Wang YL . Molecular actions of sirolimus: sirolimus and mTor. Transplant Proc 2003; 35: S227–S230.

Hackstein H, Taner T, Logar AJ, Thomson AW . Rapamycin inhibits macropinocytosis and mannose receptor-mediated endocytosis by bone marrow-derived dendritic cells. Blood 2002; 100: 1084–1087.

Monti P, Mercalli A, Leone BE et al. Rapamycin impairs antigen uptake of human dendritic cells. Transplantation 2003; 75: 137–145.

Hackstein H, Taner T, Zahorchak AF et al. Rapamycin inhibits IL-4-induced dendritic cell maturation in vitro and dendritic cell mobilization and function in vivo. Blood 2003; 101: 4457–4463.

Chiang PH, Wang L, Liang Y et al. Inhibition of IL-12 signaling Stat4/IFN-gamma pathway by rapamycin is associated with impaired dendritic (correction of dendritc) cell function. Transplant Proc 2002; 34: 1394–1395.

Woltman AM, de Fijter JW, Kamerling SW et al. Rapamycin induces apoptosis in monocyte- and CD34-derived dendritic cells but not in monocytes and macrophages. Blood 2001; 98: 174–180.

Woltman AM, van der Kooij SW, Coffer PJ et al. Rapamycin specifically interferes with GM-CSF signaling in human dendritic cells, leading to apoptosis via increased p27KIP1 expression. Blood 2003; 101: 1439–1445.

MacDonald AS . A worldwide, phase III, randomized, controlled, safety and efficacy study of a sirolimus/cyclosporine regimen for prevention of acute rejection in recipients of primary mismatched renal allografts. Transplantation 2001; 71: 271–280.

van Hooff JP, Squifflet JP, Wlodarczyk Z et al. A prospective randomized multicenter study of tacrolimus in combination with sirolimus in renal-transplant recipients. Transplantation 2003; 75: 1934–1939.

Flechner SM, Goldfarb D, Modlin C et al. Kidney transplantation without calcineurin inhibitor drugs: a prospective, randomized trial of sirolimus versus cyclosporine. Transplantation 2002; 74: 1070–1076.

Fairbanks KD, Eustace JA, Fine D, Thuluvath PJ . Renal function improves in liver transplant recipients when switched from a calcineurin inhibitor to sirolimus. Liver Transpl 2003; 9: 1079–1085.

Nair S, Eason J, Loss G . Sirolimus monotherapy in nephrotoxicity due to calcineurin inhibitors in liver transplant recipients. Liver Transpl 2003; 9: 126–129.

Cotterell AH, Fisher RA, King AL et al. Calcineurin inhibitor-induced chronic nephrotoxicity in liver transplant patients is reversible using rapamycin as the primary immunosuppressive agent. Clin Transplant 2002; 16 (Suppl. 7): 49–51.

McAlister VC, Gao Z, Peltekian K et al. Sirolimus–tacrolimus combination immunosuppression. Lancet 2000; 355: 376–377.

Koenen H, Michielsen E, Verstappen J et al. Superior T-cell suppression by rapamycin and FK506 over rapamycin and cyclosporine A because of abrogated cytotoxic T-lymphocyte induction, impaired memory responses, and persistent apoptosis. Transplantation 2003; 75: 1581–1590.

Ciancio G, Burke GW, Gaynor JJ et al. A randomized long-term trial of tacrolimus and sirolimus versus tacrolimus and mycophenolate mofetil versus cyclosporine (NEORAL) and sirolimus in renal transplantation.I. Drug interactions and rejection at one year. Transplantation 2004; 77: 244–251.

Ciancio G, Burke GW, Gaynor JJ et al. A randomized long-term trial of tacrolimus/sirolimus versus tacrolimus/mycophenolate mofetil versus cyclosporine (NEORAL)/sirolimus in renal transplantation. II. Survival, function, and protocol compliance at 1 year. Transplantation 2004; 77: 252–258.

Neff GW, Montalbano M, Tzakis AG . Ten years of sirolimus therapy in orthotopic liver transplant recipients. Transplant Proc 2003; 35: 209S–216S.

Benito AI, Furlong T, Martin PJ et al. Sirolimus (rapamycin) for the treatment of steroid-refractory acute graft-versus-host disease. Transplantation 2001; 72: 1924–1929.

Johnston L, Shizuru J, Stockerl-Goldstein K et al. Rapamycin for treatment of chronic graft versus host disease. Biol Blood Marrow Transplant 2002; 8: 87 (abstract).

Couriel D, Hicks K, Saliba R et al. Sirolimus (rapamycin) for treatment of steroid-refractory chronic graft versus host disease. Biol Blood Marrow Transplant 2003; 9: 67 (abstract).

Antin JH, Kim HT, Cutler C et al. Sirolimus, tacrolimus, and low-dose methotrexate for graft-versus-host disease prophylaxis in mismatched related donor or unrelated donor transplantation. Blood 2003; 102: 1601–1605.

Cutler C, Kim HT, Hochberg EP et al. Sirolimus and tacrolimus without methotrexate as graft-vs host disease prophylaxis after matched, related donor peripheral blood stem cell transplantation. Biol Blood Marrow Transplant 2004; 10: 328–336.

Alyea E, Neuberg D, Cutler C et al. Sirolimus, tacrolimus and low dose methotrexate as graft versus host disease prophylaxis after matched related and unrelated nonmyeloablative transplantation is well tolerated and associated with a low incidence of acute GVHD. Blood 2003; 102: 711a (abstract).

Claxton DF, Popescu D, Carraher M et al. Sirolimus and tacrolimus allow engraftment of haploidentical and other alternative donor stem cells after non-myeloablative conditioning. Biol Blood Marrow Transplant 2004; 10: 38–39 (abstract).

McLeod BC . Thrombotic microangiopathies in bone marrow and organ transplant patients. J Clin Apheresis 2002; 17: 118–123.

George JN, Li X, McMinn JR et al. Thrombotic thrombocytopenic purpura-hemolytic uremic syndrome following allogeneic HPC transplantation: a diagnostic dilemma. Transfusion 2004; 44: 294–304.

Langer RM, Van Buren CT, Katz SM, Kahan BD . De novo hemolytic uremic syndrome after kidney transplantation in patients treated with cyclosporine–sirolimus combination. Transplantation 2002; 73: 756–760.

Paramesh AS, Grosskreutz C, Florman SS et al. Thrombotic microangiopathy associated with combined sirolimus and tacrolimus immunosuppression after intestinal transplantation. Transplantation 2004; 77: 129–131.

Robson M, Cote I, Abbs I et al. Thrombotic micro-angiopathy with sirolimus-based immunosuppression: potentiation of calcineurin-inhibitor-induced endothelial damage? Am J Transplant 2003; 3: 324–327.

Saikali JA, Truong LD, Suki WN . Sirolimus may promote thrombotic microangiopathy. Am J Transplant 2003; 3: 229–230.

Barone G, Gurley B, Abul-Ezz S, Gökden N . Sirolimus-induced thrombotic microangiopathy in a renal transplant recipient. Am J Kidney Dis 2003; 42: 202–206.

Edwards C, House A, Shahinian V, Knoll G . Sirolimus-based immunosuppression for transplant-associated thrombotic microangiopathy. Nephrol Dial Transplant 2002; 17: 1524–1526.

Heering P, Deppe CE, Farokhzad F et al. Hemolytic uremic syndrome after renal transplantation: immunosuppressive therapy with rapamycin. Nephron 2002; 91: 177.

Yango A, Morrissey P, Monaco A et al. Successful treatment of tacrolimus-associated thrombotic microangiopathy with sirolimus conversion and plasma exchange. Clin Nephrol 2002; 58: 77–78.

Garcia VD, Bonamigo-Filho JS, Neumann J et al. Rituximab and rapamycin for posttransplant lymphoproliferative disease treatment: report of three cases. Transplant Proc 2002; 34: 2993–2995.

Majewski M, Korecka M, Joergensen J et al. Immunosuppressive TOR kinase inhibitor everolimus (RAD) suppresses growth of cells derived from posttransplant lymphoproliferative disorder at allograft-protecting doses. Transplantation 2003; 75: 1710–1717.

Nepomuceno RR, Balatoni CE, Natkunam Y et al. Rapamycin inhibits the interleukin 10 signal transduction pathway and the growth of Epstein Barr virus B-cell lymphomas. Cancer Res 2003; 63: 4472–4480.

Johnson RA, Wang X, Ma XL et al. Human cytomegalovirus up-regulates the phosphatidylinositol 3-kinase (PI3-K) pathway: inhibition of PI3-K activity inhibits viral replication and virus-induced signaling. J Virol 2001; 75: 6022–6032.

Yu Y, Alwine JC . Human cytomegalovirus major immediate-early proteins and simian virus 40 large T antigen can inhibit apoptosis through activation of the phosphatidylinositide 3'-OH kinase pathway and the cellular kinase Akt. J Virol 2002; 76: 3731–3738.

Kahan BD . Sirolimus: a ten-year perspective. Transplant Proc 2004; 36: 71–75.

Trotter JF, Wallack A, Steinberg T . Low incidence of cytomegalovirus disease in liver transplant recipients receiving sirolimus primary immunosuppression with 3-day corticosteroid taper. Transplant Infect Dis 2003; 5: 174–180.

Atkins MB, Hidalgo M, Stadler WM et al. Randomized phase II study of multiple dose levels of CCI-779, a novel mammalian target of rapamycin kinase inhibitor, in patients with advanced refractory renal cell carcinoma. J Clin Oncol 2004; 22: 909–918.

Yu K, Toral-Barza L, Discafani C et al. mTOR, a novel target in breast cancer: the effect of CCI-779, an mTOR inhibitor, in preclinical models of breast cancer. Endocr Relat Cancer 2001; 8: 249–258.

Mita MM, Mita A, Rowinsky EK . Mammalian target of rapamycin: a new molecular target for breast cancer. Clin Breast Cancer 2003; 4: 126–137.

Punt CJ, Boni J, Bruntsch U et al. Phase I and pharmacokinetic study of CCI-779, a novel cytostatic cell-cycle inhibitor, in combination with 5-fluorouracil and leucovorin in patients with advanced solid tumors. Ann Oncol 2003; 14: 931–937.

Geoerger B, Kerr K, Tang CB et al. Antitumor activity of the rapamycin analog CCI-779 in human primitive neuroectodermal tumor/medulloblastoma models as single agent and in combination chemotherapy. Cancer Res 2001; 61: 1527–1532.

Hosoi H, Dilling MB, Shikata T et al. Rapamycin causes poorly reversible inhibition of mTOR and induces p53-independent apoptosis in human rhabdomyosarcoma cells. Cancer Res 1999; 59: 886–894.

Luan FL, Ding R, Sharma VK et al. Rapamycin is an effective inhibitor of human renal cancer metastasis. Kidney Int 2003; 63: 917–926.

Mateo-Lozano S, Tirado OM, Notario V . Rapamycin induces the fusion-type independent downregulation of the EWS/FLI-1 proteins and inhibits Ewing's sarcoma cell proliferation. Oncogene 2003; 22: 9282–9287.

Panwalkar A, Verstovsek S, Giles FJ . Mammalian target of rapamycin inhibition as therapy for hematologic malignancies. Cancer 2004; 100: 657–666.

Brown VI, Fang J, Alcorn K et al. Rapamycin is active against B-precursor leukemia in vitro and in vivo, an effect that is modulated by IL-7-mediated signaling. Proc Natl Acad Sci USA 2003; 100: 15113–15118.

Decker T, Hipp S, Ringshausen I et al. Rapamycin-induced G1 arrest in cycling B-CLL cells is associated with reduced expression of cyclin D3, cyclin E, cyclin A, and survivin. Blood 2003; 101: 278–285.

Ly C, Arechiga AF, Melo JV et al. Bcr-Abl kinase modulates the translation regulators ribosomal protein S6 and 4E-BP1 in chronic myelogenous leukemia cells via the mammalian target of rapamycin. Cancer Res 2003; 63: 5716–5722.

Mayerhofer M, Valent P, Sperr WR et al. BCR/ABL induces expression of vascular endothelial growth factor and its transcriptional activator, hypoxia inducible factor-1alpha, through a pathway involving phosphoinositide 3-kinase and the mammalian target of rapamycin. Blood 2002; 100: 3767–3775.
Acknowledgements
This study was supported in part by P01 HL070149 from the National Heart, Lung, and Blood Institute and by an unrestricted educational grant from Fujisawa Healthcare, Inc.
About this article
Cite this article
Cutler, C., Antin, J. Sirolimus for GVHD prophylaxis in allogeneic stem cell transplantation. Bone Marrow Transplant 34, 471–476 (2004). https://doi.org/10.1038/sj.bmt.1704604
Published:

Issue Date:

DOI: https://doi.org/10.1038/sj.bmt.1704604
Keywords
sirolimus

GVHD prophylaxis

allogeneic stem cell transplantation