Abstract
We monitored levels of C-reactive protein (CRP) in 96 consecutive adult allogeneic BMT patients (age 15–50 years) transplanted in our unit. Major transplant-related complications (MTC) occurred in 32% of cases and included: hepatic veno-occlusive disease, pneumonitis, severe endothelial leakage syndrome and >II acute GVHD. Transplant-related mortality (TRM) before day 100 post-BMT was 13.5%. Variables included in a stepwise logistic regression model were: gender, age, disease category, donor type, T cell depletion, TBI, use of growth factors, bacteremia, mean CRP-levels >50 mg/l between days 0 and 5 (CRP day 0–5) and >100 mg/l between days 6 and 10 (CRP day 6–10) post-BMT. Only high CRP-levels (for MTC and TRM) (P < 0.001) and donor-type (for TRM) (P = 0.02) were independent risk factors. The estimated probability for MTC was 73% (CRP day 6–10 >100 mg/l) vs 17% (CRP day 6–10 <100 mg/l). Using the same cut-off levels, the probabilities for TRM were 36.5% vs 1% in the identical sibling donor situation and 88% vs 12.5% in other donor-type transplants. We conclude that the degree of systemic inflammation, as reflected by CRP-levels, during the first 5–10 days after BMT identifies patients at risk of MTC and TRM. Our data may be useful in selecting patients for clinical trials involving pre-emptive anti-inflammatory treatment.
Access options
Subscribe to this journal
Receive 12 print issues and online access
$259.00 per year
only $21.58 per issue
Rent or buy this article
Prices vary by article type
from$1.95
to$39.95
Prices may be subject to local taxes which are calculated during checkout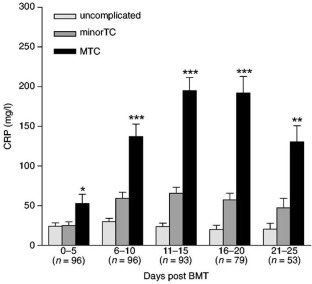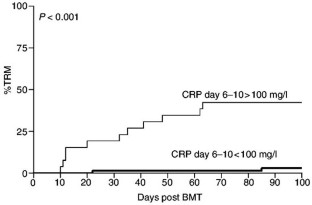 References
Gratwohl A, Hermans J, Goldman JM et al. Risk assessment for patients with chronic myeloid leukemia before allogeneic blood or marrow transplantation Lancet 1998 352: 1087 1092

Marmont AM, Horowitz MM, Gale RP et al. T-cell depletion of HLA-identical transplants in leukemia Blood 1991 78: 2120 2130

Nash RA, Pepe MS, Storb R et al. Acute graft-versus-host disease: analysis of risk factors after allogeneic marrow transplantation and prophylaxis with cyclosporin and methotrexate Blood 1992 80: 1838 1845

Holler E, Roncarolo MG, Hintermeier-Knabe R et al. Prognostic significance of increased IL-10 production in patients prior to allogeneic bone marrow transplantation Bone Marrow Transplant 2000 25: 237 241

Remberger M, Ringden O, Markling L . TNF-alpha levels are increased during bone marrow transplantation conditioning in patients who develop acute GVHD Bone Marrow Transplant 1995 15: 99 104

Bacigalupo A, Oneto R, Bruno B et al. Early predictors of transplant-related mortality (TRM) after allogeneic bone marrow transplants (BMT): blood urea nitrogen (BUN) and bilirubin Bone Marrow Transplant 1999 24: 653 659

Gabay C, Kushner I . Acute-phase proteins and other systemic responses to inflammation New Engl J Med 1999 340: 448 454

Schots R, Kaufman L, Van Riet I et al. Monitoring of C-reactive protein after allogeneic bone marrow transplantation identifies patients at risk of severe transplant-related complications and mortality Bone Marrow Transplant 1998 22: 79 85

McDonald GB, Hinds MS, Fisher LD et al. Veno-occlusive disease of the liver and multi-organ failure after bone marrow transplantation: a cohort study of 355 patients Ann Intern Med 1993 118: 255 267

Storb R, Thomas ED . Graft-versus-host disease in dog and man: the Seattle experience Immunol Rev 1985 88: 215 238

Holler E, Kolb HJ, Moller A et al. Increased serum levels of tumor necrosis factor-alpha precede major complications of bone marrow transplantation Blood 1990 75: 1011 1016

Vachino G, Gelfand JA, Atkins MB et al. Complement activation in cancer patients undergoing immunotherapy with interleukin-2 (IL-2): binding of complement and C-reactive protein by IL-2- activated lymphocytes Blood 1991 78: 2505 2513

Arber C, Passweg JR, Fluckiger U et al. C-reactive protein and fever in neutropenic patients Scand J Infect Dis 2000 32: 515 520

Schots R, Trullemans F, Van Riet I et al. The clinical impact of early gram-positive bacteremia and the use of vancomycin after allogeneic bone marrow transplantation Transplantation 2000 69: 1511 1514

Castell JV, Gomez-Lechon MJ, David M et al. Acute-phase response of human hepatocytes: regulation of acute-phase protein synthesis by interleukin-6 Hepatology 1990 12: 1179 1186

Antin J, Ferrera J . Cytokine dysregulation and acute graft-versus-host disease Blood 1992 80: 2964 2968

Gugliotta L, Catani L, Vianelli N et al. High plasma levels of tumor necrosis factor-alpha may be predictive of veno-occlusive disease in bone marrow transplantation Blood 1994 83: 2385 2386

Schots R, Van Riet I, Ben Othman T et al. A systemic inflammatory response involving C-reactive protein, interleukin-6, interleukin-8 and tumor-necrosis factor-alpha contributes to the development of hepatic veno-occlusive disease after allogeneic bone marrow transplantation Blood 2001 98: (Suppl. 1) 195a (Abstr. 816)

Bearman SI . The syndrome of hepatic veno-occlusive disease after marrow transplantation Blood 1995 11: 3005 3020

Khoury H, Adkins D, Brown R et al. Does early treatment with high-dose methylprednisone alter the course of hepatic regimen-related toxicity? Bone Marrow Transplant 2000 25: 737 743

Chopra R, Eaton JD, Grassi A et al. Defibrotide for the treatment of hepatic veno-occlusive disease: results of the European compassionate-use study Br J Haematol 2000 111: 1122 1129

Bernard GR, Vincent JL, Laterre PF et al. Efficacy and safety of recombinant human activated protein C for severe sepsis New Engl J Med 2001 344: 699 709

Hervé P, Flesh M, Tiberghien P et al. Phase I–II trial of a monoclonal anti-tumor necrosis factor alpha antibody for the treatment of refractory severe acute graft-versus-host disease Blood 1992 79: 3362 3368

Holler E, Kolb HJ, Mittermuller J et al. Modulation of acute graft-versus-host-disease after allogeneic bone marrow transplantation by tumor necrosis factor-alpha (TNF alpha) release in the course of pretransplant conditioning: role of conditioning regimens and prophylactic application of a monoclonal antibody neutralizing human TNF alpha (MAK 195F) Blood 1995 86: 890 899

Racadot E, Milpied N, Bordigoni P et al. Sequential use of three monoclonal antibodies in corticosteroid-resistent acute GVHD: a multicentric pilot study including 15 patients Bone Marrow Transplant 1995 15: 669 677

Verbon A, Dekkers PE, ten Hove T et al. IC14, an anti-CD14 antibody, inhibits endotoxin-mediated symptoms and inflammatory responses in humans J Immunol 2001 166: 3599 3605

Hill GR, Crawford JM, Cooke KR et al. Total body irradiation and acute graft-versus-host disease: the role of gastro-intestinal damage and inflammatory cytokines Blood 1997 90: 3204 3213
Acknowledgements
We thank Mrs A Willekens and her nursing staff from the BMT-Unit for the excellent care of our patients. This work was supported by grant from the scientific Fund W Gepts AZ-VUB.
About this article
Cite this article
Schots, R., Van Riet, I., Ben Othman, T. et al. An early increase in serum levels of C-reactive protein is an independent risk factor for the occurrence of major complications and 100-day transplant-related mortality after allogeneic bone marrow transplantation. Bone Marrow Transplant 30, 441–446 (2002). https://doi.org/10.1038/sj.bmt.1703672
Received:

Accepted:

Published:

Issue Date:

DOI: https://doi.org/10.1038/sj.bmt.1703672
Keywords
C-reactive protein

severe complications

transplant-related mortality

allogeneic BMT