Abstract
Advances in hematopoietic cell transplantation have reduced the toxicity of both allogeneic and autologous transplantation. Decisions regarding the feasibility of transplantation should be individualized, and based upon physiological rather than chronological age.
Bone Marrow Transplantation (2002) 29, 277–284. doi:10.1038/sj.bmt.1703382
Your institute does not have access to this article
Relevant articles
Open Access articles citing this article.
Anne Blaes

,

Suma Konety

&

Peter Hurley

Current Treatment Options in Cardiovascular Medicine Open Access 24 February 2016
Access options
Subscribe to Journal
Get full journal access for 1 year
$119.00
only $9.92 per issue
All prices are NET prices.
VAT will be added later in the checkout.
Tax calculation will be finalised during checkout.
Buy article
Get time limited or full article access on ReadCube.
$32.00
All prices are NET prices.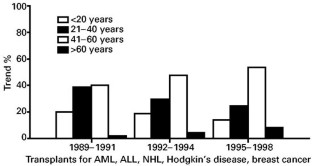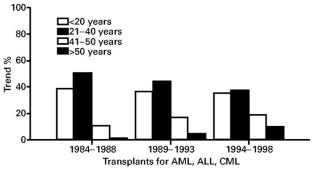 References
Scheinberg DA, Maslak P, Weiss MA . Acute Leukemias In: DeVita VT, Hellman S, Rosenberg SA (eds) Cancer Principles and Practice of Oncology Lippincott-Raven, Philadelphia 1997 pp 2293 2320

Scheinberg DA, Maslak P, Weiss M . Myelodysplastic syndromes In: DeVita VT, Hellman S, Rosenberg SA (eds) Cancer Principles and Practice of Oncology Lippincott-Raven, Philadelphia 1997 pp 2388 2396

Bloomfield CD, Lawrence D, Byrd J . Frequency of prolonged remission duration after high-dose cytarabine intensification in acute myeloid leukemia varies by cytogenetic subtype Cancer Res 1998 58: 4173 4179

Grimwade D, Walker H, Oliver F et al. The importance of diagnostic cytogenetics on outcome in AML: analysis of 1612 patients entered into the MRC AML 10 trial. The Medical Research Council Adult and Children's Leukemia Working Parties Blood 1998 92: 2322 2333

Faderl S, Kantarjian HM, Talpaz M, Estrov Z . Clinical significance of cytogenetic abnormalities in adult acute lymphoblastic leukemia Blood 1998 91: 3995 4019

Head DR . Revised classification of acute myeloid leukemia Leukemia 1996 10: 1826 1831

Estey E, Thall P, Beran M . Effect of diagnosis (refractory anemia with excess blasts, refractory anemia with excess blasts in transformation, or acute myeloid leukemia (AML)) on outcome of AML-type chemotherapy Blood 2001 90: 2969 2977

Leith CP, Kopecky KJ, Godwin J . Acute myeloid leukemia in the elderly: assessment of multidrug resistance (MDR) and cytogenetics distinguishes biologic subgroups with remarkably distinct responses to standard chemotherapy. A Southwest Oncology Group study Blood 1997 89: 3323 3329

List AF, Spier CS, Grogan TM . Overexpression of the major vault transporter protein lung-resistance protein predicts treatment outcome in acute myeloid leukemia Blood 1996 87: 2464 2469

Zhu Y-M, Das-Gupta EP, Russel NH . Microsatellite instability and p53 mutations are associated with abnormal expression of the MSH2 gene in adult acute leukemia Blood 1999 94: 733 740

Shipp M, Harrington DP, Anderson JR . The International non-Hodgkin's Lymphoma Prognostic Factors Project. A predictive model for aggressive non-Hodgkin's lymphoma New Engl J Med 1993 329: 987 994

Mayer RJ, Sea DR . Intensive postremission chemotherapy in adults with acute myeloid leukemia New Engl J Med 1994 331: 896 903

Rees JK, Gray RG . Principal results of the medical research council's 8th acute myeloid leukemia trial Lancet 1986 2: 1236 1241

Damon LE, Mass R, Linker CA . The association between high-dose cytarabine neurotoxicity and renal insufficiency J Clin Oncol 1989 7: 1563 1568

Rubin EH, Andersen JW, Berg DT et al. Risk factors for high-dose cytarabine neurotoxicity: an analysis of a cancer and leukemia group B trial in patients with acute myeloid leukemia J Clin Oncol 2001 10: 948 953

Kusnierz-Glaz CP, Schlegel PG, Wong RM et al. Influence of age on the outcome of 500 autologous bone marrow transplant procedures for hematologic malignancies J Clin Oncol 1997 15: 18 25

Schmitz N, Linch DC, Dreger P et al. Randomized trial of filgrastim-mobilized peripheral blood progenitor cell transplantation versus autologous bone marrow transplantation in lymphoma patients Lancet 1996 347: 353 357

Sweetenham JW, Pearce R, Philip T et al. High-dose therapy and autologous bone marrow transplantation for intermediate and high grade non-Hodgkin's lymphoma in patients aged 55 years and over: results from the European Group for Bone Marrow Transplantation Bone Marrow Transplant 1994 14: 981 987

Cahn JY, Labopin M, Mandelli F et al. Autologous bone marrow transplantation for first remission acute myeloblastic leukemia in patients older than 50 years: a retrospective analysis of the European Bone Marrow Transplant Group Blood 1995 85: 575 579

Press OW, Eary J, Gooley TA et al. A phase I/II trial of iodine-131-tositumomab (anti-CD20), etoposide, cyclophosphamide and autologous stem cell transplantation for relapsed B-cell lymphomas Blood 2000 96: 2934 2942

Attal M, Harrousseau JL, Stoppa AM et al. A prospective, randomized trial of autologous bone marrow transplantation and chemotherapy in multiple myeloma New Engl J Med 1996 335: 91 97

Vesole DH, Tricot G, Jagannath S et al. Autotransplants in multiple myeloma: what have we learned? Blood 1996 88: 838 847

Tricot G, Sawyer J, Jagannath S et al. Poor prognosis in multiple myeloma is associated only with partial or complete deletions of chromosome 13 or abnormalities involving 11q and not with other karyotype abnormalities Blood 1995 86: 4250 4256

Tricot G, Sawyer J, Jagannath S et al. The unique role of cytogenetics in the prognosis of patients with myeloma receiving high dose therapy and autotransplants J Clin Oncol 1997 15: 2659 2666

Siegel DS, Desikan KR, Mehta J et al. Age is not a prognostic variable with autotransplants for multiple myeloma Blood 1999 93: 51 54

Badros A, Barlogie B, Siegel DS et al. Autologous stem cell transplantation in elderly multiple myeloma patients over the age of 70 years Br J Hematol 2001 114: 600 607

Blume KG, Forman SJ, Nademanee A . Bone marrow transplantation for hematologic malignancies in patients aged 30 years or older J Clin Oncol 1986 4: 1489 1492

Klingemann H-G, Storb R, Fefer A et al. Bone marrow transplantation in patients aged 45 years and older Blood 1986 67: 770 776

Frassoni F, Labopin M, Gluckman E et al. Results of allogeneic bone marrow transplantation for acute leukemia have improved in Europe with time – a report of the Acute Leukemia Working Party of the European Group for Blood and Marrow Transplantation (EBMT) Bone Marrow Transplant 1996 17: 13 18

Deeg HJ, Shulman H, Anderson JE et al. Allogeneic and syn-geneic marrow transplantation for myelodysplastic syndrome in patients 55 to 66 years of age Blood 2000 95: 1188 1194

Clift RA, Appelbaum FR, Thomas ED . Treatment of chronic myeloid leukemia by marrow transplantation Blood 1993 82: 1954 1956

Slattery JT, Clift RA, Buckner CD et al. Marrow transplantation for chronic myeloid leukemia: the influence of plasma busulfan levels on the outcome of transplantation Blood 1997 89: 3055 3060

Kashyap A, Wingard JR, Cagnoni P et al. Intravenous (IV) vs oral busulfan (Bu) as part of a BU/CY (cyclophosphamide) preparative regimen for allogeneic hematopoietic stem cell transplantation (HSCT): decreased incidence of hepatic veno-occlusive disease (VOD), VOD-related mortality and overall 100 day mortality Bone Marrow Transplant 2000 25: S33 (Abstr.)

Matthews D, Appelbaum FR, Eary J et al. 131-I-anti-CD45 antibody plus busulfan/cyclophosphamide in matched related transplants for AML in first remission Blood 1996 88: 142a (Abstr.)

Bensinger W, Martin PJ, Storer B et al. Transplantation of bone marrow as compared with peripheral-blood cells from HLA-identical relatives in patients with hematologic cancers New Engl J Med 2001 344: 175 181

Gale RP, Bortin MM, van Bekkum DW et al. Risk factors for acute graft-versus-host disease Br J Haematol 1987 67: 397 406

Doney K, Fisher L, Appelbaum FR et al. Treatment of adult acute lymphoblastic leukemia with allogeneic bone marrow transplantation. Multivariate analysis of factors affecting acute graft-versus-host disease, relapse, and relapse-free survival Bone Marrow Transplant 1991 7: 453 459

Weisdorf D, Hakke R, Blazar B et al. Risk factors for acute graft-versus-host disease in histocompatible donor bone marrow transplantation Transplantation 1991 51: 1197 1203

Nash RA, Pepe MS, Storb R et al. Acute graft-versus-host disease: analysis of risk factors after allogeneic marrow transplantation and prophylaxis with cyclosporine and methotrexate Blood 1992 80: 1838 1845

Hagglund H, Bostrom L, Remberger M et al. Risk factors for acute graft-versus-host disease in 291 consecutive HLA-identical bone marrow transplant recipients Bone Marrow Transplant 1995 16: 747 753

Atkinson K, Horowitz MM, Gale RP et al. Risk factors for chronic graft-versus-host disease after HLA-identical sibling bone marrow transplantation Blood 1990 75: 2459 2464

Ochs L, Miller W, Filipovich A et al. Predictive factors for chronic graft-versus-host disease after histocompatible sibling donor bone marrow transplantation Bone Marrow Transplant 1994 13: 455 460

Carlens S, Ringden O, Remberger M et al. Risk factors for chronic graft-versus-hosts disease after bone marrow transplantation: a retrospective single centre analysis Bone Marrow 1998 22: 755 761

Aschan J, Ringden O . Prognostic factors for long-term survival in leukemia marrow recipients with special emphasis on age and prophylaxis for graft-versus-host disease Clin Transplant 1994 8: 258 270

Papadopoulos EB, Carabasi MH, Castro-Malaspina H et al. T-cell-depleted allogeneic bone marrow transplantation as postremission therapy for acute myelogenous leukemia: freedom from relapse in the absence of graft-versus-host disease Blood 1998 91: 1083 1090

Small TN, Papadopoulos EB, Boulad F et al. Comparison of immune reconstitution after unrelated and related T-cell-depleted bone marrow transplantation: effect of patient age and donor leukocyte infusions Blood 1999 93: 467 480

Fefer A, Sullivan KM, Weiden P et al. Graft-versus-leukemia effect in man: the relapse rate of acute leukemia is lower after allogeneic than after syngeneic marrow transplantation Prog Clin Biol Res 1987 244: 401 408

Gorin NC, Labopin M, Fouillard L . Retrospective evaluation of autologous bone marrow transplantation vs allogeneic bone marrow transplantation from an HLA identical related donor in acute myelocytic leukemia Bone Marrow Transplant 1996 18: 111 117

Zittoun RA, Mandelli F, Willemze R . Autologous or allogeneic bone marrow transplantation compared with intensive chemotherapy in acute myelogenous leukemia New Engl J Med 1995 332: 217 223

Sullivan KM, Weiden P, Storb R . Influence of acute and chronic graft-versus-host disease on relapse and survival after bone marrow transplantation from HLA-identical siblings as treatment of acute and chronic leukemia Blood 1989 73: 1720 1728

Slavin S, Nagler A, Naparstek E et al. Nonmyeloblative stem cell transplantation and cell therapy as an alternative to conventional bone marrow transplantation with lethal cytoreduction for the treatment of malignant and nonmalignant hematologic diseases Blood 1998 91: 756 763

Giralt S, Estey E, Albitar M . Engraftment of allogeneic hematopoietic progenitor cells with purine analog-containing chemotherapy: harnessing graft-versus-leukemia without myeloablative therapy Blood 1997 89: 4531 4536

McSweeney PA, Niederwieser D, Shizuru JA et al. Hematopoietic cell transplantation in older patients with hematologic malignancies: replacing high-dose cytotoxic therapy with graft-versus-tumor effects Blood 2001 97: 3390 3400
Acknowledgements
This work was supported in part by grants from the National Cancer Institute #P01 CA30206 and Cancer Center Support Grant CA33572–19S4.
About this article
Cite this article
Popplewell, L., Forman, S. Is there an upper age limit for bone marrow transplantation?. Bone Marrow Transplant 29, 277–284 (2002). https://doi.org/10.1038/sj.bmt.1703382
Published:

Issue Date:

DOI: https://doi.org/10.1038/sj.bmt.1703382
Keywords
patient age

mortality

survival

GVHD

transplant

non-myeloablative