Abstract
Survivors of autologous blood or marrow transplantation (ABMT) are predisposed to decreased bone mineral density (BMD), but data are lacking on the incidence and risk factors for this condition. Therefore, we measured BMD in 64 of 68 consecutive ABMT survivors (35 men and 29 women) attending the University of Toronto ABMT long-term follow-up clinic. Patients were evaluated a median of 4.2 years (range: 4.9 months–11.4 years) after ABMT. Median age at evaluation was 49.6 years (range: 23.5–68.2 years). At the L1–L4 vertebrae, 17 (26%) patients (eight men and nine women) had osteopenia and one male (2%) had osteoporosis. Mean BMD at L1–L4 did not differ from healthy young adults or age and sex matched controls. At the femoral neck, 30 patients (46%) (18 men and 12 women) had osteopenia and five (8%) (two men and three women) had osteoporosis. Mean BMD at the femoral neck was significantly lower than in healthy young adults and age- and sex-matched controls. By regression analysis, patients with decreased BMD were older than those with normal BMD (P = 0.02). Gender, body mass index, time from BMT to evaluation and presence of hypogonadism were not associated with decreased BMD. Treatment of decreased bone density was instituted and follow-up data were obtained 1 year after treatment in 22 of 39 patients with reduced BMD. Nineteen (86%) patients had stabilization or improvement of their bone density at follow-up. We conclude that, after ABMT, over half of the patients have evidence of osteopenia or osteoporosis. Men and women were equally affected. In our study, only older age at evaluation was predictive for loss of BMD. We recommend the measurement of BMD as an integral component to the follow-up of ABMT patients. Bone Marrow Transplantation (2001) 28, 387–391.
Access options
Subscribe to this journal
Receive 12 print issues and online access
$259.00 per year
only $21.58 per issue
Rent or buy this article
Get just this article for as long as you need it
$39.95
Prices may be subject to local taxes which are calculated during checkout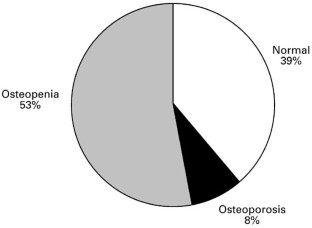 References
Lindsay R, Cosman F . Primary osteoporosis In: Coe F, Favus M (eds) Disorders of Bone and Mineral Metabolism Raven Press: New York, NY 1992 pp 831–888

Lyons AR . Clinical outcomes and treatment of hip fractures Am J Med 1997 18: (Suppl.) 51S–63S

Carlson K, Simonsson B, Ljunghall S . Acute effects of high-dose chemotherapy followed by bone marrow transplantation on serum markers of bone metabolism Calcif Tissue Int 1994 55: 408–411

Withold W, Wolf HH, Kollbach S et al. Monitoring of bone metabolism after bone marrow transplantation by measuring two different markers of bone turnover Eur J Clin Chem Clin Biochem 1996 34: 193–197

Takamatsu Y, Simmons PJ, Moore RJ et al. Osteoclast-mediated bone resorption is stimulated during short-term administration of granulocyte colony-stimulating factor but is not responsible for hematopoietic progenitor cell mobilization Blood 1998 92: 3465–3473

Keilholz U, Korbling M, Fehrentz D et al. Long-term endocrine toxicity of myeloablative treatment followed by autologous bone marrow/blood derived stem cell transplantation in patients with malignant lymphohematopoietic disorders Cancer 1989 64: 641–645

Mertens AC, Ramsay NK, Kouris S, Neglia JP . Patterns of gonadal dysfunction following bone marrow transplantation Bone Marrow Transplant 1998 22: 345–350

Shalet SM, Didi M, Ogilvy-Stuart AL et al. Growth and endocrine function after bone marrow transplantation Clin Endocrinol 1995 42: 333–339

Schimmer AD, Quatermain M, Imrie K et al. Ovarian function after autologous bone marrow transplantation J Clin Oncol 1998 16: 2359–2363

Brennan BM, Rahim A, Adams JA et al. Reduced bone mineral denisty in young adults following cure of acute lymphoblastic leukaemia in childhood Br J Cancer 1999 79: 1859–1863

Leone J, Vilque JP, Jolly D et al. Effect of chlorambucil on bone mineral density in the course of chronic lymphoid leukemia Eur J Haematol 1998 61: 135–139

Melhus H, Michaelsson K, Kindmark A et al. Excessive dietary intake of vitamin A is associated with reduced bone mineral density and increased risk of hip fracture Ann Intern Med 1998 129: 770–778

Carlson K, Simonsson B, Ljunghall S . Acute effects of high-dose chemotherapy followed by bone marrow transplantation on serum markers of bone metabolism Calcif Tissue Int 1994 55: 408–411

Taube T, Beneton MN, McCloskey EV et al. Abnormal bone remodelling in patients with myelomatosis and normal biochemical indices of bone resorption Eur J Haematol 1992 49: 192–198

Schott AM, Cormier C, Hans D et al. How hip and whole-body bone mineral density predict hip fracture in elderly women: the EPIDOS prospective study Osteoporos Int 1998 8: 247–254

Turner LW, Fu Q, Taylor JE, Wang MQ . Osteoporotic fracture among older US women: risk factors quantified J Aging Health 1998 10: 372–391

Rubin LA, Hawker GA, Peltekova VD et al. Determinants of peak bone mass: clinical and genetic analyses in a young female Canadian cohort J Bone Miner Res 1999 14: 633–643

Cohen-Solal ME, Baudoin C, Omouri M et al. Bone mass in middle-aged osteoporotic men and their relatives: familial effect J Bone Miner Res 1998 13: 1909–1914

Cornuz J, Feskanich D, Willett WC, Colditz GA . Smoking, smoking cessation, and risk of hip fracture in women Am J Med 1999 106: 311–314

Grainge MJ, Coupland CA, Cliffe SJ et al. Cigarette smoking, alcohol and caffeine consumption, and bone mineral density in postmenopausal women. The Nottingham EPIC Study Group Osteoporos Int 1998 8: 355–363

Castelo-Braco C, Rovira M, Pons M et al. The effect of hormone replacement therapy on bone mass in patients with ovarian failure due to bone marrow transplantation Maturitas 1996 23: 307–312

Ebeling PR, Thomas DM, Erbas B et al. Mechanisms of bone loss following allogeneic and autologous stem cell transplantation J Bone Miner Res 1999 14: 342–350

Nguyen TV, Popock N, Eisman JA . Interpretation of bone mineral density and its changes J Clin Densitom 2000 3: 107–119

Kanis JA, Gluer CC . An update on the diagnosis and assessment of osteoporosis with densitometry. Committee of Scientific Advisors, International Osteoporosis Foundation Osteoporos Int 2000 11: 36–42

Hanley DA, Josse RG . Prevention and management of osteoporosis: consensus statements from the Scientific Advisory Board of the Osteoporosis Society of Canada CMAJ 1996 155: (Suppl.) 921–923

Smeets-Goevaers GC, Lesusink GL, Papapoulos SE et al. The prevalence of low bone mineral density in Dutch perimenopausal women: Eindhoven perimenopausal osteoporosis study Osteoporos Int 1998 8: 404–409

Valimaki MJ, Kinnunen K, Tahtela R et al. A prospective study of bone loss and turnover after allogeneic bone marrow transplantation: effect of calcium supplementation with or without calcitonin Bone Marrow Transplant 1999 23: 355–361

Sullivan KM, Stern JA, Seidel K et al. Bone density during the first year following allogeneic bone marrow transplantation Blood 1998 92: (Suppl. 1) 493a (Abstr. 2030)

Stern JM, Chesnut CH, Bruemmer B et al. Bone density loss during treatment of chronic GVHD Bone Marrow Transplant 1996 17: 395–400

Schimmer AD, Ali V, Imrie K et al. Male sexual function after autologous blood or marrow transplantation Blood 1997 90: (Suppl. 1) 379a (Abstr. 1689)
Acknowledgements
ADS was supported by fellowships from the Canadian Institute of Health Research and the Leukemia Research Fund of Canada. AK holds the Gloria Seymour Chair in Cell Therapy and Transplantation at the University of Toronto and University Health Network. We would like to thank MD Minden (Princess Margaret Hospital, Toronto, Canada) for his helpful advice and discussion.
About this article
Cite this article
Schimmer, A., Mah, K., Bordeleau, L. et al. Decreased bone mineral density is common after autologous blood or marrow transplantation. Bone Marrow Transplant 28, 387–391 (2001). https://doi.org/10.1038/sj.bmt.1703149
Received:

Accepted:

Published:

Issue Date:

DOI: https://doi.org/10.1038/sj.bmt.1703149
Keywords
ABMT

bone density

osteopenia

osteoporosis