Abstract
Hemolysis may occur during infusion of an ABO-incompatible HSC component if the recipient has isoagglutinins directed against donor red blood cells, or later as a result of the production by donor lymphocytes of isoagglutinins directed against recipient ABO-antigens. Peripheral blood stem cell (PBSC) components collected by apheresis contain few red cells but considerably greater numbers of lymphocytes than marrow. We reviewed the transplant courses of 158 recipients of marrow (n = 90) or PBSC (n = 68) from HLA-identical, ABO-incompatible sibling donors. No patient experienced immediate or delayed hemolysis attributable to the ABO incompatibility. Recipients of minor ABO-incompatible red cell-replete marrow required fewer red cell transfusions during the first week after transplantation than recipients of PBSC or marrows depleted of red cells; the red cell transfusion requirements for the following 3 weeks did not differ. The maximum level of bilirubin did not differ for patients classified by ABO incompatibility or source of HSC. The development of positive antiglobulin tests occurred for eight marrow recipients from a separate group of 22 patients (17 marrow, five PBSC) for whom this testing was performed. None of these patients developed overt hemolysis. These data indicate that hemolysis complicating ABO-incompatible transplantation is not common after either marrow or PBSC transplantation. Bone Marrow Transplantation (2000) 26, 749–757.
Your institute does not have access to this article
Access options
Subscribe to Journal
Get full journal access for 1 year
$119.00
only $9.92 per issue
All prices are NET prices.
VAT will be added later in the checkout.
Tax calculation will be finalised during checkout.
Buy article
Get time limited or full article access on ReadCube.
$32.00
All prices are NET prices.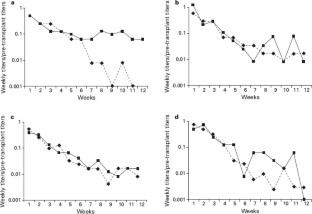 References
Gale RP, Feig S, Ho W et al. ABO blood group system and bone marrow transplantation Blood 1977 50: 185–194

Buckner CD, Clift RA, Sanders JE et al. ABO-incompatible marrow transplants Transplantation 1978 26: 233–238

Dinsmore RE, Reich LM, Kapor N et al. ABH incompatible bone marrow transplantation: removal of erythrocytes by starch sedimentation Br J Haematol 1983 54: 441–449

Braine HG, Sensenbrenner LL, Wright SK et al. Bone marrow transplantation with major ABO blood group incompatibility using erythrocyte depletion of marrow prior to infusion Blood 1982 60: 420–425

Sniecinski IJ, O'Donnell MR . Hemolytic complications of hematopoietic cell transplantation. In: Thomas ED, Blume KG, Forman SJ (eds) Hematopoietic Cell Transplantation Blackwell Science: Malden 1999 pp674–684

Warkentin PI, Yomtovian R, Hurd D et al. Severe delayed hemolytic transfusion reaction complicating an ABO-incompatible bone marrow transplantation Vox Sang 1983 45: 40–47

Marmont AM, Damasio EE, Bacigalupo A et al. A to O bone marrow transplantation in severe aplastic anaemia: dynamics of blood group conversion and demonstration of early dyserythropoiesis in the engrafted marrow Br J Haematol 1977 36: 511–518

Benjamin RJ, Connors JM, McGurk S et al. Prolonged erythroid aplasia after major ABO-mismatched transplantation for chronic myelogenous leukemia Biol Blood Marrow Transplant 1998 4: 151–156

Bar BMAM, Van Dijk BA, Schattenberg A et al. Erythrocyte repopulation after major ABO incompatible transplantation with lymphocyte-depleted bone marrow Bone Marrow Transplant 1995 16: 793–799

Hows J, Beddow K, Gordon-Smith E et al. Donor-derived red blood cell antibodies and immune hemolysis after allogeneic bone marrow transplantation Blood 1986 67: 177–181

Gajewski JL, Petz LD, Calhoun L et al. Hemolysis of transfusion group O red blood cells in minor ABO-incompatible unrelated-donor bone marrow transplants in patients receiving cyclosporine without posttransplant methotrexate Blood 1992 79: 3076–3085

Greeno EW, Perry EH, Ilstrup SJ, Weisdorf DJ . Exchange transfusion the hard way: massive hemolysis following transplantation of bone marrow with minor ABO incompatibility Transfusion 1996 36: 71–74

Toren A, Dacosta Y, Manny N et al. Passenger B-lymphocyte-induced severe hemolytic disease after allogeneic peripheral blood stem cell transplantation Blood 1996 87: 843–844

Bornhauser M, Ordemann R, Paaz U et al. Rapid engraftment after allogeneic ABO-incompatible peripheral blood stem cell transplantation complicated by severe hemolysis Bone Marrow Transplant 1997 19: 295–297

Laurencet FM, Samii K, Bressoud A et al. Massive delayed hemolysis following peripheral blood stem cell transplantation with minor ABO incompatibility Hematol Cell Ther 1997 39: 159–162

Oziel-Taieb S, Faucher-Barbey C, Chabannon C et al. Early and fatal immune haemolysis after so-called 'minor' ABO-incompatible peripheral blood stem cell allotransplantation Bone Marrow Transplant 1997 19: 1155–1156

Salmon JP, Michaux S, Hermanne JP et al. Delayed massive immune hemolysis mediated by minor ABO incompatibility after allogeneic peripheral blood progenitor cell transplantation Transfusion 1999 39: 824–827

Matthews DC, Appelbaum FR, Eary JF et al. Phase I study of (131)I-anti-CD45 antibody plus cyclophosphamide and total body irradiation for advanced acute leukemia and myelodysplastic syndrome Blood 1999 94: 1237–1247

Storb R, Deeg HJ, Thomas ED et al. Marrow transplantation for chronic myelocytic leukemia: a controlled trial of cyclosporine versus methotrexate for prophylaxis of graft-versus-host disease Blood 1985 66: 698–702

Storb R, Pepe M, Anasetti C et al. What role for prednisone in prevention of acute graft-versus-host disease in patients undergoing marrow transplants? Blood 1990 76: 1037–1045

Fleming GF, Schilsky RL . Antifolates: the next generation Semin Oncol 1992 19: 707–719

Thomas ED, Storb R . Technique for human marrow grafting Blood 1970 36: 507–515

Bensinger WI, Clift R, Martin P et al. Allogeneic peripheral blood stem cell transplantation in patients with advanced hematologic malignancies: a retrospective comparison with marrow transplantation Blood 1996 88: 2794–2800

Cassens U, Ostkamp-Ostermann P, Garritsen H et al. Efficacy and kinetics of bone marrow processing and enrichment of haematopoietic progenitor cells (HPC) by a large-volume apheresis procedure Bone Marrow Transplant 1997 19: 835–840

Mehta J, Powles R, Horton C et al. Relationship between donor–recipient blood group incompatibility and serum bilirubin after allogeneic bone marrow transplantation from HLA-identical siblings Bone Marrow Transplant 1995 15: 853–858

Byrnes JJ, Hussein AM . Thrombotic microangiopathic syndromes after bone marrow transplantation Cancer Invest 1996 14: 151–157

Mielcarek M, Leisenring W, Banaji M et al. Graft-versus-host disease and donor-directed hemagglutinin titers after ABO-mismatched related and unrelated marrow allografts: evidence for a graft-versus-plasma cell effect Blood 1999 94: (Suppl. 1) 711a

Bensinger WI, Clift R, Martin P et al. Allogeneic peripheral blood stem cell transplantation in patients with advanced hematologic malignancies: a retrospective comparison with marrow transplantation Blood 1996 88: 2794–2800

Karhi KK, Andersson LC, Vuopio P, Bahmberg CG . Expression of blood group A antigens in human bone marrow cells Blood 1981 57: 147–151

Hazelhurst GR, Brenner MK, Wimperis JZ et al. Hemolysis after T-cell depleted bone marrow transplantation involving minor ABO incompatibility Scand J Haematol 1986 37: 1–3

Rosental GJ, Weigand GW, Germolec DR et al. Suppression of B cell function by methotrexate and trimetrexate – evidence for inhibition of purine biosynthesis as a major mechanism of action J Immunol 1988 141: 410–416
Acknowledgements
We wish to acknowledge the staffs of the Transfusion Office, Apheresis Unit, Clinical Cryobiology Laboratory, and the inpatient and outpatient transplant wards of the Fred Hutchinson Cancer Research Center for their role in the management of patients undergoing ABO-incompatible hematopoietic stem cell transplantation. Funding for this project was provided in part by grant numbers CA18029 and CA15704 from the National Cancer Institute, Bethesda, MD.
About this article
Cite this article
Rowley, S., Liang, P. & Ulz, L. Transplantation of ABO-incompatible bone marrow and peripheral blood stem cell components. Bone Marrow Transplant 26, 749–757 (2000). https://doi.org/10.1038/sj.bmt.1702572
Received:

Accepted:

Published:

Issue Date:

DOI: https://doi.org/10.1038/sj.bmt.1702572
Keywords
transplantation

hematopoietic stem cell

bone marrow

peripheral blood stem cell

ABO incompatibility

isoagglutinin