Abstract
Twenty-nine patients with thalassemia and a median age of 6 years (range 1.1–33 years) were given a BMT from an alternative donor. Six of the 29 donors were HLA-phenotypically identical and two were mismatched relatives, 13 were mismatched siblings and eight were mismatched parents. Six patients received no antigen (relatives), 15 patients one antigen, five patients two antigen and three patients three antigen disparate grafts. Twenty-three patients were in class 2 or class 3, whereas six patients were in class 1. Thirteen patients were given BUCY, nine patients BUCY plus ALG, six patients BUCY plus TBI or TLI and one patient BUCY with prior cytoreductive-immunosuppressive treatment as conditioning. As GVHD prophylaxis four patients received MTX, 22 CsA + MTX + methylprednisolone (MP) and three patients CsA + MP. Thirteen of 29 patients (44.8%) had sustained engraftment. The probability of graft failure or rejection was 55%. There were no significant differences between antigen disparities and graft failure. The incidence of grade II–IV acute GVHD was 47.3% and chronic GVHD was 37.5%. The incidence of acute GVHD was higher in patients receiving one or two antigen disparate in the GVHD direction grafts (vs no antigen) (P EQ 0.04; odds ratio 10.8; 95% CI 1.5–115). The probability of overall and event-free survival was 65% and 21%, respectively, with median follow-up of 7.5 years (range 0.6–17 years) for surviving patients. The degree of HLA disparity between patient and donor did not have a significant effect on survival. The incidence of nonhematologic toxicity was low. Transplant-related mortality was 34%. GVHD (acute or chronic) was a major contributing cause of death (50%) followed by infections (30%). We conclude that at present, due to high graft failure and GVHD rates, BMT from alternative donors should be restricted to patients who have poor life expectancies because they cannot receive adequate conventional treatment or because of alloimmunization to minor blood antigens. Bone Marrow Transplantation (2000) 25, 815–821.
Access options
Subscribe to Journal
Get full journal access for 1 year
$119.00
only $9.92 per issue
All prices are NET prices.
VAT will be added later in the checkout.
Tax calculation will be finalised during checkout.
Buy article
Get time limited or full article access on ReadCube.
$32.00
All prices are NET prices.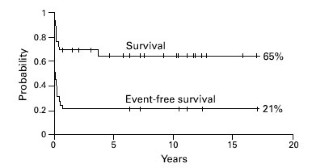 References
Thomas ED, Bukner CD, Sanders JE et al. Marrow transplantation for thalassemia Lancet 1982 2: 227–228

Lucarelli G, Galimberti M, Polchi P et al. Bone marrow transplantation in patients with thalassemia New Engl J Med 1990 332: 417–421

Lucarelli G, Clift RA, Galimberti M et al. Marrow transplantation for patients with thalassemia. Results in class 3 patients Blood 1996 80: 2082–2088

Lucarelli G, Clift RA, Galimberti M et al. Bone marrow transplantation in adult thalassemic patients Blood 1999 4: 1164–1167

Henslee-Downey PJ, Abhyankar SH, Parrish RS et al. Use of partially mismatched related donors extends access to allogeneic marrow transplant Blood 1997 10: 3864–3872

Cain Y, Takaue Y, Watanabe A et al. Partially mismatched pediatric transplants with allogeneic CD34+ blood cells from a related donor Blood 1998 9: 3123–3130

Polchi P, Lucarelli G, Galimberti M et al. Haploidentical bone marrow transplantation from mother to child with advanced leukemia Bone Marrow Transplant 1995 16: 529–535

Aversa F, Tabilio A, Velardi A et al. Treatment of high-risk acute leukemia with T-cell-depleted stem cells from related donors with one fully mismatched HLA haplotype New Engl J Med 1998 339: 1186–1193

Balduzzi A, Gooley T, Anasetti C et al. Unrelated donor marrow transplantation in children Blood 1995 8: 3247–3256

Kernan NA, Bartsch G, Ash RC et al. Analysis of 462 transplantations from unrelated donors facilitated by the National Marrow Donor Program New Engl J Med 1993 328: 593–602

Marks DI, Cullis JO, Ward KN et al. Allogeneic bone marrow transplantation for chronic myeloid leukemia using sibling and volunteer donors. A comparison of complications in the first 2 years Ann Intern Med 1993 119: 207–214

Margolis D, Camitta B, Pietryga D et al. Unrelated donor bone marrow transplantation to treat severe aplastic anemia in children and young adults Br J Haematol 1996 94: 65–72

La Nasa G, Vacca A, Pizzati A et al. Role of HLA extended haplotypes in unrelated bone marrow Bone Marrow Transplant 1993 12: (Suppl. 1) 186–189

Anasetti C, Beatty PG, Storb R et al. Effect of HLA compatibility on graft-versus-host disease, relapse and survival after bone marrow transplantation for patients with leukemia or lymphoma Hum Immunol 1990 29: 79–91

Beatty PG, Clift RA, Mickelson EM et al. Marrow transplantation from related donors other than HLA-identical siblings New Engl J Med 1985 313: 765–771

Beatty PG, Di Bartolomeo P, Storb R et al. Treatment of aplastic anemia with marrow grafts from related donors other than HLA genotypically-matched siblings Clin Transplant 1987 1: 117–122

Soiffer RJ, Mauch P, Fairclough D et al. CD6+ T cell depleted allogeneic bone marrow transplantation from genotypically HLA non-identical related donors Marrow Transplant Rev 1998 1: 9–13

Tzeng CH, Chen PM, Fan S et al. CY/TBI 800 as a pretransplant regimen for allogeneic bone marrow transplantation for severe aplastic anemia using HLA-haploidentical family donors Bone Marrow Transplant 1996 18: 273–277

Delfini C, Polchi P, Izzi T et al. Bone marrow donors other than genotypically identical siblings for patients with thalassemia Exp Hematol 1985 13: 197–200

Polchi P, Galimberti M, Lucarelli G et al. HLA-mismatched bone marrow transplantation in thalassemia Bone Marrow Transplant 1993 12: (Suppl. 1) 67–69

Thomas ED, Storb R, Clift RA et al. Bone marrow transplantation New Engl J Med 1975 292: 895–902

Kaplan EL, Meier P . Non parametric estimation from incomplete observations J Am Stat Assoc 1958 53: 457–481

Siegel J (ed) . Statistix. Version 4.0. User's Manual Analytical Software: Tallahassee, FL 1992

Lamb LS, Gee AP, Parrish RS et al. Acute rejection of marrow grafts in patients transplanted from a partially mismatched related donor: clinical and immunologic characteristics Bone Marrow Transplant 1996 17: 1021–1027

Camitta B, Ash R, Menitove K et al. Bone marrow transplantation for children with severe aplastic anemia: use of donors other than HLA-identical siblings Blood 1989 74: 1852–1857

Wagner JE, Donnenberg AD, Noga SJ et al. Lymphocyte depletion of donor bone marrow by counterflow centrifugation elutriation: results of a phase I clinical trial Blood 1988 72: 1168–1176

Young JW, Papadopoulos EB, Cunningham I et al. T-cell depleted allogeneic bone marrow transplantation in adults with acute non-lymphocytic leukemia in first remission Blood 1992 79: 3380–3387

Kernan NA . Graft failure following transplantation of T cell depleted marrow. In: Deeg JH, Burakoff SJ, Ferra J, Atkinson K (eds) Graft Versus Host Disease: Immunology, Pathophysiology and Treatment Marcel Dekker: New York 1990 557–564

Munn RK, Henslee-Downey PJ, Romond EH et al. Treatment of leukemia with partially matched related bone marrow transplantation Bone Marrow Transplant 1997 19: 421–427
Acknowledgements
The authors thank Ms Law Aileen for linguistic assistance and all the members of our BMT Team for their exemplary care of these patients. This work has been supported by the Berloni Foundation against Thalassemia, Pesaro and by the Italian Association against Leukemia Pesaro Section.
About this article
Cite this article
Gaziev, D., Galimberti, M., Lucarelli, G. et al. Bone marrow transplantation from alternative donors for thalassemia: HLA-phenotypically identical relative and HLA-nonidentical sibling or parent transplants. Bone Marrow Transplant 25, 815–821 (2000). https://doi.org/10.1038/sj.bmt.1702242
Received:

Accepted:

Published:

Issue Date:

DOI: https://doi.org/10.1038/sj.bmt.1702242
Keywords
bone marrow transplantation

phenotypically identical related donor

mismatched related donor

graft failure

GVHD