Abstract
EARLY in 1948, I discussed by letter with Prof. L. F. Fieser the stereochemical course of reactions at, or adjacent to, C17 of the steroid nucleus. The experimental facts may be summarized as follows1.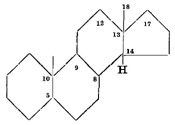 Steroids with normal configuration at C14 undergo reactions exemplified by A, B, C and D to afford largely or almost exclusively a single 17-epimeride in which the persisting extracyclic C17-valency bond is β-orientated: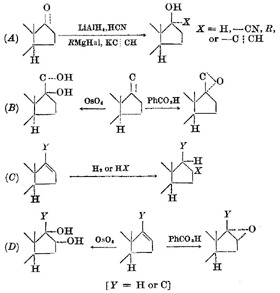 Access options
Access options
Subscribe to Journal
Get full journal access for 1 year
$199.00
only $3.90 per issue
All prices are NET prices.
VAT will be added later in the checkout.
Rent or Buy article
Get time limited or full article access on ReadCube.
from$8.99
All prices are NET prices.
References
1

Cf. Fieser, L. F., and Fieser, M., "Natural Products Related to Phenanthrene", 410, 411 (3rd edit. New York: Reinhold, 1949).

2

Dostrovsky, Ingold and Hughes, J. Chem. Soc., 173 (1946).

3

Whitmore and Rothrock, J. Amer. Chem. Soc., 54, 343 (1932).

4

Quayle and Norton, J. Amer. Chem. Soc., 62, 1170 (1940).
Rights and permissions
To obtain permission to re-use content from this article visit RightsLink.
Comments
By submitting a comment you agree to abide by our Terms and Community Guidelines. If you find something abusive or that does not comply with our terms or guidelines please flag it as inappropriate.