Abstract
ERGOTHIONEINE has been isolated from ergot1 and from mammalian blood2,3. Barger and Ewins4 and Akabori5 showed that the structure of ergothioneine (I) is β-2-thiolglyoxaline-4(5)-propiobetaine. This structure has now been confirmed by synthesis according to the following scheme.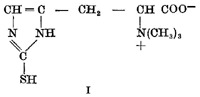 Access options
Access options
Subscribe to Journal
Get full journal access for 1 year
$199.00
only $3.90 per issue
All prices are NET prices.
VAT will be added later in the checkout.
Rent or Buy article
Get time limited or full article access on ReadCube.
from$8.99
All prices are NET prices.
References
1

Tanret, G., J. Pharm. Chim., 30, 145 (1909).

2

Hunter, G., and Eagles, B. A., J. Biol. Chem., 72, 123 (1927).

3

Newton, E. B., Benedict, S. R., and Dakin, H. D., J. Biol. Chem., 72, 367 (1927).

4

Barger, G., and Ewins, A. J., J. Chem. Soc., 99, 2336 (1911).

5

Akabori, S., Ber. deut. chem. Ges., 66, 151 (1933).

6

Ashley, J. N., and Harington, C. R., J. Chem. Soc., 2586 (1930).

7

Hunter, G., Biochem. J., 22, 4 (1928).

8

Work, E., Lancet (i), 652 (1949).
Rights and permissions
To obtain permission to re-use content from this article visit RightsLink.
Comments
By submitting a comment you agree to abide by our Terms and Community Guidelines. If you find something abusive or that does not comply with our terms or guidelines please flag it as inappropriate.