Abstract
IN our recent communication on the synthesis and paralysing activity of a series of heterocyclic bisquaternary ammonium salts1, we directed attention to the fact that introduction of a methoxyl group into the nucleus increased the activity of the parent compounds. We have now synthesized further compounds of the type already described but containing more than one methoxyl group. We find that decamethylene-αω-bis 6.7-dimethoxy 1.2.3.4-tetra-hydroisoquinolinium methiodide (14) is more active than the corresponding 6-methoxy compound (12),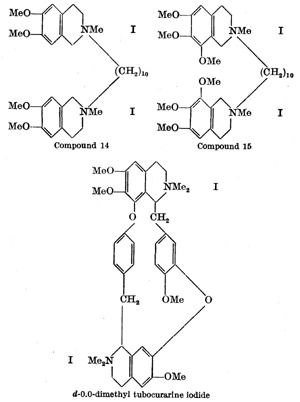 and that the 6.7.8-trimethoxy compound (15) is still more active. Compound 15 abolishes the righting reflex of rabbits at an intravenous dose of 20 µgm. per kgm. We believe that in the rabbit this compound is the most active purely synthetic paralysing substance yet reported. It is about seven times as effective as decamethonium iodide in abolishing the righting reflex of this animal. It is worthy of note that compound 15 is antagonized by neostigmine.
Access options
Subscribe to Journal
Get full journal access for 1 year
$199.00
only $3.83 per issue
All prices are NET prices.
VAT will be added later in the checkout.
Rent or Buy article
Get time limited or full article access on ReadCube.
from$8.99
All prices are NET prices.
References
1

Collier, H. O. J., and Taylor, E. P., Nature, 164, 491 (1949).

2

Ing, H. R., and Wright, W. M., Proc. Roy. Soc., B, 114, 48 (1934).

3

Buttle, G. A. H., and Zaimis, E. J., J. Pharm. Pharmacol., 1, 991 (1949).
About this article
Cite this article
TAYLOR, E., COLLIER, H. Paralysing Activity of some Further Heterocyclic Decamethylene-αω-bisQuaternary Ammonium Salts. Nature 165, 602–603 (1950) doi:10.1038/165602a0
Comments
By submitting a comment you agree to abide by our Terms and Community Guidelines. If you find something abusive or that does not comply with our terms or guidelines please flag it as inappropriate.