Abstract
WE have previously shown1 that peroxidase, together with hydrogen peroxide, will oxidize mesidine (I) to the purple crystalline compound 2 : 6-dimethylbenzoquinone-4-(2′ : 4′ : 6′-trimethyl) anil (V) in 95 per cent yield. When ferrous iron was substituted for the enzyme, the product was mainly ill-defined amorphous material. This enzymatic oxidation involves the elimination of a methyl group, and at the time we postulated the intermediate formation of 2 : 6-dimethylbenzoquinone (II) to explain the reaction. More recently we have shown2 that the peroxidase system will oxidize 4-methoxy-2 : 6-di-methylaniline with the facile elimination of a methoxyl group (detected as methyl alcohol). p-Anisidine is also oxidized3, with the elimination of a methoxyl group, to 2-amino-5-p-anisidinobenzoquinone-bis-anisylimine and tetra-p-methoxy azophenine.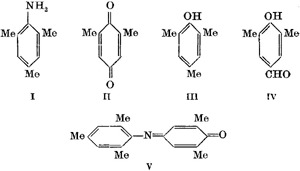 Access options
Subscribe to Journal
Get full journal access for 1 year
$199.00
only $3.83 per issue
All prices are NET prices.
VAT will be added later in the checkout.
Rent or Buy article
Get time limited or full article access on ReadCube.
from$8.99
All prices are NET prices.
References
1

Chapman, N. B., and Saunders, B. C., J. Chem. Soc., 496 (1941).

2

Saunders, B. C., and Watson, G. H. R., Biochem. J. (in the press).

3

Daniels, D. G. H., and Saunders, B. C. (to be published).
About this article
Cite this article
BOOTH, H., SAUNDERS, B. Enzymatic Oxidation of —CH3 to —CHO. Nature 165, 567 (1950) doi:10.1038/165567a0
Further reading
Journal of Pharmaceutical Sciences (1971)

Tetrahedron (1967)

B.C. Saunders

&

B.P. Stark

Tetrahedron (1967)
Comments
By submitting a comment you agree to abide by our Terms and Community Guidelines. If you find something abusive or that does not comply with our terms or guidelines please flag it as inappropriate.