Abstract
The pattern of human colonization of the islands of the central and eastern Pacific is contentious. Two models have been widely considered: the 'express train to Polynesia' and the 'entangled bank' hypotheses1,2,3,4. Here I analyse the mitochondrial DNA sequences of the lizard Lipinia noctua, which lives alongside humans on these Pacific islands, with a view to distinguishing between these two hypotheses. From a phylogenetic analysis of mitochondrial DNA sequence variation, I find that these lizards colonized the central and eastern Pacific as a result of human-mediated dispersal, presumably as stowaways on early Polynesian canoes. The extreme genetic similarity between the different colonies indicates rapid colonization from a single source, which I take as support of the express-train hypothesis.
Access options
Subscribe to Journal
Get full journal access for 1 year
$199.00
only $3.90 per issue
All prices are NET prices.
VAT will be added later in the checkout.
Tax calculation will be finalised during checkout.
Buy article
Get time limited or full article access on ReadCube.
$32.00
All prices are NET prices.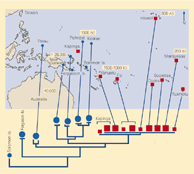 References
Diamond, J. M. Nature 336, 307–308 (1988).

Terrell, J. Antiquity 62, 642–657 (1988).

Clegg, J. B. Lancet 344, 1070–1071 (1994).

Bellwood, P. S. in The Colonization of the Pacific: Some Current Hypotheses (eds Hill, A. V. S. & Serjeantson, S. W.) 1-59 (Oxford Univ. Press, 1989).

Kirch, P. V. & Hunt, R. L. Radiocarbon 30, 161–169 (1988).

Pawley, A. & Green, R. Ocean Ling. 12, 1–67 (1973).

Hagelberg, E. & Clegg, J. B. Proc. R. Soc. Lond. B 252, 163–170 (1993).

Redd, A. J.et al. Mol. Biol. Evol. 12, 604–615 (1995).

Martinson, J. J. in Molecular Biology and Human Diversity (eds Boyce, A. J. & Mascie-Taylor, C. G. N.) 171-195 (Cambridge Univ. Press, 1996).

Thorpe, R. S., McGregor, D. P., Cumming, A. M. & Jordan, W. C. Evolution 48, 230–240 (1994).
About this article
Cite this article
Austin, C. Lizards took express train to Polynesia. Nature 397, 113–114 (1999). https://doi.org/10.1038/16365
Issue Date:

DOI: https://doi.org/10.1038/16365
Comments
By submitting a comment you agree to abide by our Terms and Community Guidelines. If you find something abusive or that does not comply with our terms or guidelines please flag it as inappropriate.