Abstract
Background/Objectives:
Vitamins can help improve cardiovascular control. In contrast, smoking works in the opposite fashion, reducing the baroreflex control of heart rate (HR) possibly via oxidative stress. High-fat challenges also impair cardiovascular regulation. Whether vitamins have acute beneficial effects on the baroreflex control of HR in smokers is unclear.
Subjects/Methods:
A randomized, placebo-controlled crossover study in 30 male smokers (34.2±6.9 years). Interventions were: (1) moderate (vitamin C (300 mg) and E (75 IU) and folic acid (1 mg)); (2) high doses of vitamins (vitamin C (2 g) and E (800 IU), and folic acid (5 mg)); or, (3) placebo. Vitamins were ingested with cream (a high-fat challenge) or milk (low-fat control). Four hours later, blood was withdrawn and radial pulse wave forms recorded via tonometry. Spontaneous beat-to-beat variations in HR and systolic blood pressure (SBP) were analysed by spectral analysis techniques and sympathovagal control of HR and baroreflex sensitivity (BRS) were assessed.
Results:
High doses of vitamins increased plasma vitamin C, E and folic acid levels (P<0.05) with no change in SBP, HR or BRS (P>0.05, analysis of variance). Plasma vitamin levels did not correlate with any cardiovascular parameters. Moderate vitamins increased the vagal control of HR (+23%; P<0.05) and cream led to small increases (P<0.05) in SBP (+2 mm Hg) and HR (+2 beats min−1) with no change in BRS.
Conclusions:
In male smokers, circulating antioxidants had no effect on BRS and minor effects on the cardiovascular system were seen following acute fat and vitamin ingestion.
Access options
Subscribe to this journal
Receive 12 print issues and online access
$259.00 per year
only $21.58 per issue
Rent or buy this article
Prices vary by article type
from$1.95
to$39.95
Prices may be subject to local taxes which are calculated during checkout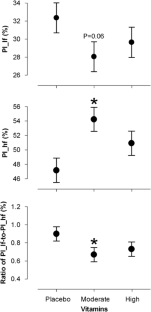 References
Abbink EJ, Wollersheim H, Netten PM, Smits P (2001). Reproducibility of skin microcirculatory measurements in humans, with special emphasis on capillaroscopy. Vasc Med 6, 203–210.

Actis-Goretta L, Carrasquedo F, Fraga CG (2004). The regular supplementation with an antioxidant mixture decreases oxidative stress in healthy humans. Gender effect. Clin Chim Acta 349, 97–103.

Al Kubati M, Al Kubati AS, al'Absi M, Fiser B (2006). The short-term effect of water-pipe smoking on the baroreflex control of heart rate in normotensives. Auton Neurosci 126–127, 146–149.

Anan F, Takahashi N, Shinohara T, Nakagawa M, Masaki T, Katsuragi I et al. (2006). Smoking is associated with insulin resistance and cardiovascular autonomic dysfunction in type 2 diabetic patients. Eur J Clin Invest 36, 459–465.

Arosio E, De Marchi S, Rigoni A, Prior M, Lechi A (2006). Effects of smoking on cardiopulmonary baroreceptor activation and peripheral vascular resistance. Eur J Clin Invest 36, 320–325.

Bader N, Bosy-Westphal A, Koch A, Mueller MJ (2006). Influence of vitamin C and E supplementation on oxidative stress induced by hyperbaric oxygen in healthy men. Ann Nutr Metab 50, 173–176.

Béchir M, Enseleit F, Chenevard R, Muntwyler J, Lüscher TF, Noll G (2005). Folic acid improves baroreceptor sensitivity in hypertension. J Cardiovasc Pharmacol 45, 44–48.

Bland JM, Altman DG (1986). Statistical methods for assessing agreement between two methods of clinical measurement. Lancet 1, 307–310.

Carr AC, Zhu BZ, Frei B (2000). Potential antiatherogenic mechanisms of ascorbate (vitamin C) and alpha-tocopherol (vitamin E). Circ Res 87, 349–354.

Doshi SN, McDowell IF, Moat SJ, Payne N, Durrant HJ, Lewis MJ et al. (2002). Folic acid improves endothelial function in coronary artery disease via mechanisms largely independent of homocysteine lowering. Circulation 105, 22–26.

El Sayed H, Hainsworth R (1996). Salt supplement increases plasma volume and orthostatic tolerance in patients with unexplained syncope. Heart 75, 134–140.

Ellis GR, Anderson RA, Lang D, Blackman DJ, Morris RH, Morris-Thurgood J et al. (2000). Neutrophil superoxide anion—generating capacity, endothelial function and oxidative stress in chronic heart failure: effects of short- and long-term vitamin C therapy. J Am Coll Cardiol 36, 1474–1482.

Fu CH, Yang CCH, Lin CL, Kuo TBJ (2006). Effects of long-term vegetarian diets on cardiovascular autonomic functions in healthy postmenopausal women. Am J Cardiol 97, 380–383.

Geelen A, Zock PL, Swenne CA, Brouwer IA, Schouten EG, Katan MB (2003). Effect of n-3 fatty acids on heart rate variability and baroreflex sensitivity in middle-aged subjects. Am Heart J 146, E4.

Gerhardt U, Vorneweg P, Riedasch M, Hohage H (1999). Acute and persistant effects of smoking on the baroreceptor function. J Auton Pharmacol 19, 105–108.

Hainsworth R (1998). Exercise training in orthostatic intolerance. QJM 91, 715–717.

Hornig B, Arakawa N, Kohler C, Drexler H (1998). Vitamin C improves endothelial function of conduit arteries in patients with chronic heart failure. Circulation 97, 363–368.

Karatzi K, Papamichael C, Karatzis E, Papaioannou TG, Voidonikola PT, Lekakis J et al. (2007). Acute smoking induces endothelial dysfunction in healthy smokers. Is this reversible by red wine's antioxidant constituents? J Am Coll Nutr 26, 10–15.

Kardos A, Watterich G, de Menezes R, Csanady M, Casadei B, Rudas L (2001). Determinants of spontaneous baroreflex sensitivity in a healthy working population. Hypertension 37, 911–916.

Kuo TB, Lin T, Yang CC, Li CL, Chen CF, Chou P (1999). Effect of aging on gender differences in neural control of heart rate. Am J Physiol 277, H2233–H2239.

Lammers A, Kaemmerer H, Hollweck R, Schneider R, Barthel P, Braun S et al. (2006). Impaired cardiac autonomic nervous activity predicts sudden cardiac death in patients with operated and unoperated congenital cardiac disease. J Thorac Cardiovasc Surg 132, 647–655.

Laude D, Elghozi JL, Girard A, Bellard E, Bouhaddi M, Castiglioni P et al. (2004). Comparison of various techniques used to estimate spontaneous baroreflex sensitivity (the EuroBaVar study). Am J Physiol Regul Integr Comp Physiol 286, R226–R231.

Mills DE, Mah M, Ward RP, Morris BL, Floras JS (1990). Alteration of baroreflex control of forearm vascular resistance by dietary fatty acids. Am J Physiol 259, R1164–R1171.

Monahan KD, Eskurza I, Seals DR (2004). Ascorbic acid increases cardiovagal baroreflex sensitivity in healthy older men. Am J Physiol Heart Circ Physiol 286, H2113–H2117.

Nightingale AK, Blackman DJ, Field R, Glover NJ, Pegge N, Mumford C et al. (2003). Role of nitric oxide and oxidative stress in baroreceptor dysfunction in patients with chronic heart failure. Clin Sci 104, 529–535.

Pellizzer AM, Straznicky N, Lim S, Kamen P, Krum H (1999). Reduced dietary fat intake increases parasympathetic activity in healthy premenopausal women. Clin Exp Pharmacol Physiol 26, 656–660.

Rietzschel ER, Boeykens E, De Buyzere ML, Duprez DA, Clement DL (2001). A comparison between systolic and diastolic pulse contour analysis in the evaluation of arterial stiffness. Hypertension 37, 15e–122.

Ruano J, Lopez-Miranda J, Fuentes F, Moreno JA, Bellido C, Perez-Martinez P et al. (2005). Phenolic content of virgin olive oil improves ischemic reactive hyperemia in hypercholesterolemic patients. J Am Coll Cardiol 46, 1864–1868.

Ruediger H, Klinghammer L, Scheuch K (1999). The trigonometric regressive spectral analysis—a method for mapping of beat-to-beat recorded cardiovascular parameters on to frequency domain in comparison with Fourier transformation. Comput Methods Programs Biomed 58, 1–15.

Ruediger H, Seibt R, Scheuch K, Krause M, Alam S (2004). Sympathetic and parasympathetic activation in heart rate variability in male hypertensive patients under mental stress. J Hum Hypertens 18, 307–315.

Schroeder C, Bush VE, Norcliffe LJ, Luft FC, Tank J, Jordan J et al. (2002). Water drinking acutely improves orthostatic tolerance in healthy subjects. Circulation 106, 2806–2811.

Shaltout HA, Abdel-Rahman AA (2005). Mechanism of fatty acids induced suppression of cardiovascular reflexes in rats. J Pharmacol Exp Ther 314, 1328–1337.

Straznicky NE, Howes LG, Barrington VE, Lam W, Louis WJ (1997). Effects of dietary lipid modification on adrenoceptor-mediated cardiovascular responsiveness and baroreflex sensitivity in normotensive subjects. Blood Press 6, 96–102.

Studinger P, Mersich B, Lenard Z, Somogyi A, Kollai M (2004). Effect of vitamin E on carotid artery elasticity and baroreflex gain in young, healthy adults. Auton Neurosci 113, 63–70.

Tank J, Baevski RM, Fender A, Baevski AR, Graves KF, Ploewka K et al. (2000). Reference values of indices of spontaneous baroreceptor reflex sensitivity. Am J Hypertens 13, 268–275.

Task Force of the European Society of Cardiology and the North American Society of Pacing and Electrophysiology (1996). Heart rate variability: standards of measurement, physiological interpretation and clinical use. Circulation 93, 1043–1065.

Tracey KJ (2002). The inflammatory reflex. Nature 420, 853–859.

Vogel RA, Corretti MC, Plotnick GD (1997). Effect of a single high-fat meal on endothelial function in healthy subjects. Am J Cardiol 79, 350–354.

Zhou JF, Yan XF, Guo FZ, Sun NY, Qian ZJ, Ding DY (2000). Effects of cigarette smoking and smoking cessation on plasma constituents and enzyme activities related to oxidative stress. Biomed Environ Sci 13, 44–55.

Zimlichman R, Shargorodsky M, Boaz M, Duprez D, Rahn KH, Rizzoni D et al. (2005). Determination of arterial compliance using blood pressure waveform analysis with the CR-2000 system: reliability, repeatability, and establishment of normal values for healthy European population—the seven European sites study (SESS). Am J Hypertens 18, 65–71.
Acknowledgements
We are grateful for the help rendered by Itske Zijp, Veronique Bianco and Frits Quadt.
About this article
Cite this article
Wright, C., Ruediger, H., Kroner, C. et al. Acute autonomic effects of vitamins and fats in male smokers. Eur J Clin Nutr 63, 246–252 (2009). https://doi.org/10.1038/sj.ejcn.1602912
Received:

Revised:

Accepted:

Published:

Issue Date:

DOI: https://doi.org/10.1038/sj.ejcn.1602912
Keywords