Abstract
Objective:
To clearly clarify the protective effect of vitamin A supplementation on immune function of well-nourished children suffering from vitamin A deficiency.
Methods:
Three hundred sixty-two children in two kindergartens in Wuhan China were enrolled. Detailed dietary assessment and anthropometry were undertaken to facilitate the exclusion of malnourished children. Seventy vitamin A-deficient children with informed consent were randomly divided into the vitamin A-deficient-supplemented group and vitamin A-deficient placebo group, 35 vitamin A-sufficient children (age- and sex-matched with the vitamin A-deficient-supplemented group children) were selected as vitamin A-sufficient placebo group. The baseline and follow-up level of selected immune parameters of the 105 children in three intervention groups were compared.
Results:
The total proportion of severe and marginal vitamin A-deficient children was 10.9 and 21.96%, respectively. At baseline, the serum complement C3 and sIgA level of vitamin A-sufficient children was significantly higher than that of vitamin A-deficient children (P<0.05). However, the serum lysozyme level of vitamin A-sufficient children was inversely lower. After intervention, vitamin A-deficient-supplemented children increased serum vitamin A, complement C3 and sIgA level, but their serum lysozyme level inversely decreased.
Conclusions:
Vitamin A deficiency was still a serious health problem in children in China cities. Vitamin A supplementation was efficacious in ameliorating serum vitamin A status and partially impaired immune function of well-nourished children suffering from vitamin A deficiency.
Relevant articles
Open Access articles citing this article.
David C Nieman

,

Dru A Henson

&

Wei Sha

Nutrition Journal Open Access 21 April 2011
Access options
Subscribe to this journal
Receive 12 print issues and online access
$259.00 per year
only $21.58 per issue
Rent or buy this article
Get just this article for as long as you need it
$39.95
Prices may be subject to local taxes which are calculated during checkout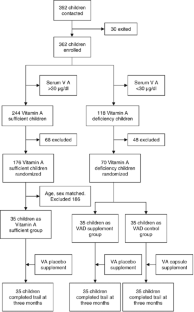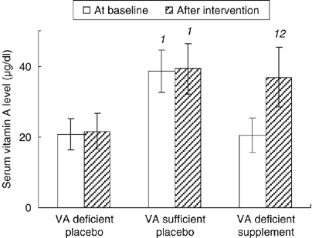 References
Bhaskaram P (2002). Micronutrient malnutrition, infection, and immunity: an overview. Nutr Rev 60 (Suppl), S40–S45.

Bhat GA, Mubarik M, Bhat MY (1995). Serum immunoglobulin profile in normal Kashmiri adults. J Postgrad Med 41, 66–69.

Coutsoudis A, Kiepiela P, Coovadia HM, Broughton M (1992). Vitamin A supplementation enhances specific IgG antibody levels and total lymphocyte numbers while improving morbidity in measles. Pediatr Infect Dis J 11, 203–209.

Donnen P, Dramaix M, Brasseur D, Bitwe R, Vertongen F, Hennart P (1998). Randomized placebo-controlled clinical trial of the effect of a single high dose or daily low doses of vitamin A on the morbidity of hospitalized, malnourished children. Am J Clin Nutr 68, 1254–1260.

Du S, Zhai F, Wang Y, Popkin BM (2000). Current methods for estimating dietary iron bioavailability do not work in China. J Nutr 130, 193–198.

FAO/WHO (1992). International Conference on Nutrition. World Declaration and Plan of Action. FAO: Rome.

Gerster H (1997). Vitamin A-functions, dietary requirements and safety in humans. Int J Vitam Nutr Res 67, 71–90.

Grubesic RB (2004). Children aged 6 to 60 months in Nepal may require a vitamin A supplement regardless of dietary intake from plant an animal food sources. Food Nutr Bull 25, 248–255.

Institute of Food and Nutrition Hygiene at Chinese Academy of Preventive Medicine (1991). Food Composition Table. People's Medical Publishing House: Beijing, China.

Janine J, Archibald LK, Nwanyanwu OC, Sowell AL, Buchanan I, Larned J et al. (2002). Vitamin A level and immunity in humans. Clin Diagn Lab Immunol 3, 616–621.

Li LM, Rao KQ, Kong LZ, Yao CH, Xiang HD, Zhai FY et al. (2005). A description on the Chinese national nutrition and health survey in 2002. The technical working group of China national nutrition and health survey. Zhonghua Liu Xing Bing Xue Za Zhi 26, 478–484.

Lie O, Syed M, Solbu H (1986). Improved agar plate assays of bovine lysozyme and haemolytic complement activity. Acta Vet Scand 27, 23–32.

Mahalanabis D, Islam MA, Shaikh S, Chakrabarty M, Kurpad AV, Mukherjee S et al. (2005). Haematological response to iron supplementation is reduced in children with asymptomatic Helicobacter pylori infection. Br J Nutr 94, 969–975.

Mancini G, Carbonara AD, Heremans IF (1965). Immuno-chemical quantitation of antigens by single radial immunodiffusion. Immuno-chemistry 2, 235.

Nikawa T, Odahara K, Koizumi H, Kido Y, Teshima S, Rokutan K et al. (1999). Vitamin A prevents the decline in immunoglobulin A and Th2 cytokine levels in small intestinal mucosa of protein-malnourished mice. J Nutr 129, 934–941.

Pangaribuan R, Erhardt JG, Scherbaum V, Biesalski HK (2003). Vitamin A capsule distribution to control vitamin A deficiency in Indonesia: effect of supplementation in pre-school children and compliance with the programme. Public Health Nutr 6, 209–216.

Pare J, Simard C (2004). Comparison of commercial enzyme-linked immunosorbent assays and agar gel immunodiffusion tests for the serodiagnosis of equine infectious anemia. Can J Vet Res 68, 254–258.

Ross AC, Stephensen CB (1996). Vitamin A and retinoids in antiviral responses. FASEB J 10, 979–985.

Semba RD (1999). Vitamin A and immunity to viral, bacterial and protozoan infections. Proc Nutr Soc 58, 719–727.

Semba RD, Bloem MW (2002). The anemia of vitamin A deficiency: epidemiology and pathogenesis. Eur J Clin Nutr 56, 271–281.

Semba RD, Muhilal, Scott AL, Natadisastra G, Wirasasmita S, Mele L et al. (1992). Depressed immune response to tetanus in children with vitamin A deficiency. J Nutr 122, 101–107.

Sommer A, Davidson FR (2002). Assessment and control of vitamin A deficiency: the Annecy accords. J Nutr 132 (Suppl), S2845–S2851.

Sommer A, Tarwotjo I, Djunaedi E, West Jr KP, Loeden AA, Tilden R et al. (1986). Impact of vitamin A supplementation on children mortality. Lancet 1, 1169–1173.

Stephensen CB (2001). Vitamin A, infection, and immune function. Annu Rev Nutr 21, 167–192.

Tang GW, Gu XF, Hu SM, Xu QM, Qin J, Dolnikowski GG et al. (1999). Green and yellow vegetables can maintain body stores of vitamin A in Chinese children. Am J Clin Nutr 70, 1069–1076.

Vijayaraghavan K, Radhaiah G, Prakasam BS, Sarma KV, Reddy V (1990). Effect of massive dose vitamin A on morbidity and mortality in India children. Lancet 336, 1342–1345.

Villamor E, Fawzi WW (2000). Vitamin A supplementation: implications for morbidity and mortality in children. J Infect Dis 182 (Suppl 1), S122–S133.

Villamor E, Fawzi WW (2005). Effects of vitamin a supplementation on immune responses and correlation with clinical outcomes. Clin Microbiol Rev 18, 446–464.

Wang Y, Ge K, Popkin BM (2000). Tracking of body mass index from childhood to adolescence: a 6-y follow-up study in China. Am J Clin Nutr 72, 1018–1024.

West Jr KP (2002). Extent of vitamin A deficiency among preschool children and women of reproductive age. J Nutr 132 (Suppl), 2857S–2866S.

Whitcher JP, Srinivasan M, Upadhyay MP (2001). Corneal blindness: a global perspective. Bull World Health Organ 79, 214–221.
Acknowledgements
This work was supported by the National Natural Science Foundation of China (Grant no. 30471460).
About this article
Cite this article
Lin, J., Song, F., Yao, P. et al. Effect of vitamin A supplementation on immune function of well-nourished children suffering from vitamin A deficiency in China. Eur J Clin Nutr 62, 1412–1418 (2008). https://doi.org/10.1038/sj.ejcn.1602881
Received:

Revised:

Accepted:

Published:

Issue Date:

DOI: https://doi.org/10.1038/sj.ejcn.1602881
Keywords
vitamin A deficiency

immune function

vitamin A supplementation

well-nourished children
This article is cited by
Yujie Ning
Xi Wang
Mikko Lammi

Biological Trace Element Research (2018)

David C Nieman
Dru A Henson
Wei Sha

Nutrition Journal (2011)