Abstract
Objective:
To clarify the effects of isoflavone intake on bone resorption and bone formation.
Methods:
We identified randomized controlled trials related to urinary deoxypyridinoline (Dpyr, a bone resorption marker) and serum bone-specific alkaline phosphatase (BAP, a bone formation marker) listed on MEDLINE (January 1966–April 2006), the Cochrane Controlled Trials Register, EMBASE (1985–January 2006), Science Citation Index and PUBMED (updated till April 2006).
Results:
Nine studies with a total of 432 subjects were selected for meta-analysis. The urinary Dpyr concentration in subjects who consumed isoflavones decreased significantly by −2.08 nmol/mmol (95% confidence interval (CI): −3.82 to −0.34 nmol/mmol) in comparison with that in subjects who did not consume isoflavones. Isoflavone intake vs placebo intake significantly increased serum BAP by 1.48 μg/l (95% CI: 0.22–2.75 μg/l). Decreases in the urinary Dpyr concentration with isoflavone intake of <90 mg/day and with treatment lasting less than 12 weeks were −2.34 nmol/mmol (95% CI: −4.46 to −0.22 nmol/mmol) and −2.03 nmol/mmol (95% CI: −3.20 to −0.85 nmol/mmol), respectively.
Conclusions:
Isoflavone intervention significantly inhibits bone resorption and stimulates bone formation. These favorable effects occur even if <90 mg/day of isoflavones are consumed or the intervention lasts less than 12 weeks.
Access options
Subscribe to this journal
Receive 12 print issues and online access
$259.00 per year
only $21.58 per issue
Rent or buy this article
Get just this article for as long as you need it
$39.95
Prices may be subject to local taxes which are calculated during checkout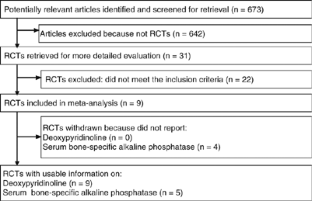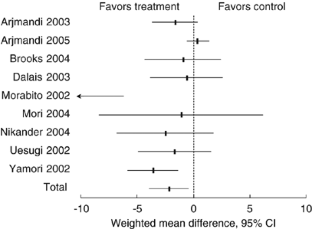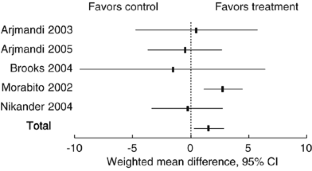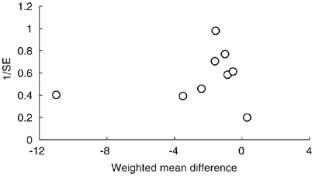 References
Agnusdei D, Bufalino L (1997a). Efficacy of ipriflavone in established osteoporosis and long-term safety. Calcif Tissue Int 61, S23–S27.

Agnusdei D, Crepaldi G, Isaia G, Mazzuoli G, Ortikabu S, Passeri M et al. (1997b). A double blind placebo-controlled trial of ipriflavone for prevention of postmenopausal spinal bone loss. Calcif Tissue Int 61, 142–147.

Alekel DL, Germain AS, Peterson CT, Hanson KB, Stewart JW, Toda T (2000). Isoflavone-rich soy protein isolate attenuates bone loss in the lumbar spine of perimenopausal women. Am J Clin Nutr 72, 844–852.

Anderson JJ, Ambrose WW, Garner SC (1998). Biphasic effects of genistein on bone tissue in the ovariectomized, lactating rat model. Proc Soc Exp Biol Med 217, 345–350.

Anderson JJ, Chen X, Boass A, Symons M, Kohlmeier M, Renner JB et al. (2002). Soy isoflavones: no effects on bone mineral content and bone mineral density in healthy, menstruating young adult women after one year. J Am Coll Nutr 215, 388–393.

Arai Y, Watanabe S, Kimira M, Shimoi K, Mochizuki R, Kinae N (2000). Dietary intakes of flavonols, flavones and isoflavones by Japanese women and the inverse correlation between quercetin intake and plasma LDL cholesterol concentration. J Nutr 130, 2243–2250.

Arjmandi BH, Khalil DA, Smith BJ, Lucas EA, Juma S, Payton ME et al. (2003). Soy protein has a greater effect on bone in postmenopausal women not on hormone replacement therapy, as evidenced by reducing bone resorption and urinary calcium excretion. J Clin Endocrinol Metab 88, 1048–1054.

Arjmandi BH, Lucas EA, Khalil DA, Devareddy L, Smith BJ, Mcdonald J et al. (2005). One year soy protein supplementation has positive effects on bone formation markers but not bone density in postmenopausal women. Nutr J 4, 8.

Atkinson C, Compston JE, Day NE, Dowsett M, Blingham SA (2004). The effects of phytoestrogen isoflavones on bone density in women: a double-blind, randomized, placebo-controlled trial. Am J Clin Nutr 79, 326–333.

Branca F (2003). Dietary phyto-oestrogens and bone health. Proc Nutr Soc 62, 877–887.

Brockwell SE, Gordon IR (2001). A comparison of statistical methods for meta-analysis. Stat Med 20, 825–840.

Brooks JD, Ward WE, Lewis JE, Hilditch J, Nickell L, Wong E et al. (2004). Supplementation with flaxseed alters estrogen metabolism in postmenopausal women to a greater extent than does supplementation with an equal amount of soy. Am J Clin Nutr 79, 318–325.

Cassidy A, Albertazzi P, Lise Nielsen I, Hall W, Williamson G, Tetens I et al. (2006). Critical review of health effects of soyabean phyto-oestrogens in post-menopausal women. Proc Nutr Soc 65, 76–92.

Cauley JA, Black DM, Barrett-Connor E, Harris F, Shields K, Applegate W et al. (2001). Effects of hormone replacement therapy on clinical fractures and height loss: the Heart and Estrogen/Progestin Replacement Study (HERS). Am J Med 110, 442–450.

Chen YM, Ho SC, Lam SS, Ho SS, Pharm DM, Woo JL (2004). Beneficial effect of soy isoflavones on bone mineral content was modified by years since menopause, body weight, and calcium intake: a double-blind, randomized, controlled trial menopause. Menopause 11, 246–254.

Chen YM, Ho SC, Lam SS, Ho SS, Woo JL (2003). Soy isoflavones have a favorable effect on bone loss in Chinese postmenopausal women with lower bone mass: a double-blind, randomized, controlled trial. J Clin Endocrinol Metab 88, 4740–4747.

Chiechi LM, Secreto G, D'Amore M, Fanelli M, Venturelli E, Cantatore F et al. (2002). Efficacy of a soy rich diet in preventing postmenopausal osteoporosis: the Menfis randomized trial. Maturitas 42, 295–300.

Clifton-Bligh PB, Baber RJ, Fulcher GR, Nery ML, Moreton T (2001). The effect of isoflavones extracted from red clover (Rimostil) on lipid and bone metabolism. Menopause 8, 259–265.

Dalais FS, Ebeling PR, Kotsopoulos D, Mcgrath BP, Teede HL (2003). The effects of soy protein containing isoflavones on lipids and indices of bone resorption in postmenopausal women. Clin Endocrinol 58, 704–709.

Dalais FS, Rice GE, Wahlqvist ML, Grehan M, Murkies AL, Medley G et al. (1998). Effects of dietary phytoestrogens in postmenopausal women. Climacteric 1, 124–129.

Dang ZC, Lowik C (2005). Dose-dependent effects of phytoestrogens on bone. Trends Endocrinol Metab 16, 207–213.

Demers LM (1992). New biochemical marker for bone disease: is it a breakthrough? Clin Chem 38, 2169–2170.

Gambacciani M, Cappagli B, Piaggesi L, Ciaponi M, Genazzani AR (1997a). Ipriflavone prevents the loss of bone mass in pharmacological menopause induced by GnRH-agonists. Calcif Tissue Int 61 (Suppl 1), S15–S18.

Gambacciani M, Ciaponi M, Cappaglia B, Piaggesi L, Genazzani AR (1997b). Effects of combined low dose of the isoflavone derivative ipriflavone and estrogen replacement on bone mineral density and metabolism in postmenopausal women. Maturitas 28, 75–81.

Gomez Jr B, Ardakani S, Ju J, Jenkins D, Cerelli MJ, Daniloff GY et al. (1995). Monoclonal antibody assay for measuring bone-specific alkaline phosphatase activity in serum. Clin Chem 41, 1560–1566.

Harkness LS, Fiedler K, Sehgal AR, Oravec D, Lermer E (2004). Decreased bone resorption with soy isoflavones supplementation in postmenopausal women. J Womens Health 13, 1000–1007.

Ho SC, Bacon WE, Harris T, Looker A, Maggi S (1993). Hip fracture rates in Hong Kong and the United States, 1988 through 1989. Am J Public Health 83, 694–697.

Ho SC, Woo J, Lam S, Chen YM, Sham A, Lau J (2003). Soy protein consumption and bone mass in early postmenopausal Chinese women. Osteoporos Int 14, 835–842.

Jadad AR, Moore RA, Carroll D, Jenkinson C, Reynolds DJ, Gavaghan DJ et al. (1996). Assessing the quality of reports of randomized clinical trials: is blinding necessary? Control Clin Trials 17, 1–12.

Jones G, Dwyer T, Hynes K, Dalais FS, Parameswaran V, Greenaway TM (2003). A randomized controlled trial of phytoestrogen supplementation, growth and bone turnover in adolescent males. Eur J Clin Nutr 57, 324–327.

Katase K, Kato T, Hirai Y, Hasumi K, Chen JT (2001). Effects of ipriflavone on bone loss following a bilateral ovariectomy and menopause: a randomized placebo-controlled study. Calcif Tissue Int 69, 73–77.

Khalil DA, Lucas EA, Juma S, Smith BJ, Payton ME, Arjmandi BH (2002). Soy protein supplementation increases serum insulin-like growth factor-I in young and old men but does not affect markers of bone metabolism. J Nutr 132, 2605–2608.

Kimira M, Arai Y, Shimoi K, Watanabe S (1998). Japanese intake of flavonoids and isoflavonoids form foods. J Epidemiol 8, 168–175.

Knight DC, Eden JA (1996). A review of the clinical effects of phytoestrogens. Obstet Gynecol 87, 897–904.

Kurzer MS, Xu X (1997). Dietary phytoestrogens. Annu Rev Nutr 17, 353–381.

Lucas EA, Wild RD, Hammond LJ, Khalil DA, Juma S, Daggy BP et al. (2002). Flaxseed improves lipid profile without altering biomarkers of bone metabolism in postmenopausal women. J Clin Endocrinol Metab 87, 1527–1532.

Mei J, Yeung SS, Kung AW (2001). High dietary phytoestrogen intake is associated with higher bone mineral density in postmenopausal but not premenopausal women. J Clin Endocrinol Metab 86, 5217–5221.

Morabito N, Crisafulli A, Vergara C, Gaudio A, Lasco A, Frisina N et al. (2002). Effects of genistein and hormone-replacement therapy on bone loss in early postmenopausal women: a randomized double-blind placebo-controlled study. J Bone Miner Res 17, 1904–1912.

Mori M, Aizawa T, Tokoro M, Miki T, Yamori Y (2004a). Soy isoflavone tablets reduce osteoporosis risk factors and obesity in middle-aged Japanese women. Clin Exp Pharmacol Physiol 31 (Suppl 2), S39–S41.

Mori M, Sagara M, Ikeda K, Miki T, Yamori Y (2004b). Soy isoflavones improve bone metabolism in postmenopausal Japanese women. Clin Exp Pharmacol Physiol 31 (Suppl 2), S44–S46.

Nikander E, Metsa-heikkila M, Ylikorkala O, Tiitinen A (2004). Effects of phytoestrogens on bone turnover in postmenopausal women with a history of breast cancer. J Clin Endocrinol Metab 89, 1207–1212.

Olsen EL, Jensen JEB, Setchell KDR, Jensen TH (2004). Soymilk or progesterone for prevention of bone loss: a 2 year randomized, placebo-controlled trial. Eur J Nutr 43, 246–257.

Potter SM, Baum JA, Teng H, Stillman RJ, Shay NF, Erdman JW (1998). Soy protein and isoflavones: their effects on blood lipids and bone density in postmenopausal women. Am J Clin Nutr 68 (Suppl), 1375S–1379S.

Qin LQ, Xu JY, Wang PY, Kaneko T, Hoshi K, Sato A (2004). Milk consumption is a risk factor for prostate cancer: meta-analysis of case–control studies. Nutr Cancer 48, 22–27.

Ravn P, Fledelius C, Rosenquist C, Overgaard K, Christiansen C (1996). High bone turnover is associated with low bone mass in both pre- and postmenopausal women. Bone 19, 291–298.

Ravn P, Rix M, Andreassen H, Clemmesen B, Bidstrup M, Gunnes M (1997). High bone turnover is associated with low bone mass and spinal fracture in postmenopausal women. Calcif Tissue Int 60, 255–260.

Recker RR (1993). Current therapy for osteoporosis. J Clin Endocrinol Metab 76, 14–16.

Rossouw JE, Anderson GL, Prentice RL, LaCroix AZ, Kooperberg C, Stefanick ML et al. (2002). Risks and benefits of estrogen plus progestin in healthy postmenopausal women: principal results from the Women's Health Initiative Randomized Controlled Trial. JAMA 288, 321–333.

Schult TMK, Ensrud KE, Blackwell T, Ettinger B, Wallace R, Tice JA (2003). Effect of isoflavones on lipids and bone turnover markers in menopausal women. Maturitas 48, 209–218.

Setchell KD, Borriello SP, Hulme P, Kirk DN, Axelson M (1984). Nonsteroidal oestrogens of dietary origin: possible roles in hormone dependent disease. Am J Clin Nutr 40, 569–578.

Setchell KD, Brown NM, Lydeking-Olsen E (2002). The clinical importance of the metabolite equol – a clue to the effectiveness of soy and its isoflavones. J Nutr 132, 3577–3584.

Tham DM, Gardner CD, Haskell WL (1998). Clinical review 97: potential health benefits of dietary phytoestrogens: a review of the clinical, epidemiological, and mechanistic evidence. J Clin Endocrinol Metab 83, 2223–2235.

Uesugi T, Fukui Y, Yamori Y (2002). Beneficial effects of soybean isoflavone supplementation on bone metabolism and serum lipids in postmenopausal Japanese women: a four-week study. J Am Coll Nutr 21, 97–102.

Wangen KE, Duncan AM, Merz-Demlow BE, Xu X, Marcus R, Phipps WR et al. (2000). Effects of soy isoflavones on markers of bone turnover in premenopausal and postmenopausal women. J Clin Endocrinol Metab 85, 3043–3048.

Watanabe S, Yamaguchi M, Sobue T, Takahashi T, Miura T, Arai Y et al. (1998). Pharmacokinetics of soybean isoflavones in plasma, urine and feces of men after ingestion of 60 g baked soybean powder (kinako). J Nutr 128, 1710–1715.

Xu X, Duncan AM, Merz BE, Kurzer MS (1998). Effects of soy isoflavones on estrogen and phytoestrogen metabolism in premenopausal women. Cancer Epidemiol Biomarkers Prev 7, 1101–1108.

Yamori Y, Moriguchi EH, Teramoto T, Miura A, Fukui Y, Honda KI et al. (2002). Soybean isoflavones reduce postmenopausal bone resorption in female Japanese immigrants in Brazil: a ten-week study. J Am Coll Nutr 21, 560–563.

Yeung J, Yu TF (2003). Effects of isoflavones (soy phyto-estrogens) on serum lipids: a meta-analysis of randomized controlled trials. Nutr J 2, 15.

Zhuo XG, Melby MK, Watanabe S (2004). Soy isoflavone intake lowers serum LDL cholesterol: a meta-analysis of 8 randomized controlled trials in humans. J Nutr 134, 2395–2400.
Acknowledgements
This research was supported in part by a grant from National Natural Science Foundation of China (No. 30471448) to Dr Pei-Yu Wang.
Additional information
Contributors: P-YW and RK contributed to the design of this article. D-FM and L-QQ contributed to the collection of data and statistical analysis, and have also contributed equally to the work. All authors read and approved this article.
About this article
Cite this article
Ma, DF., Qin, LQ., Wang, PY. et al. Soy isoflavone intake inhibits bone resorption and stimulates bone formation in menopausal women: meta-analysis of randomized controlled trials. Eur J Clin Nutr 62, 155–161 (2008). https://doi.org/10.1038/sj.ejcn.1602748
Received:

Revised:

Accepted:

Published:

Issue Date:

DOI: https://doi.org/10.1038/sj.ejcn.1602748
Keywords
soy

isoflavone

osteoporosis

bone metabolism

deoxypyridinoline

bone-specific alkaline phosphatase
This article is cited by
K. Sansai
M. Na Takuathung
N. Koonrungsesomboon

Osteoporosis International (2020)

Journal of Food Science and Technology (2015)

Hyejin Kim
Atsushi Tabata
Hideaki Nagamune

Journal of Bone and Mineral Metabolism (2015)