Abstract
Objective:
High sodium intake increases the risk of cardiovascular diseases and may also be associated with higher rates of stomach cancer, asthma disorders and infections. In Finland, cross-sectional population surveys to monitor cardiovascular risk factors have been carried out since the 1970s. The main aim of this paper is to present trends in urinary sodium and potassium excretion from 1979 to 2002.
Design:
Cross-sectional population surveys on cardiovascular risk factors.
Setting:
Surveys were carried out in Finland in 1979, 1982, 1987 and 2002 in four geographical areas: North Karelia, the Kuopio area, Southwestern Finland and the Helsinki area.
Subjects:
For each survey a random sample stratified by age and sex was drawn from the population register. In this analysis, participants of urine collection subsamples aged 25–64 years (n=4648) were included.
Interventions:
A 24-h urinary collection was carried out in subsamples (n=2218–2487) in connection with population risk factor surveys. Urinary sodium and potassium concentrations were analyzed in the same laboratory throughout, using a flame photometer in 1979, 1982 and 1987 and an ion-selective electrode in 2002.
Results:
Between 1979 and 2002 urinary sodium excretion in Finland decreased from over 220 to less than 170 mmol/day among men and from nearly 180 to less than 130 mmol/day among women. Although potassium excretion decreased somewhat as well, the decrease in sodium–potassium molar ratio was also significant.
Conclusions:
The 24-h urinary sodium excretion in Finland has decreased significantly during the last 20 years. However, excretion levels are still considerably higher than recommendations. A further decrease in sodium intake remains a goal for the Finnish food industry and consumers.
Sponsorship:
All surveys were funded by the National Public Health Institute in Finland.
Access options
Subscribe to this journal
Receive 12 print issues and online access
$259.00 per year
only $21.58 per issue
Rent or buy this article
Prices vary by article type
from$1.95
to$39.95
Prices may be subject to local taxes which are calculated during checkout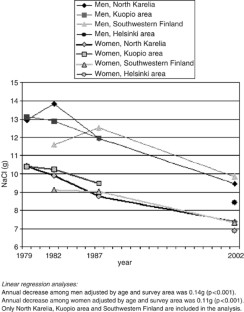 Similar content being viewed by others
References
Alderman MH, Cohen H, Madhavan S (1998). Dietary sodium intake and mortality: the National Health and Nutrition Examination Survey (NHANES I). Lancet 351, 781–785.

Alderman MH, Madhavan S, Cohen H, Sealey JE, Laragh JH (1995). Low urinary sodium is associated with greater risk of myocardial infarction among treated hypertensive men. Hypertension 25, 1144–1152.

Altschul AM, Ayers WR, Grommet JK, Slotkoff L (1981). Salt sensitivity in experimental animals and man. Int J Obes 5 (Suppl), S27–S38.

Bingham SA, Williams R, Cole TJ, Price CP, Cummings JH (1988). Reference values for analytes of 24-h urine collections known to be complete. Ann Clin Biochem 25 (Part 6), 610–619.

Cutler JA, Follmann D, Allender PS (1997). Randomized trials of sodium reduction: an overview. Am J Clin Nutr 65 (Suppl), S643–S651.

de Wardener HE, MacGregor GA (2002). Harmful effects of dietary salt in addition to hypertension. J Hum Hypertens 16, 213–223.

Graudal NA, Galloe AM, Garred P (1998). Effects of sodium restriction on blood pressure, renin, aldosterone, catecholamines, cholesterols, and triglyceride: a meta-analysis. JAMA 279, 1383–1391.

He FJ, MacGregor GA (2002). Effect of modest salt reduction on blood pressure: a meta-analysis of randomized trials. Implications for public health. J Hum Hypertens 16, 761–770.

He J, Ogden LG, Vupputuri S, Bazzano LA, Loria C, Whelton PK (1999). Dietary sodium intake and subsequent risk of cardiovascular disease in overweight adults. JAMA 282, 2027–2034.

Information Centre of the Ministry of Agriculture and Forestry (2000). Balance Sheet for Food Commodities 1998 and 1999. Helsinki: Information Centre of the Ministry of Agriculture and Forestry.

Intersalt Cooperative Research Group (1988). Intersalt: an international study of electrolyte excretion and blood pressure. Results for 24 h urinary sodium and potassium excretion. Intersalt Cooperative Research Group. BMJ 297, 319–328.

Jacobson MF (2005). Salt The Forgotten Killer. Center for Science in the Public Interest: Washington DC.

Joossens JV, Hill MJ, Elliott P, Stamler R, Lesaffre E, Dyer A et al. (1996). Dietary salt, nitrate and stomach cancer mortality in 24 countries. European Cancer Prevention (ECP) and the INTERSALT Cooperative Research Group. Int J Epidemiol 25, 494–504.

Karvonen MJ, Punsar S (1977). Sodium excretion and blood pressure of West and East Finns. Acta Med Scand 202, 501–507.

Kastarinen MJ, Puska PM, Korhonen MH, Mustonen JN, Salomaa VV, Sundvall JE et al. (2002). Non-pharmacological treatment of hypertension in primary health care: a 2-year open randomized controlled trial of lifestyle intervention against hypertension in eastern Finland. J Hypertens 20, 2505–2512.

Kastarinen MJ, Salomaa VV, Vartiainen EA, Jousilahti PJ, Tuomilehto JO, Puska PM et al. (1998). Trends in blood pressure levels and control of hypertension in Finland from 1982 to 1997. J Hypertens 16, 1379–1387.

Keys A (1970). Coronary Heart Disease in Seven Countries. American Heart Association, Monograph No. 29: New York.

Khaw KT, Barrett-Connor E (1990). Increasing sensitivity of blood pressure to dietary sodium and potassium with increasing age. A population study using casual urine specimens. Am J Hypertens 3 (6 Part), 505–511.

Khaw KT, Bingham S, Welch A, Luben R, O'Brien E, Wareham N et al. (2004). Blood pressure and urinary sodium in men and women: the Norfolk Cohort of the European Prospective Investigation into Cancer (EPIC-Norfolk). Am J Clin Nutr 80, 1397–1403.

Khaw KT, Rose G (1982). Population study of blood pressure and associated factors in St Lucia, West Indies. Int J Epidemiol 11, 372–377.

Laatikainen T, Tapanainen H, Alfthan G, Salminen I, Sundvall J, Leiviskä J et al. (2003). FINRISKI 2002. Survey implementation and results 1 (In Finnish, English summary). National Public Health Institute: Helsinki.

Langhoff E, Steiness I (1982). Potentiometric analysis for sodium and potassium in biological fluids. Clin Chem 28, 170–172.

Midgley JP, Matthew AG, Greenwood CM, Logan AG (1996). Effect of reduced dietary sodium on blood pressure: a meta-analysis of randomized controlled trials. JAMA 275, 1590–1597.

Nagata C, Takatsuka N, Shimizu N, Shimizu H (2004). Sodium intake and risk of death from stroke in Japanese men and women. Stroke 35, 1543–1547.

Nissinen A, Kastarinen M, Tuomilehto J (2004). Community control of hypertension-experiences from Finland. J Hum Hypertens 18, 553–556.

Nissinen A, Pietinen P, Tuomilehto J, Tanskanen A, Moisio S, Puska P (1982). Experiments with dietary intervention in hypertension control-implementation of the North Karelia Salt Project. Magnesium 1, 232–240.

Nordic Council of Ministers (2004). Nordic nutrition recommendations 2004. Copenhagen: Nordic Council of Ministers. Nord 13, 22.

Ovesen L, Boeing H (2002). The use of biomarkers in multicentric studies with particular consideration of iodine, sodium, iron, folate and vitamin D. Eur J Clin Nutr 56 (Suppl), S12–S17.

Perry IJ, Beevers DG (1992). Salt intake and stroke: a possible direct effect. J Hum Hypertens 6, 23–25.

Pietinen P, Vartiainen E, Seppanen R, Aro A, Puska P (1996). Changes in diet in Finland from 1972 to 1992: impact on coronary heart disease risk. Prev Med 25, 243–250.

Poulter N, Khaw KT, Hopwood BE, Mugambi M, Peart WS, Rose G et al. (1984). Blood pressure and its correlates in an African tribe in urban and rural environments. J Epidemiol Community Health 38, 181–185.

Puska P, Tuomilehto J, Nissinen A, Vartiainen E (1995). The North Karelia Project: 20 year results and experiences. National Public Health Institute: Helsinki.

Reinivuo H, Valsta L, Laatikainen T, Tuomilehto J, Pietinen P (2006). Sodium in the Finnish diet: trends in dietary sodium intake and comparison between intake and 24-hour excretion of sodium. Eur J Clin Nutr, in press.

Rocchini AP, Key J, Bondie D, Chico R, Moorehead C, Katch V et al. (1989). The effect of weight loss on the sensitivity of blood pressure to sodium in obese adolescents. N Engl J Med 321, 580–585.

Sacks FM, Svetkey LP, Vollmer WM, Appel LJ, Bray GA, Harsha D et al. (2001). Effects on blood pressure of reduced dietary sodium and the Dietary Approaches to Stop Hypertension (DASH) diet. DASH-Sodium Collaborative Research Group. N Engl J Med 344, 3–10.

Safar ME, Thuilliez C, Richard V, Benetos A (2000). Pressure-independent contribution of sodium to large artery structure and function in hypertension. Cardiovasc Res 46, 269–276.

Schmieder RE, Messerli FH (2000). Hypertension and the heart. J Hum Hypertens 14, 597–604.

Sharp D (2004). Labelling salt in food: if yes, how? Lancet 364, 2079–2081.

Simon G (2003). Experimental evidence for blood pressure-independent vascular effects of high sodium diet. Am J Hypertens 16, 1074–1078.

Thom T, Epstein F, Feldman J, Leaverton P, Wolz M (1992). Total mortality and mortality from heart disease, cancer and stroke from 1950 to 1987 in 27 countries. National Institutes of Health.

Tuomilehto J, Jousilahti P, Rastenyte D, Moltchanov V, Tanskanen A, Pietinen P et al. (2001). Urinary sodium excretion and cardiovascular mortality in Finland: a prospective study. Lancet 357, 848–851.

Tuomilehto J, Karppanen H, Tanskanen A, Tikkanen J, Vuori J (1980). Sodium and potassium excretion in a sample of normotensive and hypertensive persons in eastern Finland. J Epidemiol Community Health 34, 174–178.

Tuomilehto J, Pietinen P, Uusitalo U, Korhonen H, Nissinen A (1989). Changes in sodium and potassium intake in Finland during the 1980s. In: Yamori Y, Strasser T (Eds). New horizons in preventing cardiovascular disease. Elsevier Science Publishers B.V.: Amsterdam,pp. 229–240.

Tuomilehto J, Puska P, Nissinen A, Salonen J, Tanskanen A, Pietinen P et al. (1984). Community-based prevention of hypertension in North Karelia, Finland. Ann Clin Res 16 (Suppl), S18–S27.

Vartiainen E, Jousilahti P, Alfthan G, Sundvall J, Pietinen P, Puska P (2000). Cardiovascular risk factor changes in Finland, 1972–1997. Int J Epidemiol 29, 49–56.

Vartiainen E, Puska P, Pekkanen J, Tuomilehto J, Jousilahti P (1994). Changes in risk factors explain changes in mortality from ischaemic heart disease in Finland. BMJ 309, 23–27.

Waterhouse J, Muir C, Correa P, Powell J (eds) (1976). Cancer incidence in five continents,vol. III. IARC: Lyon.Report no. 15.

WHO (2003). Diet, Nutrition, and the Prevention of Chronic Diseases. World Health Organization: Geneva.

Wolf HK, Tuomilehto J, Kuulasmaa K, Domarkiene S, Cepaitis Z, Molarius A, et al., for WHO MONICA Project (1997). Blood pressure levels in the 41 populations of the WHO MONICA project. J Human Hypertens 12, 733–742.
Additional information
Guarantor: T Laatikainen.
Contributors: All authors contributed to the study design, data collection and critical review of the manuscript. TL conducted the statistical analyses and prepared the draft manuscript.
About this article
Cite this article
Laatikainen, T., Pietinen, P., Valsta, L. et al. Sodium in the Finnish diet: 20-year trends in urinary sodium excretion among the adult population. Eur J Clin Nutr 60, 965–970 (2006). https://doi.org/10.1038/sj.ejcn.1602406
Received:

Revised:

Accepted:

Published:

Issue Date:

DOI: https://doi.org/10.1038/sj.ejcn.1602406
Keywords