Abstract
Objective:
We have investigated the influence of vitamin C diet supplementation on the antioxidant response and nitrite levels in lymphocytes and erythrocytes during diving apnea.
Subjects:
Seven male professional apnea divers participated in a double blind crossover study. Divers were randomly assigned to either vitamin C supplemented or placebo groups. The subjects did not take any other supplements than the ones provided for this study.
Intervention:
One group was supplemented with vitamin C capsules (1 g per day) for 7 days while the other group took a placebo composed of lactose. The usual dietary habits of participants were assessed using a self-reported 7-days 24-h recall before the day of the study. Blood samples were taken under basal conditions, immediately after diving apnea for 4 h and after 1 h of recovery.
Results:
Catalase activity increased in erythrocytes (23%) and superoxide dismutase increased in lymphocytes (35%) during the recovery only in the placebo group. Lymphocyte ascorbate levels increased in the supplemented group after diving (85%) and maintained high at recovery. Plasma nitrite levels increased about twofold in both groups during the recovery. Erythrocyte nitrite levels increased after diving (50%) and about twofold during the recovery in the supplemented group. Nitrite levels and iNOS levels in lymphocytes were higher in the placebo group than in the supplemented during the recovery. Erythrocyte carbonyl derivates were unchanged in all situations.
Conclusions:
Vitamin C supplementation influenced the antioxidant response and NO handling in erythrocytes and lymphocytes to the oxidative stress induced by hypoxia–reoxygenation.
Relevant articles
Open Access articles citing this article.
Antonis Elia

,

M. Gennser

…

Matthew J. Lees

European Journal of Applied Physiology Open Access 31 March 2021
Access options
Subscribe to Journal
Get full journal access for 1 year
$119.00
only $9.92 per issue
All prices are NET prices.
VAT will be added later in the checkout.
Tax calculation will be finalised during checkout.
Buy article
Get time limited or full article access on ReadCube.
$32.00
All prices are NET prices.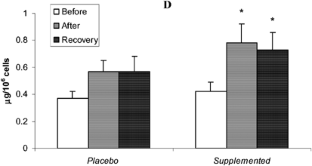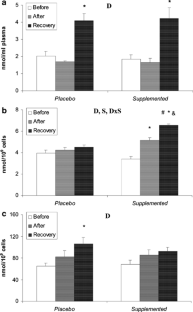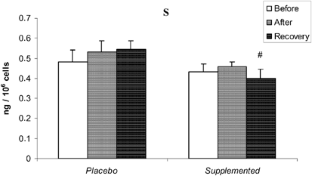 References
Aebi HE (1984). Catalase. In: Bergmeyer HU (ed). Methods in Enzymatic Analysis. Verlag Chemie: Basel, pp 273–286.

Barer G, Emery C, Stewart A, Bee D, Howard P (1993). Endothelial control of the pulmonary circulation in normal and chronically hypoxic rats. J Physiol 463, 1–16.

Batle JM (2002). How to avoid arterial gas embolism in free diving, the attitude a breath-hold diver should take: retrospective study of 35 cases 1995–2002. In: Cramer FS, Sheffield PJ (ed). Proceedings of the Fourteenth International Congress on Hyperbaric Medicine. Best Publishing Company: San Francisco, pp 107–112.

Boyum A (1964). Separation of white blood cells. Nature 204, 793–794.

Campbell JD, Cole M, Bunditrutavorn B, Vella AT (1999). Ascorbic acid is a potent inhibitor of various forms of T cell apoptosis. Cell Immunol 194, 1–5.

Cifone MG, Ulisse S, Santoni A (2001). Natural killer cells and nitric oxide. Int Immunopharmacol 1, 1513–1524.

Colantoni A, de Maria N, Caraceni P, Bernardi M, Floyd RA, Van Thiel DH (1998). Prevention of reoxygenation injury by sodium salicylate in isolated-perfused rat liver. Free Radic Biol Med 25, 87–94.

Colombo JP, Konarska L (1984). Arginase. In: Bergmeyer HU (ed). Methods in Enzymatic Analysis. Verlag Chemie: Basel, pp 285–294.

Crawford JH, White CR, Patel RP (2003). Vasoactivity of S-nitrosohemoglobin: role of oxygen, heme, and NO oxidation states. Blood 101, 4408–4415.

Datta B, Tufnell-Barrett T, Bleasdale RA, Jones CJ, Beeton I, Paul V et al. (2004). Red blood cell nitric oxide as an endocrine vasoregulator: a potential role in congestive heart failure. Circulation 109, 1339–1342.

Dejam A, Hunter CJ, Schechter AN, Gladwin MT (2004). Emerging role of nitrite in human biology. Blood Cells Mol Dis 32, 423–429.

Dhariwal KR, Washko PW, Levine M (1990). Determination of dehydroascorbic acid using high-performance liquid chromatography with colorimetric electrochemical detection. Anal Biochem 189, 18–23.

Dou Y, Maillett DH, Eich RF, Olson JS (2002). Myoglobin as a model system for designing heme protein based blood substitutes. Biophys Chem 98, 127–148.

Elsner R, Oyasaeter S, Almaas R, Saugstad OD (1998). Diving seals, ischemia-reperfusion and oxygen radicals. Comp Biochem Physiol A Mol Integr Physiol 119, 975–980.

Flohe L, Gunzler WA (1984). Assays for glutathione peroxidase. Methods Enzymol 105, 114–121.

Gladwin MT, Crawford JH, Patel RP (2004). The biochemistry of nitric oxide, nitrite, and hemoglobin: role in blood flow regulation. Free Radic Biol Med 36, 707–717.

Gladwin MT, Schechter AN (2004). NO contest: nitrite versus S-nitroso-hemoglobin. Circ Res 94, 851–855.

Goldberg DM, Spooner RJ (1984). Glutathione reductase. In: Bergmeyer HU (ed). Methods in Enzymatic Analysis. Verlag Chemie: Basel, pp 258–265.

Hagberg M, Ornhagen H (2003). Incidence and risk factors for symptoms of decompression sickness among male and female dive masters and instructors – a retrospective cohort study. Undersea Hyperb Med 30, 93–102.

Heller R, Werner ER (2002). Ascorbic acid and endothelial NO synthesis. In: Packer L, Traber MG, Kraemer K, Frei B (eds). The Antioxidant Vitamins C and E. AOCS press: Illinois, pp 66–88.

Horakova L, Stolc S, Chromikova Z, Pekarova A, Derkova L (1997). Mechanisms of hippocampal reoxygenation injury. Treatment with antioxidants. Neuropharmacology 36, 177–184.

Isowa N, Yoshimura T, Kosaka S, Liu M, Hitomi S, Yodoi J et al. (2000). Human thioredoxin attenuates hypoxia-reoxygenation injury of murine endothelial cells in a thiol-free condition. J Cell Physiol 182, 33–40.

Joulia F, Steinberg JG, Wolff F, Gavarry O, Jammes Y (2002). Reduced oxidative stress and blood lactic acidosis in trained breath-hold human divers. Respir Physiol Neurobiol 133, 121–130.

Joulia F, Steinberg JG, Faucher M, Jamin T, Ulmer C, Kipson N et al. (2003). Breath-hold training of humans reduces oxidative stress and blood acidosis after static and dynamic apnea. Respir Physiol Neurobiol 137, 19–27.

Kang ES, Ford K, Grokulsky G, Wang YB, Chiang TM, Acchiardo SR (2000). Normal circulating adult human red blood cells contain inactive NOS proteins. J Lab Clin Med 135, 444–451.

Kayyali US, Donaldson C, Huang H, Abdelnour R, Hassoun PM (2001). Phosphorylation of xanthine dehydrogenase/oxidase in hypoxia. J Biol Chem 276, 14359–14365.

Kelm M, Schrader J (1990). Control of coronary vascular tone by nitric oxide. Circ Res 66, 1561–1575.

Khassaf M, McArdle A, Esanu C, Vasilaki A, McArdle F, Griffiths RD et al. (2003). Effect of vitamin C supplements on antioxidant defence and stress proteins in human lymphocytes and skeletal muscle. J Physiol 549, 645–652.

Kokura S, Yoshida N, Yoshikawa T (2002). Anoxia/reoxygenation-induced leukocyte-endothelial cell interactions. Free Radic Biol Med 33, 427–432.

Levine M, Conry-Cantilena C, Wang Y, Welch RW, Washko PW, Dhariwal KR et al. (1996). Vitamin C pharmacokinetics in healthy volunteers: evidence for a recommended dietary allowance. Proc Natl Acad Sci USA 93, 3704–3709.

Levine RL, Williams JA, Stadtman ER, Shacter E (1994). Carbonyl assays for determination of oxidatively modified proteins. Methods Enzymol 233, 346–357.

Li C, Jackson RM (2002). Reactive species mechanisms of cellular hypoxia-reoxygenation injury. Am J Physiol Cell Physiol 282, C227–C241.

McCord JM, Fridovich I (1969). Superoxide dismutase. An enzymic function for erythrocuprein (hemocuprein). J Biol Chem 244, 6049–6055.

McCord JM (1985). Oxygen-derived free radicals in postischemic tissue injury. N Engl J Med 312, 159–163.

Moreiras O, Carvajal A, Cabrera L, Cuadrado C (2003). Food Conposition Tables, 7th edn. (in Spanish). Pirámide: Madrid.

Murphy BJ, Robin ED, Tapper DP, Wong RJ, Clayton DA (1984). Hypoxic coordinate regulation of mitochondrial enzymes in mammalian cells. Science 223, 707–719.

Nagababu E, Ramasamy S, Abernethy DR, Rifkind JM (2003). Active nitric oxide produced in the red cell under hypoxic conditions by deoxyhemoglobin-mediated nitrite reduction. J Biol Chem 278, 46349–46356.

Ridnour LA, Sim JE, Hayward MA, Wink DA, Martin SM, Buettner GR et al. (2000). A spectrophotometric method for the direct detection and quantitation of nitric oxide, nitrite, and nitrate in cell culture media. Anal Biochem 281, 223–229.

Roozendaal R, Kauffman HF, Dijkhuis AJ, Ommen ET, Postma DS, de Monchy JG et al. (2002). Interaction between nitric oxide and subsets of human T lymphocytes with differences in glutathione metabolism. Immunology 107, 334–339.

Schulz R, Mahmoudi S, Hattar K, Sibelius U, Olschewski H, Mayer K et al. (2000). Enhanced release of superoxide from polymorphonuclear neutrophils in obstructive sleep apnea. Impact of continuous positive airway pressure therapy. Am J Respir Crit Care Med 162, 566–570.

Sharma P, Raghavan SA, Dikshit M (2003). Role of ascorbate in the regulation of nitric oxide generation by polymorphonuclear leukocytes. Biochem Biophys Res Commun 309, 12–17.

Shek PN, Shephard RJ (1998). Physical exercise as a human model of limited inflammatory response. Can J Physiol Pharmacol 76, 589–597.

Shi W, Meininger CJ, Haynes TE, Hatakeyama K, Wu G (2004). Regulation of tetrahydrobiopterin synthesis and bioavailability in endothelial cells. Cell Biochem Biophys 41, 415–434.

Sureda A, Batle JM, Tauler P, Cases N, Tur JA, Pons A (2004a). Hypoxia/reoxygenation and vitamin C intake influence NO synthesis and antioxidant defences of neutrophils. Free Radic Biol Med 37, 1744–1755.

Sureda A, Batle JM, Tauler P, Aguilo A, Cases N, Tur JA et al. (2004b). Neutrophil tolerance to oxidative stress induced by hypoxia/reoxygenation. Free Radic Res 38, 1003–1009.

Swenson KE, Eveland RL, Gladwin MT, Swenson ER (2005). Nitric oxide (NO) in normal and hypoxic vascular regulation of the spiny dogfish, Squalus acanthias. J Exp Zoolog A Comp Exp Biol 303, 154–160.

Tan S, Zhou F, Nielsen VG, Wang Z, Gladson CL, Parks DA (1999). Increased injury following intermittent fetal hypoxia-reoxygenation is associated with increased free radical production in fetal rabbit brain. J Neuropathol Exp Neurol 58, 972–981.

Tauler P, Aguilo A, Cases N, Sureda A, Gimenez F, Villa G et al. (2002). Acute phase immune response to exercise coexists with decreased neutrophil antioxidant enzyme defences. Free Radic Res 36, 1101–1107.

Tauler P, Aguilo A, Gimeno I, Noguera A, Agusti A, Tur JA et al. (2003). Differential response of lymphocytes and neutrophils to high intensity physical activity and to vitamin C diet supplementation. Free Radic Res 37, 931–938.

Tauler P, Gimeno I, Aguilo A, Guix MP, Pons A (1999). Regulation of erythrocyte antioxidant enzyme activities in athletes during competition and short-term recovery. Pflugers Arch 438, 782–787.

Thompson D, Williams C, Garcia-Roves P, McGregor SJ, McArdle F, Jackson MJ (2003). Post-exercise vitamin C supplementation and recovery from demanding exercise. Eur J Appl Physiol 89, 393–400.

Vento M, Asensi M, Sastre J, Lloret A, Garcia-Sala F, Vina J (2003). Oxidative stress in asphyxiated term infants resuscitated with 100% oxygen. J Pediatr 142, 240–246.

Vina J, Servera E, Asensi M, Sastre J, Pallardo FV, Ferrero JA et al. (1996). Exercise causes blood glutathione oxidation in chronic obstructive pulmonary disease: prevention by O2 therapy. J Appl Physiol 81, 2198–2202.

Wisloff U, Richardson RS, Brubakk AO (2004). Exercise and nitric oxide prevent bubble formation: a novel approach to the prevention of decompression sickness? J Physiol 555, 825–829.

Xia Y, Dawson VL, Dawson TM, Snyder SH, Zweier JL (1996). Nitric oxide synthase generates superoxide and nitric oxide in arginine-depleted cells leading to peroxynitrite-mediated cellular injury. Proc Natl Acad Sci USA 93, 6770–6774.
Acknowledgements
This work has been Granted by the Spanish Ministry of Health (Program of Promotion of Biomedical Research and Health Sciences, Project PI021593).
About this article
Cite this article
Sureda, A., Batle, J., Tauler, P. et al. Vitamin C supplementation influences the antioxidant response and nitric oxide handling of erythrocytes and lymphocytes to diving apnea. Eur J Clin Nutr 60, 838–846 (2006). https://doi.org/10.1038/sj.ejcn.1602388
Received:

Revised:

Accepted:

Published:

Issue Date:

DOI: https://doi.org/10.1038/sj.ejcn.1602388
Keywords
vitamin C

oxidative stress

lymphocyte

erythrocyte

hypoxia–reoxygenation

nitric oxide