Abstract
Objective:
Bioactive food ingredients influence energy balance by exerting weak thermogenic effects. We studied whether the thermogenic effect of a combination of capsaicin, green tea extract (catechins and caffeine), tyrosine, and calcium was maintained after 7-day treatment and whether local effects in the gastric mucosa were involved in the efficacy.
Design:
The present study was designed as a 3-way crossover, randomised, placebo-controlled, double-blinded intervention.
Setting:
Department of Human Nutrition, RVAU, Denmark.
Subjects:
A total of 19 overweight to obese men (BMI: 28.0±2.7 kg/m2) were recruited by advertising locally.
Intervention:
The subjects took the supplements for a period of 7 days. The supplements were administrated as a simple supplement with the bioactive ingredients, a similar enterocoated version, or placebo. In all, 24-h energy expenditure (EE), substrate oxidations, spontaneous physical activity (SPA), and heart rate were measured in respiration chambers on the seventh day of each test period.
Results:
After adjustment for changes in body weight and SPA, 24-h EE was increased by 160 kJ/day (95% CI: 15–305) by the simple preparation as compared to placebo, whereas the enterocoated preparation had no such effect (53 kJ/day, −92 to 198); simple vs enterocoated versions (P=0.09). The simple preparation produced a deficit in 24-h energy balance of 193 kJ/day (49–338, P=0.03). Fat and carbohydrate oxidation were equally increased by the supplements.
Conclusion:
A supplement containing bioactive food ingredients increased daily EE by ∼200 kJ or 2%, without raising the heart rate or any observed adverse effects. The lack of effect of the enterocoated preparation suggests that a local action of capsaicin in the gastric mucosa is a prerequisite for exerting the thermogenic effect.
Sponsorship:
Supported by Science, Toxicology & Technology, San Francisco, CA, USA.
Your institute does not have access to this article
Access options
Subscribe to Journal
Get full journal access for 1 year
$119.00
only $9.92 per issue
All prices are NET prices.
VAT will be added later in the checkout.
Tax calculation will be finalised during checkout.
Buy article
Get time limited or full article access on ReadCube.
$32.00
All prices are NET prices.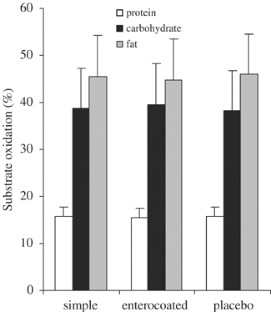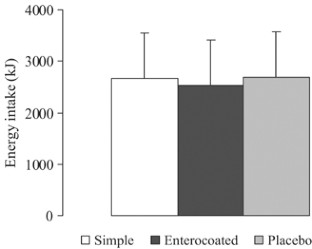 References
Astrup A, Breum L, Toubro S, Hein P & Quaade F (1992): The effect and safety of an ephedrine/caffeine compound compared to ephedrine, caffeine and placebo in obese subjects on an energy restricted diet. A double blind trial. Int. J. Obes. Relat. Metab. Disord. 16, 269–277.

Astrup A, Thorbek G, Lind J & Isaksson B (1990): Prediction of 24 h energy expenditure and its components from physical characteristics and body composition in normal-weight humans. Am. J. Clin. Nutr. 52, 777–783.

Astrup A, Toubro S, Cannon S, Hein P & Madsen J (1991): Thermogenetic synergism between ephedrine and caffeine in healthy volunteers. A double blind placebo controlled study. Metabolism 40, 323–329.

Barr SI (2003): Increased dairy product or calcium intake: is body weight or composition affected in humans? J. Nutr. 133, 245S–248S.

Borchardt RT & Huber JA (1975): Catechol O-methyltransferase: structure–activity relationships for inhibition by flavonoids. J. Med. Chem. 18, 120–122.

Bracco D, Ferrarra J-M, Arnaud MJ, Jequier E & Schutz Y (1995): Effects of caffeine on metabolism, heart rate, methylxanthine metabolism in lean and obese women. Am. J. Physiol. 269, E671–E678.

Caterina MJ, Leffler A, Malmberg AB, Martin WJ, Trafton J, Petersen-Zeitz KR, Koltzenburg M, Basbaum AI & Julius D (2000): Impaired nociception and pain sensation in mice lacking the capsaicin receptor. Science 288, 306–313.

Dulloo AG (2002): Herbal stimulation of ephedrine and caffeine in treatment of obesity. Int. J. Obes. Relat. Metab. Disord. 26, 590–592.

Dulloo AG, Duret C, Rohrer D, Girardier L, Mensi N, Fathi M, Chantre P & Vandermander J (1999): Efficacy of a green tea extract rich in catechin polyphenols and caffeine in increasing 24-h energy expenditure and fat oxidation in humans. Am. J. Clin. Nutr. 70, 1040–1045.

Dulloo AG, Seydoux J & Girardier L (1994): Paraxanthine (metabolite of caffeine) mimics caffeine's interaction with sympathetic control of thermogenesis. Am. J. Physiol. 267, E801–E804.

Dulloo AG, Seydoux J, Girardier L, Chantre P & Vandermander J (2000): Green tea and thermogenesis: interactions between catechin-polyphenols, caffeine and sympathetic activity. Int. J. Obes. Relat. Metab. Disord. 24, 252–258.

Durand J, Giacobino JP & Girardier L (1977): Catechol-O-methyl-transferase activity in whole brown adipose tissue of rat in vitro. In: Effectors of Thermogenesis eds L. Girardier & J. Seydoux, pp 45–53. Basel, Switzerland: Birkhauser.

Greenway FL (2001): The safety and efficacy of pharmaceutical and herbal caffeine and ephedrine use as a weight loss agent. Obes. Rev. 2, 199–211.

Haller CA & Benowitz NL (2000): Adverse cardiovascular and central nervous system events associated with dietary supplements containing ephedra alkaloids. N. Engl. J. Med. 343, 1833–1838.

Hill AJ, Magson LD & Blundell JE (1984): Hunger and palatability: tracking ratings of subjective experience before, during and after the consumption of preferred and less preferred food. Appetite 5, 361–371.

Hill JO, Wyatt HR, Reed GW & Peters JC (2003): Obesity and the environment: Where do we go from here. Science 299, 853–855.

Holtzer P (2002): Sensory neurone responses to mucosal noxae in the upper gut: relevance to mucosal integrity and gastrointestinal pain. Neurogastroenterol. Mot. 14, 459–475.

Hull KM & Maher TJ (1990): L-tyrosine potentiates the anorexia induced by mixed-acting sympathomimetic drugs in hyperphagic rats. J. Pharmacol. Exp. Therapeutics 255, 403–409.

Jacobsen R, Lorenzen JK, Toubro S, Krog-Mikkelsen I & Astrup A (2005): Effect of short-term high dietary calcium intake on 24-h energy expenditure, fat oxidation, and fecal fat excretion. Int. J. Obes. Relat. Metab. Disord. 29, 292–301.

Kawada T, Watanabe T, Takaishi T, Tanaka T & Iwai K (1986): Capsaisin-induced β-adrenergic action on energy metabolism in rats: influence of capsaisin on oxygen compsumption, the respiratory quotient, and substrate utilization. Proc. Soc. Exp. Biol. Med. 183, 250–256.

Klausen B, Toubro S & Astrup A (1997): Age and sex effects on energy expenditure. Am. J. Clin. Nutr. 65, 895–907.

Larsen TM, Toubro S, van Baak MA, Gottesdiener KM, Larson P, Saris WHM & Astrup A (2002): Effect of a 28-d treatment with L796568, a novel β3-adrenergic receptor agonist, on energy expenditure and body composition in obese men. Am. J. Clin. Nutr. 76, 780–788.

Lejeune MPGM, Kovacs EMR & Westerterp-Plantenga MS (2003): Effect of capsaicin on substrate oxidation and weight maintenance after modest body-weight loss in human subjects. Br. J. Nutr. 90, 651–659.

Lim K, Yoshioka M, Kikizato S, Tanaka H, Shindo M & Suzuki M (1997): Dietary red pepper ingestion increases carbohydrate oxidation at rest and during exercise in runners. Med. Sci. in. Sports Exerc. 29, 355–361.

Lukaski HC, Bolonchuk WW, Hall CB & Siders WA (1986): Validation of tetrapolar bioelectrical impedance method to assess human body composition. J. Appl. Physiol. 60, 1327–1332.

Papakonstantinou E, Flatt WP, Huth PJ & Harris RBS (2003): High dietary calcium reduces body fat content, digestibility of fat, and serum vitamin D in rats. Obes. Res. 11, 387–394.

Parrikh SJ & Yanovski JA (2003): Calcium intake and adiposity. Am. J. Clin. Nutr. 77, 281–287.

Raben A, Holst JJ, Christensen NJ & Astrup A (1996): Determinants of postprandial appetite sensations: macronutrient intake and glucose metabolism. Int. J. Obes. Relat. Metab. Disord. 20, 161–169.

Rhodes MJ (1996): Physiologically-active compounds in plant foods: an overview. Proc. Nutr. Soc. 55, 371–384.

Shekelle PG, Hardy ML, Morton SC, Maglione M, Mojica WA, Suttorp MJ, Rhodes SL, Jungvig L & Gagne J (2003): Efficacy and safety of ephedra and ephedrine for weight loss and athletic performance: a meta-analysis. JAMA 289, 1537–1545.

Tappy L, Girardet K, Schwaller N, Vollenweider L, Jequier E, Nicod P & Scherrer U (1995): Metabolic effects of an increase in sympathetic activity in healthy humans. Int. J. Obes. Relat. Metab. Disord. 19, 419–422.

van Baak MA, Hul GB, Toubro S, Astrup A, Gottesdiener KM, DeSmet M & Saris WH (2002): Acute effect of L796568, a novel β3-adrenergic receptor agonist, on energy expenditure in obese men. Clin. Pharmacol. Ther. 71, 272–279.

Vasilaras TH, Raben A & Astrup A (2001): Twenty-four hour energy expenditure and substrate oxidation before and after 6 months' ad libitum intake of a diet rich in simple or complex carbohydrates or a habitual diet. Int. J. Obes. Relat. Metab. Disord. 25, 954–965.

Vogel G (2000): Hot pepper receptor could help manage pain. Science 288, 241–242.

Ward SM, Bayguinov J, Won K-J, Gryndy D & Berthoud HR (2003): Distribution of vanilloid receptor (VR1) in the gastrointestinal tract. J. Comp. Neurol. 465, 121–135.

Watanabe T, Kawada T & Iwai K (1988): Effect of capsaicin pretreatment on capsaicin-induced catecholamine secretion from the adrenal medulla in rats. Proc. Soc. Exp. Biol. Med. 187, 370–374.

Watanabe T, Kawada T, Yamamoto M & Iwai K (1987): Capsaicin, a pungent principle of hot red pepper, evokes catecholamine secretion from the adrenal medulla of anesthetized rats. Biochem. Biophys. Res. Com. 142, 259–264.

Welberg JW, Monkelbaan JF, deVries EG, Muskiet FA, Cats A, Oremus ET, Boersma-van Ek W, van Rijsbergen H, van der Meer R, Mulder NH & Kleibeuker JH (1994): Effects of supplemental dietary calcium on quantitative fecal fat excretion in man. Ann. Nutr. Metab. 38, 185–191.

Westerterp-Plantega MS, Smeets A & Lejeune M (2004): Oral and gastro-intestinal satiety effects of capsaicine on food intake. Int. J. Obes. Relat. Metab. Disord. 28 (Suppl 1), S35.

Yoshioka M, Doucet E, Drapeau V, Dionne I & Tremblay A (2001): Combined effects of red pepper and caffeine consumption on 24 h energy balance in subjects given free access to foods. Br. J. Nutr. 85, 203–211.

Yoshioka M, Imanaga M, Ueyama H, Yamane M, Kubo Y, Boivin A, St-Amand J, Tanaka H & Kiyonaga A (2004): Maximum tolerable dose of red pepper decreases fat intake independently of spicy sensation in the mouth. Br. J. Nutr. 91, 991–995.

Yoshioka M, Lim K, Kikuzato S, Kiyonaga A, Tanaka H, Shindo M & Suzuki M (1995): Effects of red-pepper diet on the energy metabolism in men. J. Nutr. Sci. Vitaminol. 41, 647–656.

Yoshioka M, St-Pierre S, Drapeau V, Dionne I, Doucet E, Suzuki M & Tremblay A (1999): Effects of red pepper on appetite and energy intake. Br. J. Nutr. 82, 115–123.

Yoshioka M, St-Pierre S, Suzuki M & Tremblay A (1998): Effects of red pepper added to high-fat and high-carbohydrate meals on energy metabolism and substrate utilization in Japanese women. Br. J. Nutr. 80, 503–510.

Zemel MB (2002): Regulation of adiposity and obesity risk by dietary calcium: mechanism and implications. J. Am. Coll. Nutr. 21, 146S–151S.

Zemel MB, Shi H, Greer B, Dirienzo D & Zemel PC (2000): Regulation of adiposity by dietary calcium. FASEB J. 14, 1132–1138.

Zheng G, Sayama K, Okubo T, Juneja LR & Oguni I (2004): Anti-obesity effects of three major components of green tea, catechins, caffeine and theanine, in mice. In vivo 18, 55–62.
Acknowledgements
We thank John Lind for his expert technical assistance. The study was supported by a grant from Science, Toxicology & Technology, San Francisco, California. The dietary supplements containing the ingredients examined in the present paper were manufactured by Alpine Health Products, Salt Lake City, Utah, and are not commercially available.
Additional information
Guarantor: A Belza.
Contributors: AB and ABJ codeveloped the study design. AB was involved in the subject recruitment and data collection. AB interpreted the study results. AB wrote the first draft and refined the final draft after contributions from ABJ.
About this article
Cite this article
Belza, A., Jessen, A. Bioactive food stimulants of sympathetic activity: effect on 24-h energy expenditure and fat oxidation. Eur J Clin Nutr 59, 733–741 (2005). https://doi.org/10.1038/sj.ejcn.1602121
Received:

Revised:

Accepted:

Published:

Issue Date:

DOI: https://doi.org/10.1038/sj.ejcn.1602121
Keywords
energy expenditure

capsaicin

caffeine

green tea

tyrosine

calcium