Abstract
Objective: To determine the absorption, excretion and metabolism of kaempferol in humans.
Design: A pharmacokinetic study of kaempferol from endive over 24 h.
Subjects: Four healthy males and four healthy females.
Results: Kaempferol, from a relatively low dose (9 mg), was absorbed from endive with a mean maximum plasma concentration of 0.1 μM, at a time of 5.8 h, indicating absorption from the distal section of the small intestine and/or the colon. Although a 7.5-fold interindividual variation between the highest and lowest maximum plasma concentration was observed, most individuals showed remarkably consistent pharmacokinetic profiles. This contrasts with profiles for other flavonoids that are absorbed predominantly from the large intestine (eg rutin). An average of 1.9% of the kaempferol dose was excreted in 24 h. Most subjects also showed an early absorption peak, probably corresponding to kaempferol-3-glucoside, present at a level of 14% in the endive. Kaempferol-3-glucuronide was the major compound detected in plasma and urine. Quercetin was not detected in plasma or urine indicating a lack of phase I hydroxylation of kaempferol.
Conclusions: Kaempferol is absorbed more efficiently than quercetin in humans even at low oral doses. The predominant form in plasma is a 3-glucuronide conjugate, and interindividual variation in absorption and excretion is low, suggesting that urinary kaempferol could be used as a biomarker for exposure.
Sponsorship: Biotechnology and Biological Sciences Research council for core strategic funding and the University of Leeds for a departmental fellowship (AJD).
Relevant articles
Open Access articles citing this article.
Elham Amjad

,

Babak Sokouti

&

Solmaz Asnaashari

Cancer Cell International Open Access 20 August 2022

Elske M. Brouwer-Brolsma

,

Beate Brandl

…

Claudine Manach

Genes & Nutrition Open Access 09 April 2020

Pedapati S. C. Sri Harsha

,

Roshaida Abdul Wahab

…

Lorraine Brennan

Genes & Nutrition Open Access 10 September 2018
Access options
Subscribe to Journal
Get full journal access for 1 year
$119.00
only $9.92 per issue
All prices are NET prices.
VAT will be added later in the checkout.
Tax calculation will be finalised during checkout.
Buy article
Get time limited or full article access on ReadCube.
$32.00
All prices are NET prices.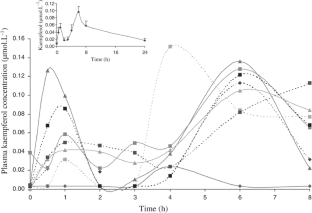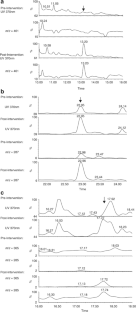 References
Birt DF, Hendrich S & Wang WQ (2001): Dietary agents in cancer prevention: flavonoids and isoflavonoids. Pharmacol. Ther. 90, 157–177.

Block G, Patterson B & Subar A (1992): Fruit, vegetables and cancer prevention: a review of the epidemiological evidence. Nutr. Cancer 18, 1–29.

Boersma MG, van der Woude H, Bogaards J, Boeren S, Vervoort J, Cnubben NH, van Iersel ML, van Bladeren PJ & Rietjens IM (2002): Regioselectivity of phase II metabolism of luteolin and quercetin by UDP-glucuronosyl transferases. Chem. Res. Toxicol. 15, 662–670.

Breinholt VM, Offord EA, Brouwer C, Nielsen SE, Brosen K & Friedberg T (2002): In vitro investigation of cytochrome P450-mediated metabolism of dietary flavonoids. Food Chem. Toxicol. 40, 609–616.

Clark DB, Lloyd A, Botting N, Oldfield M, Needs P & Wiseman H (2002): Measurement of intact sulphate and glucuronide phytoestrogen conjugates in human urine using isotope dilution liquid chromatography–tandem mass spectrometry with [13C(3)]isoflavone internal standards. Anal Biochem 309, 158–172.

Day AJ (2000): Human absorption and metabolism of flavonoid glycosides. PhD dissertation, University of East Anglia, UK.

Day AJ, Cañada FJ, Díaz JC, Kroon PA, Mclauchlan R, Faulds CB, Plumb GW, Morgan MRA & Williamson G (2000b): Dietary flavonoid and isoflavone glycosides are hydrolysed by the lactase site of lactase phlorizin hydrolase. FEBS Lett. 468, 166–170.

Day AJ, Bao Y-P, Morgan MRA & Williamson G (2000a): Conjugation position of quercetin glucuronides and effect on biological activity. Free Radical. Biol. Med. 29, 1234–1243.

Day AJ, Mellon F, Barron D, Sarrazin G, Morgan MRA & Williamson G (2001): Human metabolism of dietary flavonoids: identification of plasma metabolites of quercetin. Free Rad. Res. 35, 941–952.

Day AJ, Gee JM, DuPont MS, Johnson IT & Williamson G (2003): Absorption of quercetin-3-glucoside and quercetin-4′-glucoside in the rat small intestine: the role of lactase phlorizin hydrolase and the sodium-dependent glucose transporter. Biochem. Pharmacol. 65, 1199–1206.

DeVries JHM, Hollman PCH, Meyboom S, Buysman MNCP, Zock PL, van Staveren WA & Katan MB (1998): Plasma concentrations and urinary excretion of the antioxidant flavonols quercetin and kaemp-ferol as biomarkers for dietary intake. Am. J. Clin. Nutr. 68, 60–65.

DuPont MS, Mondin Z, Williamson G & Price KR (2000): Effect of variety, processing, and storage on the flavonoid glycoside content and composition of lettuce and endive. J. Agri. Food Chem. 48, 3957–3964.

Erlund I, Kosonen T, Alfthan G, Maenpaa J, Perttunen K, Kenraali J, Parantainen J & Aro A (2000): Pharmacokinetics of quercetin from quercetin aglycone and rutin in healthy volunteers. Eur. J. Clin. Pharmacol. 56, 545–553.

Galijatovic A, Otake Y, Walle UK & Walle T (1999): Extensive metabolism of the flavonoid chrysin by human Caco-2 and Hep G2 cells. Xenobiotica 29, 1241–1256.

Gee JM, DuPont MS, Day AJ, Plumb GW, Williamson G & Johnson IT (2000): Intestinal transport of quercetin glycosides in rats involves both deglycosylation and interaction with the hexose transport pathway. J.Nutr. 130, 2765–2771.

Graefe EU, Wittig J, Mueller S, Riethling AK, Uehleke B, Drewelow B, Pforte H, Jacobasch G, Derendorf H & Veit M (2001): Pharmacokinetics and bioavailability of quercetin glycosides in humans. J. Clin. Pharmacol. 41, 492–499.

Hertog MGL, Hollman PCH, Katan MB & Kromhout D (1993): Intake of potentially anticarcinogenic flavonoids and their determinants in adults in The Netherlands. Nutr. Cancer 20, 21–29.

Hollman PCH, Buysman MNCP, van Gameren Y, Cnossen EPJ, deVries JHM & Katan MB (1999): The sugar moiety is a major determinant of the absorption of dietary flavonoid glycosides in man. Free Rad. Res. 31, 569–573.

Hollman PCH, van Trijp JMP, Buysman MNCP, Gaag MS, Menglers MJB, deVries JHM & Katan MB (1997): Relative bioavailablity of the antioxidant quercetin from various foods in man. FEBS Lett. 418, 152–156.

Knekt P, Kumpulainen J, Jarvinen R, Rissanen H, Heliovaara M, Reunanen A, Hakulinen T & Aromaa A (2002): Flavonoid intake and risk of chronic diseases. Am. J. Clin. Nutr. 76, 560–568.

Moon JH, Tsushida T, Nakahara K & Terao J (2001): Identification of quercetin 3-O-beta-D-glucuronide as an antioxidative metabolite in rat plasma after oral administration of quercetin. Free Rad. Biol. Med. 30, 1274–1285.

Morand C, Manach C, Crespy V & Remesy C (2000): Quercetin 3-O-beta-glucoside is better absorbed than other quercetin forms and is not present in rat plasma. Free Rad. Res. 33, 667–672.

Nemeth K, Plumb GW, Berrin JG, Juge N, Jacob R, Naim HY, Williamson G, Swallow DM & Kroon PA (2003): Deglycosylation by small intestinal epithelial cell beta- glucosidases is a critical step in the absorption and metabolism of dietary flavonoid glycosides in humans. Eur. J. Nutr. 42, 29–42.

Nielsen SE (1998): Metabolism and biomarker studies of dietary flavonoids. PhD Thesis, Danish Veterinary and Food Administration, Denmark.

Nielsen SE, Breinholt V, Justesen U, Cornett C & Dragsted LO (1998): In vitro biotransformation of flavonoids by rat liver microsomes. Xenobiotica 28, 389–401.

Nielsen SE, Kall M, Justesen U, Schou A & Dragsted LO (1997): Human absorption and excretion of flavonoids after broccoli consumption. Cancer Lett. 114, 173–174.

Nielsen SE, Young JF, Daneshvar B, Lauridsen ST, Knuthsen P, Sandstrom B & Dragsted LO (1999): Effect of parsley (Petroselinium crispum) intake on urinary apigenin excretion, blood antioxidant enzymes and biomarkers for oxidative stress in human subjects. Br. J. Nutr. 81, 447–455.

Nijveldt RJ, van Nood E, van Hoorn DEC, Boelens PG, van Norren K & van Leeuwen PAM (2001): Flavonoids: a review of probable mechanisms of action and potential applications. Am. J. Clin. Nutr. 74, 418–425.

O'Leary KA, Day AJ, Needs PW, Sly WS, O'Brien NM & Williamson G (2001): Flavonoid glucuronides are substrates for human liver beta-glucuronidase. FEBS Lett. 503, 103–106.

Oliveira EJ & Watson DG (2000): In vitro glucuronidation of kaempferol and quercetin by human UGT-1A9 microsomes. FEBS. Lett. 471, 1–6.

Olthof MR, Hollman PCH, Vree TB & Katan MB (2000): Bioavailabilities of quercetin-3-glucoside and quercetin-4′-glucoside do not differ in humans. J. Nutr. 130, 1200–1203.

Price KR & Rhodes MJC (1997): Analysis of the major flavonol glyco-sides present in four varieties of onion (Allium cepa) and changes in composition resulting from autolysis. J. Sci. Food Agric. 74, 331–339.

Price KR, Rhodes MJC & Barnes KA (1998): Flavonol glycoside content and composition of tea infusions made from commercially available teas and tea products. J. Agric. Food Chem. 46, 2517–2522.

Rice-Evans C (2001): Flavonoid antioxidants. Curr. Med. Chem. 8, 797–807.

Rowland IR, Wiseman H, Sanders TAB, Adlercreutz H & Bowey EA (2000): Interindividual variation in metabolism of soy isoflavones and lignans: influence of habitual diet on equal production by the gut microflora. Nutr. Cancer 36, 27–32.

Sampson L, Rimm E, Hollman PCH, de Vries JHM & Katan MB (2002): Flavonol and flavone intakes in US health professionals. J. Am. Diet. Assoc. 102, 1414–1420.

Steinmetz KA & Potter JD (1996): Vegetables, fruit, and cancer prevention: a review. J. Am. Diet. Assoc. 96, 1027–1039.

Terao J, Yamaguchi S, Shirai M, Miyoshi M, Moon JH, Oshima S, Inakuma T, Tsushida T & Kato Y (2001): Protection by quercetin and quercetin 3-O-beta-glucuronide of peroxynitrite-induced antioxidant consumption in human plasma low-density lipoprotein. Free Rad. Res. 35, 925–931.

Walle T, Otake Y, Brubaker JA, Walle UK & Halushka PV (2001): Disposition and metabolism of the flavonoid chrysin in normal volunteers. Br. J. Clin. Pharmacol. 51, 143–146.

Yang CS, Landau JM, Huang MT & Newmark HL (2001): Inhibition of carcinogenesis by dietary polyphenolic compounds. Ann. Rev. Nutr. 21, 381–406.
Acknowledgements
We thank all the volunteers, the staff of the Human Nutrition Unit, especially Yvonne Clements for preparation of endive soup and the nurses Aliceon Blair, Linda Oram and Lesley Maloney for looking after the subjects, and John Eagles for additional mass spectrometric measurements.
About this article
Cite this article
DuPont, M., Day, A., Bennett, R. et al. Absorption of kaempferol from endive, a source of kaempferol-3-glucuronide, in humans. Eur J Clin Nutr 58, 947–954 (2004). https://doi.org/10.1038/sj.ejcn.1601916
Received:

Revised:

Accepted:

Published:

Issue Date:

DOI: https://doi.org/10.1038/sj.ejcn.1601916
Keywords
flavonol

kaempferol glucuronide

flavonoid

human absorption

metabolism

biomarker