Abstract
Chronic mild dehydration is a common condition in some population groups, including especially the elderly and those who participate in physical activity in warm environments. Hypohydration is recognised as a precipitating factor in a number of acute medical conditions in the elderly, and there may be an association, although not necessarily a causal one, between a low habitual fluid intake and some cancers, cardiovascular disease and diabetes. There is some evidence of impairments of cognitive function at moderate levels of hypohydration, but even short periods of fluid restriction, leading to a loss of body mass of 1–2%, lead to reductions in the subjective perception of alertness and ability to concentrate and to increases in self-reported tiredness and headache. In exercise lasting more than a few minutes, hypohydration clearly impairs performance capacity, but muscle strength appears to be relatively unaffected.
Relevant articles
Open Access articles citing this article.
Jeong Hyeon Kim

,

Daniel J. Joe

&

Han Eol Lee

Micro and Nano Systems Letters Open Access 15 September 2023

Woo-Jeong Shon

,

Mi-Na Park

…

Dong-Mi Shin

Scientific Reports Open Access 28 June 2022

Ronald Eccles

&

Pascal Mallefet

Multidisciplinary Respiratory Medicine Open Access 31 October 2019
Access options
Subscribe to this journal
Receive 12 print issues and online access
$259.00 per year
only $21.58 per issue
Rent or buy this article
Prices vary by article type
from$1.95
to$39.95
Prices may be subject to local taxes which are calculated during checkout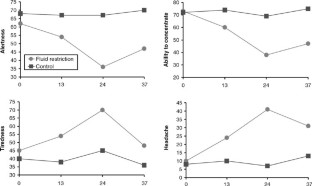 References
Adolph EF et al (1947): Physiology of man in the desert. Publisher: New York: Interscience. pp 1–357.

Armstrong LE, Costill DL & Fink WJ (1985): Influence of diuretic-induced dehydration on competitive running performance. Med. Sci. Sports Exerc. 17, 456–461.

Bar-Or O (1989): Temperature regulation during exercise in children and adolescents. In Youth, exercise and Sport. ed. CV Gisolfi & DR Lamb, pp 335–367. Indianapolis: Benchmark.

Burge MR, Garcia N, Qualls CR & Schade DS (2001): Differential effects of fasting and dehydration in the pathogenesis of diabetic ketoacidosis. Metabolism 50, 171–177.

Chan J, Knutsen SF, Blix GG, Lee JW & Fraser GE (2002): Water, other fluids, and fatal coronary heart disease. Am. J. Epidemiol. 155, 827–833.

Engell D & Hirsch E (1991): Environmental and sensory modulation of fluid intake in humans. In Thirst, Physiological and Psychological Aspects. ILSI Human Nutrition Reviews, ed. DJ Ramsey & D Booth, pp 382–390. London: Springer.

Galloway SD & Maughan RJ (1997): Effects of ambient temperature on the capacity to perform prolonged cycle exercise in man. Med. Sci. Sports Exerc. 29, 1240–1249.

Gisolfi CV & Copping JR (1974): Thermal effects of prolonged treadmill exercise in the heat. Med. Sci. Sports Exerc. 6, 108–113.

Gonzalez-Alonso J, Calbet J & Nielsen B (1998): Muscle blood flow is reduced with dehydration during prolonged exercise in humans. J. Physiol. 513, 895–905.

Gopinathan PM, Pichan G & Sharma VM (1988): Role of dehydration in heat stress-induced variations in mental performance. Arch. Environ. Health 43, 15–17.

Greenleaf JE, Prange EM & Averkin EG (1967): Physical performance of women following heat-exercise hypohydration. J. Appl. Physiol. 22, 55–60.

Greiwe JS, Staffey KS, Melrose DR, Narve MD & Knowlton RG (1998): Effects of dehydration on isometric muscular strength and endurance. Med. Sci. Sports Exerc. 30, 284–288.

Houston ME, Marrin DA, Green HJ & Thompson JA (1981): The effects of rapid weight loss on physiological functions in wrestlers. Physician Sportsmed. 9, 73–79.

Leaf A (1984): Dehydration in the elderly. N. Engl. J. Med. 311, 791–792.

Lee DT & Haymes EM (1995): Exercise duration and thermoregulatory responses after whole body precooling. J. Appl. Physiol. 79, 1971–1976.

Lentner C (1981): Geigy Scientific Tables. 8th edition. Basle: Ciba-Geigy.

MacDougall JD, Reddan WG, Layton CR & Dempsey JA (1974): Effects of metabolic hyperthermia on performance during heavy prolonged exercise. J. Appl. Physiol. 36, 538–544.

Mentes J, Culp K, Wakefield B, Gaspar P, Rapp CG, Mobily P & Tripp-Reimer T (1998): Dehydration as a precipitating factor in the development of acute confusion in the frail elderly. In Hydration and Aging. ed. MJ Arnaud, R Baumgartner, JE Morley, I Rosenberg & S Toshikazu, pp 83–100. New York: Springer.

Michaud DS, Spiegelman D, Clinton SK, Rimm EB, Curhan GC, Willett WC & Giovannucci EL (1999): Fluid intake and the risk of bladder cancer in men. N Engl J Med 340, 1390–1397.

Miller M (1998): Water metabolism in the elderly in health and disease. In Hydration and Aging. ed. MJ Arnaud, R Baumgartner, JE Morley, I Rosenberg & S Toshikazu, pp 59–81. New York: Springer.

Montain SJ & Coyle EF (1992a): Influence of graded dehydration on hyperthermia and cardiovascular drift during exercise. J. Appl. Physiol. 73, 1340–1350.

Montain SJ & Coyle EF (1992b): Fluid ingestion during exercise increases skin blood flow independent of increases in blood volume. J. Appl. Physiol. 73, 903–910.

Montain SJ, Smith SA, Mattot RP, Zientara GP, Jolesz FA & Sawka MN (1998): Hypohydration effects on skeletal muscle performance and metabolism: a 31P-MRS study. J. Appl. Physiol. 84, 1889–1894.

Nadel ER (1989): Circulatory and thermal regulations during exercise. Fed. Proc. 39, 1491–1498.

Nielsen B, Kubica R, Bonnesen A, Rasmussen IB, Stoklosa J & Wilk B (1981): Physical work capacity after dehydration and hyperthermia. Scand. J. Sports Sci. 3, 2–9.

Nielsen B, Hales JRS, Strange S, Christensen NJ, Warberg J & Saltin B (1993): Human circulatory and thermoregulatory adaptations with heat acclimation and exercise in a hot dry environment. J. Physiol. 460, 467–485.

Nielsen B, Strange S, Christensen NJ, Warberg J & Saltin B (1997): Acute and adaptive responses in humans to exercise in a warm, humid environment. Pflügers Arch. 434, 49–56.

Parkin JM, Carey MF, Zhao S & Febbraio MA (1999): Effect of ambient temperature on human skeletal muscle metabolism during fatiguing submaximal exercise. J. Appl. Physiol. 86, 902–908.

Phillimore J, Leiper JB, Primrose WR, Primrose CS & Maughan RJ (1998): A comparison of the daily water turnover rates in independent and dependent elderly. Proc. Nutr. Soc. 57, 32A.

Rehrer NJ & Burke LM (1996): Sweat losses during various sports. Aust. J. Nutr. Diet. 53, S13–S16.

Rowell LB (1986): Human Circulation. New York: Oxford University Press.

Sawka MN & Pandolf KB (1990): Effects of body water loss on physiological function and exercise performance. In Perspectives in Exercise Science and Sports Medicine. Vol. 3, ed. CV Gisolfi & DR Lamb, pp 1–38. Misc: Indianapolis: Benchmark Press.

Schoffstall JE, Branch JD, Leutholtz BC & Swain DP (2001): Effect of dehydration and rehydration on the one-repetition maximum bench press of weight-trained males. J. Strength Cond. Res. 15, 102–108.

Shannon J, White E, Shattuck AL & Potter JD (1996): Relationship of food groups and water intake in colon cancer risk. Cancer Epidemiol Biomarkers Prev 5, 495–502.

Shirreffs SM & Maughan RJ (1998): Urine osmolality and conductivity as markers of hydration status. Med. Sci. Sports Exerc. 30, 1598–1602.

Webster S, Rutt R & Weltman A (1990): Physiological effects of a weight loss regimen practised by college wrestlers. Med. Sci. Sports Exerc. 22, 229–234.

Werner J (1993): Temperature regulation during exercise: an overview. In Perspectives in Exercise Science and Sports Medicine. Volume 6, Exercise, Heat, and Thermoregulation, ed. CV Gisolfi, DR Lamb & ER Nadel, pp 49–84. Dubuque: Brown and Benchmark.

WHO (2002): New formula for oral rehydration salts will save millions of lives. WHO press release, 8May: www.who.int/.
About this article
Cite this article
Maughan, R. Impact of mild dehydration on wellness and on exercise performance. Eur J Clin Nutr 57 (Suppl 2), S19–S23 (2003). https://doi.org/10.1038/sj.ejcn.1601897
Published:

Issue Date:

DOI: https://doi.org/10.1038/sj.ejcn.1601897
Keywords