Abstract
Hydration of individuals and groups is characterised by comparing actual urine osmolality (Uosm) with maximum Uosm. Data of actual, maximum and minimum Uosm in infants, children and adults and its major influencing factors are reviewed. There are remarkable ontogenetic, individual and cultural differences in Uosm. In the foetus and the breast-fed infant Uosm is much lower than plasma osmolality, whereas in children and adults it is usually much higher. Individuals and groups may show long-term differences in Uosm. In industrialised countries, the gender difference of Uosm is common. There are large intercultural differences of mean 24-h Uosm ranging from 860 mosm/kg in Germany, 649 mosm/kg in USA to 392 mosm/kg in Poland. A new physiologically based concept called 'free-water reserve' quantifies differences in 24-h euhydration. In 189 boys of the DONALD Study aged 4.0–6.9 y, median urine volume was 497 ml/24-h and median Uosm 809 mosm/kg. Considering mean−2 s.d. of actual maximum 24-h Uosm of 830 mosm/kg as upper level of euhydration and physiological criterion of adequate hydration in these boys, median free-water reserve was 11 ml/24-h. Based on median total water intake of 1310 ml/24-h and the third percentile of free-water volume of −156 ml/24-h, adequate total water intake was 1466 ml/24-h or 1.01 ml/kcal. Data of Uosm in 24-h urine samples and corresponding free-water reserve values of homogeneous groups of healthy subjects from all over the world might be useful parameters in epidemiology to investigate the health effects of different levels of 24-h euhydration.
Relevant articles
Open Access articles citing this article.
Erica T. Perrier

,

Lawrence E. Armstrong

…

François Péronnet

European Journal of Nutrition Open Access 06 July 2020

HyunGyu Suh

,

LynnDee G. Summers

…

Stavros A. Kavouras

European Journal of Clinical Nutrition Open Access 17 October 2019

Evan C. Johnson

,

Ainsley E. Huffman

…

Lawrence E. Armstrong

European Journal of Nutrition Open Access 19 August 2019
Access options
Subscribe to Journal
Get full journal access for 1 year
$119.00
only $9.92 per issue
All prices are NET prices.
VAT will be added later in the checkout.
Tax calculation will be finalised during checkout.
Buy article
Get time limited or full article access on ReadCube.
$32.00
All prices are NET prices.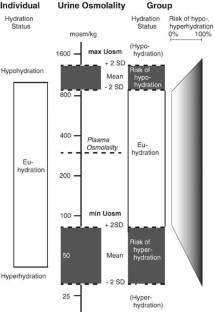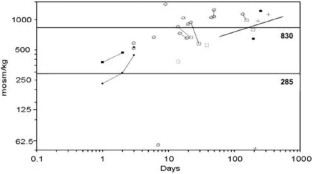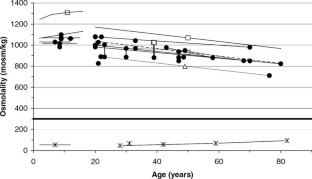 References
Abyholm G & Monn E (1979): Intranasal DDAVP-test in the study of renal concentrating capacity in children with recurrent urinary tract infections. Eur. J. Pediatr. 130, 149–154.

Agboola A & Adewoye HO (1978): A study of serum and urine osmolality values in pregnant Nigerian women. Int. J. Gynaecol. Obstet. 16, 56–57.

Alwall N (1978): Population studies on non-obstructive urinary tract infection in non-pregnant women: importance of method and material. Acta Med. Scand. 203, 95–105.

Armelini PA & Gonzalez CF (1979): Breast feeding and fluid intake in a hot climate. Clin. Pediatr. 18, 424–425.

Askergren A, Allgen LG & Bergström J (1981): Studies on kidney function in subjects exposed to organic solvents. Acta Med. Scand. 209, 485–488.

Assadi KF (1990): Renal tubular dysfunction in fetal alcohol syndrome. Pediatr. Nephrol. 4, 48–51.

Barnett HL, Vesterdal J, McNamara H & Lauson HD (1952): Renal water excretion in premature infants. J. Clin. Invest. 31, 1069–1073.

Baumgarten R, van de Pol MHJ, Deen PMT, van Os CH & Wetzels JFM (2000): Dissociation between urine osmolality and urinary excretion of aquaporin-2 in healthy volunteers. Nephrol. Dial. Transplant. 15, 1155–1161.

Bendz H (1985): Kidney function in a selected lithium population. Acta Psychiatr. Scand. 72, 451–463.

Berlyne GM, Yagil R, Goodwin S & Morag M (1976): Drinking habits and urine concentration of man in southern Israel. Israel J. Med. Sci. 12, 765–769.

Calcagno PL & Rubin MI (1954): Effect of added carbohydrate on growth, nitrogen retention and renal water excretion in premature infants. Pediatrics 13, 193–201.

Calcagno PL & Rubin MI (1960): Water requirement for renal excretion in full-term newborn infants and premature infants fed a variety of formulas. J. Pediatr. 56, 717–727.

Chaptal J, Jean R, Guillaumot R & Morel G (1963): Etude statistique de l'elimination urinaire des electrolytes chez l'enfant normal a differents ages. Arch. Franc. Pediatr. 20, 905–931.

Cross RB, Galton-Fenzi B & Jordan L (1989): A simple field test for assessing salt balance in heat-stressed miners. J. Occupat. Med. 31, 668–673.

Curran MA, Nijland MJM, Mann SE & Ross (1998): Human amniotic fluid mathematical model: determination and effect of intramembranous sodium flux. Am. J. Obstet. Gynecol. 178, 484–490.

Curtis JR & Donovan BA (1979): Assessment of renal concentrating ability. Br. Med. J. I 304–305.

Czerny A (1939): Die Pädiatrie meiner Zeit. pp 52–54. Berlin: Springer.

Czerny A (1942): Sammlung klinischer Vorlesungen über Kinderheilkunde. p 20. Leipzig: Thieme.

Davison JM, Sheills EA, Philips PR, Barron WM & Lindheimer MD (1993): Metabolic clearance of vasopressin and an analogue resistant to vasopressinase in human pregnancy. Am. J. Physiol. 264, F348–F353.

Department of Health (1991): Dietary Reference Values for Food, Energy and Nutrients for the United Kingdom. pp 1–212. London: The Stationery Office.

Diem K & Lentner C (1968): Documenta Geigy, Wissenschaftliche Tabellen. p 513 7th edition. Basel: Geigy.

DiScala VA & Stein RM (1982): Effects of chronic sodium depletion on renal tubular sodium and water reabsorption in man. Nephron 31, 151–158.

Drescher AN, Barnett HL & Troupkou V (1962): Water balance in infants during water deprivation. Am. J. Dis. Child. 104, 80–93.

Dyer AR, Shipley M, Elliott P & INTERSALT Cooperative Research Group (1994): Urinary electrolyte excretion in 24 hours and blood pressure in the INTERSALT Study: estimates of reliability. Am. J. Epidemiol. 139, 927–939.

Ebner A & Manz F (2002): Sex difference of urinary osmolality in German children. Am. J. Nephrol. 22, 352–355.

Edelmann CM, Barnett HL & Troupkou V (1960): Renal concentrating mechanisms in newborn infants. Effect of dietary protein and water content, role of urea, and responsiveness to antidiuretic hormone. J. Clin. Invest. 39, 1062–1069.

Edelmann CM, Barnett HL, Stark H, Boichis H & Rodriguez-Soriano J (1967): A standardized test of renal concentrating capacity in children. Am. J. Dis. Child. 114, 639–644.

Epstein FH, Kleeman CR & Hendrikx A (1957a): The influence of bodily hydration on the renal concentrating process. J. Clin. Invest. 36, 629–634.

Epstein FH, Kleeman CR, Pursel S & Hendrikx A (1957b): Effect of feeding protein and urea on the renal concentrating process. J. Clin. Invest. 36, 635–640.

Finberg L (1986): Too little water has become too much. Am. J. Dis. Child. 140, 524.

Fisher DA, Pyle HR, Porter JC, Beard AG & Panos TC (1963): Control of water balance in the newborn. Am. J. Dis. Child. 106, 51–60.

Fogarty AJ (1971): The significance of sodium in renal stone formation. Br. J. Urol. 43, 403–405.

Frenzke H, Rudloff S & Manz F (1998): Flüssigkeitsversorgung von Dortmunder Kleinkindern. Monatsschr. Kinderheilkd. 146, 777–783.

Gamble JL (1944): The water requirements of castaways. Proc. Am. Phil. Soc. 88, 151–158.

Goldberg NM & Adams E (1983): Supplementary water for breast-fed babies in a hot and dry climate not really a necessity. Arch. Dis. Child. 58, 73–74.

Guignard JP & Torrado A (1978): Nitrite indicator strip test for bacteriuria. Lancet 1, 47.

Güllner HG, Gill JR, Bartter FC & Düsing R (1980): The role of the prostaglandin system in the regulation of renal function in normal women. Am. J. Med. 69, 718–724.

Hadley R, Bernard HO & Stinson JM (1975): Serial urinary osmolality in pregnancy. J. Nat. Med. Assoc. 67, 373–374.

Halperin ML, Margolis BL, Robinson LA, Halperin RM, West ML & Bear RA (1988): The urine osmolal gap: a clue to estimate urine ammonium in "hybrid" types of metabolic acidosis. Clin. Investigat. Med. 11, 198–202.

Hansen JDL & Smith CA (1953): Effects of withholding fluid in the immediate postnatal period. Pediatrics 12, 99–113.

Höhler M, Decher-Spliethoff E, Kersting K, Ternes ML & Manz F (1994): Funktionsbelastung des Stoffwechsels und der Niere bei Kraftsportlern mit eiweißreicher Kost. Deutsche Z. Sportmed. 45, 92–103.

Hytten FE & Robertson EG (1971): Maternal water metabolism in pregnancy. Proc. Roy. Soc. Med. 64, 46.

Hytten FE & Thomson AM (1965): Pregnancy, childbirth and lactation. In The Physiology of Human Survival. eds OG Edhohn, AL Bacharach, pp 327–350. London: Academic Press.

Intersalt Cooperative Research Group (1988): Intersalt: an international study of electrolyte and blood pressure Results for 24 hour urinary sodium and potassium excretion. Br Med J 297, 319–328.

Isaacson LC (1960): Urine osmolality in thirsting normal subjects. Lancet I, 467–468.

Janovsky M, Martinek J & Slechtova R (1968): The effect of different diets on the economy of water and electrolytes during restricted water intake in human infants. Phys. Bohemoslovaca. 17, 143–152.

Joppich R, Scherer B & Weber PC (1979): Renal prostaglandins: relationship to the development of blood pressure and concentrating capacity in pre-term and full term healthy infants. Eur. J. Pediatr. 132, 253–259.

Kanabrocki EL, Snedeker PW, Zieher SJ, Raymond R, Gordey J, Bird T, Sothern RB, Hrushesky WJM, Marks G, Olwin JH & Kaplan E (1988): Circadian characteristics of dialyzable and non-dialyzable human urinary electrolytes, trace elements and total solids. Chronobiol. Int. 5, 175–184.

Kawauchi A, Watanabe H & Miyoshi K (1996): Early morning urine osmolality in non-enuretic and enuretic children. Pediatr. Nephrol. 10, 696–698.

Kilpatrick SJ (1997): Therapeutic interventions for oligohydramnios: amnioinfusion and maternal hydration. Clin. Obstetr. Gynecol. 40, 328–336.

Kirkland Jl, Lye M, Levy DW & Banerjee AK (1983): Patterns of urine flow and electrolyte excretion in healthy elderly people. Br. Med. J. 287, 1665–1667.

Klahr S, Tripathy K, Garcia FT, Mayoral LG, Ghitis J & Bolanos O (1967): In the nature of renal concentrating defect in malnutrition. Am. J. Med. 43, 84–96.

Kleiner SM (1999): Water: an essential but overlooked nutrient. J. Am. Diet. Assoc. 99, 200–206.

Koppeschaar HPF, Meinders AE & Schwarz F (1985): Renal concentrating ability in obesity, effect of modified fasting and the supplementation of T3, sodium chloride and carbohydrate. Metabolism 34, 1066–1072.

Kutz FW, Cook BT, Carter-Pokras OD, Brody D & Murphy RS (1992): Selected pesticide residues and metabolites in urine from a survey of the U. S. general population. J. Toxicol. Environ. Health. 37, 277–291.

Kuznetsova AA, Shakhmatova EI, Prutskova NP & Natochin YV (2000): Possible role of prostaglandins in pathogenesis of nocturnal enuresis in children. Scand. J. Urol. Nephrol. 34, 27–31.

Läckgren G, Neveus T & Stenberg A (1997): Diurnal plasma vasopressin and urinary output in adolescents with monosymptomatic nocturnal diuresis. Acta Paediatr. 86, 385–390.

Levinsky NG, Berliner RW & Preston AS (1959): The role of urea in the urine concentrating mechansim. J. Clin. Invest. 38, 741–748.

Lindeman RD, Lee TD, Yiengst MJ & Shock NW (1966): Influence of age, renal disease, hypertension, diuretics and calcium on the antidiuretic responses to suboptimal infusion of vasopressin. J. Lab. Clin. Med. 68, 206–223.

Liqiang Z, Xizhen H, Xuewang L & Quanyou W (1997): Alterations in renal function in patients with obstructive sleep apnea syndrome and effects of continuous positive airway pressure. Chin. Med. J. 110, 915–918.

Macarnon C, Schneider G & Ertel NH (1975): The starved kidney: a defect in renal concentrating ability. Metabolism 24, 457–458.

Manz F (1979): Säure-Basen-Haushalt bei Ernährung mit synthetischen Diätpräparaten und bei Ernährung mit Frühgeborenen- und Säuglingsmilchnahrungen. pp 178–213. Heidelberg: Ruprecht-Karl-Universität, Habilitationsschrift.

Manz F, Vecsei P & Wesch H (1984): Renale Säureausscheidung und renale Molenlast bei gesunden Kindern und Erwachsenen. Monatsschr. Kinderheilkd. 132, 163–167.

Manz F, Diekmann L, Kalhoff H, Stock GJ & Kunz C (1992): Low renal net acid excretion, high calciuria and biochemical signs of sodium deficiency in low-birth-weight infants fed a new low-phosphorus formula. Acta Pediatr. 81, 969–973.

Manz F, Wentz A & Sichert-Hellert W (2002): The most essential nutrient: defining the adequate intake of water. J. Pediatr. 141, 587–592.

Marild S, Jodal U, Jonasson G, Mangelus L, Oden A & Persson NG (1992): Reference values for renal concentrating capacity in children by the desmopressin test. Pediatr. Nephrol. 6, 254–257.

McCance RA & Widdowson EM (1954): Normal renal function in the first two days of life. Arch. Dis. Child. 29, 488–494.

Miles BE, Paton A & de Wardener HE (1954): Maximum urine concentration. Br. Med. J. II, 901–905.

Miller LA & Stapleton FB (1989): Urinary volume in children with urolithiasis. J. Urol. 141, 918–920.

Monnens LAH. (1971): De ontwikkeling van het concentrerend — en zuurvormend vermogen van de nier bij het kind. pp 1–189. Nijmegen: Schippers.

Monson JP & Richards P (1978): Desmopressin urine concentration test. Br. Med. J. I, 24.

Nadvornikova H, Schück O & Cort JH (1980): A standardized desmopressin test of renal concentrating ability. Clin. Nephrol. 14, 142–147.

National Research Council (1989): Recommended Dietary Allowances. 10th Edition, pp 247–250. Washington: National Academy Press.

Oomen HAPC (1967): Nitrogen compounds and electrolytes in the urine of New Guinean sweet potato eaters: a study of normal values. Trop. Geogr. Med. 19, 31–47.

Phillip M, Singer A, Chaimovitz C & Golinsky D (1993): Urine osmolality in nursery school children in a hot climate. Isr. J. Med. Sci. 29, 104–106.

Polacek L, Vocel J, Neugebauerova L, Sebkova M & Vechetova E (1965): The osmotic concentrating ability in healthy infants and children. Arch. Dis. Child. 40, 291–295.

Pratt EL & Snyderman SE (1953): Renal water requirement of infants fed evaporated milk with and without added carbohydrate. Pediatrics 11, 65–69.

Pratt EL, Bienvenu B & Whyte MM (1948): Concentration of urine solutes by young infants. Pediatrics 1, 181–187.

Raisz LG, Au WYW & Scheer RL (1959): Studies on the renal concentrating mechanism III. Effect of heavy exercise. J. Clin. Invest. 38, 8–13.

Rittig S, Knudsen UB, Norgaard JP, Pedersen EB & Djurhuus JC (1989): Abnormal diurnal rhythm of plasma vasopressin and urinary output in patients with enuresis. Am. J. Physiol. 256, F664–F671.

Riva E, Rottoli A, Castelli L, Magno F, Paccanelli S & Giovanni M (1984): Valutazione di alcuni parametri del metabolismo idro-salino in età pediatrica. Min. Ped. 36, 667–672.

Robers F & Manz F (1996): Zur Flüssigkeitsversorgung im Kindesalter. Sozialpäd. KiPra. 18, 85–89.

Rodriguez-Soriano J, Vallo A, Castillo G & Oliveros R (1981): Renal handling of water and sodium in infancy and childhood: a study using clearance methods during hypotonic saline diuresis. Kidney Int. 20, 700–704.

Ross MG, Nijland MJM & Kullama LK (1996a): 1-Deamino-[8-D-arginine] vasopressin-induced maternal plasma hypoosmolality increases ovine amniotic fluid volume. Am. J. Obstet. Gynecol. 174, 1118–1127.

Ross MG, Cedars L, Nijland MJM & Ogundipe A (1996b): Treatment of oligohydramnios with maternal 1-deamino-[8-D-arginine] vasopressin-induced plasma hypoosmolality. Am. J. Obstet. Gynecol. 174, 1608–1613.

Rowe JW, Shock NW & DeFronzo RA (1976): The influence of age on the renal response to water deprivation in man. Nephron 17, 270–278.

Saigal S & Sinclair JC (1977): Urine solute excretion in growing low-birth-weight infants. J. Pediatr. 90, 934–938.

Schiavon S & Emmans GC (2000): A model to predict water intake of a pig growing in a known environment on a known diet. Br. J. Nutr. 84, 873–883.

Schreyer P, Sherman DJ, Ervin MG, Day L & Ross MG (1990): Maternal dehydration: impact on ovine amniotic fluid volume and composition. J. Dev. Physiol. 13, 283–287.

Schrier RW, Hano J, Keller HI, Finkel RM, Gilliland PF, Cirksena WJ & Teschan PE (1970): Renal, metabolic and circulatory responses to heat and exercise. Ann. Intern. Med. 73, 213–223.

Shirreffs SM (2000): Markers of hydration status. J. Sports Med. Phys. Fitness 40, 80–84.

Shirreffs SM & Maughan RJ (1998): Urine osmolality and conductivity as indices of hydration status in athletes in the heat. Med. Sci. Sports Exerc. 30, 1598–1602.

Sichert-Hellert W, Kersting M & Manz F (2001): Fifteen year trends in water intake in German children and adolescents: results of the DONALD Study. Acta Paediatr. 90, 732–737.

Simmons WK & Korte R (1972): The excretion of urea in relation to protein intake and diuresis. Arch. Latinoamericanos Nutr. 22, 33–40.

Singhof S & Manz F (2001): Flüssigkeitsversorgung der Senioren in Deutschland. Aktuel. Ernaehr. Med. 26, 102–106.

Skinner R, Cole M, Pearson ADJ, Coulthard MG & Craft AW (1996): Specificity of pH and osmolality of early morning urine sample in assessing distal renal tubular function in children: results in healthy children. Br. Med. J. 312, 1337–1338.

Smith CA, Yudkin S, Young W, Minkowski A & Cushman M (1949): Adjustment of electrolytes and water following premature birth. Pediatrics 3, 34–47.

Stapleton FB & Miller LA (1988): Renal function in children with idiopathic hypercalciuria. Pediatr. Nephrol. 2, 229–235.

Stevens LH & Savage DCL (1972): Neonatal homeostasis. Aust. Paediat. J. 8, 16–29.

Stolley H & Schlage C (1977): Water balance and water requirement of preschool children. Nutr. Metab. 21(Suppl 1), 15–17.

Svenningsen NW & Aronson AS (1974): Postnatal development of renal concentration capacity as estimated by DDAVP-test in normal and asphyxiated neonates. Biol. Neonate 25, 230–241.

Tan ACITL, Hoefnagels WHL, Gerritsen AAJ, Jansen RWMM, Kloppenborg PWC & Benraad TJ (1991): Mild dehydration and atrial natriuretic peptide in young and elderly subjects. Horm. Metab. Res. 23, 435–437.

Tencer J (1988): Asymptomatic bacteriuria — a long term study. Scand. J. Urol. Nephrol. 22, 31–34.

Toor M, Katz AI, Massry S, Agmon J & Rosenfeld J (1965): Concentration and dilution of urine in man living in a hot climate. Isr. J. Med. Sci. 1, 157 (abstract).

Tryding N, Berg B, Ekman S, Nilsson JE, Sterner G & Harris A (1988): DDAVP test for renal concentration capacity. Scand. J. Urol. Nephrol. 22, 141–145.

Uttley WS, Paxton J & Thistlethwaite D (1972): Urinary concentrating ability and growth failure in urinary tract disorders. Arch. Dis. Child. 47, 436–441.

VandeWalle J, Thijs J, VanLaecke E & Hoebeke P (2000): Nocturnal enuresis related to the abnormalities of the nycthemeral rhythm of diuresis on renal function and salt handling and bladder dysfunction. Pediatr. Nephrol. 14, C61 (abstract).

Van Reen R, Valyasevi A & Dhanamitta S (1970): The effect of methionine and pyridoxine supplements on urinary sulfate. Am. J. Clin. Nutr. 23, 940–947.

Waters WE, Sussmann M & Asscher AW (1967): Community study of urinary pH and osmolality. Br. J. Prev. Soc. Med. 21, 129–132.

Werner M, Kersting M & Manz F (1990): Untersuchung des Wasserhaushalts bei 19 Kleinkindern in häuslicher Umgebung. Monatsschr. Kinderheilkd. 138, 528 (abstract).

Widdowson EM & McCance RA (1970): Use of random specimens of urine to compare dietary intakes of African and British children. Arch. Dis. Childh. 45, 547–552.

Winberg J (1959): Determination of renal concentration capacity in infants and children without renal disease. Acta Pediatr. 48, 318–328.

Yates AA, Schlicker SA & Suitor CW (1998): Dietary Reference Intakes: the new basis for recommendations for calcium and related nutrients, B vitamins, and choline. J. Am. Diet. Assoc. 98, 699–706.

Zebidi A, Rached S, Dhidah M, Sadraoui M, Tabka Z, Dogui M, Sfar H, Chaieb M & Chaieb A (1990): Effets du jeune de Ramadan sur certains parametres plasmatiques et urinaires. La Tunesie Méd. 68, 367–372.
Acknowledgements
This work was supported by the 'Ministerium für Schule, Wissenschaft und Forschung' of North-Rhine-Westphalia and by the 'Bundesministerium für Gesundheit'.
About this article
Cite this article
Manz, F., Wentz, A. 24-h hydration status: parameters, epidemiology and recommendations. Eur J Clin Nutr 57 (Suppl 2), S10–S18 (2003). https://doi.org/10.1038/sj.ejcn.1601896
Published:

Issue Date:

DOI: https://doi.org/10.1038/sj.ejcn.1601896
Keywords
water

hydration status

urine osmolality

maximum urine osmolality

free-water reserve

adequate total water intake