Abstract
Objective: The purpose of this study was to determine if lycopene and β-carotene are bioavailable from lycopene red carrots and if lycopene absorption is affected by carrot fiber.
Design: Two crossover studies in humans attempted to compare the relative bioavailability of lycopene and β-carotene from tomato paste to a genetically selected lycopene red carrot during chronic feeding. Each study contained three treatment groups. The vehicle of administration was muffins.
Intervention and methods: Study 1 (n=9) used white carrots (0 mg lycopene/day), red carrots (5 mg/day), and tomato paste (20 mg/day). Study 2 (n=10) used red carrots (2.6 mg/day), tomato paste (5 mg/day), and tomato paste plus white carrots (5 mg/day). Each intervention lasted 11 days with a 10-day washout period between treatments. Serum lycopene and β-carotene were measured by HPLC.
Results: Statistical analysis indicated a significant effect of muffin type in study 1 (P<0.001), and a significant treatment by sequence interaction in study 2 (P=0.04). The response to increasing amounts of lycopene is linear at the levels fed in these studies (r=0.94). The data suggest that maintenance of serum lycopene concentrations at 0.3 μmol/l occurs at about 2 mg/day of lycopene from mixed dietary sources and a serum plateau occurs at ≥20 mg/day.
Conclusions: These results show that lycopene and β-carotene are bioavailable from red carrots and lycopene absorption seems to be affected by carrot fiber. Making inferences from both studies, the lycopene in the red carrot is about 44% as bioavailable as that from tomato paste. Red carrots provide an alternative to tomato paste as a good dietary source of lycopene and also provide bioavailable β-carotene.
Access options
Subscribe to this journal
Receive 12 print issues and online access
$259.00 per year
only $21.58 per issue
Rent or buy this article
Get just this article for as long as you need it
$39.95
Prices may be subject to local taxes which are calculated during checkout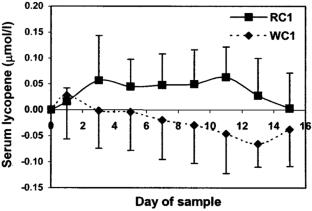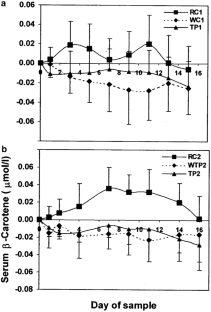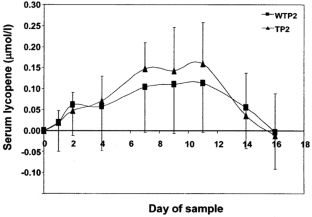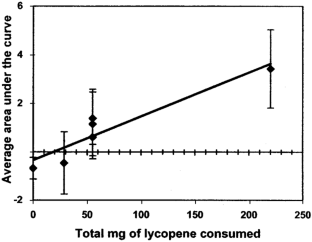 References
Agarwal S & Rao AV (2000): Tomato lycopene and its role in human health and chronic diseases. Can. Med. Assoc. J. 163, 739–744.

Albanes D, Virtamo J, Rautalahti M, Haukka J, Palmgren J, Gref CG & Heinonen OP (1992): Serum β-carotene before and after β-carotene supplementation. Eur. J. Clin. Nutr. 46, 15–24.

Albanes D, Virtamo J, Taylor PR, Rautalahti M, Pietinen P & Heinonen OP (1997): Effects of supplemental β-carotene, cigarette smoking, and alcohol consumption on serum carotenoids in the α-tocopherol, β-carotene cancer prevention study. Am. J. Clin. Nutr. 66, 366–372.

Arab L & Steck S (2000): Lycopene and cardiovascular disease. Am. J. Clin. Nutr. 71, S1691–S1695 (discussion S1696–S1697).

Barua AB & Furr HC (1992): Extraction and analysis by high-performance liquid chromatography of carotenoids in human serum. Meth. Enzymol. 213, 273–281.

Barua AB & Olson JA (2000): Carotene is converted primarily to retinoids in rats in vivo. J. Nutr. 130, 1996–2001.

Bohm V & Bitsch R (1999): Intestinal absorption of lycopene from different matrices and interactions to other carotenoids, the lipid status, and the antioxidant capacity of human plasma. Eur. J. Nutr. 38, 118–125.

Bowen PE, Mobarhan S & Smith Jr JC (1993): Carotenoid absorption in humans. Meth. Enzymol. 214, 3–17.

Brown ED, Rose A, Craft N, Seidel KE & Smith Jr JC (1989): Concentrations of carotenoids, retinol, and tocopherol in plasma, in response to ingestion of a meal. Clin. Chem. 35, 310–312.

Burney PG, Comstock GW & Morris JS (1989): Serologic precursors of cancer: serum micronutrients and the subsequent risk of pancreatic cancer. Am. J. Clin. Nutr. 49, 895–900.

Campbell DR, Gross MD, Martini MC, Grandits GA, Slavin JL & Potter JD (1994): Plasma carotenoids as biomarkers of vegetable and fruit intake. Cancer Epidemiol Bio. Prev. 3, 493–500.

Castenmiller JJM & West CE (1998): Bioavailability and bioconversion of carotenoids. Ann. Rev. Nutr. 18, 19–38.

Constantino JP, Kuller LH, Begg L, Redmond CK & Bates MW (1988): Serum level changes after administration of a pharmacologic dose of β-carotene. Am. J. Clin. Nutr. 48, 1277–1283.

De Pee S & West CE (1996): Dietary carotenoids and their role in combating vitamin A deficiency: a review of the literature. Eur. J. Clin. Nutr. 50, S38–S53.

DiMascio P, Kaiser S & Sies H (1989): Lycopene as the most efficient biological carotenoid singlet oxygen quencher. Arch. Biochem. Biophys. 274, 532–538.

Erdman Jr JW, Fahey Jr GC & White CB (1986): Effects of purified dietary fiber sources on β-carotene utilization by the chick. J. Nutr. 116, 2415–2423.

Forman MR, Zhang J, Gunter E, Yao SX, Gross M, Qiao YL, Graubard BI, Taylor PR, Keith S & Maher M (1999): Season-specific correlation between dietary intake of fruits and vegetables and levels of serum biomarkers among Chinese tin miners at high risk for lung cancer. Ann. New York Acad. Sci. 889, 230–239.

Giovannucci E, Ascherio A, Rimm EB, Stampfer MJ, Colditz GA & Willett WC (1995): Intake of carotenoids and retinol in relation to risk of prostate cancer. J. Nat. Cancer Inst. 87, 1767–1776.

Helzlsouer KJ, Comstock GW & Morris JS (1989): Selenium, lycopene, α-tocopherol, β-carotene, retinol, and subsequent bladder cancer. Cancer Res. 49, 6144–6148.

Herbeth B, Chavance M, Musse N, Mejean L & Vernhes G (1989): Dietary intake and other determinants of blood vitamins in an elderly population. Eur. J. Clin. Nutr. 43, 175–186.

High EG & Day HG (1951): Fate of lycopene in the rat and its effects on the utilization of carotene and vitamin A. J. Nutr. 48, 369–376.

Hill HM & Rogers LJ (1969): Conversion of lycopene into β-carotene by chloroplasts of higher plants. Biochem. J. 113, P31–P32.

Johnson EJ, Qin J, Krinsky NI. & Russell RM (1997): Ingestion by men of a combined dose of β-carotene and lycopene does not affect the absorption of β-carotene but improves that of lycopene. J. Nutr. 127, 1833–1837.

Kostic D, White WS & Olson JA (1995): Intestinal absorption, serum clearance, and interactions between lutein and β-carotene when administered to human adults in separate or combined oral doses. Am. J. Clin. Nutr. 62, 604–610.

Micozzi MS, Brown ED, Edwards BK, Bieri JG, Taylor PR, Khachik F, Beecher GR & Smith Jr JC (1992): Plasma carotenoid response to chronic intake of selected foods and β-carotene supplements in men. Am. J. Clin. Nutr. 55, 1120–1125.

Nierenberg DW, Stukel TA, Baron JA, Dain BJ & Greenberg ER (1989): Determinants of plasma levels of β-carotene and retinol. Skin cancer prevention study group. Am. J. Epidemiol. 130, 511–521.

O'Neill ME & Thurnham DI (1998): Intestinal absorption of β-carotene, lycopene, and lutein in men and women following a standard meal: response curves in the triacylglycerol-rich lipoprotein fraction. Br. J. Nutr. 79, 149–159.

Paetau I, Khachik F, Brown ED, Beecher GR, Kramer TR, Chittams J & Clevidence BA. (1998): Chronic ingestion of lycopene-rich tomato juice or lycopene supplements significantly increases plasma concentrations of lycopene and related tomato carotenoids in humans. Am. J. Clin. Nutr. 68, 1187–1195.

Porrini M, Riso P & Testolin G (1998): Absorption of lycopene from single or daily portions of raw and processed tomato. Br. J. Nutr. 80, 353–361.

Rock CL, Swenseid ME, Jacob RA & McKee RW. (1992): Plasma carotenoid levels in human subjects fed a low carotenoid diet. J. Nutr. 122, 96–100.

Shi J & Le Mague M (2000): Lycopene in tomatoes: chemical and physical properties affected by food processing. Crit. Rev. Food Sci. Nutr. 40, 1–42.

Simon PW (1997): Plant pigments for color and nutrition. Hort. Sci. 32, 12–13.

Simon PW, Wolff XY, Peterson CE, Kammerlohr DS, Rubatzky VE, Strandberg JO, Bassett MJ & White JM (1989): High carotene mass carrot population. Hort. Sci. 24, 174–175.

Stahl W & Sies H (1996): Lycopene: a biologically important carotenoid for humans? Arch. Biochem. Biophys. 336, 1–9.

Tanumihardjo SA (2002): Factors influencing the conversion of carotenoids to retinol: bioavailability to bioconversion to bioefficacy. Int. J. Vit. Nutr. Res. 72, 40–45.

US Department of Agriculture. USDA-NCI carotenoid database, World Wide Web: http://www.nal.usda.gov/fnic/foodcomp/Data/Carot/file1.dat (accessed February 2002).

van Eenwyk J, Davis FG & Bowen PE (1991): Dietary and serum carotenoids and cervical intraepithelial neoplasia. Int. J. Cancer 48, 34–38.

van Den Berg H (1999): Carotenoid interactions. Nutr. Rev. 57, 1–10.

van Het Hof KH, West CE, Weststrate JA & Hautvast JG (2000): Dietary factors that affect the bioavailability of carotenoids. J. Nutr. 130, 503–506.

White WS, Peck KM, Bierer TL, Gugger ET & Erdman Jr JW (1993): Interactions of oral β-carotene and canthaxanthin in ferrets. J. Nutr. 123, 1405–1413.

Willett WC, Stampfer MJ, Underwood BA, Taylor JO & Hennekens CH (1983): Vitamin A, E and carotene: effect of supplementation on their plasma levels. Am. J. Clin. Nutr. 38, 559–566.
Acknowledgements
This research was supported by the American Cancer Society IRG-58-011-44-02, USDA-IFAFS Grant No. 2000-4258, Hatch-Wisconsin Agricultural Experiment Station WIS04533, and the UW-Madison Graduate School. This work was presented in part at the 2002 Experimental Biology meeting, Horvitz, MA, Simon, P and Tanumihardjo, SA, 'Bioavailability of lycopene from lycopene 'red' carrots,' FASEB J. 16: A602-A603; Abstract 462.2, 2002. We thank Kevin Gross from the CALS statistical consulting service for his help with the statistical analyses; Michele Nord, Sara Augustine, and Joseph Lancman for their help with the muffins and breakfasts; and all of the human subjects. We also thank Mandy Porter Dosti and Ashley Valentine for their helpful comments on the manuscript.
About this article
Cite this article
Horvitz, M., Simon, P. & Tanumihardjo, S. Lycopene and β-carotene are bioavailable from lycopene 'red' carrots in humans. Eur J Clin Nutr 58, 803–811 (2004). https://doi.org/10.1038/sj.ejcn.1601880
Received:

Revised:

Accepted:

Published:

Issue Date:

DOI: https://doi.org/10.1038/sj.ejcn.1601880
Keywords
lycopene

bioavailability

carrots

tomatoes

humans

carotenoids
This article is cited by
Rebeca Martínez-Tomás
Elvira Larqué
Francisca Pérez-Llamas

European Journal of Nutrition (2012)

Malgorzata Baranska
Rafal Baranski
Thomas Nothnagel

Planta (2006)