Abstract
During the last few years, magnesium (Mg) has been subject of research due to its functionality in the organism. It is one of the most important micronutrients, and therefore its role in biological systems has been extensively investigated. Particularly, Mg has a strong relation with the immune system, in both nonspecific and specific immune response, also known as innate and acquired immune response. The aim of this paper is to review the state of the art about the interactions between Mg and the immune system. We discuss the link between dietary Mg and inflammation, apoptosis and alterations in number and function of innate immune cell populations, described in animal models. Furthermore, the immune system can be compromised in human populations under certain circumstances, including athletes and elderly people. The importance of a balanced Mg homeostasis and its interaction with the immune system in these groups has also been reviewed. Although emerging data support the relevant role of Mg in the immune response, further research is needed; and special efforts should be made to establish the most adequate dose in nutritional supplements to reach beneficial effects on health.
Relevant articles
Open Access articles citing this article.
Yuanyuan Zhang

,

Ze Fan

…

Liansheng Wang

Aquaculture International Open Access 13 May 2021

Jennifer J. Gile

,

Camden L. Lopez

…

Thomas E. Witzig

Blood Cancer Journal Open Access 26 March 2021

Svetlana Orlova

,

Galina Dikke

…

Alina Bevz

BMC Pregnancy and Childbirth Open Access 22 January 2021
Access options
Subscribe to Journal
Get full journal access for 1 year
$119.00
only $9.92 per issue
All prices are NET prices.
VAT will be added later in the checkout.
Tax calculation will be finalised during checkout.
Buy article
Get time limited or full article access on ReadCube.
$32.00
All prices are NET prices.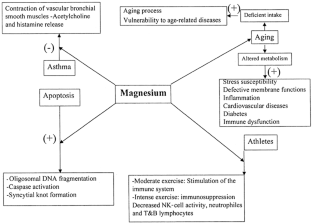 References
Black S, Yu H, Lee J, Sachchithananthan M & Medcalf R (2001): Physiologic concentrations of magnesium and placental apoptosis: prevention by antioxidants. Obstet. Giynec. 98, 319–322.

Bussiere FI, Gueux E, Rock E, Girardeau JP, Tridon A, Mazur A & Rayssiguier Y (2002): Increased phagocytosis and production of reactive oxygen species by neutrophils during magnesium deficiency in rats and inhibition by high magnesium concentration. Br. J. Nutr. 87, 107–113.

Bussière L, Mazur A, Gueux E, Nowacki W & Rayssiguier Y (1995): Trigliceride-rich lipoproteins from magnesium-deficient rats are more susceptible to oxidation by cells and promote proliferation of cultured vascular smooth muscle cells. Magnesium Res. 8, 151–158.

Chien MM, Zahradka KE, Newell MK & Freed JH (1999): Fas-induced B cell apoptosis requires an increase in free cytosolic magnesium as an early event. J. Biol. Chem. 274, 7059–7066.

Fantidis P, Cacho JR, Marin M, Jarabo RM, Solera J & Herrero E (1995): Intracellular (polymorphonuclear) magnesium content in patients with bronchial asthma between attacks. J. Roy Soc. Med. 88, 441–445.

Galland L (1988): Magnesium and immune function: an overview. Magnesium 7, 290–299.

Ginniakis C, Forbes IJ & Zalewski PD (1991): Calcium/magnesium dependent nuclease: tissue distribution, relationship to inter-nucleosomal DNA fragmentation and inhibition by zinc. Biochem. Biophys. Res. Commun. 181, 915–920.

Hill J, Micklewright A, Lewis S & Britton J (1997): Investigation of the effect of short-term change in dietary magnesium intake in asthma. Eur. Respir. J. 10, 2225–2229.

Ishiguro S, Miyamoto A, Tokushima T, Ueda A & Nishio A (2000): Low extracellular Mg2+ concentrations suppress phagocytosis in vitro by alveolar macrophages from rats. Magnesium Res. 13, 11–18.

Ishizaka K, Tomioka H & Ishizaka T (1970): Mechanisms of passive sensitization: I. Presence of IgE molecules on human leukocytes. J. Immunol. 105, 1459–1467.

Kabashima H, Nagata K, Maeda K & Iijima T (2002): Involvement of substance P, mast cells, TNF alpha and ICAM-1 in the infiltration of inflammatory cells in human periapical granulomas. Oral Pathol. Med. 83, 175–180.

Konig D, Weinstock C, Keul J, Northoff H & Berg A (1998): Zinc, iron, and magnesium status in athletes–influence on the regulation of exercise-induced stress and immune function. Exerc. Immunol. Rev. 4, 2–21.

Levine BS & Coburn JW (1984): Magnesium the mimic/antagonist of calcium. N. Engl. J. Med. 310, 1253–1255.

Maier JAM, Malpuec-Brugère C, Rock E, Rayssiguier Y & Mazur A (1997): Serum from magnesium-deficient rats affects endothelial cells in culture: role of hyperlipemia and inflammation. J. Nutr. Biochem. 9, 17–22.

Mak IT, Dickens BF, Komarov AM, Wagner TL, Phillips TM & Weckegli WB (1997): Activation of the neutrophil and loss of plasma glutathione during Mg deficiency—modulation by nitric oxide synthase inhibition. Mol. Cell. Biochem. 176, 35–39.

Malpuech-Brugère C, Kuryszko J, Nowacki W, Rock E, Raysiguier Y & Mazur A (1998): Early morphological and immunological alterations in the spleen during magnesium deficiency in the rat. Magnesium Res. 11, 161–169.

Malpuech-Brugère C, Nowacki W, Daveau M, Gueux E, Linard Ch, Rock E, Lebreton JP, Mazur A & Rayssiguier Y (2000): Inflammatory response following acute magnesium deficiency in the rat. Biochim. Biophys. Acta. 1501, 91–98.

Malpuech-Brugère C, Nowacki W, Gueux E, Kuryszko J, Rock E, Rayssiguier Y & Mazur A (1999): Accelerated thymus involution in magnesium-deficient rats is related to enhanced apoptosis and sensitivity to oxidative stress. Br. J. Nutr. 81, 405–411.

McCoy H & Kenney MA (1996): Interactions between magnesium and vitamin D: possible implications in the immune system. Magnesium Res. 9, 185–203.

Mircetic RN, Dodig S, Raos M, Petres B & Cepelak I (2001): Magnesium concentration in plasma, leukocytes and urine of children with intermittent asthma. Clin. Chim. Acta 312, 197–203.

Monteleone CA & Sherman AR (1997): Nutrition and asthma. Arch. Int. Med. 157, 23–34.

Nieman DC (1998): Exercise and resistance to infection. Can. J. Physiol. Pharmacol. 76, 573–580.

Nova E, Montero A, López-Varela S & Marcos A (2001): Are elite gymnasts under malnutrition conditions. Evaluation of diet, anthropometric and immunocompetence. Nutr. Res. 21, 15–29.

Pedersen BK, Bruunsgaard H, Jensen M, Toft AD, Hansen H & Ostrowski K (1999): Exercise and the immune system influence of nutrition and aging. J. Sci. Med. Sport. 2, 234–252.

Pedersen BK, Rohde T & Zacho M (1996): Immunity in athletes. J. Sports. Med. Phys. Fitness 36, 236–245.

Petrault I, Zimowska W, Mathieu J, Bayle D, Rock E, Favier A, Rayssiguier Y & Mazur A (2002): Changes in gene expression in rat thymocytes identified by cDNA array support the occurrence of oxidative stress in early magnesium deficiency. Biochem. Biophys. Acta 1586, 92–98.

Rayssiguier Y, Durlach J, Guex E, Rock E & Mazur A (1993): Magnesium and aging I. Experimental data: importance of oxidative damage. Magnesium Res. 6, 369–378.

Rolla G, Bucca C, Bugiania M, Arissa W & Spinaci S (1987): Reduction of histamine-induced bronchoconstriction by magnesium in asthmatic subject. Allergy 42, 186–188.

Sharp NC & Koutedakis Y (1992): Sport and the overtraining syndrome: immunological aspects. Br. Med. Bull. 48, 518–533.

Speich M, Pineau A & Ballereau F (2001): Minerals, trace elements and related biological variables in athletes and during physical activity. Clin. Chim. Acta 312, 1–11.

Weglicki WB, Phillips TM, Freedman AM, Cassidy MM & Dickens BF (1992): Magnesium deficiency elevates circulating levels of inflammatory cytokines and endothelia. Mol. Cell. Biochem. 110, 169–173.

Weglicki WB & Phillips TM (1992): Pathobiology of magnesium deficiency: a cytokine/neurogenic inflammation hypothesis. Am. J. Physiol. 263, R734–R737.

Weglicki WB, Dickens BF, Wagner TL, Chmielinska JJ & Phillips TM (1996): Immunoregulation by neuropeptides in magnesium deficiency ex vivo effect of enhanced substance P production on circulating T lymphocytes from magnesium-deficient mice. Magnesium Res. 9, 3–11.

Widlak P & Garrard WT (2001): Ionic and cofactor requirements for the activity of the apoptotic endonuclease DFF40/CAD. Mol. Cell. Biochem. 218, 125–130.

Yamamoto J, Watanabe S, Hirose M, Osada T, Ra C & Sato N (1999): Role of mast cells as a trigger of inflammation in Helicobacter pylori infection. J. Physiol. Pharmacol. 50, 17–23.
Acknowledgements
Miguel Tam wishes to thank all the members of Dr. Marcos' team for providing a wonderful work environment and making the lab a very pleasant place during the period Nov 2001–May 2002.
About this article
Cite this article
Tam, M., Gómez, S., González-Gross, M. et al. Possible roles of magnesium on the immune system. Eur J Clin Nutr 57, 1193–1197 (2003). https://doi.org/10.1038/sj.ejcn.1601689
Published:

Issue Date:

DOI: https://doi.org/10.1038/sj.ejcn.1601689
Keywords
magnesium

inflammation

apoptosis

physical activity

aging