Abstract
Objective: This study describes the associations between sedentary behaviour (television viewing) and participation in vigorous recreational activity with obesity and with biomarkers of cardiovascular disease (CVD) risk profile.
Design: Cross-sectional analysis of the EPIC-Norfolk cohort study.
Setting: The study is a population-based study of participants living in Norfolk, UK.
Subjects: A total of 15 515 men and women aged between 45 and 74 y, recruited through General Practice lists, who completed the detailed physical activity questionnaire.
Results: Following exclusion of those with self-reported myocardial infarction, stroke and diabetes, 14 189 participants remained for the analysis. Self-reported television viewing was positively and participation in vigorous activity negatively associated with markers of obesity, blood pressure and plasma lipids. In multiple regression analysis, adjusting for age, alcohol, smoking, treatment for hypertension, vigorous and total physical activity, these associations remained significant. For women who participated in more than 1 h/week of vigorous activity and who watched fewer than 2 h of television each day, the adjusted mean body mass index was 1.92 kg/m2 less than for women who reported participating in no vigorous activity and who watched more than 4 h of television each day (P<0.001). The equivalent figure for men was 1.44 kg/m2 (P<0.001). In a similar analysis, with blood pressure as the outcome, mean diastolic blood pressure difference between the extreme groups of vigorous activity and television viewing was 3.6 mmHg in men (P<0.001) and 2.7 mmHg (P=0.001) in women.
Conclusions: These data suggest that time spent participating in vigorous recreational physical activity and television viewing, an indicator of a sedentary lifestyle, are associated with obesity and markers of CVD disease risk independent of total reported physical activity. Whether these observations represent the true underlying aetiological relations or are a manifestation of the different precision with which the subdimensions of activity are measured remains uncertain.
Relevant articles
Open Access articles citing this article.
Somdutta Barua

&

Nandita Saikia

BMC Public Health Open Access 19 December 2022

Richard R. Suminski

,

Freda Patterson

…

Walker S. Carlos Poston

BMC Public Health Open Access 13 June 2019

Maria Inês Schmidt

,

Bruce B. Duncan

…

Maria Angélica Nunes

BMC Pregnancy and Childbirth Open Access 30 March 2016
Access options
Subscribe to Journal
Get full journal access for 1 year
$119.00
only $9.92 per issue
All prices are NET prices.
VAT will be added later in the checkout.
Tax calculation will be finalised during checkout.
Buy article
Get time limited or full article access on ReadCube.
$32.00
All prices are NET prices.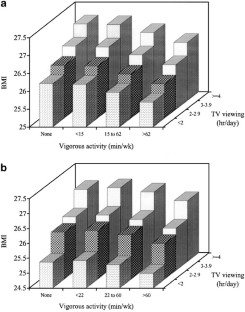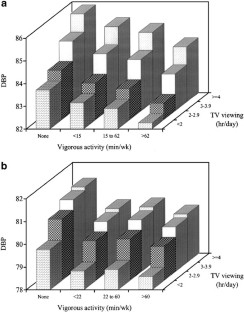 References
Ainsworth BE, Haskell WL, Leon AS, Jacobs DR, Monotoye HJ, Sallis JF & Paffenbarger RS (1993): Compendium of physical activity: classification of energy costs of human physical activities. Med. Sci. Sports Exerc. 25, 71–80.

Ainsworth BE, Haskell WL, Whitt MC, Irwin ML, Swartz AM, Strath SJ, O'Brien WL, Bassett DR, Schmitz KH, Emplaincourt PO, Jacobs DR & Leon AS (2000): Compendium of physical activities: an update of activity codes and MET intensities. Med. Sci. Sports Exerc. 32, S498–S516.

Ainsworth BE, Jacobs Jr DR, Leon AS, Richardson MT & Montoye HJ (1993): Assessment of the accuracy of physical activity questionnaire occupational data. J. Occup. Med. 35, 1017–1027.

Bennett N, Dodd T, Flatley J, Freeth S & Bolling K (1995): Health Survey for England 1993. London: HMSO.

Bray G (1996): Coherent, preventive and management strategies for obesity. In The Origins and Consequences of Obesity, eds DJ Chadwick & GC Cardew, pp 228–254. Chichester: Wiley.

Central Statistical Office (1970): Social Trends, Vol 1. HMSO: London.

Crawford DA, Jeffery RW & French SA (1999): Television viewing, physical inactivity and obesity. Int. J. Obes. Relat. Metab. Disord. 23, 437–440.

Day N, Oakes S, Luben R, Khaw K-T, Bingham S, Welch A & Wareham N (1999): EPIC in Norfolk: study design and characteristics of the cohort. Br. J. Cancer 80, 95–103.

Deitz WH, Bandini LB, Morelli JA, Peers KF & Ching PLYH (1994): Effect of sedentary activities on resting metabolic rate. Am. J. Clin. Nutr. 59, 556–559.

Falciglia GA & Gussow ME (1980): Television commercials and eating behavior of obese and normal-weight women. J. Nutr. Educ. 12, 196–199.

Friedewald WT, Levy RI & Fredrickson DS (1972): Estimation of the concentration of low-density lipoprotein in plasma, without use of the preparative ultracentrifuge. Clin. Chem. 18, 499–502.

Fung TT, Hu FB, Yu J, Chu N-F, Spiegelman D, Tofler GH, Willett WC & Rimm EB (2000): Leisure-time physical activity, television watching, and plasma biomarkers of obesity and cardiovascular disease risk. Am. J. Epidemiol. 152, 1171–1178.

Fung TT, Rimm EB, Spiegelman D, Rifai N, Tofler GH, Willett WC & Hu FB (2001): Association between dietary patterns and plasma biomarkers of obesity and cardiovascular disease risk. Am. J. Clin. Nutr. 73, 61–67.

Hu FB, Leitzmann MF, Stampfer MJ, Colditz GA, Willett WC & Rimm EB (2001): Physical activity and television watching in relation to risk for type 2 diabetes mellitus in men. Arch. Intern. Med. 161, 1542–1548.

Jacobs DR, Ainsworth BE, Hartman TJ & Leon AS (1993): A simultaneous evaluation of 10 commonly used physical activity questionnaires. Med. Sci. Sports Exerc. 25, 81–91.

Jebb SA, Cole TJ, Doman D, Murgatroyd PR & Prentice AM (2000): Evaluation of the novel Tanita body-fat analyser to measure body composition by comparison with a four-compartment model. Br. J. Nutr. 83, 115–122.

Jeffery RW & French SA (1998): Epidemic obesity in the United States: are fast foods and television viewing contributing? Am. J. Public Health 88, 277–280.

Klesges RC, Shelton ML & Klesges LM (1993): Effects of television on metabolic rate: potential implications for childhood obesity. Pediatrics 91, 281–286.

Kronenberg F, Pereira MA, Schmitz MK, Arnett DK, Evenson KR, Crapo RO, Jensen RL, Burke GL, Sholinsky P, Ellison RC & Hunt SC (2000): Influence of leisure time physical activity and television watching on atherosclerosis risk factors in the NHLBI Family Heart Study. Atherosclerosis 153, 433–443.

Lank NH, Vickery CE, Cotunga N & Shade DD (1992): Food commercials during television soap operas: what is the nutritional message? J. Community Health 17, 377–384.

MacMahon S, Peto R, Cutler J, Collins R, Sorlie P, Neaton J, Abbott R, Godwin J, Dyer A & Stamler J (1990): Blood pressure, stroke, and coronary heart disease. Part 1, prolonged differences in blood pressure: prospective observational studies corrected for the regression dilution bias. Lancet 335, 765–774.

Office for National Statistics (1998): Social Trends 28. London: The Stationery Office.

Pomerleau J, McKeigue PM & Chaturvedi N (1999): Factors associated with obesity in South Asian, Afro-Caribbean and European women. Int. J. Obes. Relat. Metab. Disord. 23, 25–33.

Prentice AM & Jebb SA (1995): Obesity in Britain: gluttony or sloth? Br. Med. J. 311, 437–439.

Prescott-Clarke P & Primatesta P (1997): Health Survey for England 1995. London: HMSO.

Robinson TN (1999): Reducing children's television viewing to prevent obesity a randomized controlled trial. J. Am. Med. Assoc. 282, 1561–1567.

Rose G (1985): Sick individuals and sick populations. Int. J. Epidemiol. 14, 32–38.

Salmon J, Bauman A, Crawford D, Timperio A & Owen N (2000): The association between television viewing and overweight among Australian adults participating in varying levels of leisure-time physical activity. Int. J. Obes. Relat. Metab. Disord. 24, 600–606.

Story M & Faulkner P (1990): The prime time diet: a content analysis of eating behavior and food messages in television program content and commercials. Am. J. Public Health 80, 738–740.

Taylor HL, Jacobs Jr DR, Schucker B, Knudsen J, Leon AS & Debacker G (1978): A questionnaire for the assessment of leisure-time physical activities. J. Chronic Dis. 31, 741–755.

The Sports Council and The Health Education Authority (1992): Allied Dunbar National Fitness Survey. London: Health Education Authority.

Vioque J, Torres A & Quiles J (2000): Time spent watching television, sleep duration and obesity in adults living in Valencia, Spain. Int. J. Obes. Relat. Metab. Disord. 24, 1683–1688.

Wareham NJ, Jakes RW, Rennie KL, Mitchell J, Hennings S & Day NE (2002): Validity and repeatability of the EPIC-Norfolk physical activity questionnaire. Int. J. Epidemiol. 31, 168–174.

World Health Organisation (1998): Obesity: Preventing and Managing the Global Epidemic. Geneva: World Health Organisation.
Acknowledgements
The cohort of EPIC-Norfolk is supported by grant funding from the Cancer Research Campaign, the Medical Research Council, the Stroke Association, the British Heart Foundation, the Department of Health, the Europe Against Cancer Programme Commission of the European Union and the Ministry of Agriculture, Fisheries and Food. We thank the staff of EPIC for their invaluable contributions. NJW is a Wellcome Trust Senior Clinical Fellow.
The physical activity questionnaire (EPAQ2) can be viewed at the following location: http://www.srl.cam.ac.uk/epic/questionnaires/epaq2/
About this article
Cite this article
Jakes, R., Day, N., Khaw, KT. et al. Television viewing and low participation in vigorous recreation are independently associated with obesity and markers of cardiovascular disease risk: EPIC-Norfolk population-based study. Eur J Clin Nutr 57, 1089–1096 (2003). https://doi.org/10.1038/sj.ejcn.1601648
Received:

Revised:

Accepted:

Published:

Issue Date:

DOI: https://doi.org/10.1038/sj.ejcn.1601648
Keywords
physical activity

television

obesity

cardiovascular disease risk

epidemiology