Abstract
Objective: The aim of this study was to evaluate two interventions (one reward-based and one exposure-based) for increasing children's acceptance of an unfamiliar vegetable compared with a no-treatment control. It was predicted that the exposure condition would increase liking for, and consumption of, the vegetable relative to either the reward or control group.
Design: Using a randomized controlled design, participants were assigned to one of two intervention groups (exposure or reward) or to a no-treatment control condition, for a 2 week period. Liking for, and consumption of, red pepper was assessed before and after the treatment period.
Setting: The study was conducted in three primary schools in London.
Subjects: Parental consent was obtained for 49 out of a possible 72 children.
Interventions: Interventions comprised eight daily sessions during which participants in the exposure group were offered a taste of sweet red pepper and told that they could eat as much as they liked. Participants in the reward group were shown a sheet of cartoon stickers and told that they could choose one of them on condition that they ate at least one piece of the pepper.
Results: The exposure-based intervention significantly increased both liking (P=0.006) and consumption (P=0.03) compared with the control group. The outcome of the reward intervention was intermediate and did not differ significantly from the exposure or control conditions.
Conclusions: Repeated exposure to the taste of unfamiliar foods is a promising strategy for promoting liking of previously rejected foods in children.
Sponsorship: This study was financed by Cancer Research UK.
Relevant articles
Open Access articles citing this article.
Taren Swindle

,

Julie M. Rutledge

…

Geoff M. Curran

Implementation Science Open Access 18 March 2022

Taren Swindle

,

Julie M. Rutledge

…

Geoff M. Curran

Pilot and Feasibility Studies Open Access 19 November 2020

Edward J. D. Webb

,

Elizabeth Stamp

…

Maria Bryant

BMC Public Health Open Access 12 October 2020
Access options
Subscribe to Journal
Get full journal access for 1 year
$119.00
only $9.92 per issue
All prices are NET prices.
VAT will be added later in the checkout.
Tax calculation will be finalised during checkout.
Buy article
Get time limited or full article access on ReadCube.
$32.00
All prices are NET prices.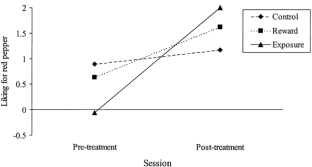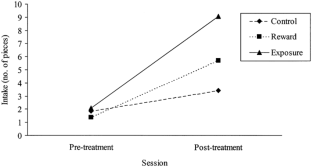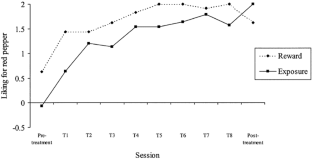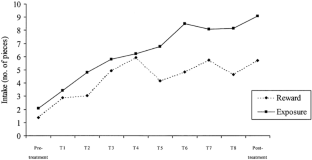 References
Basch, CE, Zybert, P & Shea, S (1994). 5-a-day: dietary behavior and the fruit and vegetable intake of Latino children. Am. J. Public Health, 84, 814–818.

Birch, LL (1980). Effects of peer models' food choices and eating behaviors on preschoolers' food preferences. Child Devl., 51, 489–496.

Birch, LL (1999). Development of food preferences. A. Rev. Nutr., 19, 41–62.

Birch, LL & Marlin, DW (1982). I don't like it; I never tried it: effects of exposure on two-year-old children's food preferences. Appetite, 3, 353–360.

Birch, LL, Birch, D, Marlin, DW & Kramer, L (1982). Effects of instrumental consumption on children's food preference. Appetite, 3, 125–134.

Birch, LL, Zimmerman, S & Hind, H (1980). The influence of social-affective context on the development of children's food preferences. Child Devl., 52, 856–861.

Birch, LL, Marlin, DW & Rotter, J (1984). Eating as the 'means' activity in a contingency: effects on young children's food preference. Child Devl., 55, 431–439.

Birch, LL, McPhee, L, Shoba, BC, Pirok, E & Steinberg, L (1987). What kind of exposure reduces children's food neophobia? Looking vs tasting. Appetite, 9, 171–178.

de Silva, P (1988). The modification of human food aversions: a preliminary study. J. Behav. Ther. Exp. Psychiat., 19, 217–220.

Domel, SB, Baranowski, T, Davis, H, Thompson, WO, Leonard, SB, Riley, P, Baranowski, J, Dudovitz, B & Smyth, M (1993). Development and evaluation of a school intervention to increase fruit and vegetable consumption among 4th and 5th grade students. J. Nutr. Educa., 17, 51–54.

Drewnowski, A, Henderson, SA, Levine, A & Hann, C (1999). Taste and food preferences as predictors of dietary practices in young women. Public Health Nutr., 2, 513–519.

Eisenberger, R & Cameron, J (1996). Detrimental effects of reward: reality or myth?. Am. Psychol., 51, 1153–1166.

Gibson, EL, Wardle, J & Watts, CJ (1998). Fruit and vegetable consumption, nutritional knowledge and beliefs in mothers and children. Appetite, 31, 205–228.

Gregory, J, Foster, K, Tyler, H & Wiseman, M (1990). The Dietary and Nutritional Survey of Adults, London: HMSO

Guthrie, CA, Rapoport, L & Wardle, J (2000). Young children's food preferences: a comparison of three modalities of food stimuli. Appetite, 35, 73–77.

Havas, S, Anliker, J, Damron, D, Langenberg, P, Ballesteros, M & Feldman, R (1998). Final results of the Maryland WIC 5-a-day program. Am. J. Public Health, 88, 1161–1167.

Hobden, K & Pliner, P (1995). Effects of a model on food neophobia in humans. Appetite, 25, 101–114.

Horne, PJ, Fergus Lowe, C, Fleming, PFJ & Dowey, AJ (1995). An effective procedure for changing food preferences in 5–7-year-old children. Proc. Nutr. Soc., 54, 441–452.

Horne, PJ, Fergus Lowe, C, Bowdery, M & Egerton, C (1998). The way to healthy eating for children. Br. Food J., 100, 133–140.

Hu, FB, Rimm, EB, Stampfer, MJ, Ascherio, A, Spiegelman, D & Willett, WC (2000). Prospective study of major dietary patterns and risk of coronary heart disease in men. Am. J. Clin. Nutr., 72, 912–921.

Kalat, JW & Rozin, P (1973). Learned safety as a mechanism in long delay taste aversion learning in rats. J. Comp. Physiol. Psychol., 83, 198–207.

Kelder, SH, Peny, CL, Klepp, KI & Lytle, L (1994). Longitudinal tracking of adolescent smoking, physical activity and food choice behaviors. Am. J. Public Health, 84, 1121–1126.

Lepper, MR & Greene, D (1978). The Hidden Costs of Reward. New Perspectives on the Psychology of Human Motivation, New Jersey: Lawrence Erlbaum

Li, R, Serdula, M, Bland, S, Mokdad, A, Bowman, B & Nelson, D (2000). Trends in fruit and vegetable consumption among adults in 16 US states: Behavioral Risk Factor Surveillance System, 1990–1996. Am. J. Public Health, 90, 777–781.

Liu, S, Manson, JE, Lee, TM, Cole, SR, Hennekens, CH, Willett, WC & Buring, JE (2000). Fruit and vegetable intake and risk of cardiovascular disease: the Women's Health Study. Am. J. Clin. Nutr., 72, 922–928.

Lowe, CE, Dowey, AJ & Horne, PJ (1998). Changing what children eat. InThe Nation's Diet: The Social Science of Food Choice, ed. A Murcott, pp57–80, London: Longman

Newman, J & Taylor, A (1992). Effect of a means-end contingency on young children's food preferences. J. Exp. Child Psychol., 64, 200–216.

Perry, CL, Bishop, DB, Taylor, G, Murray, DM, Mays, RW, Dudovitz, BS, Smyth, M & Story, M (1998). Changing fruit and vegetable consumption among children: the 5-a-day Power Plus program in St Paul, Minnesota. Am. J. Public Health, 88, 603–609.

Pliner, P (1982). The effects of mere exposure on liking for edible substances. Appetite, 3, 283–290.

Resnicow, K, Smith, M, Baranowski, T, Baranowski, J, Vaughan, R & Davis, M (1998). Two year tracking of children's fruit and vegetable intake. J. Am. Diet. Assoc., 98, 785–789.

Rozin, P (1976). The selection of food by rats, humans and other animals. In:Advances in the Study of Behavior, ed. R Rosenblatt, RA Hinde, C Beer & E Shaw, pp21–76, New York: Academic Press

Rozin, P & Schiller, D (1980). The nature and acquisition of a preference for chili pepper by humans. Motiv. Emotion, 4, 77–101.

Singer, MR, Moore, LL, Garrahie, EJ & Ellison, RC (1995). The tracking of nutrient intake in young children: the Framingham Children's Study. Am. J. Public Health, 82, 1673–1677.

Sorensen, G, Stoddard, A, Peterson, K, Cohen, N, Hunt, MK, Stein, E, Palombo, R & Lederman, R (1999). Increasing fruit and vegetable consumption through worksites and families in the Treatwell 5-a-day study. Am. J. Public Health, 89, 54–60.

Steinmetz, KA & Potter, JD (1996). Vegetables, fruit and cancer prevention: a review. J. Am. Diet. Assoc., 96, 1027–1039.

Sullivan, SA & Birch, LL (1994). Infant dietary experience and acceptance of solid foods. Pediatrics, 93, 271–277.

Thompson, B, Demark-Wahnefried, W, Taylor, G, MeClelland, JW, Stables, G, Havas, S, Feng, Z, Topor, M, Heimendinger, J, Reynolds, KD & Cohen, N (1999). Baseline fruit and vegetable intake among adults in seven 5-a-day study centers located in diverse geographic areas. J. Am. Diet. Assoc., 99, 1241–1248.

Wardle, J (1995). Parental influences on children's diets. Proc. Nutr. Soc., 54, 141–151.

World Cancer Research Fund (1995). Food Nutrition and the Prevention of Cancer: a Global Perspective, Washington, DC: American Institute for Cancer Research
About this article
Cite this article
Wardle, J., Herrera, ML., Cooke, L. et al. Modifying children's food preferences: the effects of exposure and reward on acceptance of an unfamiliar vegetable. Eur J Clin Nutr 57, 341–348 (2003). https://doi.org/10.1038/sj.ejcn.1601541
Received:

Revised:

Accepted:

Published:

Issue Date:

DOI: https://doi.org/10.1038/sj.ejcn.1601541
Keywords
children

food acceptance

exposure

reward

vegetables