Abstract
Objectives: To evaluate: (1) the associations between maternal psychological stress, distress and low birth weight (LBW), prematurity and intrauterine growth retardation (IUGR); (2) the interactions between maternal stress, distress and smoking, alcohol and coffee intake; (3) the prevalences of stress and distress in pregnancy.
Design: Longitudinal cohort study.
Setting: Jundiaí city, São Paulo state, Brazil.
Subjects: A total of 865 pregnant women who attended antenatal care between September 1997 and August 2000.
Methods: Measures of stress and distress were obtained, by interview, three times in pregnancy: at a gestational age (GA) lower than 16 weeks, from 20 to 26 weeks and from 30 to 36 weeks. Stress was investigated by the perceived stress scale, PSS, and distress by both the general health questionnaire, GHQ, and the State Trait Anxiety inventories, STAI. The outcomes were: LBW (birth weight <2500 g), prematurity (gestational age (GA) at birth <37 weeks) and IUGR (birth weight for GA ≤10th percentile of William's curve). The associations between the outcomes and the psychological measures were assessed in multiple logistic regression models.
Results: Maternal distress was associated with LBW (RR=1.97, P=0.019) and prematurity (RR=2.32, P=0.015), respectively. There was an interaction between distress and smoking in the second interview (P=0.05). The prevalences of stress and distress in the different interviews of pregnancy varied from 22.1 to 52.9%.
Conclusions: The present study has confirmed that distress is associated with both birthweight and GA. Further research is needed to evaluate the effectiveness of psychological interventions that can improve maternal and foetal well-being.
Sponsorship: Fundação de Amparo à Pesquisa do Estado de São Paulo - FAPESP (grant no. 1998/00321-0).
Relevant articles
Open Access articles citing this article.
Luciano de Andrade

,

Arthi S. Kozhumam

…

Erika Barbara Abreu Fonseca Thomaz

BMC Pregnancy and Childbirth Open Access 24 November 2022

Tasuku Okui

&

Naoki Nakashima

Maternal Health, Neonatology and Perinatology Open Access 06 October 2022

Jeongeun Hwang

,

Seokjoo Moon

…

Geum Joon Cho

Scientific Reports Open Access 29 September 2022
Access options
Subscribe to Journal
Get full journal access for 1 year
$119.00
only $9.92 per issue
All prices are NET prices.
VAT will be added later in the checkout.
Tax calculation will be finalised during checkout.
Buy article
Get time limited or full article access on ReadCube.
$32.00
All prices are NET prices.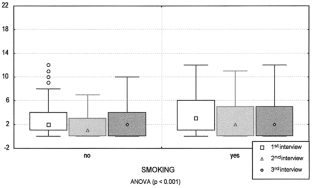 References
Aarst, MCG & Vingerhoets, AJJM (1993). Psychosocial factors and intrauterine fetal growth—a prospective study. J. Psychosom. Obstet. Gynecol., 14, 249–258.

Anderson, DK, Rhees, RW & Fleming, DE (1985). Effects of prenatal stress on differentiation of the sexually dimorphic nucleus of the preoptic area (SDN-POA) of the rat brain. Brain Res., 332, 113–118.

Austin, MP & Leader, L (2000). Maternal stress and obstetric and infant outcomes: epidemiological findings and neuroendocrine mechanisms. Aust. NZ J. Obstet. Gynaecol., 40, 331–337.

Barlow, SM, Knight, AF & Sullivan, FM (1979). Prevention by diazepam of adverse effects of maternal restraint stress on postnatal development and learning in the rat. Teratology, 19, 105–110.

Beckhardt, S & Ward, IL (1983). Reproductive functioning in the prenatally stressed female rat. Dev. Psychobiol., 16, 111–118.

Branun, AM & Schoendorf, KC (2002). Changing patterns of low birth weight in the United States. Paediatr. Perinat. Epidemiol., 16, 8–15.

Brooke, OG, Anderson, HR, Bland, JM, Peacock, JL & Steward, CM (1989). Effects on birth weight of smoking, alcohol, caffeine, socioeconomic factors, and psychosocial stress. Br. Med. J., 298, 795–801.

Brownell, A & Shumaker, SA (1985). Where do we go from here: the policy implications of social support. J. Soc. Issues, 41, 111–121.

Buekens, P & Klebanoff, M (2001). Preterm birth research: from disillusion to the search for new mechanisms. Paediatr. Perinat. Epidemiol., 15, (Suppl 2) 159–161.

Calhoun, JB (1962). Population density and social pathology. Sci. Am., 206, 139–148.

Cameron, N (1984). The Measurement of Human Growth, 1st edn. London: Croom Helm

Capurro, H, Konishezky, S, Fonseca, D & Caldeyro-Barcia, (1978). A simplified method for diagnosis of gestational age in the newborn infant. J. Pediatr., 93, 120–122.

Cohen, S, Kamarck, T & Mermelstein, R (1983). A global measure of perceived stress. J. Health. Soc. Behav., 24, 385–396.

Copper, RL, Goldenberg, RL, Das, A, Elder, N, Swain, M, Norman, G, Ramsey, R, Cotroneo, P, Collins, BA & Johnson, F et al (1996). The preterm prediction study: maternal stress is associated with spontaneous preterm birth at less than 35 weeks' gestation. Am. J. Obstet. Gynecol., 175, 1286–1292.

Edwards, CH, Cole, OJ, Oyemade, UJ, Knight, EM, Johnson, AA, Westney, OE, Laryea, H, West, W, Jones, S & Westney, LS (1994). Maternal stress and pregnancy outcomes in a prenatal clinic population. J. Nutr., 124, (Suppl 6) S1006–S1021.

Faden, VB, Graubard, BI & Dufour, M (1997). The relationship of drinking and birth outcome in a US national sample of expectant mothers. Paediatr. Perinat. Epidemiol., 11, 167–180.

Floyd, RL, Rimer, BK, Giovino, GA, Mullen, PD & Sullivan, SE (1993). A review of smoking in pregnancy: effects on pregnancy outcomes and cessation efforts. Ann. Rev. Public Health, 14, 379–411.

Geber, WF (1966). Developmental effects of chronic maternal audiovisual stress on the rat fetus. J. Embriol. Exp. Morphol., 16, 1–16.

Goldberg, DP (1972). The Detection of Psychiatric Illness by Questionnaire, London: Oxford University Press

Grimstadt, H, Schei, B, Backe, B & Jacobsen, G (1999). Anxiety, physical abuse, and low birth weight. Scand. J. Public Health, 27, 296–300.

Hedegaard, M, Henriksen, TB, Sabroe, S & Secher, NJ (1993). Psychological distress in pregnancy and preterm delivery. Br. Med. J., 307, 234–238.

Hedegaard, M, Henriksen, TB, Scher, NJ, Hatch, MC & Sabroe, S (1996). Do stressful life events affect duration of gestation and risk of preterm delivery?. Epidemiology, 7, 339–345.

Henriksen, TB, Hedegaard, M & Secher, NJ (1994). The relation between psychosocial job strain, and preterm delivery and low birthweight for gestational age. Int. J. Epidemiol., 23, 764–774.

Hoffman, S & Hatch, C (1996). Stress, social support and pregnancy outcome: a reassessment based on recent research. Paediatr. Perinat. Epidemiol., 10, 380–405.

Horta, BL, Barros, FC, Halpern, R & Victora, C (1996). Baixo peso ao nascer em duas coortes de base populacional no Sul do Brasil. Cad Saúde Públ., 12, 27–31.

Istvan, J (1986). Stress, anxiety, and birth outcomes: a critical review of the evidence. Psychol. Bull., 100, 331–348.

Jacobsen, G, Schei, B & Hoffman, HJ (1997). Psychosocial factors and small-for-gestational-age infants among parous Scandinavian women. Acta Obstet. Gynecol. Scand., 76, (Suppl 165) S14–S18.

Jelliffe, DB & Jelliffe, EFP (1989). Community Nutritional Assessment, with Special Reference to Less Technically Developed Countries, 2nd edn. London: Oxford University Press

Kleinbaum, DG (1996). Logistic Regression—A Self-Learning Text, New York: Springer

Kramer, MS (1987). Determinants of low birth weight: methodological assessment and meta-analysis. Bull. WHO, 65, 663–737.

Lawson, EJ (1994). The role of smoking in the lives of low-income pregnant adolescents: a field study. Adolescence, 29, 61–79.

Lederman, RP (1995). Relationship of anxiety, stress, and psychosocial development to reproductive health. Behav. Med., 21, 101–112.

Levin, JS & DeFrank, RS (1988). Maternal stress and pregnancy outcomes: a review of the psychosocial literature. J. Psychosom. Obstet. Gynecol., 9, 3–16.

Lwanga, SK & Lemeshow, S (1991). Sample Size Determination in Health Studies—a Practical Manual, Geneva: WHO

Mari, JJ & Williams, P (1985). A comparison of the validity of two psychiatric screening questionnaires (GHQ-12 and SRQ-20) in Brazil, using relative operating characteristic (ROC) analysis. Psychol. Med., 15, 651–659.

McAnarney, ER & Stevens-Simons, C (1990). Maternal psychological stress/depression and low birth weight. Am. J. Dis. Child., 144, 789–792.

McCormick, MC, Gortmaker, SL & Sobol, AM (1990). Very low birth weight children: behavior problems and school difficulty in a national sample. J. Pediatr., 117, 687–693.

Nordentoft, M, Lou, HC, Hansen, D, Nim, J, Pryds, O, Rubin, P & Hemmingsen, R (1996). Intrauterine growth retardation and premature delivery: the influence of maternal smoking and psychological factors. Am. J. Public Health, 86, 347–354.

Omer, H (1986). Possible psychophysiologic mechanisms in premature labor. Psychosomatics, 27, 580–584.

Paarlberg, KM, Vingerhoets, AJJM, Passchier, J, Dekker, GA & Van Geijn, HP (1995). Psychosocial factors and pregnancy outcome: a review with emphasis on methodological issues. J. Psychosom. Res., 39, 563–595.

Paarlberg, KM, Vingerhoets, AJJM, Passchier, J, Dekker, GA, Heinen, AGJJ & van Geijn, HP (1999). Psychosocial predictors of low birthweight: a prospective study. Br. J. Obstet. Gynaecol., 106, 834–841.

Pagel, MD, Smilkstein, G, Regen, H & Montano, D (1990). Psychosocial influences on new born outcomes: a controlled prospective study. Soc. Sci. Med., 30, 597–604.

Paiva, AA (2000). Análise da relação entre os níveis de ferro de parturientes e recém-nascidos a termo, MPH thesis São Paulo: University of São Paulo

Pinto, ML & Shetty, PS (1995). Influence of exercise-induced maternal stress on fetal outcome in Wistar rats: inter-generational effects. Br. J. Nutr., 73, 645–653.

Pritchard, CW & Teo, PYK (1994). Preterm birth, low birthweight and the stressfulness of the household role for pregnant women. Soc. Sci. Med., 38, 89–96.

Rondó, PHC, Rodrigues, LC & Tomkins, AM (1996). Coffee consumption and intrauterine growth retardation in Brazil. Eur. J. Clin. Nutr., 50, 705–709.

Rondó, PHC, Abbott, R, Rodrigues, LC & Tomkins, AM (1997). The influence of maternal nutritional factors on intrauterine growth retardation. Pediatr. Perinat. Epidemiol., 11, 152–166.

Sable, MR & Wilkinson, DS (2000). Impact of perceived stress, major life events and pregnancy attitudes on low birth weight. Fam. Plann. Perspect., 32, 288–294.

Smith, DJ, Joffe, JM & Heseltine, GFD (1975). Modification of prenatal stress effects in rats by adrenalectomy, dexamethasone, and chlorpromazine. Physiol. Behav., 15, 461–469.

Spielberger, CD, Gorsuch, RI & Lushene, RE (1970). STAI Manual for the State–Trait Anxiety Inventory, Palo Alto, CA: Consulting Psychologist Press

Steer, RA, Scholl, TO, Hediger, MI & Fischer, RL (1992). Self-reported depression and negative pregnancy outcomes. J. Clin. Epidemiol., 45, 1093–1099.

Teixeira, JMA, Nicholas, MF & Glover, V (1999). Association between maternal anxiety in pregnancy and increased uterine artery resistance index: cohort based study. Br. Med. J., 318, 153–157.

Wadhwa, PD, Sandman, CA, Porto, M, Dunkel-Schetter, C & Garite, TJ (1993). The association between prenatal stress and infant birth weight and gestational age at birth: a prospective investigation. Am. J. Obstet. Gynecol., 169, 858–865.

WHO (1995). Physical status: the use and interpretation of anthropometry, Technical Report Series 854 Geneva: World Health Organization

WHO (1986). Young people's health—a challenge for society, Report of a WHO Study Group on Young People and 'Health for all by the Year 2000'. Technical Report Series 731 Geneva: World Health Organization

Williams, RL, Creasy, RK, Cunningham, MD, Hawes, WE, Norris, FD & Tashiro, M (1982). Fetal growth and perinatal viability in California. Obstet. Gynecol., 59, 624–632.
Acknowledgements
We thank the pregnant women whose participation made this study possible, and the field workers Veranilce F Oliveira, Márcia R Souza, Sandra Vergílio, Rosemary F Ferreira, Janaina de Carvalho, Kátia K Valverde and Valéria Sttopa for their assistance. Scholarships from Conselho Nacional de Desenvolvimento Científico e Tecnológico (CNPq) supported three of the field workers. The authors gratefully acknowledge Dr Ronaldo Moisés, Ms Vera M Saccheto, Dr Mauri Senise and Dr Gustavo Albuquerque from the Hospital Maternidade de Jundiaí; Dr Maria Emilia Ganito, Dr Alessandro D'Angieri, Dr Paulo Pontes, Dr Nelson O Maia, Dr Maria Emília R Miglioli and Dr Renato Tardelli from Hospital de Caridade São Vicente de Paulo; Dr Silvia Borgonovi, Dr Silvia Vilas Boas de Oliveira and Dr José Paulo May from Hospital Dr Paulo Sacramento; Dr Carim Chahine Yossef from Hospital Santa Rita de Cássia; Dr Jonas Zulpo, Dr Komei Samejima and Dr Cecília M Cordeiro from Casa de Saúde Dr Domingos Anastácio; Dr Rui Otanara and Dr Moacyr RF Paula from Centro Médico Pitangueiras; Dr Rubens A Dutra Alves and Dr Júlio C Lamarca Health Secretaries of Jundiaí, for allowing us to carry out our study in the hospitals and health centres of this city. Dr Laura C Rodrigues from the Department of Infectious and Tropical Diseases, London School of Hygiene and Tropical Medicine and Professor Andrew Tomkins from the Centre for International Child Health, University of London, are acknowledged for fruitful discussions concerning the analysis and results of the study.
About this article
Cite this article
Rondó, P., Ferreira, R., Nogueira, F. et al. Maternal psychological stress and distress as predictors of low birth weight, prematurity and intrauterine growth retardation. Eur J Clin Nutr 57, 266–272 (2003). https://doi.org/10.1038/sj.ejcn.1601526
Received:

Revised:

Accepted:

Published:

Issue Date:

DOI: https://doi.org/10.1038/sj.ejcn.1601526
Keywords
stress

distress

pregnancy

low birth weight

prematurity

intrauterine growth retardation