Abstract
Objective: Assessment of the hypocholesterolaemic effect of yoghurt supplemented with Lactobacillus acidophilus 145 and Bifidobacterium longum 913 in women.
Design: The cross-over study consisted of three periods (7 weeks each): first period, control yoghurt for all 29 women; second period, probiotic yoghurt for 18 women, control yoghurt for 11 women; third period, the reverse of that in the second period.
Setting: Department of Nutritional Physiology, Institute of Nutritional Science, Friedrich Schiller University, Jena.
Subjects: Twenty-nine healthy women, aged 19–56 y. Fifteen of these were normocholesterolaemic and 14 women were hypercholesterolaemic.
Intervention: Yoghurt (300 g) daily containing 3.5% fat and starter cultures of Streptococcus thermophilus and L. lactis. Probiotic yoghurt was the control yoghurt enriched with L. acidophilus 145, B. longum 913 and 1% oligofructose (synbiotic).
Results: The mean serum concentration of total cholesterol and the LDL cholesterol was not influenced by the synbiotic (P>0.05). The HDL concentration increased significantly by 0.3 mmol/l (P=0.002). The ratio of LDL/HDL cholesterol decreased from 3.24 to 2.48 (P=0.001).
Conclusions: The long-term daily consumption of 300 g yoghurt over a period of 21 weeks (control and synbiotic) increased the serum concentration of HDL cholesterol and lead to the desired improvement of the LDL/HDL cholesterol ratio.
Relevant articles
Open Access articles citing this article.
Shrushti Makwana

,

J. B. Prajapati

…

Subrota Hati

Food Production, Processing and Nutrition Open Access 03 January 2023

Sibo Zhu

,

Yanfeng Jiang

…

Xingdong Chen

Journal of Neuroinflammation Open Access 17 January 2020

Li-Oon Chuah

,

Hooi Ling Foo

…

Khatijah Yusoff

BMC Complementary and Alternative Medicine Open Access 03 June 2019
Access options
Subscribe to this journal
Receive 12 print issues and online access
$259.00 per year
only $21.58 per issue
Rent or buy this article
Get just this article for as long as you need it
$39.95
Prices may be subject to local taxes which are calculated during checkout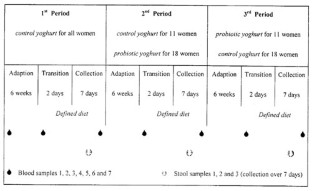 References
Agerbaek M, Gerdes LU, Richelsen B . 1995 Hypocholesterolemic effect of a new fermented milk product in healthy middle-aged men Eur. J. Clin. Nutr. 49: 346–352

Agerholm-Larsen L, Raben A, Haulrik N, Hansen AS, Manders M, Astrup A . 2000 Effect of 8 week intake of probiotic milk products on risk factors for cardiovascular diseases Eur. J. Clin. Nutr. 54: 288–297

Allan FJ, Thompson KG, James KAC, Manktelow BW, Koorlaard JP, Johnson RN, McNutt PV . 2001 Serum lipoprotein cholesterol and triglyceride concentrations in pigs fed diets containing fish oil, milkfat, olive oil and coconut oil Nutr. Res. 21: 785–795

Anderson JW, Gilliland SE . 1999 Effect of fermented milk (yogurt) containing Lactobacillus acidophilus L1 on serum cholesterol in hypercholesterolemic humans J. Am. Coll. Nutr. 18: 43–50

Bengmark S . 2000 Colonic food: pre- and probiotics Am. J. Gastroenter. 95: (Suppl 1): S5–S7

Berg RD . 1998 Probiotics, prebiotics or 'conbiotics'? Trends Microbiol 6: 89–92

Bertolami MC, Faludi AA, Batlouni M . 1999 Evaluation of the effects of a new fermented milk product (Gaio) on primary hypercholesterolemia Eur. J. Clin. Nutr. 53: 97–101

Brashears MM, Gilliland SE, Buck LM . 1998 Bile salt deconjugation and cholesterol removal from media by Lactobacillus casei J. Dairy Sci. 81: 2103–2110

Buck LM, Gilliland SE . 1994 Comparisons of freshly isolated strains of Lactobacillus acidophilus of human origin for ability to assimilate cholesterol during growth J. Dairy Sci. 77: 2925–2933

Chae GT . 1995 Effect of Entero (yoghurt of new cultures) on blood cholesterol level of healthy Korean men in their forties New Med. J. 38: 1–9

De Roos NM, Schouten G, Katan MB . 1999 Yogurt enriched with Lactobacillus acidophilus does not lower blood lipids in healthy men and women with normal to borderline high serum cholesterol levels Eur. J. Clin. Nutr. 53: 277–280

Eichholzer M, Stahelin H . 1993 Is there a hypocholesterolaemic factor in milk and milk products? Int. J. Vitam. Nutr. Res. 63: 159–167

Fleming SE, Fitch MD, De Vries S . 1992 The influence of dietary fiber on proliferation of intestinal mucosal cells in miniature swine may not be mediated primarily by fermentation J. Nutr. 122: 906–916

Gilliland SE, Nelson CR, Maxwell C . 1985 Assimilation of cholesterol by Lactobacillus acidophilus Appl. Environ. Microbiol. 49: 377–381

Gmeiner M, Kneifel W, Kulbe KD, Wouters R, De Boever P, Nollet L, Verstraete W . 2000 Influence of a synbiotic mixture consisting of Lactobacillus acidophilus 74-2 and a fructooligosaccharide preparation on the microbial ecology sustained in a simulation of the human intestinal microbial ecosystem (SHIME reactor) Appl. Microbiol. Biotechnol. 53: 219–223

Gordon DJ, Probsfield L, Garrison RJ, Neaton JD, Castelli WP, Knoke JD, Jakobs DR, Bangdiwala S, Tyroler A . 1989 High density lipoprotein cholesterol and cardiovascular disease Circulation 79: 8–15

Imaizumi K, Tominaga A, Sato M, Sugano M . 1992 Effects of dietary sphingolipids on levels of serum and liver lipids in rats Nutr. Res. 12: 543–548

Jacobasch G, Schmiedl D, Kruschewski M, Schmehl K . 1999 Dietary resistant starch and chronic inflammatory bowel diseases Int. J. Colorectal Dis. 14: 201–211

Kailasapathy K, Chin J . 2000 Survival and therapeutic potential of probiotic organism with reference to Lactobacillus acidophilus and Bifidobacterium spp Immun. Cell Biol. 78: 80–88

Kailasapathy K, Rybka S . 1997 L. acidophilus and Bifidobacterium spp.—their therapeutic potential and survival in yogurt Austr. J. Dairy Technol. 52: 28–35

Khedkar CD, Mantri JM, Garge RG, Kulkarni SA, Khedkar GD . 1993 Hypocholesterolemic effect of fermented milks: a review Cult. Dairy Prod. J. 28: 14–18

Kobayashi T, Shimizugawa T, Osakabe T, Watanabe S, Okuyama H . 1997 A long-term feeding of sphingolipids affected the levels of plasma cholesterol and hepatic triacylglycerol but not tissue phospholipids and sphingolipids Nutr. Res. 17: 111–114

Lankaputhra WEV, Shah NP . 1995 Survival of Lactobacillus acidophilus and Bifidobacterium spp in the presence of acid and bile salts Cult. Dairy Prod. J. 30: 2–7

Le Blay G, Michel C, Blottière HM, Cherbut C . 1999 Prolonged intake of fructooligosaccarides induces a short-term elevation of lactic acid-producing bacteria and a persistent increase in cecal butyrate in rats J. Nutr. 129: 2231–2235

Lin SY, Ayres JW, Winkler W, Sandine WE . 1989 Lactobacillus effects on cholesterol: in vitro and in vivo results J. Dairy Res. 72: 2885–2899

McNamara DJ, Lowell AE, Sabb JE . 1989 Effect of yogurt intake on plasma lipid and lipoprotein levels in normolipidemic males Atherosclerosis 79: 167–171

McNaught CE, MacFie J . 2001 Probiotics in clinical practice: a critical review of the evidence Nutr. Res. 21: 343–353

Mikes Z, Ferencik M, Jahnova E, Ebringer L, Ciznar I . 1995 Hypocholesterolemic and immunostimulatory effects of orally applied Enterococcus faecium M-74 in man Folia Microbiol. 40: 639–646

Oberreuther D, Dolora P, Jahreis G, Rowland I, Pool-Zobel BL . 1998 Alimentäre Modulation der genotoxischen und antigenotoxischen Aktivität von humanen Faeceswasser Z Ernährungswiss. 37: 89

Playne M . 1994 Probiotic foods Food Aust. 46: 362

Rao AV, Shiwnarain N, Koo M, Jenkins DJA . 1994 Effect of fiber-rich foods on the composition of intestinal microflora Nutr. Res. 14: 523–535

Samuelson G, Bratteby LE, Mohsen R, Vessby B . 2001 Dietary fat intake in healthy adolescents: inverse relationships between the estimated intake of saturated fatty acids and serum cholesterol Br. J. Nutr. 85: 333–341

Schaafsma G, Meulig WJA, van Dokkum W, Bouley C . 1998 Effects of a milk product, fermented by Lactobacillus acidophilus and with fructo-oligosaccarides added, on blood lipids in male volunteers Eur. J. Clin. Nutr. 52: 436–440

Smedman AEM, Gustafsson IB, Berglund LGT, Vessby BOH . 1999 Pentadecanoic acid in serum as a marker for intake of milk fat and metabolic risk factors Am. J. Clin. Nutr. 69: 22–29

Taylor GR, Williams CM . 1998 Effects of probiotics and prebiotics on blood lipids Br. J. Nutr. 80: S225–230

Temme EHM, Mensink RP, Hornstra G . 1996 Comparison of the effects of diets enriched in lauric, palmitic, or oleic acids on serum lipids and lipoproteins in healthy women and men Am. J. Clin. Nutr. 63: 897–903

Topping DL, Illman RJ, Clarke JM, Trimble RP, Jackson KA, Marsono Y . 1993 Dietary fat and fiber alter large bowel and portal venous volatile fatty acids and plasma cholesterol but not biliary steroids in pigs J. Nutr. 123: 133–143

Trapp CL, Chang CC, Halpern GM, Keen CL, Gershwin ME . 1993 The influence of chronic yogurt consumption on populations of young and elderly adults Int. J. Immunother. 9: 53–64

Vesper H, Schmelz EM, Nikolova-Karakashian MN, Dillehay DL, Lynch DV, Merrill AH . 1999 Sphingolipids in food and the emerging importance of sphingolipids to nutrition J. Nutr. 129: 1239–1250
About this article
Cite this article
Kießling, G., Schneider, J. & Jahreis, G. Long-term consumption of fermented dairy products over 6 months increases HDL cholesterol. Eur J Clin Nutr 56, 843–849 (2002). https://doi.org/10.1038/sj.ejcn.1601399
Received:

Revised:

Accepted:

Published:

Issue Date:

DOI: https://doi.org/10.1038/sj.ejcn.1601399
Keywords
probiotic yoghurt

Lactobacillus acidophilus 145
Bifidobacterium longum 913

blood lipid

cholesterol

SCFA