Abstract
Objectives: To determine the extent to which β-glucan reduces the glycemic index (GI) of oat products and whether high levels of β-glucan impair palatability.
Design: The study design was an open-label, randomized cross-over study with six treatment segments.
Setting: Free-living outpatients.
Subjects: Sixteen volunteers with type 2 diabetes (10 men, six women, 61±2 y, body mass index 29±2 kg/m2, HbA1c 7.4±0.4%) were recruited from the St Michael's Hospital diabetes clinic.
Interventions: Volunteers were given, in random order, 50 g available carbohydrate portions of: white bread; a commercial oat bran breakfast cereal (4.4 g% β-glucan); and a prototype β-glucan-enriched breakfast cereal and bar, both high in β-glucan (8.1 and 6.5 g% β-glucan, respectively) and sweetened with fructose. Capillary blood samples were taken fasting and then 30, 60, 90, 120, 150 and 180 min after the start of the meal. Palatability was recorded using two different methods.
Results: The glycemic indices of the prototype β-glucan cereal (mean±s.e.m.; 52±5) and β-glucan bar (43±4.1) were significantly lower than the commercial oat bran breakfast cereal (86±6) and white bread (100; P<0.05). All foods were highly palatable and not significantly different. It was found that the GI of the test foods used in this study decreased by 4.0±0.2 units per gram of β-glucan compared to our estimate of 3.8±0.6 for studies reported in the literature.
Conclusion: Addition of β-glucan predictably reduces the GI while maintaining palatability. In a 50 g carbohydrate portion each gram of β-glucan reduces the GI by 4 units, making it a useful functional food component for reducing postprandial glycemia.
Sponsorship: Nestec, Switzerland.
Relevant articles
Open Access articles citing this article.
Wiktoria Konieczna

,

Marzena Warchoł

…

Grażyna B. Dąbrowska

Scientific Reports Open Access 12 February 2023

Piotr Androsiuk

,

Sylwia Eryka Milarska

…

Lesław Bernard Lahuta

Journal of Applied Genetics Open Access 31 January 2023

Zahra Barati

,

Mina Iravani

…

Sara Masihi

BMC Endocrine Disorders Open Access 13 April 2021
Access options
Subscribe to this journal
Receive 12 print issues and online access
$259.00 per year
only $21.58 per issue
Rent or buy this article
Prices vary by article type
from$1.95
to$39.95
Prices may be subject to local taxes which are calculated during checkout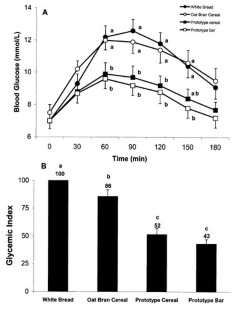 References
American Diabetes Association. 1999 Nutrition Recommendations and Principles for People with Diabetes Mellitus Diabetes Care 22: S42–S49

Anderson JW, Spencer DB, Hamilton CC, Smith SF, Tietyen J, Bryant CA, Oeltgen P . 1990 Oat-bran cereal lowers serum cholesterol and total LDL cholesterol in hypercholesterolemic men Am. J. Clin. Nutr. 52: 495–499

AOAC. 1980 Official Methods of Analysis Washington, DC: Association of Official Analytical Chemists

Aro A, Uusitupa M, Voutilainen E, Hersio K, Korhonen T, Siitonen O . 1981 Improved diabetic control and hypocholesterolemic effect induced by long-term dietary supplementation with guar gum in type 2 (insulin dependent) diabetes Diabetologia 21: 29–33

Asp NG . 1999 Classification and methodology of food carbohydrates as related to nutritional effects Am. J. Clin. Nutr. 61: 930S–937S

Bantle JP, Swanson JE, Thomas W, Laine DC . 1992 Metabolic effects of dietary fructose in diabetic subjects Diabetes Care 15: 1468–1476

Björck I, Granfeldt Y, Liljeberg H, Tovar J, Asp NG . 1994 Food properties affecting the digestion and absorption of carbohydrates Am. J. Clin. Nutr. 59: 699S–705S

Bourdon I, Yokoyama W, Davis P, Hudson C, Backus R, Richter D, Knuckles B, Schneeman B . 1999 Postprandial lipid, glucose, insulin and cholecystokinin responses in men fed barley pasta enriched with β-glucan Am. J. Clin. Nutr. 69: 55–63

Braaten JT, Scott FW, Wood PJ, Riedel KD, Wolynetz MS, Brule D, Collins MW . 1994 High beta-glucan oat bran and oat gum reduce postprandial blood glucose and insulin in subjects with and without type 2 diabetes Diabetes Med. 11: 312–318

Brand Miller J, Pang E, Bramall L . 1992 Rice: a high or low glycemic index food? Am. J. Clin. Nutr. 56: 1034–1036

Chandalia M, Garg A, Lujohann D, Von Bergmann K, Grundy SM, Brinkley LJ . 2000 Beneficial effects of high dietary fiber intake in patients with type 2 diabetes mellitus New Engl. J. Med. 342: 1392–1398

Collier G, O'Dea K . 1983 The effect of coingestion of fat on the glucose, insulin and gastric inhibitory polypeptide responses to carbohydrate and protein Am. J. Clin. Nutr. 37: 941

Diabetes and Nutrition Study Group of the European Association for the Study of Diabetes. 1995 Recommendations for the nutritional management of patients with diabetes mellitus Diab. Nutr. Metab. 8: 186–189

FDA. 1997 Final rule for 'Food Labeling: Health Claims; Oats and Coronary Heart Disease' Fed. Reg. 62: 3584–3681

FDA. 1999a Final Rule for 'Food labeling: health claims: soy protein and coronary heart disease' Fed. Reg. 64: 57699–57733

FDA. 1999b FDA Consumer: Staking a Claim to Good Health www.vm.cfsan.fda.gov/dma/fdhclm.html (accessed May 7, 1999)

Fontvieille AM, Rizkalla SW, Penfornis A, Acosta M, Bornet FR, Slama G . 1991 The use of low glycaemic index foods improves metabolic control of diabetic patients over five weeks Diabetes Med. 9: 444–450

Foster-Powell K, Miller JB . 1994 International tables of glycaemic index Am. J. Clin. Nutr. 59: 66–69

Frayn KN, Kingman SM . 1995 Dietary sugars and lipid metabolism in humans Am. J. Clin. Nutr. 62: 250S–263S

Friedewald WT, Levy RI, Frederickson DS . 1972 Estimation of plasma low density lipoproteins cholesterol concentration without use of the preparative ultracentrifuge Clin. Chem. 18: 499–502

Groop PH, Aro A, Stenman S, Groop L . 1993 Long term effects of guar gum in subjects with non-insulin dependent diabetes mellitus Am. J. Clin. Nutr. 58: 513–518

Järvi A, Karlström BE, Granfeldt YE, Björk I, Asp N-G, Vessby B . 1999 Improved glycaemic control and lipid profile and normalized fibrinolytic activity in a low glycaemic index diet in type 2 diabetic patients Diabetes Care 22: 10–18

Jenkins DJA, Jenkins AL . 1995 Nutrition principles and diabetes: a role for 'lente carbohydrate'? Diabetes Care 18: 1491–1498

Jenkins DJA, Wolever TMS, Leeds AR, Gassull MA, Haisman P, Dilawari JB, Goff DV, Metz GL, Alberti KG . 1978 Dietary fibres, fibre analogues and glucose tolerance: importance of viscosity Br. Med. J. 1: 1392–1394

Jenkins DJA, Wolever TMS, Taylor RH, Barker H, Hashmein F, Baldwin JM, Bowling AS, Newman HC, Jenkins AL, Goff DV . 1981 Glycemic index of foods: a physiological basis for carbohydrate exchange Am. J. Clin. Nutr. 34: 362–366

Jenkins DJ, Wolever TM, Jenkins AL, Thorne MJ, Lee R, Kalmusky J, Reichert R, Wong GS . 1983 The glycaemic index of foods tested in diabetic patients: a new basis for carbohydrate exchange favouring the use of legumes Diabetologia 24: 257–264

Jenkins DJ, Wolever TMS, Kalmusky J, Guidici S, Giordano C, Wong GS, Bird JN, Patten R, Hall M, Buckley G, Little JA . 1985 Low glycaemic index carbohydrate foods in the management of hyperlipidemia Am. J. Clin. Nutr. 42: 604–617

Jenkins DJ, Kendall CW, Mehling CC, Parker T, Rao AV, Agarwal S, Novokmet R, Jones PJ, Raeini M, Story JA, Furumoto E, Vidgen E, Griffin LC, Cunnane SC, Ryan MA, Connelly PW . 1999 Combined effect of vegetable protein (soy) and soluble fiber added to a standard cholesterol-lowering diet Metabolism 48: 809–816

Krezowski PA, Nuttall FQ, Gannon MC, Billington CJ, Parker S . 1987 Insulin and glucose responses to various starch-containing foods in type II diabetic subjects Diabetes Care 10: 205–212

Landin K, Holm G, Tengborn L, Smith U . 1992 Guar gum improves insulin sensitivity, blood lipids, blood pressure, and fibrinolysis in healthy men Am. J. Clin. Nutr. 56: 1061–1065

Lui S, Willett W, Stampfer M et al. 1998 A prospective study of dietary glycaemic load, carbohydrate and risk of coronary heart disease in US women F.A.S.E.B. J. 12: A260

Luscombe ND, Noakes M, Clifton PM . 1999 Diets high and low in glycaemic index versus high monounsaturated fat diets: effects on glucose and lipid metabolism in NIDDM Eur. J. Clin. Nutr. 53: 473–478

Malerbi DA, Paiva ES, Duarte AL, Wajchenberg BL . 1996 Metabolic effects of dietary sucrose and fructose in type 2 diabetic subjects Diabetes Care 19: 1249–1256

Mälkky Y, Myllymäki O, Autio K, Suortti T . 1992 Preparation and properties of oat bran concentrates Cereal Fd World 37: 693–700

McCleary BV, Nurten E . 1986 Measurement of (1–3)(1–4) β-glucan in malt, wort and beer J. Inst. Brewing 92: 168–173

McIntosh GH, Whyte J, McArthur R, Nestel PJ . 1991 Barley and wheat foods: influence on plasma cholesterol concentrations in hypercholesterolemic men Am. J. Clin. Nutr. 53: 1205–1209

Ohigashi H, Murakami A, Koshimizu K . 1996 An approach to functional foods: cancer preventive potential of vegetables and fruits and their active constituents Nutr. Rev. 54: S24–S27

Otto H, Niklas L . 1980 Different glycemic responses to carbohydrate-containing foods. Implications for the dietary treatment of diabetes mellitus Hyg (Geneve) 38: 3424–3429 (in French)

Pick ME, Hawrish ZJ, Gee MI, Toth E, Garg ML, Hardin RT . 1996 Oat bran concentrate bread products improve long-term control of diabetes: a pilot study J. Am. Diet. Assoc. 96: 1254–1261

Prosky L, Asp NG, Furda I, DeVries JW, Schweizer TF, Harland BF . 1985 Determination of total dietary fiber in foods and food products: collaborative study J. Assoc. Off. Anal. Chem. 68: 677–679

Roberfroid MB . 1998 Prebiotics and synbiotics: concepts and nutritional properties Br. J. Nutr. 80: S197–S202

Salmeron J, Ascherio A, Rimm EB, Colditz GA, Spiegelman D, Jenkins DJ, Stampfer MJ, Wing AL, Willett WC . 1997a Dietary fiber, glycaemic load, and risk of NIDDM in men Diabetes Care 20: 545–550

Salmeron J, Manson JE, Stampfer MJ, Colditz GA, Wing AL, Willett WC . 1997b Dietary fiber, glycaemic load, and risk of non-insulin-dependent diabetes mellitus in women J.A.M.A. 277: 472–477

Saris WH, Asp NG, Björck I, Blaak E, Bornet F, Brouns F, KN, Fürst P, Riccardi G, Roberfroid M, Vogel M . 1998 Functional Food science and substrate metabolism Br. J. Nutr. 80: S47–S75

Stone H, Sidel JL . 1985 Sensory Evaluation Practices p London: Academic Press 76

Tappy L, Gugolz E, Würsch P . 1996 Effects of breakfast cereals containing various amounts of beta-glucan fibers on plasma glucose and insulin responses in NIDDM subjects Diabetes Care 19: 831–834

Thomas EJ . 1957 Mechanics and regulation of gastric emptying Physiol. Rev. 37: 453

Vuorinen-Markkola H, Sinisalo M, Koivisto VA . 1992 Guar gum in insulin-dependant diabetes: effects on glycaemic control and serum lipoproteins Am. J. Clin. Nutr. 56: 1056–1060

Wolever TMS . 1993 Effect of dietary fiber on carbohydrate, lipid and protein metabolism In CRC Hanbook of Dietary Fiber in Human Nutrition 2nd edn, ed. G Spiller Boca Raton, FL: CRC Press

Wolever TMS, Wong GS, Kenshole A et al. 1985 Lactose in the diabetic diet: a comparison with other carbohydrates Nutr. Res. 5: 1335–1345

Wolever TM, Jenkins DJ, Jenkins AL, Josse RG . 1991 The glycaemic index: methodology and clinical implications Am. J. Clin. Nutr. 54: 846–854

Wolever TMS, Katzman-Relle L, Jenkins AL, Vuksan V, Josse RB, Jenkins DJ . 1994 Glycaemic index of 102 complex carbohydrate foods in patients with diabetes Nutr. Res. 14: 651–669

Wolever TMS, Barbeau MC, Charron S, Harrigan K, Leung S, Madrick B, Tailleter T, Seto C . 1999 Guidelines for the nutritional management of diabetes mellitus in the new millennium: a position paper by the Canadian Diabetes Association Can. J. Diabetes Care 23: 56–69

Wood PJ, Braaten JT, Scott FW, Riedel KD, Wolynetz MS, Collins MW . 1994 Effect of dose and modification of viscous properties of oat gum on plasma glucose and insulin following an oral glucose load Br. J. Nutr. 72: 731–743

World Health Organization. 1990 Diet, nutrition, and the prevention of chronic diseases Technical Report Series no. 797

Würsch P, Pi-Sunyer FX . 1997 The role of viscous soluble fiber in the metabolic control of diabetes. A review with special emphasis on cereals rich in beta-glucan Diabetes Care 20: 1774–1780
About this article
Cite this article
Jenkins, A., Jenkins, D., Zdravkovic, U. et al. Depression of the glycemic index by high levels of β-glucan fiber in two functional foods tested in type 2 diabetes. Eur J Clin Nutr 56, 622–628 (2002). https://doi.org/10.1038/sj.ejcn.1601367
Received:

Revised:

Accepted:

Published:

Issue Date:

DOI: https://doi.org/10.1038/sj.ejcn.1601367
Keywords