Abstract
Objective: To gain insight into vitamin A deficiency as a cause of anemia.
Methods: Comprehensive review of the scientific literature.
Results: Although vitamin A deficiency is recognized to cause anemia, 'vitamin A deficiency anemia' lacks complete characterization as a distinct clinical entity. Vitamin A appears to be involved in the pathogenesis of anemia through diverse biological mechanisms, such as the enhancement of growth and differentiation of erythrocyte progenitor cells, potentiation of immunity to infection and reduction of the anemia of infection, and mobilization of iron stores from tissues. Epidemiological surveys show that the prevalence of anemia is high in populations affected by vitamin A deficiency in developing countries. Improvement of vitamin A status has generally been shown to reduce anemia, but the actual public health impact on anemia is unclear.
Conclusions: Further work is needed to elucidate the biological mechanisms by which vitamin A causes anemia. The inclusion of anemia as an outcome measure in future micronutrient intervention studies should help provide further insight into the anemia of vitamin A deficiency.
Relevant articles
Open Access articles citing this article.
Arup Jana

,

Aparajita Chattopadhyay

&

Unnati Rani Saha

BMC Public Health Open Access 28 July 2022

Pediatric Research Open Access 09 February 2022

Damaris Kinyoki

,

Aaron E. Osgood-Zimmerman

…

Simon I. Hay

Nature Medicine Open Access 12 October 2021
Access options
Subscribe to Journal
Get full journal access for 1 year
$119.00
only $9.92 per issue
All prices are NET prices.
VAT will be added later in the checkout.
Tax calculation will be finalised during checkout.
Buy article
Get time limited or full article access on ReadCube.
$32.00
All prices are NET prices.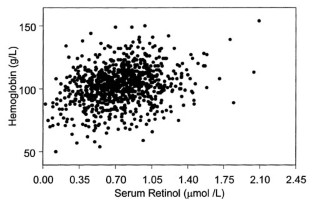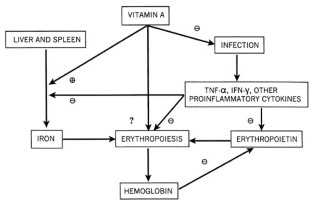 References
Abbott OD, Ahmann CF, Overstreet MR . 1939 Effect of avitaminosis A on the human blood picture Am. J. Physiol. 126: 254–260

Ahmed F, Barua S, Mohiduzzaman M, Shaheen N, Bhuyan MAH, Margetts BM, Jackson AA . 1993 Interactions between growth and nutrient status in school-age children of urban Bangladesh Am. J. Clin. Nutr. 58: 334–338

Albalak R, Ramakrishnan U, Stein AD, van der Haar F, Haber MJ, Schroeder D, Martorell R . 2000 Co-occurrence of nutrition problems in Honduran children J. Nutr. 130: 2271–2273

Allen LH, Rosado JL, Casterline JE, Lopez P, Munoz E, Garcia OP, Martinez H . 2000 Lack of hemoglobin response to iron supplementation in anemic Mexican preschoolers with multiple micronutrient deficiencies Am. J. Clin. Nutr. 71: 1485–1494

Amine EK, Corey J, Hegsted DM, Hayes KC . 1970 Comparative hematology during deficiencies of iron and vitamin A in the rat J. Nutr. 100: 1033–1040

Araújo RL, Beatriz M, Araújo DG, Sieiro RO, Machado RDP, Leite BV . 1986 Diagnostico da situação da hipovitaminose a e da anemia nutricional na população do vale do Jequitinhonha, Minas Gerais, Brasil Arch. Latinoam. Nutr. 36: 642–653

Assis AMO, Santos LMP, Martins MC, Araújo MPN, Amorim DQ, Morris SS, Barreto ML . 1997 Distribuição do anemia em pré-escolares do semi-árido da Bahia Cad. Saúde Pública 13: 237–243

Berglund H, Keefer CS, Yang CS . 1929 Deficiency anemia in Chinese, responding to cod liver oil Proc. Soc. Exp. Biol. Med. 26: 418–421

Beynen AC, Sijtsma KW, van den Berg GJ, Lemmens AG, West CE . 1992 Iron status in rats fed a purified diet without vitamin A Biol. Trace Elem. Res. 35: 81–84

Blackfan KD, Wolbach SB . 1933 Vitamin A deficiency in infants. A clinical and pathological study. J. Pediatr. 3: 679–706

Blegvad O . 1924 Xerophthalmia, keratomalacia and xerosis conjunctivae Am. J. Ophthal. 7: 89–117

Bloch CE . 1924 Blindness and other diseases in children arising from deficient nutrition (lack of fat soluble A factor) Am. J. Dis. Child. 27: 139–148

Bloem MW . 1995 Interdependence of vitamin A and iron: an important association for programmes of anaemia control Proc. Nutr. Soc. 54: 501–508

Bloem MW, Wedel M, Egger RJ, Speek AJ, Schrijver J, Saowakontha S, Schreurs WHP . 1989 Iron metabolism and vitamin A deficiency in children in Northeast Thailand Am. J. Clin. Nutr. 50: 332–338

Bloem MW, Wedel M, van Agtmaal EJ, Speek AJ, Saowakontha S, Schreurs WHP . 1990 Vitamin A intervention: short-term effects of a single, oral, massive dose on iron metabolism Am. J. Clin. Nutr. 51: 76–79

Bondevik GT, Eskeland B, Ulvik RJ, Ulstein M, Lie RT, Schneede J, Kvåle G . 2000 Anaemia in pregnancy: possible causes and risk factors in Nepali women Eur. J. Clin. Nutr. 54: 3–8

Bondurant MC, Lind RN, Koury MJ, Ferguson ME . 1985 Control of globin gene transcription by erythropoietin in erythroblasts from Friend virus-infected mice Mol. Cell. Biol. 5: 675–683

Chawla PK, Puri R . 1995 Impact of nutritional supplements on hematological profile of pregnant women Indian Pediatr. 32: 876–880

Christian P, West KP Jr, Khatry SK, Katz J, LeClerq SC, Kimbrough-Pradhan E, Dali SM, Shrestha SR . 2000 Vitamin A or β-carotene supplementation reduce symptoms of illness in pregnant and lactating Nepali women J. Nutr. 130: 2675–2682

Corey JE, Hayes KC . 1972 Cerebrospinal fluid pressure, growth, and hematology in relation to retinol status of the rat in acute vitamin A deficiency J. Nutr. 102: 1585–1594

Correa PN, Axelrad AA . 1992 Retinyl acetate and all-trans-retinoic acid enhance erythroid colony formation in vitro by circulating human progenitors in an improved serum-free medium Int. J. Cell Cloning 10: 286–291

Crimm PD, Short DM . 1937 Vitamin A deficiency in the dog Am. J. Physiol. 118: 477–482

Dahgman NA, Elder GE, Savage GA, Winter PC, Maxwell AP, Lappin TR . 1999 Erythropoietin production: evidence for multiple oxygen sensing pathways Ann. Hematol. 78: 275–278

Daniels G, Green C . 2000 Expression of red cell surface antigens during erythropoiesis Vox Sang. 78: Suppl 2 149–153

Donaghue S, Kronfeld DS, Berkowitz SJ, Copp RL . 1981 Vitamin A nutrition of the equine: growth, serum biochemistry and hematology J. Nutr. 111: 365–374

Douer D, Koeffler HP . 1982 Retinoic acid enhances growth of human early erythroid progenitor cells in vitro J. Clin. Invest. 69: 1039–1041

Dreyfuss ML, Stoltzfus RJ, Shrestha JB, Pradhan EK, LeClerq SC, Khatry SK, Shrestha SR, Katz J, Albonico M, West KP Jr . 2000 Hookworms, malaria and vitamin A deficiency contribute to anemia and iron deficiency among pregnant women in the plains of Nepal J. Nutr. 130: 2527–2536

El Hassan AM, Saeed AM, Fandrey J, Jelkmann W . 1997 Decreased erythropoietin response in Plasmodium falciparum malaria-associated anaemia Eur. J. Haematol. 59: 299–304

Erslev AJ . 1991 Erythropoietin New Engl. J. Med. 324: 1339–1344

Faber M, Benade AJ . 1999 Nutritional status and dietary practices of 4–24-month-old children from a rural South African community Public Health Nutr. 2: 179–185

Fawzi WW, Msamanga GI, Spiegelman D, Urassa EJ, McGrath N, Mwakagile D, Antelman G, Mbise R, Herrera G, Kapiga S, Willett W, Hunter DJ . 1998 Randomised trial of effects of vitamin supplements on pregnancy outcomes and T cell counts in HIV-1-infected women in Tanzania Lancet 351: 1477–1482

Fazio-Tirrozzo G, Brabin L, Brabin B, Agbaje O, Harper G, Broadhead R . 1998 A community based study of vitamin A and vitamin E status of adolescent girls living in the Shire valley, Southern Malawi Eur. J. Clin. Nutr. 52: 637–642

Feelders RA, Vreugdenhil G, Eggermont AMM, Kuiper-Kramer PA, van Eijk HG, Swaak AJG . 1998 Regulation of iron metabolism in the acute-phase response: interferon γ and tumour necrosis factor α induce hypoferraemia, ferritin production and a decrease in circulating transferrin receptors in cancer patients Eur. J. Clin. Invest. 28: 520–527

Findlay GM, Mackenzie RD . 1922 The bone marrow in deficiency diseases J. Pathol. Bacteriol. 25: 402–403

Fishman SM, Christian P, West KP Jr . 2000 The role of vitamins in the prevention and control of anaemia Pub. Health Nutr. 3: 125–150

Frank M . 1934 Beitrag zur Hämatologie der A-Avitaminose Monatsschrift für Kinderheilkunde 60: 350–355

García-Casal MN, Layrisse M, Solano L, Barón MA, Arguello F, Llovera D, Ramirez J, Leets I, Tropper E . 1998 Vitamin A and β-carotene can improve nonheme iron absorption from rice, wheat and corn by humans J. Nutr. 128: 646–650

Gardner R, Hodges R, Rucker R . 1979 Fate of erythrocyte iron in vitamin A deficient rats Fed. Proc. 38: 762

Greene WA . 1877 Cod liver oil Nashville J. Med. Surg. 20: 116–118

Gregory CJ, Eaves AC . 1978 Three stages of erythropoietic progenitor cell differentiation distinguished by a number of physical and biologic properties Blood 51: 527–537

Hodges RE, Sauberlich HE, Canham JE, Wallace DL, Rucker RB, Mejia LA, Mohanram M . 1978 Hematopoietic studies in vitamin A deficiency Am. J. Clin. Nutr. 31: 876–885

Hume EM, Krebs HA . 1949 Vitamin A requirement of human adults: an experimental study of vitamin A deprivation in man A report of the Vitamin A Sub-Committee of the Accessory Food Factors Committee. Medical Research Council Special Report Series 264

Interdepartmental Committee on Nutrition for National Defense . 1963 Manual for Nutrition Surveys, 2nd edn. Bethesda, MD: National Institutes of Health

Interdepartmental Committee on Nutrition for National Defence . 1967 Nutrition Survey of Paraguay, May–August 1965 Nutrition Program, National Center for Chronic Disease Control. US Department of Health, Education, and Welfare. Washington, DC: US Government Printing Office, 1967

Izak G, Karsai A, Eylon I, Herschko C . 1971 Ribonucleic acid production and breakdown in synchronized erythroid cohorts from actinomycin-treated animals J. Lab. Clin. Med. 77: 923–930

Jansson LT, Kling S, Dallman PR . 1986 Anemia in children with acute infections seen in a primary care pediatric outpatient clinic Pediatr. Inf. Dis. 5: 424–427

Jelkmann W, Pagel H, Hellwig T, Fandrey J . 1997 Effects of antioxidant vitamins on renal and hepatic erythropoietin production Kidney Int. 51: 497–501

Josefsen D, Blomhoff HK, Lømo J, Blystad AK, Smeland EB . 1999 Retinoic acid induces apoptosis of human CD34+ hematopoietic progenitor cells: Involvement of retinoic acid receptors and retinoid X receptors depends on lineage commitment of the hematopoietic progenitor cells Exp. Hematol. 27: 642–653

Kambe T, Tada-Kambe J, Kuge Y, Yamaguchi-Iwai Y, Nagao M, Sasaki R . 2000 Retinoic acid stimulates erythropoietin gene transcription in embryonal carcinoma cells through the direct repeat of a steroid/thyroid hormone receptor response element half-site in the hypoxia-response enhancer Blood 96: 3265–3271

Kluger MJ, Rothenburg BA . 1979 Fever and reduced iron: their interactions as a host defense response to bacterial infection Science 203: 374–376

Koessler KK, Maurer S, Loughlin R . 1926 The relation of anemia, primary and secondary, to vitamin A deficiency JAMA 87: 476–482

Kolsteren P, Rahman SR, Hilderbrand K, Diniz A . 1999 Treatment for iron deficiency anaemia with a combined supplementation of iron, vitamin A and zinc in women of Dinajpur, Bangladesh Eur. J. Clin. Nutr. 53: 102–106

League of Nations . 1936 The Problem of Nutrition. Volume 1. Interim report of the Mixed Committee on the Problem of Nutrition Publication A.12.1936.II.B. Geneva: League of Nations

League of Nations . 1937 Final Report of the Mixed Committee of the League of Nations on the Relation of Nutrition to Health, Agriculture and Economic Policy Publication A.13.1937.II.A. Geneva: League of Nations

Lecoeuvre EC . 1896 De l'héméralopie sur une épidémie d'héméralopie avec xérosis épithélial (étude séméiotique). Faculté de Médecine de Paris, Thesis 493 Paris: Henri Jouve

Lee GR, Herbert V . 1998 Nutritional factors in the production and function of erythrocytes In Wintrobe's Clinical Hematology, 10th edn, ed. GR Lee, J Foerster, J Lukens, F Paraskevas, JP Greer & GM Rodgers 228–266 Baltimore, MD: William & Wilkins

Lloyd-Puryear M, Humphrey JH, West KP Jr, Aniol K, Mahoney F, Mahoney J, Keenum DG . 1989 Vitamin A deficiency and anemia among Micronesian children Nutr. Res. 9: 1007–1016

Lloyd-Puryear MA, Mahoney J, Humphrey JH, Mahoney F, Siren N, Moorman C, West KP Jr . 1991 Vitamin A deficiency in Micronesia: a statewide survey in Chuuk Nutr. Res. 11: 1101–1110

McArdle TE . 1896 Cod-liver oil—a food and a medicine J. Pract. Med. 6: 279–282

McLaren DS, Tchalian M, Ajans ZA . 1965 Biochemical and hematologic changes in the vitamin A-deficient rat Am. J. Clin. Nutr. 17: 131–138

Magee F, O'Sullivan H, McCann SR . 1981 Megaloblastosis and low-dose trimethoprim-sulfamethoxazole Ann. Intern. Med. 95: 657

Means RT Jr . 2000 The anaemia of infection Ballière's Clin. Hematol. 13: 151–162

Means RT, Dessypris EN, Krantz SB . 1990 Inhibition of human colony-forming units erythroid by tumor necrosis factor requires accessory cells J. Clin. Invest. 86: 538–541

Majía LA [sic], Hodges RE, Arroyave G, Viteri F, Torún B . 1977 Vitamin A deficiency and anemia in Central American children Am. J. Clin. Nutr. 30: 1175–1184

Mejía LA, Arroyave G . 1982 The effect of vitamin A fortification of sugar on iron metabolism in preschool children in Guatemala Am. J. Clin. Nutr. 36: 87–93

Mejía LA, Arroyave G . 1983 Lack of direct association between serum transferrin and serum biochemical indicators of vitamin A nutriture Acta Vitaminol. Enzymol. 5: 179–184

Mejía LA, Chew F . 1988 Hematological effect of supplementing anemic children with vitamin A alone and in combination with iron Am. J. Clin. Nutr. 48: 595–600

Mejía LA, Hodges RE, Rucker RB . 1979 Clinical signs of anemia in vitamin A-deficient rats Am. J. Clin. Nutr. 32: 1439–1444

Micronutrient Initiative/UNICEF/Tulane . 1998 Progress in Controlling Vitamin A Deficiency Ottawa: Micronutrient Initiative

Migliaccio G, Migliaccio AR, Visser JWM . 1988 Synergism between erythropoietin and interleukin-3 in the induction of hematopoietic stem cell proliferation and erythroid burst colony formation Blood 72: 944–951

Mohanram M, Kulkarni KA, Reddy V . 1977 Hematological studies in vitamin A deficient children Int. J. Vit. Nutr. Res. 47: 389–393

Molla A, Badruddin SH, Khurshid M, Molla AM, Rahaman FN, Durrani S, Suria A, Snyder JD, Hendricks K . 1993a Vitamin A status of children in the urban slums of Karachi, Pakistan, assessed by clinical, dietary, and biochemical methods Am. J. Trop. Med. Hyg. 48: 89–96

Molla A, Khurshid M, Molla AM, Badruddin SH, Hendricks K, Snyder JD . 1993b Is anemia an accurate predictor of vitamin A status in Pakistani children? Am. J. Trop. Med. 49: 276–279

Morris CDW, Bird AR, Nell H . 1989 The haematological and biochemical changes in severe pulmonary tuberculosis Q. J. Med. 73: 1151–1159

Muhilal Permeisih D, Idjradinata YR, Muherdiyantiningsih Karyadi D . 1988 Vitamin A-fortified monosodium glutamate and health, growth, and survival of children: a controlled field trial Am. J. Clin. Nutr. 48: 1271–1276

Murphy M, Perussia B, Trinchieri G . 1988 Effects of recombinant tumor necrosis factor, lymphotoxin, and immune interferon on proliferation and differentiation of enriched hematopoietic precursor cells Exp. Hematol. 16: 131–138

Muslimatun S, Schmidt MK, Schultink W, West CE, Hautvast JGAJ, Gross R, Muhilal . 2001 Weekly supplementation with iron and vitamin A during pregnancy increases hemoglobin concentration but decreases serum ferritin concentration in Indonesian pregnant women J. Nutr. 131: 85–90

Mwanri L, Worsley A, Ryan P, Masika J . 2000 Supplemental vitamin A improves anemia and growth in anemic school children in Tanzania J. Nutr. 130: 2691–2696

Ncube TN, Greiner T, Malaba LC, Gebre-Medhin M . 2001 Supplementing lactating women with puréed papaya and grated carrots improved vitamin A status in a placebo-controlled trial J. Nutr. 131: 1497–1502

Neumcke I, Schneider B, Fandrey J, Pagel H . 1999 Effects of pro- and antioxidative compounds on renal production of erythropoietin Endocrinology 140: 641–645

Nockels CF, Kienholz EW . 1967 Influence of vitamin A deficiency on testes, bursa fabricius, adrenal and hematocrit in cockerels J. Nutr. 92: 384–388

Nozeran A . 1865 De l'héméralopie des pays chauds. Thèse no. 61 Montpeller: Gras

Oelofse A, Faber M, Benadé JG, Benadé AJS, Kenoyer DG . 1999 The nutritional status of a rural community in KwaZulu-Natal, South Africa: the Ndunakazi project Cent. Afr. J. Med. 45: 14–19

Okano M, Masuda S, Narita H, Masushige S, Kato S, Imagawa S, Sasaki R . 1994 Retinoic acid up-regulates erythropoietin production in hepatoma cells and in vitamin A-depletion rats FEBS Lett. 349: 229–233

Oski FA . 1995 Anemia due to other nutritional deficiencies In Williams' Hematology, 5th edn, ed. E Beutler, MA Lichtman, BS Coller & TJ Kipps 511–515 New York: McGraw-Hill

O'Toole BA, Fradkin R, Warkany J, Wilson JG, Mann GV . 1974 Vitamin A deficiency and reproduction in rhesus monkeys J. Nutr. 104: 1513–1524

Panth M, Shatrugna V, Yasodhara P, Sivakumar B . 1990 Effect of vitamin A supplementation on haemoglobin and vitamin A levels during pregnancy Br. J. Nutr. 64: 351–358

Parinaud . 1881 De l'héméralopie dans les affections du foie et de la nature de la cécité noctune Arch. Gén. Méd. 1: 403–414

Perrin MC, Blanchet JP, Mouchiroud G . 1997 Modulation of human and mouse erythropoiesis by thyroid hormone and retinoic acid: evidence for specific effects at different steps of the erythroid pathway Hematol. Cell. Ther. 39: 19–26

Persson V, Ahmed F, Gebre-Medhin M, Greiner T . 2000 Relationships between vitamin A, iron status and helminthiasis in Bangladeshi school children Public Health Nutr. 3: 83–89

Roodenburg AJC, West CE, Yu S, Beynen AC . 1994 Comparison between time-dependent changes in iron metabolism of rats as induced by marginal deficiency of either vitamin A or iron Br. J. Nutr. 71: 687–699

Roodenburg AJC, West CE, Hovenier R, Beynen AC . 1996 Supplemental vitamin A enhances the recovery from iron deficiency in rats with chronic vitamin A deficiency Br. J. Nutr. 75: 623–636

Roodenburg AJC, West CE, van Dijk JE, van Eijk HG, Marx JJM, Beynen AC . 2000 Indicators of erythrocyte formation and degradation in rats with either vitamin A or iron deficiency J. Nutr. Biochem. 11: 223–230

Rusten LS, Dybedal I, Blomhoff HK, Blomhoff R, Smeland EB, Jacobsen SE . 1996 The RAR-RXR as well as the RXR-RXR pathway is involved in signaling growth inhibition of CD34+ erythroid progenitor cells Blood 87: 1728–1736

Saltini G . 1881 Sull'impiego del bisolfato di chinino nella cura dell'Emeralopia idiopatica Ann. Ottalmol. 10: 44–49

Santos LMP, Assis AMO, Martins MC, Araújo MPN, Morris SS, Barreto ML . 1996 Situação nutricional e alimentar de pré-escolares no semi-árido da Bahia (Brasil): II. Hipovitaminose A Rev. Saúde Pública 30: 67–74

Semba RD . 1998 The role of vitamin A and related retinoids in immune function Nutr. Rev. 56: S38–S48

Semba RD . 1999a Vitamin A and immunity to viral, bacterial and protozoan infections Proc. Nutr. Soc. 58: 719–727

Semba RD . 1999b Vitamin A as 'anti-infective' therapy, 1920–1940 J. Nutr. 129: 783–791

Semba RD, Gray GE . 2001 The pathogenesis of anemia during human immunodeficiency virus infection J. Invest. Med. 49: 225–239

Semba RD, Muhilal West KP Jr, Winget M, Natadisastra G, Scott A, Sommer A . 1992 Impact of vitamin A supplementation on hematological indicators of iron metabolism and protein status in children Nutr. Res. 12: 469–478

Semba RD, Kumwenda N, Hoover DR, Taha ET, Mtimavalye L, Broadhead R, Eisinger W, Miotti PG, Chiphangwi JD . 2000a Assessment of iron status using transferrin receptor in pregnant women with and without human immunodeficiency virus infection in Malawi Eur. J. Clin. Nutr. 54: 872–877

Semba RD, Muhilal West KP Jr, Natadisastra G, Eisinger W, Lan Y, Sommer A . 2000b Hyporetinolemia and acute phase proteins in children with and without xerophthalmia Am. J. Clin. Nutr. 72: 146–153

Semba RD, Kumwenda N, Taha TE, Mtimavalye L, Broadhead R, Garrett E, Miotti PG, Chiphangwi JD . 2001 Impact of vitamin A supplementation on anaemia and plasma erythropoietin concentrations in pregnant women: a controlled clinical trial Eur. J. Haematol. 66: 389–395

Shahbuddin AKM, Talukder K, Taulkder MQK, Hassan MQ, Seal A, Rahman Q, Mannan A, Tomkins A, Costello A . 2000 Adolescent nutrition in a rural community in Bangladesh Ind. J. Pediatr. 67: 93–98

Shankar AH, Genton B, Semba RD, Baisor M, Paino J, Tamja S, Adiguma T, Wu L, Rare L, Tielsch JM, Alpers MP, West KP Jr . 1999 Effect of vitamin A supplementation on morbidity due to Plasmodium falciparum in young children in Papua New Guinea: a randomised trial Lancet 354: 203–209

Sharp RA, Lowe JG, Johnston RN . 1990 Anti-tuberculous drugs and sideroblastic anaemia Br. J. Clin. Pract 44: 706–707

Sijtsma KW, van den Berg GJ, Lemmens AG, West CE, Beynen A . 1993 Iron status in rats fed on diets containing marginal amounts of vitamin A Br. J. Nutr. 70: 777–785

Sklan D, Halevy O, Donaghue S . 1987 The effect of different dietary levels of vitamin A on metabolism of copper iron and zinc in the chick Int. J. Vit. Nutr. Res. 57: 11–18

Staab DB, Hodges RE, Metcalf WK, Smith JL . 1984 Relationship between vitamin A and iron in the liver J. Nutr. 114: 840–844

Suharno D, West CE, Muhilal Karyadi D, Hautvast GAJ . 1993 Supplementation with vitamin A and iron for nutritional anaemia in pregnant women in West Java, Indonesia Lancet 342: 1325–1328

Sure B, Kik MC, Walker DJ . 1929 The effect of avitaminosis on hematopoietic function. I Vitamin A deficiency J. Biol. Chem. 83: 375–385

Thompson T . 1855 Effects of cod-liver oil on the blood Med. Chron. Montreal Monthly J. Med. Surg. 2: 111

Thurnham DI . 1993 Vitamin A, iron, and haemopoiesis Lancet 342: 1312–1313

Thurnham DI, Northrup-Clewes CA, McCullough FS, Das BS, Lunn PG . 2000 Innate immunity, gut integrity, and vitamin A in Gambian and Indian infants J. Infect. Dis. 182 Suppl 1: S23–S28

United Nations . 2000 Fourth Report on the World Nutrition Situation, January 2000: Nutrition Throughout the Life Cycle Geneva: Administrative Committee on Coordination/Sub-Committee on Nutrition (ACC/SCN) in collaboration with IFPRI

Van Schravendijk MR, Handunnetti SM, Barnwell JW, Howard RJ . 1992 Normal human erythrocytes express CD36, an adhesion molecule of monocytes, platelets, and endothelial cells Blood 80: 2105–2114

Villamor E, Fawzi WW . 2000 Vitamin A supplementation: implications for morbidity and mortality in children J. Infect. Dis. 182 Suppl 2: S122–S133

Wagner KH . 1940 Die experimentelle Avitaminose A beim Menschen Z. Physiol. Chem. 264: 153–189

Wenger R, Ziegler B, Kruspl W, Syré B, Burbacher G, Pillat B . 1979 Beziehungen zwischen dem Vitaminstatus (vitamin A, B1, B2, B6, und C), klinischen Befunden und den Ernährungsgewohnheiten in einer Gruppe von alten Leuten in Wien Wien. Klin. Wochenschr. 91: 557–562

West CE, Roodenburg AJC . 1992 Role of vitamin A in iron metabolism Voeding 53: 201–205

Wickramasinghe SN, Abdalla SH . 2000 Blood and bone marrow changes in malaria Baillière's Clin. Haematol. 13: 277–299

Widmark E . 1924 Vitamin-A deficiency in Denmark and its results Lancet i: 1206–1209

Wolbach SB, Howe PR . 1925 Tissue changes following deprivation of fat-soluble A vitamin J. Exp. Med. 42: 753–778

Wolde-Gebriel Z, Gebru H, Fisseha T, West CE . 1993 Severe vitamin A deficiency in a rural village in the Hararge region of Ethiopia Eur. J. Clin. Nutr. 47: 104–114

World Health Organization/UNICEF . 1995 Global Prevalence of Vitamin A deficiency. Micronutrient Deficiency Information System Working Paper 2 Geneva: World Health Organization

Zauli G, Visani G, Vitale M, Gibellini D, Bertolaso L, Capitani S . 1995 All-trans retinoic acid shows multiple effects on the survival, proliferation and differentiation of human fetal CD34+ haemopoietic progenitor cells Br. J. Haematol. 90: 274–282

Zermati Y, Fichelson S, Valensi F, Freyssinier JM, Rouyer-Fessard P, Cramer E, Guichard J, Varet B, Hermine O . 2000 Transforming growth factor inhibits erythropoiesis by blocking proliferation of accelerating differentiation of erythroid progenitors Exp. Hematol. 28: 885–894
Acknowledgements
Financial support for this study came from: The National Institute of Child Health and Human Development (HD32247, HD30042), the National Institute of Allergy and Infectious Diseases (AI41956), and the Fogarty International Center, the National Institutes of Health, and the United States Agency for International Development (Cooperative Agreement HRN A-0097-00015-00).
About this article
Cite this article
Semba, R., Bloem, M. The anemia of vitamin A deficiency: epidemiology and pathogenesis. Eur J Clin Nutr 56, 271–281 (2002). https://doi.org/10.1038/sj.ejcn.1601320
Received:

Revised:

Accepted:

Published:

Issue Date:

DOI: https://doi.org/10.1038/sj.ejcn.1601320
Keywords
anemia

erythropoietin

hematopoiesis

hemoglobin

infection

iron

retinol

retinoic acid

vitamin A