Abstract
Hypotheses: Consumption of wild ruminant fat represented the primary lipid source for pre-agricultural humans. Hence, the lipid composition of these animals' tissues may provide insight into dietary requirements that offer protection from chronic disease in modern humans.
Method: We examined the lipid composition of muscle, brain, marrow and subcutaneous adipose tissue (AT) from 17 elk (Cervus elaphus), 15 mule deer (Odocoileus hemionus), and 17 antelope (Antilicapra americana) and contrasted them to wild African ruminants and pasture and grain-fed cattle.
Results: Muscle fatty acid (FA) was similar among North American species with polyunsaturated fatty acids/saturated fatty acids (P/S) values from 0.80 to 1.09 and n-6/n-3 FA from 2.32 to 2.60. Marrow FA was similar among North American species with high levels (59.3–67.0%) of monounsaturated FA; a low P/S (0.24–0.33), and an n-6/n-3 of 2.24–2.88. Brain had the lowest n-6/n-3 (1.20–1.29), the highest concentration of 22:6 n-3 (elk, 8.90%; deer, 9.62%; antelope, 9.25%) and a P/S of 0.69. AT had the lowest P/S (0.05–0.09) and n-6/n-3 (2.25–2.96). Conjugated linoleic acid (CLA) isomers were found in marrow of antelope (1.5%), elk (1.0%) and deer (1.0%), in AT (deer, 0.3%; antelope, 0.3%) in muscle (antelope, 0.4%; elk, trace), but not in brain.
Conclusions: Literature comparisons showed tissue lipids of North American and African ruminants were similar to pasture-fed cattle, but dissimilar to grain-fed cattle. The lipid composition of wild ruminant tissues may serve as a model for dietary lipid recommendations in treating and preventing chronic disease.
Relevant articles
Open Access articles citing this article.
Meredith T. Niles

,

Kristen Brassard Wirkkala

…

Farryl Bertmann

BMC Public Health Open Access 19 May 2021

Frank Rühli

,

Martin Haeusler

…

Maciej Henneberg

Medical Science Educator Open Access 18 April 2016

Teresa G Valencak

,

Lisa Gamsjäger

…

Thomas Ruf

BMC Research Notes Open Access 27 June 2015
Access options
Subscribe to this journal
Receive 12 print issues and online access
$259.00 per year
only $21.58 per issue
Rent or buy this article
Get just this article for as long as you need it
$39.95
Prices may be subject to local taxes which are calculated during checkout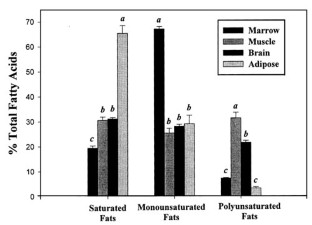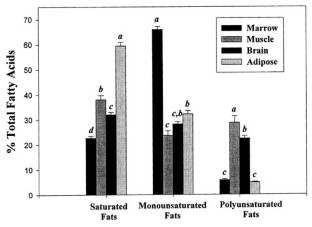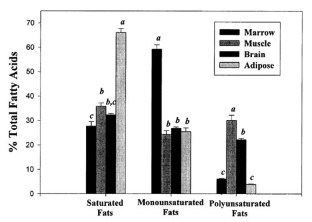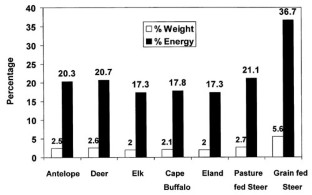 References
Binford L . 1984 Faunal Remains from Klasies River Mouth 160 Orlando, FL: Academic Press

Bloch G, Dresser CM, Hartman AM, Carroll MD . 1985 Nutrient sources in the American diet: quantitative data from the NHANES II survey II. Macronutrients and fats Am. J. Epidemiol. 122: 27–40

Booren A, Field RA, Kunsman JE . 1973 Carbonyl and fatty acid analysis of antelope and beef fat J. Food Sci. 38: 63–65

Bunn HT . 1986 Patterns of skeletal representation and hominid subsistence activities at Olduvai gorge, Tanzania and Koobi Fora, Kenya J. Hum. Evol. 15: 673–690

Bunn HT, Kroll EM . 1986 Systematic butchery by Plio/Pleistocene hominids at Oldulvai Gorge, Tanzania Curr. Anthrop. 27: 431–452

Bunn HT, Kroll EM . 1988 Reply to 'Fact and fiction about the Zinjanthropus floor' Curr. Anthrop. 29: 135–149

Chin SF, Liu W, Storkson JM, Ha YL, Pariza MW . 1992 Dietary sources of conjugated dienoic isomers of linoleic acid, a newly recognized source of anticarcinogens J. Food Comp. Anal. 5: 185–187

Cordain L . 1999 Cereal grains: humanity's double edged sword World Rev. Nutr. Diet. 84: 19–73

Cordain L, Brand Miller J, Eaton SB, Mann N, Holt SHA, Speth JD . 2000 Plant to animal subsistence ratios and macronutrient energy estimations in world wide hunter-gatherer diets Am. J. Clin. Nutr. 71: 682–692

Crawford MA . 1968a Fatty-acid ratios in free living and domestic animals. Possible implications for atheroma Lancet i: 1329–1333

Crawford MA . 1968b Food selection under natural conditions and the possible relationship to heart disease in man Proc. Nutr. Soc. 27: 163–172

Crawford MA, Gale MM . 1969 Linoleic acid and linolenic acid elongation products in muscle tissue of Syncerus caffer and other ruminant species Biochem. J. 115: 25–27

Crawford MA, Gale MM . 1970 Muscle and adipose tissue lipids of the warthog, Phacochoerus aethiopicus Int. J. Biochem. 1: 654–658

Crawford MA, Woodford MH . 1971 Fatty acid composition in liver, aorta, skeletal and heart muscle of two free-living ruminants Int. J. Biochem. 2: 493–496

Crawford MA, Woodford MH, Casped NM . 1970 Comparative studies on fatty acid composition of wild and domestic meats Int. J. Biochem. 1: 295–305

Crawford MA, Casperd NM, Sinclair AJ . 1976 The long chain metabolites of linolenic and linolenic acids in liver and brain in herbivores and carnivores Comp. Biochem. Physiol. 54B: 395–401

Defleur A, White T, Valensi P, Slimak L, Cregut-Bonnoure E . 1999 Neanderthal cannibalism at Moula-Guercy, Ardeche, France Science 286: 128–131

de Lorgeril M, Salen P, Martin JL, Monjaud I, Delaye J, Mamelle N . 1999 Mediterranean diet, traditional risk factors, and the rate of cardiovascular complications after myocardial infarction: final report of the Lyon diet heart study Circulation 99: 779–785

Duncan WR, Garton GA . 1968 The fatty acid composition and intramolecular structure of triglycerides from adipose tissue of the hippopotamus and the African elephant Comp. Biochem. Physiol. 25: 319–325

Eaton SB . 1992 Humans, lipids and evolution Lipids 27: 814–820

Eaton SB, Eaton SB III, Sinclair AJ, Cordain L, Mann NJ . 1998 Dietary intake of long-chain polyunsaturated fatty acids during the paleolithic World Rev. Nutr. Diet. 83: 12–23

Endres S, Lorenz R, Loeschke K . 1999 Lipid treatment of inflammatory bowel disease Curr. Opin. Clin. Nutr. Metab. Care 2: 117–120

Franzmann AW, Arneson PD . 1976 Marrow fat in Alaskan moose femurs in relation to mortality factors J. Wildlife Mgmt 40: 336–339

Gardner CD, Draemer HC . 1995 Monounsaturated versus polyunsaturated dietary fat and serum lipids. A meta-analysis Arterioscler. Thromb. Vasc. Biol. 15: 1917–1927

Garton GA, Duncan WRH, McEwan EH . 1971 Composition of adipose tissue triglycerides of the elk (Cervus canadensis), caribou (Rangifer tarandus groenlandicus), moose (Alces alces), and white-tailed deer (Odocoileus virginianus) Can. J. Zool. 49: 1159–1162

Harako R . 1981 The cultural ecology of hunting behavior among Mbuti pygmies in the Ituri forest, Zaire In Omnivorous Primates, ed. RSO Harding & G Teleki 499–555 New York: Columbia University Press

Hegsted DM, McGandy RB, Myers ML, Stare FJ . 1965 Quantitative effects of dietary fat on serum cholesterol in man Am. J. Clin. Nutr. 17: 281–295

Hepburn FN, Exler J, Weihrauch JL . 1986 Provisional tables on the content of omega-3 fatty acids and other fat components of selected foods J. Am. Diet. Assoc. 86: 788–793

Hibbeln J, Salem N . 1995 Dietary polyunsaturated fatty acids and depression: when cholesterol does not satisfy Am. J. Clin. Nutr. 62: 1–9

Horrocks LA, Yeo YK . 1999 Health benefits of docosahexaenoic acid Pharmac. Res. 40: 211–225

Howell WH, McNamara DJ, Tosca MA, Smith BT, Gaines JA . 1997 Plasma lipid and lipoprotein responses to dietary fat and cholesterol: a meta analysis Am. J. Clin. Nutr. 65: 1747–1764

Hu FB, Stampfer MJ, Manson JE, Rimm E, Colditz GA, Rosner BA, Hennekens CH, Willett WC . 1997 Dietary fat intake and the risk of coronary heart disease in women New Engl. J. Med. 337: 1491–1499

Innis SM, Kuhnlein HV . 1987 The fatty acid composition of northern-Canadian marine and terrestrial mammals Acta Med. Scand. 222: 105–109

Ip C . 1997 Review of the effects of trans fatty acids, oleic acid, n-3 polyunsaturated fatty acids, and conjugated linoleic acid on mammary carcinogenesis in animals Am. J. Clin. Nutr. 66: 1523S–1529S

James MJ, Cleland LG . 1997 Dietary n-3 fatty acids and therapy for rheumatoid arthritis Semin. Arthritis Rheum. 27: 85–97

James MJ, Gibson RA, Cleland LG . 2000 Dietary polyunsaturated fatty acids and inflammatory mediator production Am. J. Clin. Nutr. 71: 1 Suppl: 343S–348S

Leaf A, Weber PC . 1988 Cardiovascular effects of n-3 fatty acids New Engl. J. Med. 318: 549–557

Leaf A, Kang JX, Xiao YF, Billman GE . 1999 n-3 fatty acids in the prevention of cardiac arrhythmias Lipids 34 Suppl: S187–S189

Li Y, Watkins BA . 1998 Conjugated linoleic acids alter bone fatty acid composition and reduce ex vivo prostaglandin E2 biosynthesis in rats fed n-6 or n-3 fatty acids Lipids 33: 417–425

Lin KC, Cross HR, Smith SB . 1992 Esterification of fatty acids by bovine intramuscular and subcutaneous adipose tissues Lipids 27: 111–116

Marean CW, Assefa Z . 1999 Zooarcheological evidence for the faunal exploitation behavior of neanderthals and early modern humans Evol. Anthrop. 8: 22–37

Marmer WN, Maxwell RJ, Williams JE . 1984 Effects of dietary regimen and tissue site on bovine fatty acid profiles J. Animal Sci. 59: 109–121

Mattson FH, Volpenhein RA, Lutton ES . 1964 The distribution of fatty acids in the triglycerides of the artiodactyla J. Lipid Res. 5: 363–365

McArthur M . 1960 Food consumption and dietary levels of groups of aborigines living on naturally occurring foods In Records of the American–Australian Scientific Expedition to Arnhem Land. 2. Anthropology and Nutrition, ed. CP Mountford 90–135 Melbourne: Melbourne University Press

McLennan P, Howe P, Abeywardena M, Muggli R, Raederstorff D, Mano M, Rayner T, Head R . 1996 The cardiovascular protective role of docosahexaenoic acid Eur. J. Pharmacol. 300: 83–89

Meng MS, West GC, Irving L . 1969 Fatty acid composition of caribou bone marrow Comp. Biochem. Physiol. 30: 187–191

Miller GJ, Field RA, Riley ML, Williams JC . 1986 Lipids in wild ruminant animals and steers J. Food Qual. 9: 331–343

Milton K . 1999 A hypothesis to explain the role of meat-eating in human evolution Evol. Anthrop. 8: 11–21

Mitchell DC, Gawrisch K, Litman BJ, Salem N Jr . 1998 Why is docosahexaenoic acid essential for nervous system function? Biochem. Soc. Trans. 26: 365–370

Moczygemba DR . 1991 Nutritional analysis of meats from selected wild game and domestic animals. Masters Thesis College Station, Texas: Texas A&M University

Morgan S, O'Dea K, Sinclair AJ . 1997 A low-fat diet supplemented with monounsaturated fat results in less HDL-C lowering than a very-low-fat diet J. Am. Diet. Assoc. 97: 151–156

National Cholesterol Education Program . 1991 Report of the expert panel on population strategies for blood cholesterol reduction: executive summary Arch. Intern. Med. 151: 1071–1084

O'Dea K, Traianedes K, Chisholm K, Leyden H, Sinclair AJ . 1990 Cholesterol-lowering effect of a low-fat diet containing lean beef is reversed by the addition of beef fat Am. J. Clin. Nutr. 52: 491–494

Rudel LL . 1999 Atherosclerosis and conjugated linoleic acid Br. J. Nutr. 81: 177–179

Rule DC, McCormick RJ . 1998 Fatty acid composition and cholesterol concentration in tissues of white-tailed deer (Odocoileus virginianus) as influenced by lactation, age, and season of the year Comp. Biochem. Physiol. B 119: 563–570

Shackleton CM, Granger JE . 1989 Bone marrow fat index and kidney-fat index of several antelope species from Transkei S. Afr. J. Wildlife Res. 19: 129–134

Silberbauer G . 1981 Hunter/gatherers of the central kalahari In Omnivorous Primates, ed. RSO Harding & G Teleki 455–498 New York: Columbia University Press

Simopoulos AP . 1997 ω-3 fatty acids in the prevention–management of cardiovascular disease Can. J. Physiol. Pharmac. 75: 234–239

Simopoulos AP . 1999 Evolutionary aspects of omega-3 fatty acids in the food supply Prostaglandins Leukot. Essent. Fatty Acids 60: 421–429

Simopoulos AP, Leaf A, Salem N . 1999 Workshop on the essentiality of and recommended dietary intakes for omega-6 and omega-3 fatty acids J. Am. Coll. Nutr. 18: 487–489

Sinclair AJ, O'Dea K . 1987 The lipid levels and fatty acid compositions of the lean portions of Australian beef and lamb Food Technol. Aust. 39: 228–231

Sinclair AJ, Slattery WJ, O'Dea K . 1982 The analysis of polyunsaturated fatty acids in meat by capillary gas chromatography J. Sci. Food Agric. 33: 771–776

Siscovick DS, Raghunathan TE, King I, Weinmann S, Wicklund KG, Albright J, Bovbjerg V, Arbogast P, Smith H, Kushi LH et al. 1995 Dietary intake and cell membrane levels of long-chain n-3 polyunsaturated fatty acids and the risk of primary cardiac arrest J.A.M.A. 274: 1363–1367

Smith SB . 1995 Substrate utilization in ruminant adipose tissues In The Biology of Fat in Meat Animals. Current Advances, ed. SB Smith & DR Smith 166–188 Champaign, IL: American Society of Animal Sciences

Speth JD . 1983 Bison Kills and Bone Counts. Decision Making by Ancient Hunters pp 1–170 Chicago, IL: University of Chicago Press

Stanford CB, Bunn HT . 1999 Meat eating and hominid evolution Curr. Anthrop. 40: 726–728

Stefansson V . 1960 The Fat of the Land pp 24–29 New York: Macmillan Company

Stiner MC . 1991 The faunal remains from Grotta Guattari: a taphonomic perspective Curr. Anthrop. 32: 118–138

Stringer C, Gamble C . 1993 The archaeology of the ancients In Search of the Neanderthals pp 143–178 New York: Thames and Hudson

Sweeten MK, Cross HR, Smith GC, Savell JW, Smith SB . 1990a Lean beef: impetus for lipid modifications J. Am. Diet. Assoc. 90: 87–92

Sweeten MK, Cross HR, Smith GC, Smith SB . 1990b Subcellular distribution and composition of lipids in muscle and adipose tissues J. Food Sci. 55: 43–45

Turner JC . 1979 Adaptive strategies of selective fatty acid deposition in the bone marrow of desert bighorn sheep Comp. Biochem. Physiol. 62A: 599–604

Watkins BA, Shen C-L, McMurtry JP, Xu H, Bain SD, Allen KGD, Seifert MF . 1997 Dietary lipids modulate bone prostaglandin E2 production, insulin-like growth factor-I concentration and formation rate in chicks J. Nutr. 127: 1084–1091

West GC, Shaw DL . 1975 Fatty acid composition of dall sheep bone marrow Comp. Biochem. Physiol. 50B: 599–601
Acknowledgements
Supported in part by a Pope and Young Conservation grant, NSF 9630683 and Purdue University Experiment Station Hatch project (IND060037-2).
About this article
Cite this article
Cordain, L., Watkins, B., Florant, G. et al. Fatty acid analysis of wild ruminant tissues: evolutionary implications for reducing diet-related chronic disease. Eur J Clin Nutr 56, 181–191 (2002). https://doi.org/10.1038/sj.ejcn.1601307
Received:

Revised:

Accepted:

Published:

Issue Date:

DOI: https://doi.org/10.1038/sj.ejcn.1601307
Keywords
fatty acids

CLA

wild game tissues

evolution

diet