Abstract
We analysed the in vitro effects of a new hydroxamate derivative, ITF2357, on AML cells. ITF2357 potently induced histone acetylation. ITF2357 0.1 μM blocked proliferation and induced apoptosis in AML1/ETO-positive Kasumi-1 cells, while AML1/ETO-negative HL60, THP1 and NB4 cell lines were sensitive only to 1 μM ITF2357. Apoptosis was induced by 0.1 μM ITF2357 in AML1/ETO-positive primary blasts and U937-A/E cells induced to express AML1/ETO, but not in U937-A/E cells non-expressing AML1/ETO. In Kasumi-1 cells 0.1 μM ITF2357 induced AML1/ETO degradation through a caspase-dependent mechanism. ITF2357 0.1 μM also determined DNMT1 efflux from, and p300 influx to, the nucleus. Moreover, 0.1 μM ITF2357 determined local H4 acetylation and release of DNMT1, HDAC1 and AML1/ETO, paralleled by recruitment of p300 to the IL-3 gene promoter. ITF2357 treatment, however, did not induce re-expression of IL-3 gene. Accordingly, the methylation level of IL-3 promoter, as well as of several other genes, was unmodified. In conclusion, ITF2357 emerged as an anti-leukaemic agent very potent on AML cells, and on AML1/ETO-positive cells in particular. More relevantly, clearly emerged from our results that ITF2357 could be an ideal agent to treat AML subtypes presenting AML1/ETO fusion protein which determine HDAC involvement in leukaemogenesis.
Relevant articles
Open Access articles citing this article.
Donatella Del Bufalo

,

Marianna Desideri

…

Daniela Trisciuoglio

Molecular Cancer Open Access 09 October 2014

V Barbetti

,

A Morandi

…

E Rovida

Oncogene Open Access 23 December 2013

Tatsuki R. Kataoka

,

Atsushi Kumanogoh

…

Hironori Haga

Scientific Reports Open Access 04 October 2013
Access options
Subscribe to this journal
Receive 50 print issues and online access
$259.00 per year
only $5.18 per issue
Rent or buy this article
Get just this article for as long as you need it
$39.95
Prices may be subject to local taxes which are calculated during checkout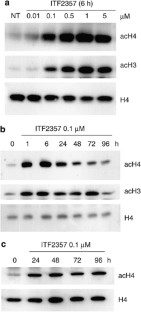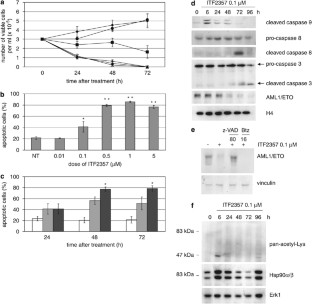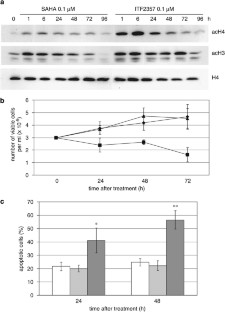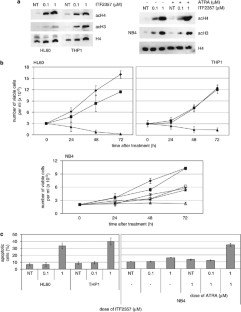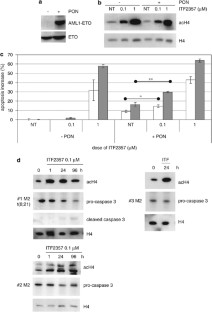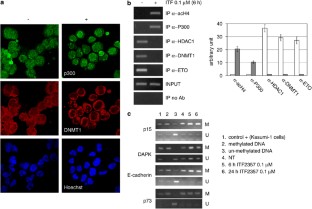 References
Alcalay M, Orleth A, Sebastiani C, Meani N, Chiaradonna F, Casciari C et al. (2001). Common themes in the pathogenesis of acute myeloid leukemia. Oncogene 10: 5680–5694.

Altucci L, Rossin A, Hirsch O, Nebbioso A, Vitoux D, Wilhelm E et al. (2005). Rexinoid-triggered differentiation and tumor-selective apoptosis of acute myeloid leukemia by protein kinase A-mediated desubordination of retinoid X receptor. Cancer Res 65: 8754–8765.

Armeanu S, Pathil A, Venturelli S, Mascagni P, Weiss TS, Göttlicher M et al. (2005). Apoptosis on hepatoma cells but not on primary hepatocytes by histone deacetylase inhibitors valproate and ITF2357. J Hepatol 42: 210–217.

Asou H, Tashiro S, Hamamoto K, Osuji A, Kita K, Kamada N . (1991). Establishment of a human acute myeloid leukemia cell line (Kasumi-1) with 8;21 chromosome translocation. Blood 77: 2031–2036.

Atsumi A, Tomita A, Kiyoi H, Naoe T . (2006). Histone deacetylase 3 (HDAC3) is recruited to target promoters by PML-RARalpha as a component of the N-CoR co-repressor complex to repress transcription in vivo. Biochem Biophys Res Commun 345: 1471–1480.

Carta S, Tassi S, Semino C, Fossati G, Mascagni P, Dinarello CA et al. (2006). Histone deacetylase inhibitors prevent exocytosis of interleukin-1beta-containing secretory lysosomes: role of microtubules. Blood 108: 1618–1626.

Dai Y, Rahmani M, Dent P, Grant S . (2005). Blockade of histone deacetylase inhibitor-induced RelA/p65 acetylation and NF-kappaB activation potentiates apoptosis in leukemia cells through a process mediated by oxidative damage, XIAP downregulation, and c-Jun N-terminal kinase 1 activation. Mol Cell Biol 25: 5429–5444.

Davie JR . (1997). Nuclear matrix, dynamic histone acetylation and transcriptionally active chromatin. Mol Biol Rep 24: 197–207.

Downing JR . (1999). The AML1-ETO chimaeric transcription factor in acute myeloid leukaemia: biology and clinical significance. Br J Haematol 106: 296–308.

Fazi F, Travaglini L, Carotti D, Palitti F, Diverio D, Alcalay M et al. (2005). Retinoic acid targets DNA-methyltransferases and histone deacetylases during APL blast differentiation in vitro and in vivo. Oncogene 24: 1820–1830.

Fliegauf M, Stock M, Berg T, Lubbert M . (2004). Williams-Beuren syndrome critical region-5/non-T-cell activation linker: a novel target gene of AML1/ETO. Oncogene 23: 9070–9081.

Gelmetti V, Zhang J, Fanelli M, Minucci S, Pelicci PG, Lazar MA . (1998). Aberrant recruitment of the nuclear receptor corepressor-histone deacetylase complex by the acute myeloid leukemia fusion partner ETO. Mol Cell Biol 18: 7185–7191.

Gozzini A, Rovida E, Dello Sbarba P, Galimberti S, Santini V . (2003). Butyrates, as a single drug, induce histone acetylation and granulocytic maturation: possible selectivity on core binding factor-acute myeloid leukemia blasts. Cancer Res 63: 8955–8961.

Kitabayashi I, Yokoyama A, Shimizu K, Ohki M . (1998). Interaction and functional cooperation of the leukemia-associated factors AML1 and p300 in myeloid cell differentiation. EMBO J 17: 2994–3004.

Klisovic MI, Maghraby EA, Parthun MR, Guimond M, Sklenar AR, Whitman SP et al. (2003). Depsipeptide (FR 901228) promotes histone acetylation, gene transcription, apoptosis and its activity is enhanced by DNA methyltransferase inhibitors in AML1/ETO-positive leukemic cells. Leukemia 17: 350–358.

Leoni F, Fossati G, Lewis EC, Lee JK, Porro G, Pagani P et al. (2005). The histone deacetylase inhibitor ITF2357 reduces production of pro-inflammatory cytokines in vitro and systemic inflammation in vivo. Mol Med 11: 1–15.

Liu S, Klisovic RB, Vukosavljevic T, Yu J, Paschka P, Huynh L et al. (2007). Targeting AML1/ETO-histone deacetylase repressor complex: a novel mechanism for valproic acid-mediated gene expression and cellular differentiation in AML1/ETO-positive acute myeloid leukemia cells. J Pharmacol Exp Ther 21: 953–960.

Liu S, Shen T, Huynh L, Klisovic MI, Rush LJ, Ford JL et al. (2005). Interplay of RUNX1/MTG8 and DNA methyltransferase 1 in acute myeloid leukemia. Cancer Res 65: 1277–1284.

Look AT . (1997). Oncogenic transcription factors in the human acute leukemias. Science 278: 1059–1064.

Lu Y, Xu YB, Yuan TT, Song MG, Lübbert M, Fliegauf M et al. (2006). Inducible expression of AML1-ETO fusion protein endows leukemic cells with susceptibility to extrinsic and intrinsic apoptosis. Leukemia 20: 987–993.

Minucci S, Pelicci PG . (2006). Histone deacetylase inhibitors and the promise of epigenetic (and more) treatments for cancer. Nat Rev Cancer 6: 38–51.

Mrózek K, Prior TW, Edwards C, Marcucci G, Carroll AJ, Snyder PJ et al. (2001). Comparison of cytogenetic and molecular genetic detection of t(8;21) and inv(16) in a prospective series of adults with de novo acute myeloid leukemia: a Cancer and Leukemia Group B Study. J Clin Oncol 19: 2482–2492.

Ogawa E, Maruyama M, Kagoshima H, Inuzuka M, Lu J, Satake M et al. (1993). PEBP2/PEA2 represents a family of transcription factors homologous to the products of the Drosophila runt gene and the human AML1 gene. Proc Natl Acad Sci USA 90: 6859–6863.

Ogryzko VV, Schiltz RL, Russanova V, Howard BH, Nakatani Y . (1996). The transcriptional coactivators p300 and CBP are histone acetyltransferases. Cell 87: 953–959.

Pasqualucci L, Bereschenko O, Niu H, Klein U, Basso K, Guglielmino R et al. (2003). Molecular pathogenesis of non-Hodgkin's lymphoma: the role of Bcl-6. Leuk Lymphoma 44: S5–S12.

Pathil A, Armeanu S, Venturelli S, Mascagni P, Weiss TS, Gregor M et al. (2006). HDAC inhibitor treatment of hepatoma cells induces both TRAIL-independent apoptosis and restoration of sensitivity to TRAIL. Hepatology 43: 425–434.

Raelson JV, Nervi C, Rosenauer A, Benedetti L, Monczak Y, Pearson M et al. (1996). The PML/RAR alpha oncoprotein is a direct molecular target of retinoic acid in acute promyelocytic leukemia cells. Blood 88: 2826–2832.

Rahmani M, Reese E, Dai Y, Bauer C, Payne SG, Dent P et al. (2005). Coadministration of histone deacetylase inhibitors and perifosine synergistically induces apoptosis in human leukemia cells through Akt and ERK1/2 inactivation and the generation of ceramide and reactive oxygen species. Cancer Res 65: 2422–2432.

Santini V, Gozzini A, Ferrari G . (2007). Histone deacetylase inhibitors: molecular and biological activity as a premise to clinical application. Curr Drug Metab 8: 383–393.

Tan J, Zhuang L, Jiang X, Yang KK, Karuturi KM, Yu Q . (2006). Apoptosis signal-regulating kinase 1 is a direct target of E2F1 and contributes to histone deacetylase inhibitor-induced apoptosis through positive feedback regulation of E2F1 apoptotic activity. J Biol Chem 281: 10508–10515.

Wang J, Hoshino T, Redner RL, Kajigaya S, Liu JM . (1998). Protein ETO, fusion partner in t(8;21) acute myeloid leukemia, represses transcription by interaction with the human N-CoR/mSin3/HDAC1complex. Proc Natl Acad Sci USA 95: 10860–10865.

Wang L, Zhao WL, Yan JS, Liu P, Sun HP, Zhou GB et al. (2007). Eriocalyxin B induces apoptosis of t(8;21) leukemia cells through NF-kappaB and MAPK signaling pathways and triggers degradation of AML1-ETO oncoprotein in a caspase-3-dependent manner. Cell Death Differ 14: 306–317.

Yang G, Thompson MA, Brandt SJ, Hiebert SW . (2007). Histone deacetylase inhibitors induce the degradation of the t(8;21) fusion oncoprotein. Oncogene 26: 91–101.
Acknowledgements
We thank R Pastorelli for performing Methylation-specific PCR and sequencing. Ministero per la Istruzione, la Università e la Ricerca, Istituto Superiore di Sanità (National Program 'Stem Cells'), Ente-Cassa di Risparmio di Firenze, Fondazione-Cassa di Risparmio di Volterra. ER was supported by a fellowship from AIRC/FIRC.
About this article
Cite this article
Barbetti, V., Gozzini, A., Rovida, E. et al. Selective anti-leukaemic activity of low-dose histone deacetylase inhibitor ITF2357 on AML1/ETO-positive cells. Oncogene 27, 1767–1778 (2008). https://doi.org/10.1038/sj.onc.1210820
Received:

Revised:

Accepted:

Published:

Issue Date:

DOI: https://doi.org/10.1038/sj.onc.1210820
Keywords
AML

AML1/ETO

HDAC inhibitors

gene expression