Abstract
The activating transcription factor, ATF-2, is a target of p38 and JNK that are involved in stress-induced apoptosis. Heterozygous Atf-2 mutant (Atf-2+/−) mice are highly prone to mammary tumors. The apoptosis-regulated gene GADD45α and the breast cancer suppressor gene Maspin, both of which are known to be p53 target genes, are downregulated in the mammary tumors arisen in Atf-2+/− mice. Here, we have analysed how ATF-2 controls the transcription of GADD45α and Maspin. ATF-2 and p53 independently activate the GADD45α transcription. ATF-2 does not directly bind to the GADD45α promoter; instead, it is recruited via Oct-1 and NF-I. ATF-2 simultaneously binds to Oct-1, NF-I and breast cancer suppressor BRCA1 to activate transcription. With regard to Maspin, ATF-2 and p53 directly bind to different sites in the Maspin promoter to independently activate its transcription. Consistent with the observation that ATF-2 and p53 independently activate the transcription of Maspin and GADD45α is that the loss of one copy of p53 shortened the period required for mammary tumor development in Atf-2+/− mice. These studies suggest the functional link between the ATF-2 and the two tumor suppressors BRCA1 and p53.
Relevant articles
Open Access articles citing this article.
Dena A. J. Ahmad

,

Ola H. Negm

…

Emad A. Rakha

Breast Cancer Research and Treatment Open Access 03 September 2016

Deng-shuang Wu

,

Cheng Chen

…

Lin-hui Wang

Journal of Experimental & Clinical Cancer Research Open Access 04 July 2016

Naresh Doni Jayavelu

,

Lasse S. Aasgaard

&

Nadav Bar

BMC Bioinformatics Open Access 04 November 2015
Access options
Subscribe to Journal
Get full journal access for 1 year
$119.00
only $2.38 per issue
All prices are NET prices.
VAT will be added later in the checkout.
Tax calculation will be finalised during checkout.
Buy article
Get time limited or full article access on ReadCube.
$32.00
All prices are NET prices.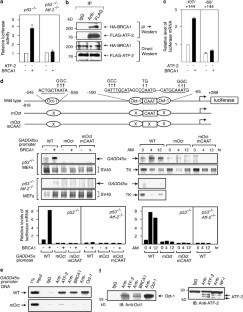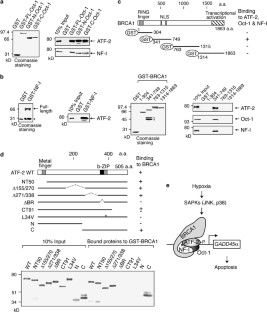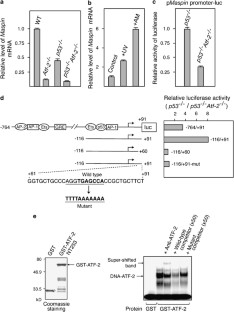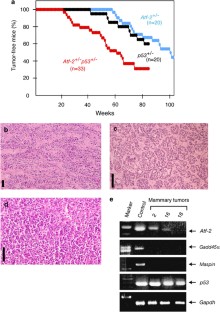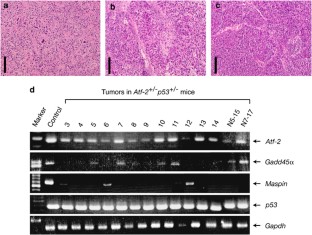 References
Chang L, Karin M . (2001). Mammalian MAP kinase signalling cascades. Nature 410: 37–40.

Cher M, Biliran Jr HR, Bhagat S, Meng Y, Che M, Lockett J et al. (2003). Maspin expression inhibits osteolysis, tumor growth, and angiogenesis in a model of prostate cancer bone metastasis. Proc Natl Acad Sci USA 10: 7847–7852.

Donehower LA, Harvey M, Slagle BL, McArthur MJ, Montgomery Jr CA, Butel JS et al. (1992). Mice deficient for p53 are developmentally normal but susceptible to spontaneous tumours. Nature 356: 215–221.

Fan W, Jin S, Tong T, Zhao H, Fan F, Antinore MJ et al. (2002). BRCA1 regulates GADD45 through its interactions with the OCT-1 and CAAT motifs. J Biol Chem 277: 8061–8067.

Gupta S, Campbell D, Dérijard B, Davis RJ . (1995). Transcription factor ATF2 regulation by the JNK signal transduction pathway. Science 267: 389–393.

Harkin DP, Bean JM, Miklos D, Song YH, Truong VB, Englert C et al. (1999). Induction of GADD45 and JNK/SAPK-dependent apoptosis following inducible expression of BRCA1. Cell 97: 575–586.

Hollander MC, Sheikh MS, Bulavin DV, Lundgren K, Augeri-Henmueller L, Shehee R et al. (1999). Genomic instability in Gadd45α-deficient mice. Nat Genet 23: 176–184.

Kastan MB, Zhan Q, el-Deiry WS, Carrier F, Jacks T, Walsh WV et al. (1992). A mammalian cell cycle checkpoint pathway utilizing p53 and GADD45 is defective in ataxia-telangiectasia. Cell 71: 587–597.

Li S, Ting NS, Zheng L, Chen PL, Ziv Y, Shiloh Y et al. (2000). Functional link of BRCA1 and ataxia telangiectasia gene product in DNA damage response. Nature 406: 210–215.

Liu J, Yin S, Reddy N, Spencer C, Sheng S . (2004). Bax mediates the apoptosis-sensitizing effect of maspin. Cancer Res 64: 1703–1711.

Maekawa T, Bernier F, Sato M, Nomura S, Singh M, Inoue Y et al. (1999). Mouse ATF-2 null mutants display features of a severe type of meconium aspiration syndrome. J Biol Chem 274: 17813–17819.

Maekawa T, Sakura H, Kanei-Ishii C, Sudo T, Yoshimura T, Fujisawa J et al. (1989). Leucine zipper structure of the protein CRE-BP1 binding to the cyclic AMP response element in brain. EMBO J 8: 2023–2028.

Maekawa T, Shinagawa T, Sano Y, Sakuma T, Nomura S, Nagasaki K et al. (2007). Reduced levels of ATF-2 predispose mice to mammary tumors. Mol Cell Biol 27: 1730–1744.

Mita H, Tsutsui J, Takekawa M, Witten EA, Saito H . (2002). Regulation of MTK1/MEKK4 kinase activity by its N-terminal autoinhibitory domain and GADD45 binding. Mol Cell Biol 22: 4544–4555.

Osada S, Yamamoto H, Nishihara T, Imagawa M . (1996). DNA binding specificity of the CCAAT/enhancer-binding protein transcription factor family. J Biol Chem 271: 3891–3896.

Takahashi S, Saito S, Ohtani N, Sakai T . (2001). Involvement of the Oct-1 regulatory element of the gadd45 promoter in the p53-independent response to ultraviolet irradiation. Cancer Res 61: 1187–1195.

Takekawa M, Saito H . (1998). A family of stress-inducible GADD45-like proteins mediate activation of the stress-responsive MTK1/MEKK4 MAPKKK. Cell 95: 521–530.

Venkitaraman AR . (2002). Cancer susceptibility and the functions of BRCA1 and BRCA2. Cell 108: 171–182.

Xu X, Wagner KU, Larson D, Weaver Z, Li C, Ried T et al. (1999). Conditional mutation of Brca1 in mammary epithelial cells results in blunted ductal morphogenesis and tumour formation. Nature Genet 22: 37–43.

Zhang M, Maass N, Magit D, Sager R . (1997). Transactivation through Ets and Ap1 transcription sites determines the expression of the tumor-suppressing gene maspin. Cell Growth Differ 8: 179–186.

Zhang M, Volpert O, Shi YH, Bouck N . (2000). Maspin is an angiogenesis inhibitor. Nat Med 6: 196–199.

Zou Z, Anisowicz A, Hendrix MJ, Thor A, Neveu M, Sheng S et al. (1994). Maspin, a serpin with tumor-suppressing activity in human mammary epithelial cells. Science 263: 526–529.

Zou Z, Gao C, Nagaich AK, Connell T, Saito S, Moul JW et al. (2000). p53 regulates the expression of the tumor suppressor gene maspin. J Biol Chem 275: 6051–6054.
Acknowledgements
We are grateful to S Aizawa for the p53+/− mice, T Sakai for the pGADD45-Luc construct, M Imagawa for the NF-IA1 cDNA, RG Roeder for the Oct-1 cDNA and members of the Experimental Animal Division of RIKEN Tsukuba Institute for maintaining the mice. This work was supported in part by Grants-in-Aid for Scientific Research and by grants of the Genome Network Project from the Ministry of Education, Culture, Sports, Science and Technology of Japan.
Supplementary information
About this article
Cite this article
Maekawa, T., Sano, Y., Shinagawa, T. et al. ATF-2 controls transcription of Maspin and GADD45α genes independently from p53 to suppress mammary tumors. Oncogene 27, 1045–1054 (2008). https://doi.org/10.1038/sj.onc.1210727
Received:

Revised:

Accepted:

Published:

Issue Date:

DOI: https://doi.org/10.1038/sj.onc.1210727
Keywords
ATF-2

GADD45α
Maspin

p53

BRCA1

tumor suppressors