Abstract
Neuroblastoma (NB) is one of the most common forms of cancer in children, accounting for 15% of pediatric cancer deaths. The clinical course of these tumors is highly variable and is dependent on such factors as age at presentation, stage, ploidy and genomic abnormalities. Hemizygous deletion of chromosome 1p occurs in approximately 30% of advanced stage tumors, is associated with a poor prognosis, and likely leads to the loss of one or more tumor suppressor genes. We show here that microRNA (miRNA)-34a (1p36.23) is generally expressed at lower levels in unfavorable primary NB tumors and cell lines relative to normal adrenal tissue and that reintroduction of this miRNA into three different NB cell lines causes a dramatic reduction in cell proliferation through the induction of a caspase-dependent apoptotic pathway. As a potential mechanistic explanation for this observation, we demonstrate that miR-34a directly targets the messenger ribonucleic acid (mRNA) encoding E2F3 and significantly reduces the levels of E2F3 protein, a potent transcriptional inducer of cell-cycle progression. Furthermore, miR-34a expression increases during retinoic acid-induced differentiation of the SK-N-BE cell line, whereas E2F3 protein levels decrease. Thus, adding to the increasing role of miRNAs in cancer, miR-34a may act as a suppressor of NB tumorgenesis.
This is a preview of subscription content
Access options
Subscribe to Journal
Get full journal access for 1 year
$119.00
only $2.38 per issue
All prices are NET prices.
VAT will be added later in the checkout.
Tax calculation will be finalised during checkout.
Buy article
Get time limited or full article access on ReadCube.
$32.00
All prices are NET prices.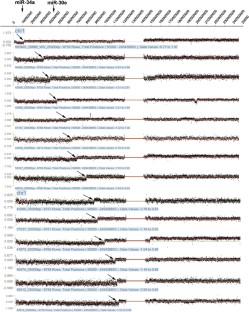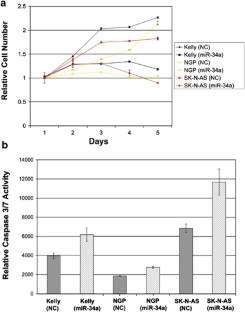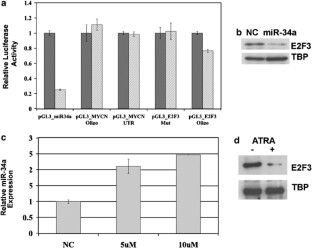 References
Attiyeh EF, London WB, Mosse YP, Wang Q, Winter C, Khazi D et al. (2005). Chromosome 1p and 11q deletions and outcome in neuroblastoma. N Engl J Med 353: 2243–2253.

Brodeur GM . (2003). Neuroblastoma: biological insights into a clinical enigma. Nat Rev Cancer 3: 203–216.

Brodeur GM, Seeger RC, Schwab M, Varmus HE, Bishop JM . (1984). Amplification of N-myc in untreated human neuroblastomas correlates with advanced disease stage. Science 224: 1121–1124.

Calin GA, Dumitru CD, Shimizu M, Bichi R, Zupo S, Noch E et al. (2002). Frequent deletions and down-regulation of micro- RNA genes miR15 and miR16 at 13q14 in chronic lymphocytic leukemia. Proc Natl Acad Sci USA 99: 15524–15529.

Calin GA, Ferracin M, Cimmino A, Di Leva G, Shimizu M, Wojcik SE et al. (2005). A MicroRNA signature associated with prognosis and progression in chronic lymphocytic leukemia. N Engl J Med 353: 1793–1801.

Chan JA, Krichevsky AM, Kosik KS . (2005). MicroRNA-21 is an antiapoptotic factor in human glioblastoma cells. Cancer Res 65: 6029–6033.

Chen C, Ridzon DA, Broomer AJ, Zhou Z, Lee DH, Nguyen JT et al. (2005). Real-time quantification of microRNAs by stem-loop RT-PCR. Nucleic Acids Res 33: e179.

Cimmino A, Calin GA, Fabbri M, Iorio MV, Ferracin M, Shimizu M et al. (2005). miR-15 and miR-16 induce apoptosis by targeting BCL2. Proc Natl Acad Sci USA 102: 13944–13949.

Ejeskar K, Krona C, Caren H, Zaibak F, Li L, Martinsson T et al. (2005). Introduction of in vitro transcribed ENO1 mRNA into neuroblastoma cells induces cell death. BMC Cancer 5: 161.

Esquela-Kerscher A, Slack FJ . (2006). Oncomirs - microRNAs with a role in cancer. Nat Rev Cancer 6: 259–269.

Fong CT, Dracopoli NC, White PS, Merrill PT, Griffith RC, Housman DE et al. (1989). Loss of heterozygosity for the short arm of chromosome 1 in human neuroblastomas: correlation with N-myc amplification. Proc Natl Acad Sci USA 86: 3753–3757.

Guo Y, Chen Y, Ito H, Watanabe A, Ge X, Kodama T et al. (2006). Identification and characterization of lin-28 homolog B (LIN28B) in human hepatocellular carcinoma. Gene 384: 51–61.

He L, Thomson JM, Hemann MT, Hernando-Monge E, Mu D, Goodson S et al. (2005). A microRNA polycistron as a potential human oncogene. Nature 435: 828–833.

Janoueix-Lerosey I, Novikov E, Monteiro M, Gruel N, Schleiermacher G, Loriod B et al. (2004). Gene expression profiling of 1p35-36 genes in neuroblastoma. Oncogene 23: 5912–5922.

Johnson DG, Degregori J . (2006). Putting the Oncogenic and Tumor Suppressive Activities of E2F into Context. Curr Mol Med 6: 731–738.

Lin YW, Sheu JC, Liu LY, Chen CH, Lee HS, Huang GT et al. (1999). Loss of heterozygosity at chromosome 13q in hepatocellular carcinoma: identification of three independent regions. Eur J Cancer 35: 1730–1734.

Miska EA . (2005). How microRNAs control cell division, differentiation and death. Curr Opin Genet Dev 15: 563–568.

Mosse YP, Greshock J, Margolin A, Naylor T, Cole K, Khazi D et al. (2005). High-resolution detection and mapping of genomic DNA alterations in neuroblastoma. Genes Chromosomes Cancer 43: 390–403.

O'Donnell KA, Wentzel EA, Zeller KI, Dang CV, Mendell JT . (2005). c-Myc-regulated microRNAs modulate E2F1 expression. Nature 435: 839–843.

Schleiermacher G, Peter M, Michon J, Hugot JP, Vielh P, Zucker JM et al. (1994). Two distinct deleted regions on the short arm of chromosome 1 in neuroblastoma. Genes Chromosomes Cancer 10: 275–281.

Spitz R, Hero B, Ernestus K, Berthold F . (2003). Deletions in chromosome arms 3p and 11q are new prognostic markers in localized and 4 s neuroblastoma. Clin Cancer Res 9: 52–58.

Stallings RL, Nair P, Maris JM, Catchpoole D, McDermott M, O'Meara A et al. (2006). High-resolution analysis of chromosomal breakpoints and genomic instability identifies PTPRD as a candidate tumor suppressor gene in neuroblastoma. Cancer Res 66: 3673–3680.

Thiele CJ, Reynolds CP, Israel MA . (1985). Decreased expression of N-myc precedes retinoic acid-induced morphological differentiation of human neuroblastoma. Nature 313: 404–406.

Valentijn LJ, Koppen A, van Asperen R, Root HA, Haneveld F, Versteeg R . (2005). Inhibition of a new differentiation pathway in neuroblastoma by copy number defects of N-myc, Cdc42, and nm23 genes. Cancer Res 65: 3136–3145.

Van Roy N, Laureys G, Cheng NC, Willem P, Opdenakker G, Versteeg R et al. (1994). 1;17 translocations and other chromosome 17 rearrangements in human primary neuroblastoma tumors and cell lines. Genes Chromosomes Cancer 10: 103–114.

Vandesompele J, Baudis M, De Preter K, Van Roy N, Ambros P, Bown N et al. (2005). Unequivocal delineation of clinicogenetic subgroups and development of a new model for improved outcome prediction in neuroblastoma. J Clin Oncol 23: 2280–2299.

Wang Q, Diskin S, Rappaport E, Attiyeh E, Mosse Y, Shue D et al. (2006). Integrative genomics identifies distinct molecular classes of neuroblastoma and shows that multiple genes are targeted by regional alterations in DNA copy number. Cancer Res 66: 6050–6062.
Supplementary information
About this article
Cite this article
Welch, C., Chen, Y. & Stallings, R. MicroRNA-34a functions as a potential tumor suppressor by inducing apoptosis in neuroblastoma cells. Oncogene 26, 5017–5022 (2007). https://doi.org/10.1038/sj.onc.1210293
Received:

Revised:

Accepted:

Published:

Issue Date:

DOI: https://doi.org/10.1038/sj.onc.1210293
Keywords
apoptosis

CGH

E2F3

microRNA

neuroblastoma

tumour suppressors