Abstract
Mutations in the ERBB2 gene were recently found in approximately 2% of primary non-small cell lung cancer (NSCLC) specimens; however, little is known about the functional consequences and the relevance to responsiveness to targeted drugs for most of these mutations. Here, we show that the major lung cancer-derived ERBB2 mutants, including the most frequent mutation, A775insYVMA, lead to oncogenic transformation in a cellular assay. Murine cells transformed with these mutants were relatively resistant to the reversible epidermal growth factor receptor (EGFR) inhibitor erlotinib, resembling the resistant phenotype found in cells carrying the homologous mutations in exon 20 of EGFR. However, the same cells were highly sensitive to the irreversible dual-specificity EGFR/ERBB2 kinase inhibitor HKI-272, as were those overexpressing wild-type ERBB2. Finally, the NSCLC cell line, Calu-3, overexpressing wild-type ERBB2 owing to a high-level amplification of the ERBB2 gene were highly sensitive to HKI-272. These results provide a rationale for treatment of patients with ERBB2-mutant or ERBB2-amplified lung tumors with HKI-272.
Relevant articles
Open Access articles citing this article.
Daniele Cretella

,

Francesca Saccani

…

Roberta R Alfieri

Molecular Cancer Open Access 05 June 2014

Dean A Fennell

&

Charles Swanton

EPMA Journal Open Access 18 June 2012
Access options
Subscribe to this journal
Receive 50 print issues and online access
$259.00 per year
only $5.18 per issue
Rent or buy this article
Get just this article for as long as you need it
$39.95
Prices may be subject to local taxes which are calculated during checkout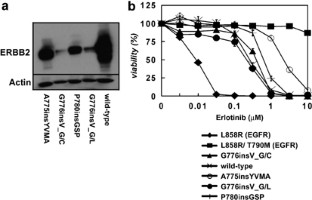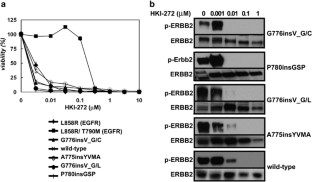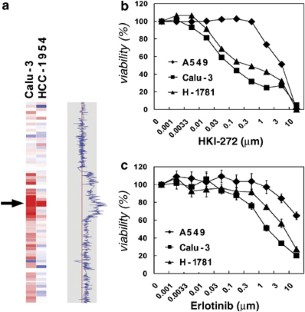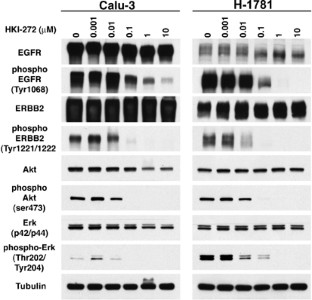 References
Azam M, Latek RR, Daley GQ . (2003). Mechanisms of autoinhibition and STI-571/imatinib resistance revealed by mutagenesis of BCR-ABL. Cell 112: 831–843.

Di Fiore PP, Pierce JH, Kraus MH, Segatto O, King CR, Aaronson SA . (1987). erbB-2 is a potent oncogene when overexpressed in NIH/3T3 cells. Science 237: 178–182.

Engelman JA, Janne PA, Mermel C, Pearlberg J, Mukohara T, Fleet C et al. (2005). ErbB-3 mediates phosphoinositide 3-kinase activity in gefitinib-sensitive non-small cell lung cancer cell lines. Proc Natl Acad Sci USA 102: 3788–3793.

Fukuoka M, Yano S, Giaccone G, Tamura T, Nakagawa K, Douillard JY et al. (2003). Multi-institutional randomized phase II trial of gefitinib for previously treated patients with advanced non-small-cell lung cancer. J Clin Oncol 21: 2237–2246.

Gazdar AF, Kurvari V, Virmani A, Gollahon L, Sakaguchi M, Westerfield M et al. (1998). Characterization of paired tumor and non-tumor cell lines established from patients with breast cancer. Int J Cancer 78: 766–774.

Greulich H, Chen TH, Feng W, Janne PA, Alvarez JV, Zappaterra M et al. (2005). Oncogenic transformation by inhibitor-sensitive and -resistant EGFR mutants. PLoS Med 2: e313.

Jiang J, Greulich H, Janne PA, Sellers WR, Meyerson M, Griffin JD . (2005). Epidermal growth factor-independent transformation of Ba/F3 cells with cancer-derived epidermal growth factor receptor mutants induces gefitinib-sensitive cell cycle progression. Cancer Res 65: 8968–8974.

Jiang J, Paez JG, Lee JC, Bo R, Stone RM, DeAngelo DJ et al. (2004). Identification and characterization of a novel activating mutation of the FLT3 tyrosine kinase in AML. Blood.

Kobayashi S, Boggon TJ, Dayaram T, Janne PA, Kocher O, Meyerson M et al. (2005a). EGFR mutation and resistance of non-small-cell lung cancer to gefitinib. N Engl J Med 352: 786–792.

Kobayashi S, Ji H, Yuza Y, Meyerson M, Wong KK, Tenen DG et al. (2005b). An alternative inhibitor overcomes resistance caused by a mutation of the epidermal growth factor receptor. Cancer Res 65: 7096–7101.

Kris MG, Natale RB, Herbst RS, Lynch Jr TJ, Prager D, Belani CP et al. (2003). Efficacy of gefitinib, an inhibitor of the epidermal growth factor receptor tyrosine kinase, in symptomatic patients with non-small cell lung cancer: a randomized trial. JAMA 290: 2149–2158.

Kwak EL, Sordella R, Bell DW, Godin-Heymann N, Okimoto RA, Brannigan BW et al. (2005). Irreversible inhibitors of the EGF receptor may circumvent acquired resistance to gefitinib. Proc Natl Acad Sci USA 102: 7665–7670.

Lynch TJ, Bell DW, Sordella R, Gurubhagavatula S, Okimoto RA, Brannigan BW et al. (2004). Activating mutations in the epidermal growth factor receptor underlying responsiveness of non-small-cell lung cancer to gefitinib. N Engl J Med 350: 2129–2139.

Paez JG, Janne PA, Lee JC, Tracy S, Greulich H, Gabriel S et al. (2004). EGFR mutations in lung cancer: correlation with clinical response to gefitinib therapy. Science 304: 1497–1500.

Pao W, Miller V, Zakowski M, Doherty J, Politi K, Sarkaria I et al. (2004). EGF receptor gene mutations are common in lung cancers from 'never smokers' and are associated with sensitivity of tumors to gefitinib and erlotinib. Proc Natl Acad Sci USA 101: 13306–13311.

Pao W, Miller VA, Politi KA, Riely GJ, Somwar R, Zakowski MF et al. (2005). Acquired resistance of lung adenocarcinomas to gefitinib or erlotinib is associated with a second mutation in the EGFR kinase domain. PLoS Med 2: e73.

Perez-Soler R, Chachoua A, Hammond LA, Rowinsky EK, Huberman M, Karp D et al. (2004). Determinants of tumor response and survival with erlotinib in patients with non-small-cell lung cancer. J Clin Oncol 22: 3238–3247.

Pierce JH, Arnstein P, DiMarco E, Artrip J, Kraus MH, Lonardo F et al. (1991). Oncogenic potential of erbB-2 in human mammary epithelial cells. Oncogene 6: 1189–1194.

Rabindran SK . (2005). Antitumor activity of HER-2 inhibitors. Cancer Lett 227: 9–23.

Sharma SV, Gajowniczek P, Way IP, Lee DY, Jiang J, Yuza Y et al. (2006). A common signaling cascade may underlie 'addiction' to the Src, BCR-ABL, and EGF receptor oncogenes. Cancer Cell 10: 425–435.

Shepherd FA, Rodrigues Pereira J, Ciuleanu T, Tan EH, Hirsh V, Thongprasert S et al. (2005). Erlotinib in previously treated non-small-cell lung cancer. N Engl J Med 353: 123–132.

Shigematsu H, Takahashi T, Nomura M, Majmudar K, Suzuki M, Lee H et al. (2005). Somatic mutations of the HER2 kinase domain in lung adenocarcinomas. Cancer Res 65: 1642–1646.

Shimamura T, Ji H, Minami Y, Thomas RK, Lowell AM, Shah K et al. (2006). Non-small-cell lung cancer and Ba/F3 transformed cells harboring the ERBB2 G776insV_G/C mutation are sensitive to the dual-specific epidermal growth factor receptor and ERBB2 inhibitor HKI-272. Cancer Res 66: 6487–6491.

Sordella R, Bell DW, Haber DA, Settleman J . (2004). Gefitinib-sensitizing EGFR mutations in lung cancer activate anti-apoptotic pathways. Science 305: 1163–1167.

Stephens P, Hunter C, Bignell G, Edkins S, Davies H, Teague J et al. (2004). Lung cancer: intragenic ERBB2 kinase mutations in tumours. Nature 431: 525–526.

Zhao X, Weir BA, LaFramboise T, Lin M, Beroukhim R, Garraway L et al. (2005). Homozygous deletions and chromosome amplifications in human lung carcinomas revealed by single nucleotide polymorphism array analysis. Cancer Res 65: 5561–5570.
Acknowledgements
RK Thomas is a Fellow of the International Association for the Study of Lung Cancer (IASLC). This work was supported in part by the Deutsche Krebshilfe through a Mildred-Scheel Fellowship to RK Thomas. T Shimamura holds a Career Development Award, as part of the Dana-Farber/Harvard Cancer Center Specialized Program of Research Excellence in Lung Cancer, NIH grant P20 CA90578.
Supplementary information
About this article
Cite this article
Minami, Y., Shimamura, T., Shah, K. et al. The major lung cancer-derived mutants of ERBB2 are oncogenic and are associated with sensitivity to the irreversible EGFR/ERBB2 inhibitor HKI-272. Oncogene 26, 5023–5027 (2007). https://doi.org/10.1038/sj.onc.1210292
Received:

Revised:

Accepted:

Published:

Issue Date:

DOI: https://doi.org/10.1038/sj.onc.1210292
Keywords
lung cancer

targeted therapy

oncogene mutation

ERBB2

Her-2

kinase inhibitors