Abstract
Loss of JunB has been observed in human leukemia and lymphoma, but it remains unknown, whether this loss is relevant to disease progression. Here, we investigated the consequences of JunB deficiency using Abelson-induced B-lymphoid leukemia as a model system. Mice deficient in JunB expression succumbed to Abelson-induced leukemia with increased incidence and significantly reduced latency. Similarly, bcr/abl p185-transformed JunB-deficient (junBΔ/Δ) cells induced leukemia in RAG2−/− mice displaying a more malignant phenotype. These observations indicated that cell intrinsic effects within the junBΔ/Δ tumor cells accounted for the accelerated leukemia development. Indeed, explantated bcr/abl p185 transformed junBΔ/Δ cells proliferated faster than the control cells. The proliferative advantage emerged slowly after the initial transformation process and was associated with increased expression levels of the cell cycle kinase cdk6 and with decreased levels of the cell cycle inhibitor p16INK4a. These alterations were due to irreversible reprogramming of the cell, because – once established – accelerated disease induced by junBΔ/Δ cells was not reverted by re-introducing JunB. Consistent with this observation, we found that the p16 promoter was methylated. Thus, JunB functions as a gatekeeper during tumor evolution. In its absence, transformed leukemic cells acquire an enhanced proliferative capacity, which presages a more malignant disease.
Relevant articles
Open Access articles citing this article.
Zuoqiao Wu

,

Mary Nicoll

&

Robert J. Ingham

Experimental Hematology & Oncology Open Access 07 January 2021
Access options
Subscribe to this journal
Receive 50 print issues and online access
$259.00 per year
only $5.18 per issue
Rent or buy this article
Prices vary by article type
from$1.95
to$39.95
Prices may be subject to local taxes which are calculated during checkout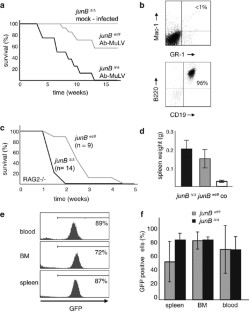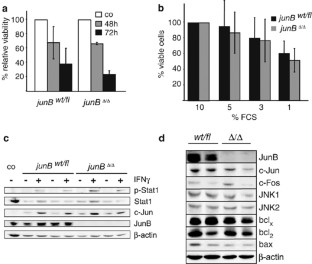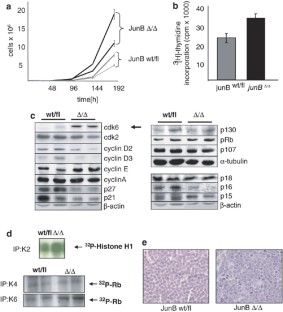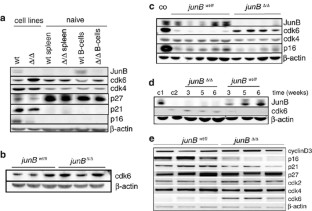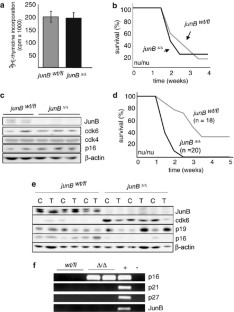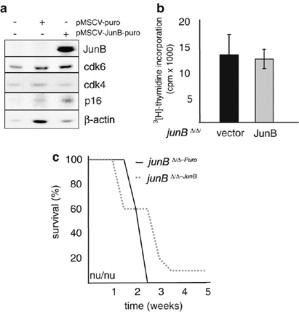 References
Baldin V, Lukas J, Marcote MJ, Pagano M, Draetta G . (1993). Cyclin D1 is a nuclear protein required for cell cycle progression in G1. Genes Dev 7: 812–821.

Corcoran MM, Mould SJ, Orchard JA, Ibbotson RE, Chapman RM, Boright AP et al. (1999). Dysregulation of cyclin dependent kinase 6 expression in splenic marginal zone lymphoma through chromosome 7q translocations. Oncogene 18: 6271–6277.

Deininger M, Buchdunger E, Druker BJ . (2005). The development of imatinib as a therapeutic agent for chronic myeloid leukemia. Blood 105: 2640–2653.

Diehl JA, Sherr CJ . (1997). A dominant-negative cyclin D1 mutant prevents nuclear import of cyclin-dependent kinase 4 (CDK4) and its phosphorylation by CDK-activating kinase. Mol Cell Biol 17: 7362–7374.

Eferl R, Ricci R, Kenner L, Zenz R, David JP, Rath M et al. (2003). Liver tumor development. c-Jun antagonizes the proapoptotic activity of p53. Cell 112: 181–192.

Ezhevsky SA, Nagahara H, Vocero-Akbani AM, Gius DR, Wei MC, Dowdy SF . (1997). Hypo-phosphorylation of the retinoblastoma protein (pRb) by cyclin D:Cdk4/6 complexes results in active pRb. Proc Natl Acad Sci USA 94: 10699–10704.

Grawunder U, Melchers F, Rolink A . (1993). Interferon-gamma arrests proliferation and causes apoptosis in stromal cell/interleukin-7-dependent normal murine pre-B cell lines and clones in vitro, but does not induce differentiation to surface immunoglobulin-positive B cells. Eur J Immunol 23: 544–551.

Hai T, Curran T . (1991). Cross-family dimerization of transcription factors Fos/Jun and ATF/CREB alters DNA binding specificity. Proc Natl Acad Sci USA 88: 3720–3724.

Halazonetis TD, Georgopoulos K, Greenberg ME, Leder P . (1988). c-Jun dimerizes with itself and with c-Fos, forming complexes of different DNA binding affinities. Cell 55: 917–924.

Hanahan D, Weinberg RA . (2000). The hallmarks of cancer. Cell 100: 57–70.

Herman JG, Graff JR, Myohanen S, Nelkin BD, Baylin SB . (1996). Methylation-specific PCR: a novel PCR assay for methylation status of CpG islands. Proc Natl Acad Sci USA 93: 9821–9826.

Kaplan DH, Shankaran V, Dighe AS, Stockert E, Aguet M, Old LJ et al. (1998). Demonstration of an interferon gamma-dependent tumor surveillance system in immunocompetent mice. Proc Natl Acad Sci USA 95: 7556–7561.

Kenner L, Hoebertz A, Beil T, Keon N, Karreth F, Eferl R et al. (2004). Mice lacking JunB are osteopenic due to cell-autonomous osteoblast and osteoclast defects. J Cell Biol 164: 613–623.

Lee W, Mitchell P, Tjian R . (1987). Purified transcription factor AP-1 interacts with TPA-inducible enhancer elements. Cell 49: 741–752.

Li LC, Dahiya R . (2002). MethPrimer: designing primers for methylation PCRs. Bioinformatics 18: 1427–1431.

Mao X, Lillington D, Child F, Russell-Jones R, Young B, Whittaker S . (2002). Comparative genomic hybridization analysis of primary cutaneous B-cell lymphomas: identification of common genomic alterations in disease pathogenesis. Genes Chromosomes Cancer 35: 144–155.

Mao X, Orchard G, Lillington DM, Russell-Jones R, Young BD, Whittaker SJ . (2003). Amplification and overexpression of JUNB is associated with primary cutaneous T-cell lymphomas. Blood 101: 1513–1519.

Marique T, Werenne J . (2001). Control of 92 kDa collagenase secretion in mammalian cells by modulation of AP-1 activity: an experimentally based theoretical study. J Theor Biol 209: 3–8.

Markevich NI, Hoek JB, Kholodenko BN . (2004). Control of 92 kDa collagenase secretion in mammalian cells by modulation of AP-1 activity: an experimentally based theoretical study. J Cell Biol 164: 353–359.

Mechta-Grigoriou F, Gerald D, Yaniv M . (2001). The mammalian Jun proteins: redundancy and specificity. Oncogene 20: 2378–2389.

Passegue E, Jochum W, Schorpp-Kistner M, Mohle-Steinlein U, Wagner EF . (2001). Chronic myeloid leukemia with increased granulocyte progenitors in mice lacking junB expression in the myeloid lineage. Cell 104: 21–32.

Passegue E, Wagner EF, Weissman IL . (2004). JunB deficiency leads to a myeloproliferative disorder arising from hematopoietic stem cells. Cell 119: 431–443.

Rassidakis GZ, Thomaides A, Atwell C, Ford R, Jones D, Claret FX et al. (2005). JunB expression is a common feature of CD30+ lymphomas and lymphomatoid papulosis. Mod Pathol 18: 1365–1370.

Schorpp-Kistner M, Wang ZQ, Angel P, Wagner EF . (1999). JunB is essential for mammalian placentation. EMBO J 18: 934–948.

Sexl V, Diehl JA, Sherr CJ, Ashmun R, Beach D, Roussel MF . (1999). A rate limiting function of cdc25A for S phase entry inversely correlates with tyrosine dephosphorylation of Cdk2. Oncogene 18: 573–582.

Sexl V, Piekorz R, Moriggl R, Rohrer J, Brown MP, Bunting KD et al. (2000). Stat5a/b contribute to interleukin 7-induced B-cell precursor expansion, but abl- and bcr/abl-induced transformation are independent of stat5. Blood 96: 2277–2283.

Shankaran V, Ikeda H, Bruce AT, White JM, Swanson PE, Old LJ et al. (2001). IFNgamma and lymphocytes prevent primary tumour development and shape tumour immunogenicity. Nature 410: 1107–1111.

Sheaff RJ, Groudine M, Gordon M, Roberts JM, Clurman BE . (1997). Cyclin E-CDK2 is a regulator of p27Kip1. Genes Dev 11: 1464–1478.

Shinkai Y, Rathbun G, Lam KP, Oltz EM, Stewart V, Mendelsohn M et al. (1992). RAG-2-deficient mice lack mature lymphocytes owing to inability to initiate V(D)J rearrangement. Cell 68: 855–867.

Szabowski A, Maas-Szabowski N, Andrecht S, Kolbus A, Schorpp-Kistner M, Fusenig NE et al. (2000). c-Jun and JunB antagonistically control cytokine-regulated mesenchymal-epidermal interaction in skin. Cell 103: 745–755.

Szremska AP, Kenner L, Weisz E, Ott RG, Passegue E, Artwohl M et al. (2003). JunB inhibits proliferation and transformation in B-lymphoid cells. Blood 102: 4159–4165.

Vogelstein B, Kinzler KW . (2004). Cancer genes and the pathways they control. Nat Med 10: 789–799.

Wolff L, Garin MT, Koller R, Bies J, Liao W, Malumbres M et al. (2003). Hypermethylation of the Ink4b locus in murine myeloid leukemia and increased susceptibility to leukemia in p15(Ink4b)-deficient mice. Oncogene 22: 9265–9274.

Wu JX, Carpenter PM, Gresens C, Keh R, Niman H, Morris JW et al. (1990). The proto-oncogene c-fos is over-expressed in the majority of human osteosarcomas. Oncogene 5: 989–1000.

Yang MY, Liu TC, Chang JG, Lin PM, Lin SF . (2003). JunB gene expression is inactivated by methylation in chronic myeloid leukemia. Blood 101: 3205–3211.
Acknowledgements
We thank Udo Losert and the staff of the Biomedical Research Institute (MUW) for taking care of mice. We are grateful to Richard Moriggl, Robert Eferl, Peter Angel and Latifa Bakiri for helpful discussions and to Ursula Unterberger and Cornelia Stock for technical help. This work was supported by Grants P15865 and SFB-F28 of the Austrian Science Foundation (FWF) dedicated to VS and by a DOC stipend of the Austrian Academy of Sciences to RGO.
About this article
Cite this article
Ott, R., Simma, O., Kollmann, K. et al. JunB is a gatekeeper for B-lymphoid leukemia. Oncogene 26, 4863–4871 (2007). https://doi.org/10.1038/sj.onc.1210285
Received:

Revised:

Accepted:

Published:

Issue Date:

DOI: https://doi.org/10.1038/sj.onc.1210285
Keywords