Abstract
The phosphatidyl inositol 3-kinase (PI3K)/Akt pathway is activated downstream of a variety of extracellular signals and activation of this signaling pathway impacts a number of cellular processes including cell growth, proliferation and survival. The alteration of components of this pathway, through either activation of oncogenes or inactivation of tumor suppressors, disrupts a signaling equilibrium and can thus lead to cellular transformation. The frequent dysregulation of the PI3K/Akt pathway in human cancer has made components of this pathway attractive for therapeutic targeting; however, a more comprehensive understanding of the signaling intricacies is necessary to develop pharmacological agents to target not only specific molecules, but also specific functions. Here, we review a series of experiments examining the contribution of molecules of this signaling network including PI3K, phosphatase and tensin homolog deleted on chromosome 10, integrin-linked kinase and Akt and address the significance to human breast cancer.
Relevant articles
Open Access articles citing this article.
Antonino Glaviano

,

Aaron S. C. Foo

…

Alan P. Kumar

Molecular Cancer Open Access 18 August 2023

Aysooda Hosseinzadeh

,

Parnaz Merikhian

…

Leila Farahmand

Cancer Cell International Open Access 05 March 2022

Jiachuan Yu

,

Yuanyuan Luo

&

Qingping Wen

Journal of Experimental & Clinical Cancer Research Open Access 15 May 2019
Access options
Subscribe to this journal
Receive 50 print issues and online access
$259.00 per year
only $5.18 per issue
Rent or buy this article
Prices vary by article type
from$1.95
to$39.95
Prices may be subject to local taxes which are calculated during checkout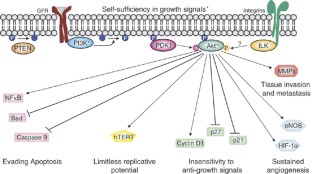 References
Ackler S, Ahmad S, Tobias C, Johnson MD, Glazer RI . (2002). Delayed mammary gland involution in MMTV-AKT1 transgenic mice. Oncogene 21: 198–206.

Ahmed N, Riley C, Oliva K, Stutt E, Rice GE, Quinn MA . (2003). Integrin-linked kinase expression increases with ovarian tumour grade and is sustained by peritoneal tumour fluid. J Pathol 201: 229–237.

Arboleda MJ, Lyons JF, Kabbinavar FF, Bray MR, Snow BE, Ayala R et al. (2003). Overexpression of Akt2/protein kinase Bβ leads to up-regulation of β1 integrins, increased invasion, and metastasis of human breast and ovarian cancer cells. Cancer Res 63: 196–206.

Attwell S, Roskelley C, Dedhar S . (2000). The integrin-linked kinase (ILK) suppresses anoikis. Oncogene 19: 3811–3815.

Bachman KE, Argani P, Samuels Y, Silliman N, Ptak J, Szabo S et al. (2004). The PIK3CA gene is mutated with high frequency in human breast cancers. Cancer Biol Ther 3: 772–775.

Bellacosa A, de Feo D, Godwin AK, Bell DW, Cheng JQ, Altomare DA et al. (1995). Molecular alterations of the AKT2 oncogene in ovarian and breast carcinomas. Int J Cancer 64: 280–285.

Brakebusch C, Fassler R . (2003). The integrin-actin connection, an eternal love affair. EMBO J 22: 2324–2333.

Bravou V, Klironomos G, Papadaki E, Taraviras S, Varakis V . (2006). ILK over-expression in human colon cancer progression correlates with activation of β-catenin, down-regulation of E-cadherin and activation of the Akt-FKHR pathway. J Pathol 208: 91–99.

Brunet A, Bonni A, Zigmond MJ, Lin MZ, Juo P, Hu LS et al. (1999). Akt promotes cell survival by phosphorylating and inhibiting a forkhead transcription factor. Cell 96: 857–868.

Chen WS, Xu PZ, Gottlob K, Chen ML, Sokol K, Shiyanova T et al. (2001). Growth retardation and increased apoptosis in mice with homozygous disruption of the akt1 gene. Genes Dev 15: 2203–2208.

Cho H, Mu J, Kim JK, Thorvaldsen JL, Chu Q, Crenshaw III EB et al. (2001a). Insulin resistance and a diabetes mellitus-like syndrome in mice lacking the protein kinase Akt2 (PKBβ). Science 292: 1728–1731.

Cho H, Thorvaldsen JL, Chu Q, Feng F, Birnbaum MJ . (2001b). Akt1/PKBα is required for normal growth but dispensible for maintenance of glucose homeostasis in mice. J Biol Chem 276: 38349–38352.

Chung DH, Lee JI, Kook MC, Kim JR, Kim SH, Choi EY et al. (1998). ILK (beta1-integrin-linked protein kinase): a novel immunohistochemical marker for Ewing's sarcoma and primitive neuroectodermal tumour. Virchows Arch 433: 113–117.

Cross DA, Alessi DR, Cohen P, Andjelkovich M, Hemmings BA . (1995). Inhibition of glycogen cynthase kinase-3 by insulin mediated protein kinase B. Nature 378: 785–789.

Dahia PL, Marsh DJ, Zheng Z, Zedenius J, Komminoth P, Frisk T et al. (1997). Somatic deletions and mutations in the Cowden disease gene, PTEN, in sporadic thyroid tumors. Cancer Res 57: 4710–4713.

Dai DL, Makretsov N, Campos EI, Huang C, Zhou Y, Huntsman D et al. (2003). Increased expression of integrin-linked kinase is correlated with melanoma progression and poor patient survival. Clin Cancer Res 9: 4409–4414.

D'Amico M, Hulit J, Amanatullah DF, Zafonte BT, Albanese C, Bouzahzah B et al. (2000). The integrin-linked kinase regulates the cyclin D1 gene through glycogen synthase kinase 3beta and cAMP-responsive element-binding protein-dependent pathways. J Biol Chem 275: 32649–32657.

Datta SR, Dudek H, Tao X, Masters S, Fu H, Gotoh Y et al. (1997). Akt phosphorylation of BAD couples survival signals to the cell-intrinsic death machinery. Cell 91: 231–241.

del Peso L, Gonzalez-Garcia M, Page C, Herrera R, Nunez G . (1997). Interleukin-3-induced phosphorylation of BAD through the protein kinase Akt. Science 278: 687–689.

Delcommenne M, Tan C, Gray V, Rue L, Woodgett J, Dedhar S . (1998). Phosphoinositide-3-OH kinase-dependent regulation of glycogen synthase kinase 3 and protein kinase B/AKT by the integrin-linked kinase. Proc Natl Acad Sci USA 95: 11211–11216.

Deprez J, Vertommen D, Alessi DR, Hue L, Rider MH . (1997). Phosphorylation and activation of heart glucose 6-phosphofructo-2-kinase by protein kinase B and other protein kinases of the insulin signaling cascade. J Biol Chem 272: 17269–17275.

Diehl JA, Cheng M, Roussel MF, Sherr CJ . (1998). Glycogen synthase kinase-3β regulates cyclin D1 proteolysis and subcellular localization. Genes Dev 12: 3499–3511.

Easton RM, Cho H, Roovers K, Shineman DW, Mizrahi M, Forman MS et al. (2005). Role for Akt3/protein kinase Bγ in attainment of normal brain size. Mol Cell Biol 25: 1869–1878.

Edwards LA, Thiessen B, Dragowska WH, Daynard T, Bally MB, Dedhar S . (2005). Inhibition of ILK in PTEN-mutant human glioblastomas inhibits PKB/Akt activation, induces apoptosis, and delays tumor growth. Oncogene 24: 3596–3605.

Garcia JM, Silva JM, Dominguez G, Gonzalez R, Navarro A, Carretero L et al. (1999). Allelic loss of the PTEN region (10q23) in breast carcinomas of poor pathophenotype. Breast Cancer Res Treat 57: 237–243.

Graff JR, Deddens JA, Konicek BW, Colligan BM, Hurst BM, Carter HW et al. (2001). Integrin-linked kinase expression increases with prostate tumor grade. Clin Cancer Res 7: 1987–1991.

Hanahan D, Weinberg RA . (2000). The hallmarks of cancer. Cell 100: 57–70.

Hannigan GE, Leung-Hagesteijn C, Fitz-Gibbon L, Coppolino MG, Radeva G, Filmus J et al. (1996). Regulation of cell adhesion and anchorage-dependent growth by a new beta 1-integrin-linked protein kinase. Nature 379: 91–96.

Hennessy BT, Smith DL, Ram PT, Lu T, Mills GB . (2005). Exploiting the PI3K/AKT pathway for cancer drug discovery. Nat Rev Drug Disc 4: 988–1004.

Hutchinson J, Jin J, Cardiff RD, Woodgett JR, Muller WJ . (2001). Activation of Akt (protein kinase B) in mammary epithelium provides a critical cell survival signal required for tumor progression. Mol Cell Biol 21: 2203–2212.

Hutchinson JN, Jin J, Cardiff RD, Woodgett JR, Muller WJ . (2004). Activation of Akt-1 (PKB-alpha) can accelerate ErbB-2-mediated mammary tumorigenesis but suppresses tumor invasion. Cancer Res 64: 3171–3178.

Irie HY, Pearline RV, Grueneberg D, Hsia M, Ravichandran P, Kothari N et al. (2005). Distinct roles of Akt1 and Akt2 in regulating cell migration and epithelial-mesenchymal transition. J Cell Biol 171: 1023–1034.

Kane LP, Shapiro VS, Stokoe D, Weiss A . (1999). Induction of NF-κB by the Akt/PKB kinase. Curr Biol 9: 601–604.

Kang S, Bader AG, Vogt PK . (2005). Phosphatidylinositol 3-kinase mutations identified in human cancer are oncogenic. Proc Natl Acad Sci USA 102: 802–807.

Kawakami Y, Nishimoto H, Kitaura J, Maeda-Yamamoto M, Kato RM, Littman DR et al. (2004). Protein kinase C βII regulates Akt phosphorylation on Ser-473 in a cell type- and stimulus-specific fashion. J Biol Chem 279: 47720–47725.

Kohn AD, Summers SA, Birnbaum MJ, Roth RA . (1996). Expression of a constitutively active Akt Ser/Thr kinase in 3T3-L1 adipocytes stimulates glucose uptake and glucose transporter 4 translocation. J Biol Chem 271: 31372–31378.

Koul D, Shen R, Bergh S, Lu Y, de Groot JF, Liu TJ et al. (2005). Targeting integrin-linked kinase inhibits Akt signaling pathways and decreases tumor progression of human glioblastoma. Mol Cancer Ther 4: 1681–1688.

Larue L, Bellacosa A . (2005). Epithelial-mesenchymal transition in development and cancer: role of phosphatidylinositol 3′ kinase/AKT pathways. Oncogene Rev 24: 7443–7454.

Li G, Robinson GW, Lesche R, Martinez-Diaz H, Jiang Z, Rozengurt N et al. (2002). Conditional loss of PTEN leads to precocious development and neoplasia in the mammary gland. Development 129: 4159–4170.

Li Y, Corradetti MN, Inoki K, Guan KL . (2004). TSC2: Filling the GAP in the mTOR signaling pathway. Trends Biochem Sci 29: 32–38.

Li Y, Podsypanina K, Liu X, Crane A, Tan LK, Parsons R et al. (2001). Deficiency of Pten accelerates mammary oncogenesis in MMTV-Wnt-1 transgenic mice. BMC Mol Biol 2: 2–10.

Liaw D, Marsh DJ, Li J, Dahia PL, Wang SI, Zheng Z et al. (1997). Germline mutations of the PTEN gene in Cowden disease, an inherited breast and thyroid cancer syndrome. Nat Genet 16: 64–67.

Lynch DK, Ellis CA, Edwards PA, Hiles ID . (1999). Integrin-linked kinase regulates phosphorylation of serine 473 of protein kinase B by an indirect mechanism. Oncogene 18: 8024–8032.

Mackinnon AC, Qadota H, Norman KR, Moerman DG, Williams BD . (2002). C. elegans PAT-4/ILK functions as an adaptor protein within integrin adhesion complexes. Curr Biol 12: 787–797.

Marotta A, Tan C, Gray V, Malik S, Gallinger S, Sanghera J et al. (2001). Dysregulation of integrin-linked kinase (ILK) signaling in colonic polyposis. Oncogene 20: 6250–6257.

Minobe K, Bando K, Fukino K, Soma S, Kasumi F, Sakamoto G et al. (1999). Somatic mutation of the PTEN/MMAC1 gene in breast cancers with microsatellite instability. Cancer Lett 144: 9–16.

Nakatani K, Thompson DA, Barthel A, Sakaue H, Liu W, Weigel RJ et al. (1999). Up-regulation of Akt3 in estrogen receptor-deficient breast cancers and androgen-independent prostate cancer lines. J Biol Chem 274: 21528–21532.

Nelen MR, van Staveren WC, Peeters EA, Hassel MB, Gorlin RJ, Hamm H et al. (1997). Germline mutations in the PTEN/MMAC1 gene in patients with Cowden disease. Hum Mol Genet 6: 1383–1387.

Ozes ON, Mayo LD, Gustin JA, Pfeffer SR, Donner DB . (1999). NF-κB activation by tumor necrosis factor required the Akt serine-threonine kinase. Nature 401: 82–85.

Persad S, Attwell S, Gray V, Delcommenne M, Troussard A, Sanghera J et al. (2000). Inhibition of integrin-linked kinase (ILK) suppresses activation of protein kinase B/Akt and induces cell cycle arrest and apoptosis of PTEN-mutant prostate cancer cells. Proc Natl Acad Sci USA 97: 3207–3212.

Persad S, Attwell S, Gray V, Mawji N, Deng JT, Leung D et al. (2001). Regulation of protein kinase B/Akt-serine 473 phosphorylation by integrin-linked kinase. Critical roles for kinase activity and amino acids arginine 211 and serine 343. J Biol Chem 276: 27462–27469.

Rhei E, Kang L, Bogomolniy F, Federici MG, Borgen PI, Boyd J . (1997). Mutation analysis of the putative tumor suppressor gene PTEN/MMAC1 in primary breast carcinomas. Cancer Res 57: 3657–3659.

Romashkova JA, Makarov SS . (1999). NF-κB is a target of AKT in anti-apoptotic PDGF signaling. Nature 401: 86–90.

Saal LH, Holm K, Maurer M, Memeo L, Su T, Wang X et al. (2005). PIK3CA mutations correlate with hormone receptors, node metastasis, and ErbB2, and are mutually exclusive with PTEN loss in human breast carcinoma. Cancer Res 65: 2554–2559.

Samuels Y, Wang Z, Bardelli A, Silliman N, Ptak J, Szabo S et al. (2004). High frequency of mutations of the PIK3CA gene in human cancers. Science 304: 554.

Sarbassov DD, Guertin DA, Ali AM, Sabatini DM . (2005). Phosphorylation and regulation of Akt/PKB by the rictor-mTOR complex. Science 307: 1098–1101.

Schwertfeger KL, McManaman JL, Palmer CA, Neville MC, Anderson SM . (2003). Expression of constitutively activated Akt in the mammary gland leads to excess lipid synthesis during pregnancy and lactation. J Lipid Res 44: 1100–1112.

Schwertfeger KL, Richert MM, Anderson SM . (2001). Mammary gland involution is delayed by activated akt in transgenic mice. Mol Endocrinol 15: 867–881.

Sizemore N, Leung S, Stark GR . (1999). Activation of phosphatidylinositol 3-kinase in response to interleukin-1 leads to phosphorylation and activation of the NF-κB p65/RelA subunit. Mol Cell Biol 19: 4798–4805.

Stal O, Perez-Tenotio G, Akerberg L, Olsson B, Nordenskjold B, Skoog L et al. (2003). Akt kinases in breast cancer and the results of adjuvant therapy. Breast Cancer Res 5: R37–R44.

Stambolic V, Tsao MS, Macpherson D, Suzuki A, Chapman WB, Mak TW . (2000). High incidence of breast and endometrial neoplasia resembling human Cowden syndrome in pten+/− mice. Cancer Res 60: 3605–3611.

Steck PA, Pershouse MA, Jasser SA, Yung WK, Lin H, Ligon AH et al. (1997). Identification of a candidate tumour suppressor gene, MMAC1, at chromosome 10q23.3 that is mutated in multiple advanced cancers. Nat Genet 15: 356–362.

Sun M, Wang G, Paciga JE, Feldman RI, Yuan ZQ, Ma X et al. (2001). AKT1/PKBα kinase is frequently elevated in human cancers and its constitutive activation is required for oncogenic transformation in NIH3T3 cells. Am J Pathol 159: 431–437.

Tan C, Cruet-Hennequart S, Troussard A, Fazli L, Costello P, Sutton K et al. (2004). Regulation of tumor angiogenesis by integrin-linked kinase (ILK). Cancer Cell 5: 79–90.

Teng DH, Hu R, Lin H, Davis T, Iliev D, Frye C et al. (1997). MMAC1/PTEN mutations in primary tumor specimens and tumor cell lines. Cancer Res 57: 5221–5225.

Thant AA, Nawa A, Kikkawa F, Ichigotani Y, Zhang Y, Sein TT et al. (2000). Fibronectin activates matrix metalloproteinase-9 secretion via the MEK1-MAPK and the PI3K-Akt pathways in ovarian cancer cells. Clin Exp Metastasis 18: 423–428.

Toker A, Newton AC . (2000). Akt/protein kinase B is regulated by autophosphorylation at the hypothetical PDK-2 site. J Biol Chem 275: 8271–8274.

Tschopp O, Yang Z-Z, Brodbeck D, Duemmler B, Hemmings-Mieszczak M, Watanabe T et al. (2005). Essential role of protein kinase Bγ (PKBγ/Akt3) in postnatal brain development, but not for glucose homeostasis. Development 132: 2943–2954.

Tu Y, Huang Y, Zhang Y, Hua Y, Wu C . (2001). A new focal adhesion protein that interacts with integrin-linked kinase and regulates cell adhesion and spreading. J Cell Biol 153: 585–598.

Viglietto G, Motti ML, Bruni P, Melillo RM, D'Alessio A, Califano D et al. (2002). Cytoplasmic relocalization and inhibition of the cyclin-dependent kinase inhibitor p27(Kip1) by PKB/Akt-mediated phosphorylation in breast cancer. Nat Med 8: 1136–1144.

Wang S, Garcia AJ, Wu M, Lawson DA, Witte ON, Wu H . (2006). Pten deletion leads to the expansion of a prostatic stem/progenitor cell subpopulation and tumor initiation. Proc Natl Acad Sci USA 103: 1480–1485.

West KA, Castillo SS, Dennis PA . (2002). Activation of the PI3K/Akt pathway and chemotherapeutic resistance. Drug Resist Update 5: 234–248.

White DE, Cardiff RD, Dedhar S, Muller WJ . (2001). Mammary epithelial-specific expression of the integrin-linked kinase (ILK) results in the induction of mammary gland hyperplasias and tumors in transgenic mice. Oncogene 20: 7064–7072.

Wu C . (2001). ILK interactions. J Cell Sci 114: 2549–2550.

Wu C, Keightley SY, Leung-Hagesteijn C, Radeva G, Coppolino M, Goicoechea S et al. (1998). Integrin-linked protein kinase regulates fibronectin matrix assembly, E-cadherin expression, and tumorigenicity. J Biol Chem 273: 528–536.

Yamaji S, Suzuki A, Sugiyama Y, Koide Y, Yoshida MKH, Mohri H et al. (2001). A novel integrin-linked kinase-binding protein, affixin, is involved in the early stage of cell-substrate interaction. J Cell Biol 153: 1251–1264.

Yoeli-Lerner M, Yiu GK, Rabinovitz I, Erhardt P, Jauliac S, Toker A . (2005). Akt blocks breast cancer cell motility and invasion through the transcription factor NFAT. Mol Cell 20: 539–550.

Younes MN, Kim S, Yigitbasi OG, Mandal M, Jasser SA, Dakak Yazici Y et al. (2005). Integrin-linked kinase is a potential therapeutic target for anaplastic thyroid cancer. Mol Cancer Ther 4: 1146–1156.

Zervas CG, Brown NH . (2002). Integrin adhesion: when is a kinase a kinase? Curr Biol 152: R350–R351.

Zervas CG, Gregory SL, Brown NH . (2001). Drosophila integrin-linked kinase is required at sites of integrin adhesion to link the cytoskeleton to the plasma membrane. J Cell Biol 12: 1007–1018.

Zhou BP, Liao Y, Xia W, Spohn B, Lee MH, Hung MC . (2001). Cytoplasmic localization of p21Cip1/WAF1 by Akt-induced phosphorylation in HER-2/neu-overexpressing cells. Nat Cell Biol 3: E71–E73.
Acknowledgements
WJM is supported by CRC Chair in Molecular Oncology. RLD is supported by a pre-doctoral award from the DOD. This work was supported by grants from NCI PPG #102036 and CBCRA awarded to WJM.
About this article
Cite this article
Dillon, R., White, D. & Muller, W. The phosphatidyl inositol 3-kinase signaling network: implications for human breast cancer. Oncogene 26, 1338–1345 (2007). https://doi.org/10.1038/sj.onc.1210202
Published:

Issue Date:

DOI: https://doi.org/10.1038/sj.onc.1210202
Keywords
PI3K

Akt

PTEN

ILK

breast cancer