Abstract
The cooperation of Ras – extracellular signal-regulated kinase/mitogen-activated protein kinase and transforming growth factor (TGF)-β signaling provokes an epithelial to mesenchymal transition (EMT) of differentiated p19ARF null hepatocytes, which is accompanied by a shift in malignancy and gain of metastatic properties. Upon EMT, TGF-β induces the secretion and autocrine regulation of platelet-derived growth factor (PDGF) by upregulation of PDGF-A and both PDGF receptors. Here, we demonstrate by loss-of-function analyses that PDGF provides adhesive and migratory properties in vitro as well as proliferative stimuli during tumor formation. PDGF signaling resulted in the activation of phosphatidylinositol-3 kinase, and furthermore associated with nuclear β-catenin accumulation upon EMT. Hepatocytes expressing constitutively active β-catenin or its negative regulator Axin were employed to study the impact of nuclear β-catenin. Unexpectedly, active β-catenin failed to accelerate proliferation during tumor formation, but in contrast, correlated with growth arrest. Nuclear localization of β-catenin was accompanied by strong expression of the Cdk inhibitor p16INK4A and the concomitant induction of the β-catenin target genes cyclin D1 and c-myc. In addition, active β-catenin revealed protection of malignant hepatocytes against anoikis, which provides a prerequisite for the dissemination of carcinoma. From these data, we conclude that TGF-β acts tumor progressive by induction of PDGF signaling and subsequent activation of β-catenin, which endows a subpopulation of neoplastic hepatocytes with features of cancer stem cells.
Relevant articles
Open Access articles citing this article.
Mengzhen Han

,

Zhibin Liao

…

Bixiang Zhang

Biomarker Research Open Access 01 December 2020

Beom Jin Lim

,

Woon-Kyu Lee

…

Jung Il Lee

Cell Communication and Signaling Open Access 03 December 2018

Shangce Du

,

Ji Miao

…

Xuefeng Xia

Cell Death & Disease Open Access 20 September 2018
Access options
Subscribe to this journal
Receive 50 print issues and online access
$259.00 per year
only $5.18 per issue
Rent or buy this article
Prices vary by article type
from$1.95
to$39.95
Prices may be subject to local taxes which are calculated during checkout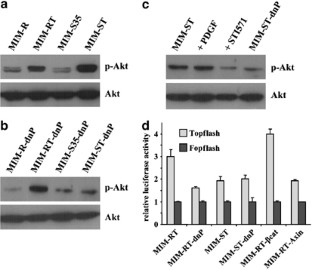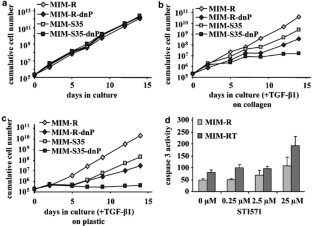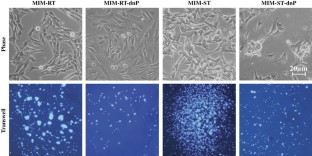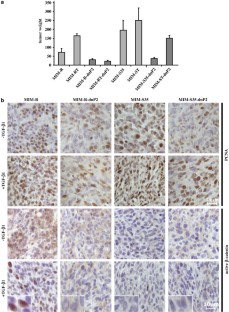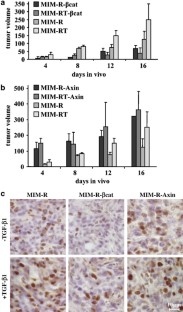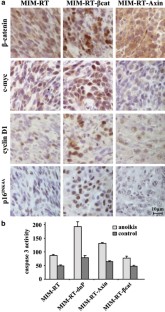 References
Artemenko Y, Gagnon A, Aubin D, Sorisky A . (2005). Anti-adipogenic effect of PDGF is reversed by PKC inhibition. J Cell Physiol 204: 646–653.

Barth AI, Stewart DB, Nelson WJ . (1999). T cell factor-activated transcription is not sufficient to induce anchorage-independent growth of epithelial cells expressing mutant beta-catenin. Proc Natl Acad Sci USA 96: 4947–4952.

Battegay EJ, Rupp J, Iruela-Arispe L, Sage EH, Pech M . (1994). PDGF-BB modulates endothelial proliferation and angiogenesis in vitro via PDGF beta-receptors. J Cell Biol 125: 917–928.

Bissell DM . (2001). Chronic liver injury, TGF-beta, and cancer. Exp Mol Med 33: 179–190.

Brabletz T, Jung A, Spaderna S, Hlubek F, Kirchner T . (2005). Opinion: migrating cancer stem cells – an integrated concept of malignant tumour progression. Nat Rev Cancer 5: 744–749.

Buendia MA . (2000). Genetics of hepatocellular carcinoma. Semin Cancer Biol 10: 185–200.

Capdeville R, Buchdunger E, Zimmermann J, Matter A . (2002). Glivec (STI571, imatinib), a rationally developed, targeted anticancer drug. Nat Rev Drug Discov 1: 493–502.

Chambers AF, Groom AC, MacDonald IC . (2002). Dissemination and growth of cancer cells in metastatic sites. Nat Rev Cancer 2: 563–572.

Damalas A, Kahan S, Shtutman M, Ben-Ze'ev A, Oren M . (2001). Deregulated beta-catenin induces a p53- and ARF-dependent growth arrest and cooperates with Ras in transformation. EMBO J 20: 4912–4922.

de La Coste A, Romagnolo B, Billuart P, Renard CA, Buendia MA, Soubrane O et al. (1998). Somatic mutations of the beta-catenin gene are frequent in mouse and human hepatocellular carcinomas. Proc Natl Acad Sci USA 95: 8847–8851.

Derynck R, Akhurst RJ, Balmain A . (2001). TGF-beta signaling in tumor suppression and cancer progression. Nat Genet 29: 117–129.

Desbois-Mouthon C, Cadoret A, Blivet-Van Eggelpoel MJ, Bertrand F, Cherqui G, Perret C et al. (2001). Insulin and IGF-1 stimulate the beta-catenin pathway through two signalling cascades involving GSK-3beta inhibition and Ras activation. Oncogene 20: 252–259.

Fischer AN, Herrera B, Mikula M, Proell V, Fuchs E, Gotzmann J et al. (2005). Integration of Ras subeffector signaling in TGF-beta mediated late stage hepatocarcinogenesis. Carcinogenesis 26: 931–942.

Friedl J, Stift A, Paolini P, Roth E, Steger GG, Mader R et al. (2000). Tumor antigen pulsed dendritic cells enhance the cytolytic activity of tumor infiltrating lymphocytes in human hepatocellular cancer. Cancer Biother Radiopharm 15: 477–486.

Friedl P, Wolf K . (2003). Tumour-cell invasion and migration: diversity and escape mechanisms. Nat Rev Cancer 3: 362–374.

Frisch SM, Screaton RA . (2001). Anoikis mechanisms. Curr Opin Cell Biol 13: 555–562.

Galli A, Crabb D, Price D, Ceni E, Salzano R, Surrenti C et al. (2000). Peroxisome proliferator-activated receptor gamma transcriptional regulation is involved in platelet-derived growth factor-induced proliferation of human hepatic stellate cells. Hepatology 31: 101–108.

Gotzmann J, Fischer AN, Zojer M, Mikula M, Proell V, Huber H et al. (2006). A crucial function of PDGF in TGF-beta-mediated cancer progression of hepatocytes. Oncogene 25: 3170–3185.

Gotzmann J, Huber H, Thallinger C, Wolschek M, Jansen B, Schulte-Hermann R et al. (2002). Hepatocytes convert to a fibroblastoid phenotype through the cooperation of TGF-beta1 and Ha-Ras: steps towards invasiveness. J Cell Sci 115: 1189–1202.

Grunert S, Jechlinger M, Beug H . (2003). Diverse cellular and molecular mechanisms contribute to epithelial plasticity and metastasis. Nat Rev Mol Cell Biol 4: 657–665.

He TC, Sparks AB, Rago C, Hermeking H, Zawel L, da Costa LT et al. (1998). Identification of c-MYC as a target of the APC pathway. Science 281: 1509–1512.

Jho EH, Zhang T, Domon C, Joo CK, Freund JN, Costantini F . (2002). Wnt/beta-catenin/Tcf signaling induces the transcription of Axin2, a negative regulator of the signaling pathway. Mol Cell Biol 22: 1172–1183.

Jung A, Schrauder M, Oswald U, Knoll C, Sellberg P, Palmqvist R et al. (2001). The invasion front of human colorectal adenocarcinomas shows co-localization of nuclear beta-catenin, cyclin D(1), and p16(INK4A) and is a region of low proliferation. Am J Pathol 159: 1613–1617.

Lu D, Cottam HB, Corr M, Carson DA . (2005). Repression of beta-catenin function in malignant cells by nonsteroidal antiinflammatory drugs. Proc Natl Acad Sci USA 102: 18567–18571.

Lu Z, Ghosh S, Wang Z, Hunter T . (2003). Downregulation of caveolin-1 function by EGF leads to the loss of E-cadherin, increased transcriptional activity of beta-catenin, and enhanced tumor cell invasion. Cancer Cell 4: 499–515.

Mao TL, Chu JS, Jeng YM, Lai PL, Hsu HC . (2001). Expression of mutant nuclear beta-catenin correlates with non-invasive hepatocellular carcinoma, absence of portal vein spread, and good prognosis. J Pathol 193: 95–101.

Matsuzaki K, Date M, Furukawa F, Tahashi Y, Matsushita M, Sakitani K et al. (2000). Autocrine stimulatory mechanism by transforming growth factor beta in human hepatocellular carcinoma. Cancer Res 60: 1394–1402.

Merle P, de la Monte S, Kim M, Herrmann M, Tanaka S, Von Dem Bussche A et al. (2004). Functional consequences of frizzled-7 receptor overexpression in human hepatocellular carcinoma. Gastroenterology 127: 1110–1122.

Mikula M, Fuchs E, Huber H, Beug H, Schulte-Hermann R, Mikulits W . (2004). Immortalized p19ARF null hepatocytes restore liver injury and generate hepatic progenitors after transplantation. Hepatology 39: 628–634.

Mikula M, Proell V, Fischer AN, Mikulits W . (2006). Activated hepatic stellate cells induce tumor progression of neoplastic hepatocytes in a TGF-beta dependent fashion. J Cell Physiol 209: 560–567.

Nhieu JT, Renard CA, Wei Y, Cherqui D, Zafrani ES, Buendia MA . (1999). Nuclear accumulation of mutated beta-catenin in hepatocellular carcinoma is associated with increased cell proliferation. Am J Pathol 155: 703–710.

Nijhara R, Jana SS, Goswami SK, Rana A, Majumdar SS, Kumar V et al. (2001). Sustained activation of mitogen-activated protein kinases and activator protein 1 by the hepatitis B virus X protein in mouse hepatocytes in vivo. J Virol 75: 10348–10358.

Pinzani M, Milani S, Herbst H, DeFranco R, Grappone C, Gentilini A et al. (1996). Expression of platelet-derived growth factor and its receptors in normal human liver and during active hepatic fibrogenesis. Am J Pathol 148: 785–800.

Proell V, Mikula M, Fuchs E, Mikulits W . (2005). The plasticity of p19 ARF null hepatic stellate cells and the dynamics of activation. Biochim Biophys Acta 1744: 76–87.

Reya T, Duncan AW, Ailles L, Domen J, Scherer DC, Willert K et al. (2003). A role for Wnt signalling in self-renewal of haematopoietic stem cells. Nature 423: 409–414.

Roberts AB, Wakefield LM . (2003). The two faces of transforming growth factor beta in carcinogenesis. Proc Natl Acad Sci USA 100: 8621–8623.

Rossmanith W, Schulte-Hermann R . (2001). Biology of transforming growth factor beta in hepatocarcinogenesis. Microsc Res Tech 52: 430–436.

Saldanha G, Ghura V, Potter L, Fletcher A . (2004). Nuclear beta-catenin in basal cell carcinoma correlates with increased proliferation. Br J Dermatol 151: 157–164.

Schneller M, Vuori K, Ruoslahti E . (1997). Alphavbeta3 integrin associates with activated insulin and PDGFbeta receptors and potentiates the biological activity of PDGF. EMBO J 16: 5600–5607.

Shtutman M, Zhurinsky J, Simcha I, Albanese C, D'Amico M, Pestell R et al. (1999). The cyclin D1 gene is a target of the beta-catenin/LEF-1 pathway. Proc Natl Acad Sci USA 96: 5522–5527.

Siegel PM, Massague J . (2003). Cytostatic and apoptotic actions of TGF-beta in homeostasis and cancer. Nat Rev Cancer 3: 807–821.

Thiery JP . (2002). Epithelial-mesenchymal transitions in tumour progression. Nat Rev Cancer 2: 442–454.

Tsuboi Y, Ichida T, Sugitani S, Genda T, Inayoshi J, Takamura M et al. (2004). Overexpression of extracellular signal-regulated protein kinase and its correlation with proliferation in human hepatocellular carcinoma. Liver Int 24: 432–436.

Weng Z, Xin M, Pablo L, Grueneberg D, Hagel M, Bain G et al. (2002). Protection against anoikis and down-regulation of cadherin expression by a regulatable beta-catenin protein. J Biol Chem 277: 18677–18686.

Wong CM, Fan ST, Ng IO . (2001). beta-Catenin mutation and overexpression in hepatocellular carcinoma: clinicopathologic and prognostic significance. Cancer 92: 136–145.

Xu XR, Huang J, Xu ZG, Qian BZ, Zhu ZD, Yan Q et al. (2001). Insight into hepatocellular carcinogenesis at transcriptome level by comparing gene expression profiles of hepatocellular carcinoma with those of corresponding noncancerous liver. Proc Natl Acad Sci USA 98: 15089–15094.

Yu J, Deuel TF, Kim HR . (2000). Platelet-derived growth factor (PDGF) receptor-alpha activates c-Jun NH2-terminal kinase-1 and antagonizes PDGF receptor-beta -induced phenotypic transformation. J Biol Chem 275: 19076–19082.

Zavadil J, Bitzer M, Liang D, Yang YC, Massimi A, Kneitz S et al. (2001). Genetic programs of epithelial cell plasticity directed by transforming growth factor-beta. Proc Natl Acad Sci USA 98: 6686–6691.

Zeng L, Fagotto F, Zhang T, Hsu W, Vasicek TJ, Perry III WL et al. (1997). The mouse Fused locus encodes Axin, an inhibitor of the Wnt signaling pathway that regulates embryonic axis formation. Cell 90: 181–192.

Zhou L, An N, Haydon RC, Zhou Q, Cheng H, Peng Y et al. (2003). Tyrosine kinase inhibitor STI-571/Gleevec down-regulates the beta-catenin signaling activity. Cancer Lett 193: 161–170.
Acknowledgements
We thank Frank Costantini and Tannishtha Reya for providing the Axin construct and the constitutively active β-catenin construct for retroviral transmission, respectively. This work was supported by the Austrian Science Fund (FWF, SFB F28) and by the 'Jubiläumsfonds der Oesterreichischen Nationalbank', OENB 10171, Austria.
About this article
Cite this article
Fischer, A., Fuchs, E., Mikula, M. et al. PDGF essentially links TGF-β signaling to nuclear β-catenin accumulation in hepatocellular carcinoma progression. Oncogene 26, 3395–3405 (2007). https://doi.org/10.1038/sj.onc.1210121
Received:

Revised:

Accepted:

Published:

Issue Date:

DOI: https://doi.org/10.1038/sj.onc.1210121
Keywords
hepatocyte

epithelial to mesenchymal transition

TGF-β

PDGF

β-catenin