Abstract
The gene for E3 ubiquitin ligase WWP1 is located at 8q21, a region frequently amplified in human cancers, including prostate cancer. Recent studies have shown that WWP1 negatively regulates the TGFβ tumor suppressor pathway by inactivating its molecular components, including Smad2, Smad4 and TβR1. These findings suggest an oncogenic role of WWP1 in carcinogenesis, but direct supporting evidence has been lacking. In this study, we examined WWP1 for gene dosage, mRNA expression, mutation and functions in a number of human prostate cancer samples. We found that the WWP1 gene had copy number gain in 15 of 34 (44%) xenografts and cell lines from prostate cancer and 15 of 49 (31%) clinical prostate cancer samples. Consistently, WWP1 was overexpressed in 60% of xenografts and cell lines from prostate cancer. Mutation of WWP1 occurred infrequently in prostate cancer. Functionally, WWP1 overexpression promoted colony formation in the 22Rv1 prostate cancer cell line. In PC-3 prostate cancer cells, WWP1 knockdown significantly suppressed cell proliferation and enhanced TGFβ-mediated growth inhibition. These findings suggest that WWP1 is an oncogene that undergoes genomic amplification at 8q21 in human prostate cancer, and WWP1 overexpression is a common mechanism involved in the inactivation of TGFβ function in human cancer.
Relevant articles
Open Access articles citing this article.
Xiaoli Hu

,

Jiangtao Yu

…

Gang Chen

Cell Death Discovery Open Access 21 June 2021

Ling Chen

,

Shuang Liu

&

Yongguang Tao

Signal Transduction and Targeted Therapy Open Access 10 June 2020

Zhen Wang

,

Ziheng Liu

…

Wenyu Wen

Nature Communications Open Access 18 July 2019
Access options
Subscribe to Journal
Get full journal access for 1 year
$119.00
only $2.38 per issue
All prices are NET prices.
VAT will be added later in the checkout.
Tax calculation will be finalised during checkout.
Buy article
Get time limited or full article access on ReadCube.
$32.00
All prices are NET prices.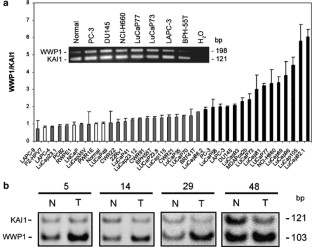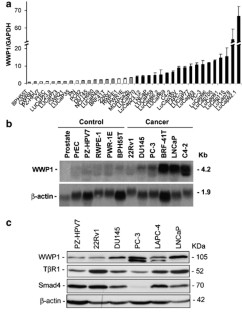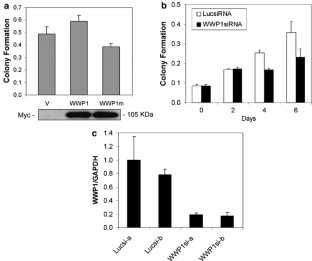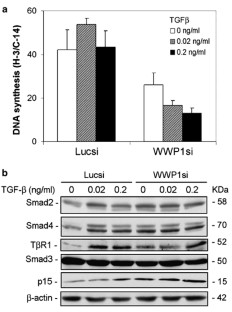 References
Chen C, Bhalala HV, Qiao H, Dong JT . (2002). A possible tumor suppressor role of the KLF5 transcription factor in human breast cancer. Oncogene 21: 6567–6572.

Chen C, Bhalala HV, Vessella RL, Dong JT . (2003a). KLF5 is frequently deleted and down-regulated but rarely mutated in prostate cancer. Prostate 55: 81–88.

Chen C, Hyytinen ER, Sun X, Helin HJ, Koivisto PA, Frierson HF et al. (2003b). Deletion, mutation, and loss of expression of KLF6 in human prostate cancer. Am J Pathol 162: 1349–1354.

Chen C, Sun X, Guo P, Dong XY, Sethi P, Cheng X et al. (2005a). Human Kruppel-like factor 5 is a target of the E3 ubiquitin ligase WWP1 for proteolysis in epithelial cells. J Biol Chem 280: 41553–41561.

Chen C, Sun X, Ran Q, Wilkinson KD, Murphy TJ, Simons JW et al. (2005b). Ubiquitin-proteasome degradation of KLF5 transcription factor in cancer and untransformed epithelial cells. Oncogene 24: 3319–3327.

Danielpour D . (2005). Functions and regulation of transforming growth factor-beta (TGF-beta) in the prostate. Eur J Cancer 41: 846–857.

Dong JT . (2006). Prevalent mutations in prostate cancer. J Cell Biochem 97: 433–447.

Dong JT, Chen C, Stultz BG, Isaacs JT, Frierson Jr HF . (2000). Deletion at 13q21 is associated with aggressive prostate cancers. Cancer Res 60: 3880–3883.

Drobnjak M, Melamed J, Taneja S, Melzer K, Wieczorek R, Levinson B et al. (2003). Altered expression of p27 and Skp2 proteins in prostate cancer of African-American patients. Clin Cancer Res 9: 2613–2619.

Flasza M, Gorman P, Roylance R, Canfield AE, Baron M . (2002). Alternative splicing determines the domain structure of WWP1, a Nedd4 family protein. Biochem Biophys Res Commun 290: 431–437.

Gu Z, Rubin MA, Yang Y, Deprimo SE, Zhao H, Horvath S et al. (2005). Reg IV: a promising marker of hormone refractory metastatic prostate cancer. Clin Cancer Res 11: 2237–2243.

Ingham RJ, Gish G, Pawson T . (2004). The Nedd4 family of E3 ubiquitin ligases: functional diversity within a common modular architecture. Oncogene 23: 1972–1984.

Kim IY, Ahn HJ, Zelner DJ, Shaw JW, Sensibar JA, Kim JH et al. (1996). Genetic change in transforming growth factor beta (TGF-beta) receptor type I gene correlates with insensitivity to TGF-beta 1 in human prostate cancer cells. Cancer Res 56: 44–48.

Komuro A, Imamura T, Saitoh M, Yoshida Y, Yamori T, Miyazono K et al. (2004). Negative regulation of transforming growth factor-beta (TGF-beta) signaling by WW domain-containing protein 1 (WWP1). Oncogene 23: 6914–6923.

Leite KR, Franco MF, Srougi M, Nesrallah LJ, Nesrallah A, Bevilacqua RG et al. (2001). Abnormal expression of MDM2 in prostate carcinoma. Mod Pathol 14: 428–436.

Lu L, Schulz H, Wolf DA . (2002). The F-box protein SKP2 mediates androgen control of p27 stability in LNCaP human prostate cancer cells. BMC Cell Biol 3: 22.

Malbert-Colas L, Fay M, Cluzeaud F, Blot-Chabaud M, Farman N, Dhermy D et al. (2003). Differential expression and localisation of WWP1, a Nedd4-like protein, in epithelia. Pflugers Arch 447: 35–43.

Massague J, Blain SW, Lo RS . (2000). TGFbeta signaling in growth control, cancer, and heritable disorders. Cell 103: 295–309.

Moren A, Imamura T, Miyazono K, Heldin CH, Moustakas A . (2005). Degradation of the tumor suppressor Smad4 by WW and HECT-domain ubiquitin ligases. J Biol Chem 280: 22115–22123.

Mu Z, Hachem P, Agrawal S, Pollack A . (2004). Antisense MDM2 oligonucleotides restore the apoptotic response of prostate cancer cells to androgen deprivation. Prostate 60: 187–196.

Nupponen NN, Kakkola L, Koivisto P, Visakorpi T . (1998). Genetic alterations in hormone-refractory recurrent prostate carcinomas. Am J Pathol 153: 141–148.

Pickart CM . (2001). Mechanisms underlying ubiquitination. Annu Rev Biochem 70: 503–533.

Porkka K, Saramaki O, Tanner M, Visakorpi T . (2002). Amplification and overexpression of Elongin C gene discovered in prostate cancer by cDNA microarrays. Lab Invest 82: 629–637.

Roberts AB, Wakefield LM . (2003). The two faces of transforming growth factor beta in carcinogenesis. Proc Natl Acad Sci USA 100: 8621–8623.

Rubin MA, Varambally S, Beroukhim R, Tomlins SA, Rhodes DR, Paris PL et al. (2004). Overexpression, amplification, and androgen regulation of TPD52 in prostate cancer. Cancer Res 64: 3814–3822.

Seo SR, Lallemand F, Ferrand N, Pessah M, L'Hoste S, Camonis J et al. (2004). The novel E3 ubiquitin ligase Tiul1 associates with TGIF to target Smad2 for degradation. EMBO J 23: 3780–3792.

Sun SY, Yue P, Dawson MI, Shroot B, Michel S, Lamph WW et al. (1997). Differential effects of synthetic nuclear retinoid receptor-selective retinoids on the growth of human non-small cell lung carcinoma cells. Cancer Res 57: 4931–4939.

Sun X, Frierson HF, Chen C, Li C, Ran Q, Otto KB et al. (2005). Frequent somatic mutations of the transcription factor ATBF1 in human prostate cancer. Nat Genet 37: 407–412.

van Dekken H, Alers JC, Damen IA, Vissers KJ, Krijtenburg PJ, Hoedemaeker RF et al. (2003). Genetic evaluation of localized prostate cancer in a cohort of forty patients: gain of distal 8q discriminates between progressors and nonprogressors. Lab Invest 83: 789–796.

van der Poel HG . (2004). Mammalian target of rapamycin and 3-phosphatidylinositol 3-kinase pathway inhibition enhances growth inhibition of transforming growth factor-beta1 in prostate cancer cells. J Urol 172: 1333–1337.

Verdecia MA, Joazeiro CA, Wells NJ, Ferrer JL, Bowman ME, Hunter T et al. (2003). Conformational flexibility underlies ubiquitin ligation mediated by the WWP1 HECT domain E3 ligase. Mol Cell 11: 249–259.

Wang R, Xu J, Saramaki O, Visakorpi T, Sutherland WM, Zhou J et al. (2004). PrLZ, a novel prostate-specific and androgen-responsive gene of the TPD52 family, amplified in chromosome 8q21.1 and overexpressed in human prostate cancer. Cancer Res 64: 1589–1594.

Zhang X, Srinivasan SV, Lingrel JB . (2004). WWP1-dependent ubiquitination and degradation of the lung Kruppel-like factor, KLF2. Biochem Biophys Res Commun 316: 139–148.

Zhang Z, Li M, Wang H, Agrawal S, Zhang R . (2003). Antisense therapy targeting MDM2 oncogene in prostate cancer: Effects on proliferation, apoptosis, multiple gene expression, and chemotherapy. Proc Natl Acad Sci USA 100: 11636–11641.

Zitzelsberger H, Kulka U, Lehmann L, Walch A, Smida J, Aubele M et al. (1998). Genetic heterogeneity in a prostatic carcinoma and associated prostatic intraepithelial neoplasia as demonstrated by combined use of laser-microdissection, degenerate oligonucleotide primed PCR and comparative genomic hybridization. Virchows Arch 433: 297–304.
Acknowledgements
C Chen is an AFUD/AUA Research Scholar. This work was supported in part by grants from the National Cancer Institute (Grant # CA87921), from the Department of Defense Prostate Cancer Research Program (Grant # DAMD17-03-2-0033), from the Georgia Cancer Coalition, and from the Susan G Komen Breast Cancer Foundation.
About this article
Cite this article
Chen, C., Sun, X., Guo, P. et al. Ubiquitin E3 ligase WWP1 as an oncogenic factor in human prostate cancer. Oncogene 26, 2386–2394 (2007). https://doi.org/10.1038/sj.onc.1210021
Received:

Revised:

Accepted:

Published:

Issue Date:

DOI: https://doi.org/10.1038/sj.onc.1210021
Keywords
WWP1

amplification

overexpression

prostate cancer

KLF5

TGFβ