Abstract
Telomeres of tumor cells form telomeric aggregates (TAs) within the three-dimensional (3D) interphase nucleus. Some of these TAs represent end-to-end chromosomal fusions and may subsequently initiate breakage–bridge–fusion cycles. Wild-type (wt) and myc box II mutant (mt) Myc induce different types of genomic instability when conditionally expressed in mouse proB cells (Ba/F3). Only wt Myc overexpressing Ba/F3 cells are capable of tumor formation in severe combined immunodeficient mice. In this study, we investigated whether telomere dysfunction leading to TA formation is linked to the genetic changes that permit wt c-Myc-dependent transformation of Ba/F3 cells. To this end, we examined the 3D organization of telomeres after the deregulated expression of deletion myc boxII mutant (Δ106) or wt Myc. Δ106-Myc overexpression did not induce TAs, whereas wt-Myc deregulation did. Instead, Δ106-Myc remodelled the 3D telomeric organization such that telomeres aligned in the center of the 3D interphase nucleus forming a telomeric disk owing to a Δ106-induced G1/S cell cycle arrest. In contrast, wt-Myc overexpression led to distorted telomere distribution and TA formation. Analysis of chromosomal alterations using spectral karyotyping confirmed Δ106-Myc and wt-Myc-associated genomic instability. A significant number of chromosomal end-to-end fusions indicative of telomere dysfunction were noted in wt-Myc-expressing cells only. This study suggests that TAs may play a fundamental role in Myc-induced tumorigenesis and provides a novel way to dissect tumor initiation.
Relevant articles
Open Access articles citing this article.
Ann-Kristin Schmälter

,

Alexandra Kuzyk

…

Sabine Mai

BMC Cell Biology Open Access 12 June 2014

BMC Proceedings Open Access 04 April 2013
Access options
Subscribe to Journal
Get full journal access for 1 year
$119.00
only $2.38 per issue
All prices are NET prices.
VAT will be added later in the checkout.
Tax calculation will be finalised during checkout.
Buy article
Get time limited or full article access on ReadCube.
$32.00
All prices are NET prices.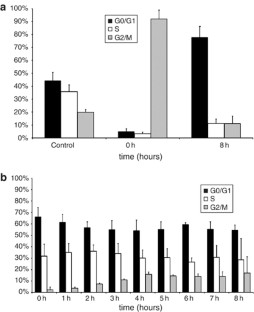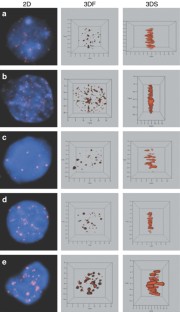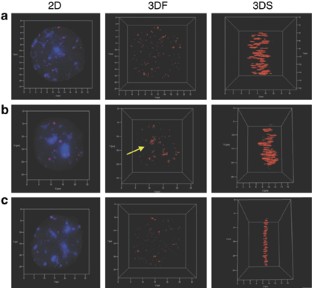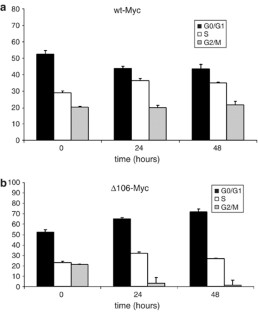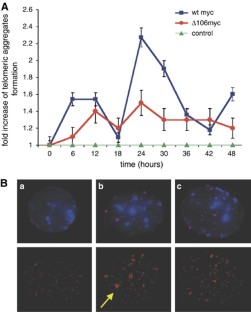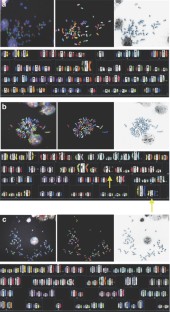 References
Bahram F, von der Lehr N, Cetinkaya C, Larsson LG . (2000). c-Myc hot spot mutations in lymphomas result in inefficient ubiquitination and decreased proteasome-mediated turnover. Blood 95: 2104–2110.

Barber CB, Dobkin PD, Huhdanpaa H . (1996). The quick-hull algorithm for convex hulls. ACM Transactions on Mathematical Software 22: 469–483.

Chuang TC, Moshir S, Garini Y, Chuang AY, Young IT, Vermolen B et al. (2004). The three-dimensional organization of telomeres in the nucleus of mammalian cells. BMC Biol 3: 2–12.

Cremer T, Cremer C . (2001). Chromosome territories, nuclear architecture and gene regulation in mammalian cells. Nat Rev Genet 2: 292–301 (Review).

Cremer M, Kupper K, Wagler B, Wizelman L, von Hase J, Weiland Y et al. (2003). Inheritance of gene density-related higher order chromatin arrangements in normal and tumor cell nuclei. J Cell Biol 162: 809–820.

Deb-Basu D, Karlsson A, Li Q, Dang CV, Felsher DW . (2006). MYC can enforce cell cycle transit from G1 to S and G2 to S, but not mitotic cellular division, independent of p27-mediated inhibition of cyclin E/CDK2. Cell Cycle 5: 1348–1355. Epub 2006 Jun 15.

De Lange T . (2005). Shelterin: the protein complex that shapes and safeguards human telomeres. Genes Dev 19: 2100–2110 (Review).

DePinho RA, Polyak K . (2004). Cancer chromosomes in crisis. Nat Genet 36: 932–934.

Essers J, van Cappellen WA, Theil AF, van Drunen E, Jaspers NG, Hoeijmakers JH et al. (2005). Dynamics of relative chromosome position during the cell cycle. Mol Biol Cell 16: 769–775.

Ermler S, Krunic D, Knoch TA, Moshir S, Mai S, Greulich-Bode KM et al. (2004). Cell cycle-dependent 3D distribution of telomeres and telomere repeat-binding factor 2 (TRF2) in HaCaT and HaCaT-myc cells. Eur J Cell Biol 83: 681–690.

Feldser DM, Hackett JA, Greider CW . (2003). Telomere dysfunction and the initiation of genome instability. Nat Rev Cancer 3: 623–627.

Fest T, Guffei A, Williams G, Silva S, Mai S . (2005). Uncoupling of genomic instability and tumorigenesis in a mouse model of Burkitt's lymphoma expressing a conditional box II-deleted Myc protein. Oncogene 24: 2944–2953.

Fest T, Mougey V, Dalstein V, Hagerty M, Milette D, Silva S et al. (2002). c-MYC overexpression in Ba/F3 cells simultaneously elicits genomic instability and apoptosis. Oncogene 21: 2981–2990.

Frye M, Gardner C, Li ER, Arnold I, Watt FM . (2003). Evidence that Myc activation depletes the epidermal stem cell compartment by modulating adhesive interactions with the local microenvironment. Development 130: 2793–2808.

Fukasawa K, Wiener F, Vande Woude GF, Mai S . (1997). Genomic instability and apoptosis are frequent in p53 deficient young mice. Oncogene 15: 1295–1302.

Gerlich D, Beaudouin J, Kalbfuss B, Daigle N, Eils R, Ellenberg J . (2003). Global chromosome positions are transmitted through mitosis in mammalian cells. Cell 112: 751–764.

Gasser SM . (2002). Visualizing chromatin dynamics in interphase nuclei. Science 296: 1412–1416.

Kozubek S, Lukasova E, Mareckova A, Skalnikova M, Kozubek M, Bartova E et al. (1999). The topological organization of chromosomes 9 and 22 in cell nuclei has a determinative role in the induction of t(9,22) translocations and in the pathogenesis of t(9,22) leukemias. Chromosoma 108: 426–435.

Kuschak TI, Kuschak BC, Taylor CL, Wright JA, Wiener F, Mai S . (2002). c-Myc initiates illegitimate replication of the ribonucleotide reductase R2 gene. Oncogene 21: 909–920.

Kuschak TI, Taylor C, McMillan-Ward E, Israels S, Henderson DW, Mushinski JF et al. (1999). The ribonucleotide reductase R2 gene is a non-transcribed target of c-Myc-induced genomic instability. Gene 238: 351–365.

Kuttler F, Mai S . (2005). c-Myc, genomic instability and disease. In: Volff JN (ed). Genome and Disease Genome dynamics, vol. 1. Karger: Basel, pp 171–190.

Littlewood TD, Hancock DC, Danielian PS, Parker MG, Evan GI . (1995). A modified oestrogen receptor ligand-binding domain as an improved switch for the regulation of heterologous proteins. Nucleic Acids Res 23: 1686–1690.

Louis SF, Vermolen BJ, Garini Y, Young IT, Guffei A, Lichtensztejn Z et al. (2005). c-Myc induces chromosomal rearrangements through telomere and chromosome remodeling in the interphase nucleus. Proc Natl Acad Sci USA 102: 9613–9618.

Mai S, Garini Y . (2005). Oncogenic remodeling of the three-dimensional organization of the interphase nucleus: c-Myc induces telomeric aggregates whose formation precedes chromosomal rearrangements. Cell Cycle 10: 1327–1331.

Mai S, Garini Y . (2006). The significance of telomeric aggregates in the interphase nuclei of tumor cells. J Cell Biochem 5: 904–915.

Mai S, Mushinski JF . (2003). c-Myc-induced genomic instability. J Environ Pathol Toxicol Oncol 22: 179–199.

Mai S, Hanley-Hyde J, Rainey GJ, Kuschak TI, Paul JT, Littlewood TD et al. (1999). Chromosomal and extrachromosomal instability of the cyclin D2 gene is induced by Myc overexpression. Neoplasia 1: 241–252.

McClintock B . (1941). The stability of broken ends of chromosomes in Zea mays. Genetics 26: 234–282.

Molenaar C, Wiesmeijer K, Verwoerd NP, Khazen S, Eils R, Tanke HJ et al. (2003). Visualizing telomere dynamics in living mammalian cells using PNA probes. EMBO J 22: 6631–6641.

Neves H, Ramos C, da Silva MG, Parreira A, Parreira L . (1999). The nuclear topography of ABL, BCR, PML, and RARalpha genes: evidence for gene proximity in specific phases of the cell cycle and stages of hematopoietic differentiation. Blood 93: 1197–1207.

Nikiforov MA, Chandriani S, Park J, Kotenko I, Matheos D, Johnsson A et al. (2002). TRRAP-dependent and TRRAP-independent transcriptional activation by Myc family oncoproteins. Mol Cell Biol 22: 5054–5063.

Oster SK, Mao DY, Kennedy J, Penn LZ . (2003). Functional analysis of the N-terminal domain of the Myc oncoprotein. Oncogene 22: 1998–2010.

Parada LA, McQueen PG, Munson PJ, Misteli T . (2002). Conservation of relative chromosome positioning in normal and cancer cells. Curr Biol 12: 1692–1697.

Pelengaris S, Khan M, Evan GI . (2002). Suppression of Myc-induced apoptosis in beta cells exposes multiple oncogenic properties of Myc and triggers carcinogenic progression. Cell 109: 321–334.

Poon SS, Martens UM, Ward RK, Lansdorp PM . (1999). Telomere length measurements using digital fluorescence microscopy. Cytometry 36: 267–278.

Schaefer LH, Schuster D, Herz H . (2001). Generalized approach for accelerated maximum likelihood based image restoration applied to three-dimensional fluorescence microscopy. J Microsc 204 (Pt 2): 99–107.

Solovei I, Cavallo A, Schermelleh L, Jaunin F, Scasselati C, Cmarko D et al. (2002). Spatial preservation of nuclear chromatin architecture during three-dimensional fluorescence in situ hybridization (3D-FISH). Exp Cell Res 1: 10–23.

Stone J, De Lange T, Ramsay G, Jakobovits E, Bishop JM, Varmus H et al. (1987). Definition of regions in human c-myc that are involved in transformation and nuclear localization. Mol Cell Biol 7: 1697–1709.

Trumpp A, Refaeli Y, Oskarsson T, Gasser S, Murphy M, Martin GR et al. (2001). c-Myc regulates mammalian body size by controlling cell number but not cell size. Nature 414: 768–773.

Vermolen BJ, Garini Y, Mai S, Mougey V, Fest T, Chuang TC et al. (2005). Characterizing the three-dimensional organization of telomeres. Cytometry 67: 144–150.

Walter J, Schermelleh L, Cremer M, Tashiro S, Cremer T . (2003). Chromosome order in HeLa cells changes during mitosis and early G1, but is stably maintained during subsequent interphase stages. J Cell Biol 160: 685–697. Epub 2003 Feb 25.
Acknowledgements
We thank Dr Ludger Klewes and Dr Ed Rector for assistance with FACS analysis, and Mary Cheang (Biostatistics Unit) for statistical analyses. We acknowledge support from CancerCare Manitoba Foundation, the National Cancer Institute of Canada (NCIC), and the Canadian Institutes of Health Research (CIHR). AC and LW were recipients of a Strategic Training Program stipend from CIHR.
About this article
Cite this article
Caporali, A., Wark, L., Vermolen, B. et al. Telomeric aggregates and end-to-end chromosomal fusions require myc box II. Oncogene 26, 1398–1406 (2007). https://doi.org/10.1038/sj.onc.1209928
Received:

Revised:

Accepted:

Published:

Issue Date:

DOI: https://doi.org/10.1038/sj.onc.1209928
Keywords
three-dimensional nuclear organization

telomere aggregates

c-Myc

genomic instability

telomeric fusions