Abstract
The v-Myb oncogene causes monoblastic leukemia and transforms only myelomonocytic cells in culture. The v-Myb protein is nuclear and binds to specific DNA sequences. To identify genes regulated by v-Myb, we utilized primary cells transformed by a retrovirus encoding a v-Myb-estrogen receptor (ER) fusion protein. The Ets-2 gene was not expressed in v-Myb-ER transformed cells in the presence of estradiol, but was expressed within 4 h after estradiol withdrawal. The expression of Ets-2 also increased dramatically following phorbol ester-induced differentiation of the v-Myb-transformed BM2 cell line. Conversely, CRYP-alpha, encoding a transmembrane tyrosine phosphatase, was expressed in the presence but not the absence of estradiol in v-Myb-ER transformed cells. CRYP-alpha was downregulated during the phorbol ester-induced differentiation of BM2 cells. Although LIM-3 expression was estradiol-inducible in v-Myb-ER transformed monoblasts, LIM-3 was expressed neither in primary yolk sac cells transformed by unfused v-Myb nor in BM2 cells. We conclude that although v-Myb has been intensively studied as a transcriptional activator, v-Myb can repress biologically relevant genes such as Ets-2, which promotes macrophage differentiation. In addition, we have shown that some genes that are regulated by a v-Myb-ER fusion protein may not be relevant to the biological function of the unfused v-Myb protein.
Access options
Subscribe to this journal
Receive 50 print issues and online access
$259.00 per year
only $5.18 per issue
Rent or buy this article
Get just this article for as long as you need it
$39.95
Prices may be subject to local taxes which are calculated during checkout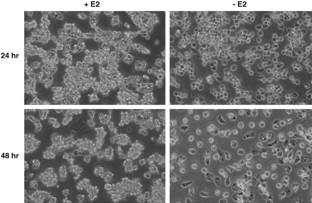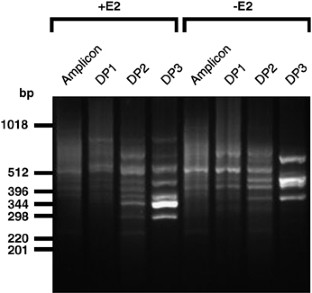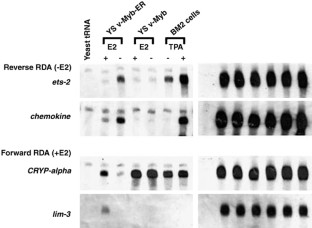 Accession codes
Accessions
GenBank/EMBL/DDBJ
References
Aperlo C, Pognonec P, Stanley ER, Boulukos KE . (1996). Constitutive c-ets2 expression in M1D+ myeloblast leukemic cells induces their differentiation to macrophages. Mol Cell Biol 16: 6851–6858.

Bartley PA, Keough RA, Lutwyche JK, Gonda TJ . (2003). Regulation of the gene encoding glutathione S-transferase M1 (GSTM1) by the Myb oncoprotein. Oncogene 22: 7570–7575.

Begue A, Crepieux P, Vu-Dac N, Hautefeuille A, Spruyt N, Laudet V et al. (1997). Identification of a second promoter in the human c-ets-2 proto-oncogene. Gene Expr 6: 333–347.

Biedenkapp H, Borgmeyer U, Sippel AE, Klempnauer KH . (1988). Viral myb oncogene encodes a sequence-specific DNA-binding activity. Nature 335: 835–837.

Boyle WJ, Lampert MA, Lipsick JS, Baluda MA . (1984). Avian myeloblastosis virus and E26 virus oncogene products are nuclear proteins. Proc Natl Acad Sci USA 81: 4265–4269.

Braas D, Gundelach H, Klempnauer KH . (2004). The glioma-amplified sequence 41 gene (GAS41) is a direct Myb target gene. Nucleic Acids Res 32: 4750–4757.

Burk O, Klempnauer KH . (1991). Estrogen-dependent alterations in differentiation state of myeloid cells caused by a v-myb/estrogen receptor fusion protein. EMBO J 10: 3713–3719.

Burk O, Worpenberg S, Haenig B, Klempnauer KH . (1997). tom-1, a novel v-Myb target gene expressed in Amv- and E26-transformed myelomonocytic cells. EMBO J 16: 1371–1380.

Chen J, Kremer CS, Bender TP . (2002). A Myb dependent pathway maintains Friend murine erythroleukemia cells in an immature and proliferating state. Oncogene 21: 1859–1869.

Cogswell JP, Cogswell PC, Kuehl WM, Cuddihy AM, Bender TM, Engelke U et al. (1993). Mechanism of c-myc regulation by c-Myb in different cell lineages. Mol Cell Biol 13: 2858–2869.

Dini PW, Eltman JT, Lipsick JS . (1995). Mutations in the DNA-binding and transcriptional activation domains of v-Myb cooperate in transformation. J Virol 69: 2515–2524.

Engelke U, Wang DM, Lipsick JS . (1997). Cells transformed by a v-Myb-estrogen receptor fusion differentiate into multinucleated giant cells. J Virol 71: 3760–3766.

Ferrao P, Gonda TJ, Ashman LK . (1997). Expression of constitutively activated human c-Kit in Myb transformed early myeloid cells leads to factor independence, histiocytic differentiation, and tumorigenicity. Blood 90: 4539–4552.

Garcia A, LaMontagne K, Reavis D, Stober-Grasser U, Lipsick JS . (1991). Determinants of sequence-specific DNA-binding by p48v-myb. Oncogene 6: 265–273.

Hubank M, Schatz DG . (1994). Identifying differences in mRNA expression by representational difference analysis of cDNA. Nucleic Acids Res 22: 5640–5648.

Ibanez CE, Garcia A, Stober-Grasser U, Lipsick JS . (1988). DNA-binding activity associated with the v-myb oncogene product is not sufficient for transformation. J Virol 62: 4398–4402.

Ibanez CE, Lipsick JS . (1988). Structural and functional domains of the myb oncogene: requirements for nuclear transport, myeloid transformation, and colony formation. J Virol 62: 1981–1988.

Ibanez CE, Lipsick JS . (1990). trans activation of gene expression by v-myb. Mol Cell Biol 10: 2285–2293.

Klempnauer KH, Symonds G, Evan GI, Bishop JM . (1984). Subcellular localization of proteins encoded by oncogenes of avian myeloblastosis virus and avian leukemia virus E26 and by chicken c-myb gene. Cell 37: 537–547.

Ku DH, Wen SC, Engelhard A, Nicolaides NC, Lipson KE, Marino TA et al. (1993). c-myb transactivates cdc2 expression via Myb binding sites in the 5′-flanking region of the human cdc2 gene [published erratum appears in J Biol Chem 1993 Jun 15;268(17):13010]. J Biol Chem 268: 2255–2259.

Lang G, White JR, Argent-Katwala MJ, Allinson CG, Weston K . (2005). Myb proteins regulate the expression of diverse target genes. Oncogene 24: 1375–1384.

Lei W, Rushton JJ, Davis LM, Liu F, Ness SA . (2004). Positive and negative determinants of target gene specificity in myb transcription factors. J Biol Chem 279: 29519–29527.

Leutz A, Beug H, Graf T . (1984). Purification and characterization of cMGF, a novel chicken myelomonocytic growth factor. EMBO J 3: 3191–3197.

Leutz A, Damm K, Sterneck E, Kowenz E, Ness S, Frank R et al. (1989). Molecular cloning of the chicken myelomonocytic growth factor (cMGF) reveals relationship to interleukin 6 and granulocyte colony stimulating factor. EMBO J 8: 175–181.

Lipsick JS, Wang DM . (1999). Transformation by v-Myb. Oncogene 18: 3047–3055.

Lisitsyn NA, Rosenberg MV, Launer GA, Wagner LL, Potapov VK, Kolesnik TB et al. (1993). A method for isolation of sequences missing in one of two related genomes. Mol Gen Mikrobiol Virusol May-Jun: 26–29.

Liu F, Lei W, O'Rourke JP, Ness SA . (2006). Oncogenic mutations cause dramatic, qualitative changes in the transcriptional activity of c-Myb. Oncogene 25: 795–805.

Melotti P, Calabretta B . (1994). Ets-2 and c-Myb act independently in regulating expression of the hematopoietic stem cell antigen CD34. J Biol Chem 269: 25303–25309.

Metz T, Graf T . (1991). Fusion of the nuclear oncoproteins v-Myb and v-Ets is required for the leukemogenicity of E26 virus. Cell 66: 95–105.

Moscovici C, Zeller N, Moscovici MG . (1982). Continuous lines of AMV-tranformed non-producer cells: growth and oncogenic potential in the chick embryo. In: Revoltella RF, Basilico C, Gallo RC, Pontieri GM, Rovera G and Subak-Sharpe JH (eds). Expression of Differentiated Function in Cancer Cells. Raven Press: New York, pp 325–449.

Nakagoshi H, Kanei-Ishii C, Sawazaki T, Mizuguchi G, Ishii S . (1992). Transcriptional activation of the c-myc gene by the c-myb and B-myb gene products. Oncogene 7: 1233–1240.

Ness SA, Marknell A, Graf T . (1989). The v-myb oncogene product binds to and activates the promyelocyte-specific mim-1 gene. Cell 59: 1115–1125.

Nishina Y, Nakagoshi H, Imamoto F, Gonda TJ, Ishii S . (1989). Trans-activation by the c-myb proto-oncogene. Nucleic Acids Res 17: 107–117.

Pessano S, Gazzolo L, Moscovici C . (1979). The effect of a tumor promoter on avian leukemic cells. Microbiologica 2: 379–392.

Rushton JJ, Davis LM, Lei W, Mo X, Leutz A, Ness SA . (2003). Distinct changes in gene expression induced by A-Myb, B-Myb and c-Myb proteins. Oncogene 22: 308–313.

Schlichter U, Burk O, Worpenberg S, Klempnauer KH . (2001). The chicken Pdcd4 gene is regulated by v-Myb. Oncogene 20: 231–239.

Siu G, Wurster AL, Lipsick JS, Hedrick SM . (1992). Expression of the CD4 gene requires a Myb transcription factor. Mol Cell Biol 12: 1592–1604.

Taylor D, Badiani P, Weston K . (1996). A dominant interfering Myb mutant causes apoptosis in T cells. Genes Dev 10: 2732–2744.

Wei G, Guo J, Doseff AI, Kusewitt DF, Man AK, Oshima RG et al. (2004). Activated Ets2 is required for persistent inflammatory responses in the motheaten viable model. J Immunol 173: 1374–1379.

Weston K, Bishop JM . (1989). Transcriptional activation by the v-myb oncogene and its cellular progenitor, c-myb. Cell 58: 85–93.

White JR, Weston K . (2000). Myb is required for self-renewal in a model system of early hematopoiesis. Oncogene 19: 1196–1205.

Worpenberg S, Burk O, Klempnauer KH . (1997). The chicken adenosine receptor 2B gene is regulated by v-myb. Oncogene 15: 213–221.
Acknowledgements
This work was supported by USPHS research grant R01 CA43592 (JSL) and by training grant T32 CA09151 (DMW).
About this article
Cite this article
Wang, DM., Sevcikova, S., Wen, H. et al. v-Myb represses the transcription of Ets-2. Oncogene 26, 1238–1244 (2007). https://doi.org/10.1038/sj.onc.1209868
Received:

Revised:

Accepted:

Published:

Issue Date:

DOI: https://doi.org/10.1038/sj.onc.1209868
Keywords
This article is cited by
Cell Death & Differentiation (2011)

Leukemia (2009)

Robert G. Ramsay
Thomas J. Gonda

Nature Reviews Cancer (2008)