Abstract
Tumor necrosis factor-related apoptosis-inducing ligand (TRAIL) has attracted considerable attention for its potential use in tumor therapy, as some recombinant variants of this ligand induce apoptosis in tumor cells without harming most normal cells. Here, we show that TRAIL strongly induces the expression of the proinflammatory cytokines interleukin-8 and monocyte chemoattractant protein 1 and enhances the invasion of apoptosis-resistant pancreatic ductal adenocarcinoma cells in vitro by upregulation of the urokinase-type plasminogen activator expression. Most importantly, we also demonstrate for the first time that TRAIL treatment results in strongly increased distant metastasis of pancreatic tumors in vivo. We orthotopically transplanted human pancreatic ductal adenocarcinoma cells to the pancreata of severe combined immunodeficiency mice and observed a dramatic increase in metastatic spread including a sixfold increase in the volume and fourfold increase in the number of liver metastases upon TRAIL treatment. Our results point to the necessity to carefully evaluate in vivo side effects of TRAIL and to select therapy conditions that not only enhance apoptosis induction but in addition prevent proinvasive and proinflammatory non-apoptotic TRAIL signaling.
Relevant articles
Open Access articles citing this article.
Anna Willms

,

Hella Schupp

…

Anna Trauzold

Cell Death & Disease Open Access 31 July 2021

Huanyu Zhang

,

Guohui Qin

…

Yi Zhang

Journal of Experimental & Clinical Cancer Research Open Access 24 June 2021

Silvia von Karstedt

&

Henning Walczak

Cell Death Discovery Open Access 17 March 2020
Access options
Subscribe to Journal
Get full journal access for 1 year
$119.00
only $2.38 per issue
All prices are NET prices.
VAT will be added later in the checkout.
Tax calculation will be finalised during checkout.
Buy article
Get time limited or full article access on ReadCube.
$32.00
All prices are NET prices.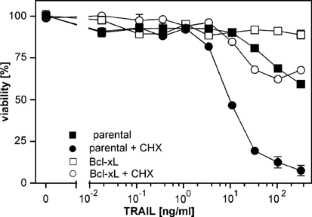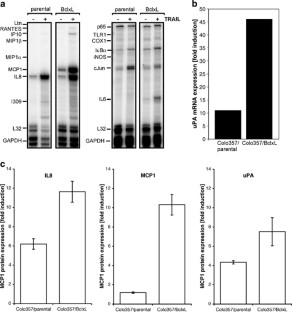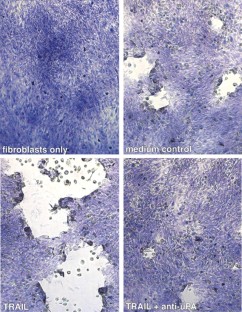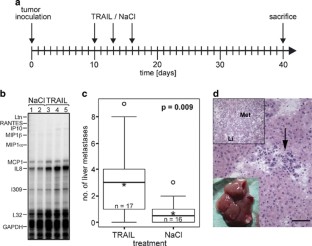 References
Almasan A, Ashkenazi A . (2003). Cytokine Growth Factor Rev 14: 337–348.

Altucci L, Rossin A, Raffelsberger W, Reitmair A, Chomienne C, Gronemeyer H . (2001). Nat Med 7: 680–686.

Armeanu S, Lauer UM, Smirnow I, Schenk M, Weiss TS, Gregor M et al. (2003). Cancer Res 63: 2369–2372.

Ashkenazi A, Pai RC, Fong S, Leung S, Lawrence DA, Marsters SA et al. (1999). J Clin Invest 104: 155–162.

Baader E, Toloczko A, Fuchs U, Schmid I, Beltinger C, Ehrhardt H et al. (2005). Cancer Res 65: 7888–7895.

Chen C, Edelstein LC, Gelinas C . (2000). Mol Cell Biol 20: 2687–2695.

Ehrhardt H, Fulda S, Schmid I, Hiscott J, Debatin KM, Jeremias I . (2003). Oncogene 22: 3842–3852.

Evans JD, Cornford PA, Dodson A, Greenhalf W, Foster CS, Neoptolemos JP . (2001). Pancreatology 1: 254–262.

von Haefen C, Gillissen B, Hemmati PG, Wendt J, Guner D, Mrozek A et al. (2004). Oncogene 23: 8320–8332.

Hinz S, Trauzold A, Boenicke L, Sandberg C, Beckmann S, Bayer E et al. (2000). Oncogene 19: 5477–5486.

Insinga A, Monestiroli S, Ronzoni S, Gelmetti V, Marchesi F, Viale A et al. (2005). Nat Med 11: 71–76.

Ishimura N, Isomoto H, Bronk SF, Gores GJ . (2006). Am J Physiol Gastrointest Liver Physiol 290: 129–136.

Lawrence D, Shahrokh Z, Marsters S, Achilles K, Shih D, Mounho B et al. (2001). Nat Med 7: 383–385.

MacFarlane M, Kohlhaas SL, Sutcliffe MJ, Dyer MJS, Cohen GM . (2005). Cancer Res 65: 11265–11270.

Miyamoto Y, Hosotani R, Wada M, Lee JU, Koshiba T, Fujimoto K et al. (1999). Oncology 56: 73–82.

Müerköster S, Wegehenkel K, Arlt A, Witt M, Sipos B, Kruse ML et al. (2004). Cancer Res 64: 1331–1337.

Nebbioso A, Clarke N, Voltz E, Germain E, Ambrosino C, Bontempo P et al. (2005). Nat Med 11: 77–84.

Rudner J, Jendrossek V, Lauber K, Daniel PT, Wesselborg S, Belka C . (2005). Oncogene 24: 130–140.

Schniewind B, Christgen M, Kurdow R, Haye S, Kremer B, Kalthoff H et al. (2004). Int J Cancer 109: 182–188.

Shankar S, Srivastava RK . (2004). Drug Resist Update 7: 139–156.

Siegmund D, Wicovsky A, Schmitz I, Schulze-Osthoff K, Kreuz S, Leverkus M et al. (2002). Mol Cell Biol 25: 6363–6379.

Tepel J, Dagvadorj O, Kapischke M, Sipos B, Leins A, Kremer B et al. (2005). Int J Colorectal Dis 16: 1–8.

Trauzold A, Röder C, Sipos B, Karsten K, Arlt A, Jiang P et al. (2005). FASEB J 19: 620–622.

Trauzold A, Wermann H, Arlt A, Schütze S, Schäfer H, Oestern S et al. (2001). Oncogene 20: 4258–4269.

Wajant H, Gerspach J, Pfizenmaier K . (2005). Cytokine Growth Factor Rev 16: 55–76.

Wajant H, Pfizenmaier K, Scheurich P . (2002). Apoptosis 7: 449–459.

Walczak H, Miller RE, Ariail K, Gliniak B, Griffith TS, Kubin M et al. (1999). Nat Med 5: 157–163.
Acknowledgements
We thank Beate Bestmann, MA, Reference Center for Quality of Life, University of Kiel, Germany, for helpful advice in statistical data evaluation. This study was supported by the Deutsche Forschungsgemeinschaft (Grant SFB 415-A3 to HK and Grant SFB 487-B7 to HW) and Deutsche Krebshilfe (Grant 10-1751-Wa 3 to HW).
Supplementary information
About this article
Cite this article
Trauzold, A., Siegmund, D., Schniewind, B. et al. TRAIL promotes metastasis of human pancreatic ductal adenocarcinoma. Oncogene 25, 7434–7439 (2006). https://doi.org/10.1038/sj.onc.1209719
Received:

Revised:

Accepted:

Published:

Issue Date:

DOI: https://doi.org/10.1038/sj.onc.1209719
Keywords
pancreatic cancer

metastasis

invasion

TRAIL