Abstract
Myelosuppression is the most common unwanted side effect associated with the administration of anticancer drugs, and infections remain a common cause of death in chemotherapy-treated patients. Several mechanisms of the cytotoxicity of these drugs have been proposed and may synergistically operate in a given cell. Survivin expression has been associated with cancer, but recent reports suggest that this molecule is also expressed in several immature and mature hematopoietic cells. Here, we provide evidence that treatment of immature neutrophils with anticancer drugs reduced endogenous survivin levels causing apoptosis. The anticancer drugs did not directly target survivin, instead they blocked the activity of phosphatidylinositol-3-OH kinase, which regulated survivin expression and apoptosis in these cells. Strikingly, and in contrast to other cells, this pathway did not involve the serine/threonine kinase c-akt/PKB. Moreover, in combination with anticancer drug therapy, rapamycin did not induce increased myelosuppression in an experimental lymphoma mouse model. These data suggest that drugs that block either c-akt/PKB or signaling molecules located distal to c-akt/PKB may preferentially induce apoptosis of cancer cells as they exhibit no cytotoxicity for immature neutrophils.
Access options
Subscribe to Journal
Get full journal access for 1 year
$119.00
only $2.38 per issue
All prices are NET prices.
VAT will be added later in the checkout.
Tax calculation will be finalised during checkout.
Buy article
Get time limited or full article access on ReadCube.
$32.00
All prices are NET prices.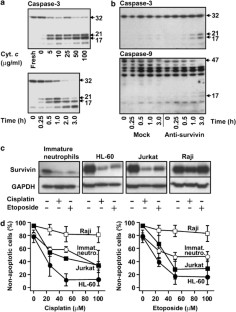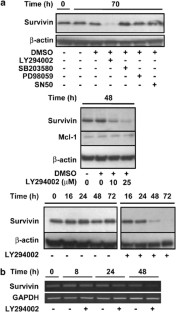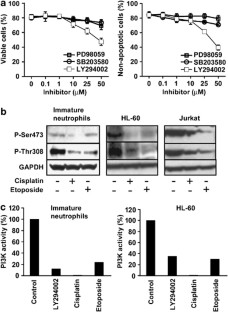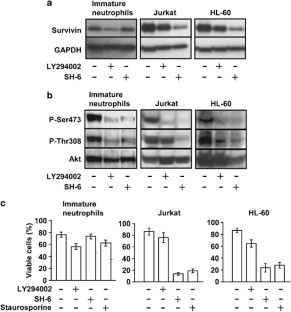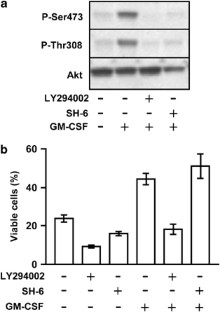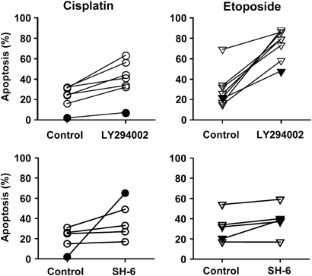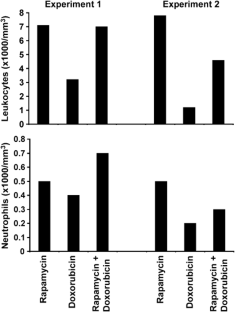 References
Altznauer F, Martinelli S, Yousefi S, Thürig C, Schmid I, Conway EM et al. (2004). J Exp Med 199: 1343–1354.

Ambrosini G, Adida C, Altieri DC . (1997). Nat Med 3: 917–921.

Andjelkovic M, Maira SM, Cron P, Parker PJ, Hemmings BA . (1999). Mol Cell Biol 19: 5061–5072.

Baumann R, Casaulta C, Simon D, Conus S, Yousefi S, Simon HU . (2003). FASEB J 17: 2221–2230.

Belyanskaya LL, Hopkins-Donaldson S, Kurtz S, Simoes-Wüst AP, Yousefi S, Simon HU et al. (2005). Int J Cancer 117: 755–763.

Beuvink I, Boulay A, Fumagalli S, Zilbermann F, Ruetz S, O'Reilly T et al. (2005). Cell 120: 747–759.

Brunet A, Park J, Tran H, Hu LS, Hemmings BA, Greenberg ME . (2001). Mol Cell Biol 21: 952–965.

Bruno A, Conus S, Schmid I, Simon HU . (2005). J Immunol 174: 8090–8096.

Burgering BM, Coffer PJ . (1995). Nature 376: 599–602.

Carter BZ, Milella M, Altieri DC, Andreeff M . (2001). Blood 97: 2784–2790.

Chang F, Lee JT, Navolanic PM, Steelman LS, Shelton JG, Blalock WL et al. (2003). Leukemia 17: 590–603.

Conus S, Bruno A, Simon HU . (2005). J Allergy Clin Immunol 116: 1228–1234.

Cowburn AS, Cadwallader KA, Reed BJ, Farahi N, Chilvers ER . (2002). Blood 100: 2607–2616.

Dahia PL, Aquiar RC, Alberta J, Kum JB, Caron S, Sill H et al. (1999). Hum Mol Genet 8: 185–193.

Dale D . (2003). Semin Oncol 30(4 Suppl 13): 3–9.

Daly C, Wong V, Burova E, Wei Y, Zabski S, Griffiths J et al. (2004). Genes Dev 18: 1060–1071.

Debatin KM . (2004). Cancer Immunol Immunother 53: 153–159.

Deveraux QL, Roy N, Stennicke HR, van Arsdale T, Zhou Q, Srinivasula SM et al. (1998). EMBO J 17: 2215–2223.

Fornaro M, Plescia J, Chheang S, Tallini G, Zhu YM, King M et al. (2003). J Biol Chem 278: 50402–50411.

Franke TF, Hornik CP, Segev L, Shostak GA, Sugimoto C . (2003). Oncogene 22: 8983–8998.

Franke TF, Yang SI, Chan TO, Datta K, Kazlauskas A, Morrison DK et al. (1995). Cell 81: 727–736.

Fukuda S, Foster RG, Porter SB, Pelus LM . (2002). Blood 100: 2463–2471.

Fukuda S, Mantel CR, Pelus LM . (2004). Blood 103: 120–127.

Gardai SJ, Hildeman DA, Frankel SK, Whitlock BB, Frasch SC, Borregaard N et al. (2004). J Biol Chem 279: 21085–21095.

Herr I, Posovszky C, Di Marzio L, Cifone MG, Böhler T, Debatin KM . (2000). Oncogene 19: 4255–4262.

Hersey P, Zhang XD . (2003). J Cell Physiol 196: 9–18.

Kozikowski AP, Sun H, Brognard J, Dennis PA . (2003). J Am Chem Soc 125: 1144–1145.

Martinelli S, Urosevic M, Daryadel A, Oberholzer PA, Baumann C, Fey MF et al. (2004). J Biol Chem 279: 44123–44132.

McCormick F . (2004). Nature 428: 267–269.

McIlroy J, Chen D, Wjasow C, Michaeli T, Backer JM . (1997). Mol Cell Biol 17: 248–255.

Mitsiades CS, Mitsiades N, Poulaki V, Schlossman R, Akiyama M, Chauhan D et al. (2002). Oncogene 21: 5673–5683.

Murphy BM, O'Neill AJ, Adrain C, Watson RWG, Martin SJ . (2003). J Exp Med 197: 625–632.

Nicholson KM, Anderson NG . (2002). Cell Signal 14: 381–395.

Rich T, Allen RL, Wyllie AH . (2000). Nature 407: 777–783.

Sakai A, Thieblemont C, Wellmann A, Jaffe ES, Raffeld M . (1998). Blood 92: 3410–3415.

Samuels Y, Wang Z, Bardelli A, Silliman N, Ptak J, Szabo S et al. (2004). Science 304: 554.

Scheel-Toellner D, Wang K, Henriquez NV, Webb PR, Craddock R, Pilling D et al. (2002). Eur J Immunol 32: 486–493.

Scheid MP, Marignani PA, Woodgett JR . (2002). Mol Cell Biol 22: 6247–6260.

Scheid MP, Woodgett JR . (2003). FEBS Lett 546: 108–112.

Straka C, Oduncu F, Hinke A, Einsele H, Drexler E, Schnabel B et al. (2004). Blood 104: 1989–1994.

Suzuki J, Kaziro Y, Koide H . (1997). Oncogene 15: 1689–1697.

Uruno A, Sugawara A, Kanatsuka H, Kagechika H, Saito A, Sato K et al. (2006). Circulation 112: 727–736.

Vanhaesebroeck B, Waterfield MD . (1999). Exp Cell Res 253: 239–254.

Vivanco I, Sawyers CL . (2002). Nat Rev 2: 489–501.

Vong QP, Cao K, Li HY, Iglesias PA, Zheng Y . (2005). Science 310: 1499–1504.

Wang S, El-Deiry WS . (2004). Cancer Treat Res 119: 175–187.

Wendel HG, De Stanchina E, Fridman JS, Malina A, Ray S, Kogan S et al. (2004). Nature 428: 332–337.

Zangemeister-Wittke U, Simon HU . (2004). Cell Cycle 3: 1121–1123.
Acknowledgements
This work was supported by grants from the Swiss National Science Foundation (Grant No. 310000-107526), Bernische Krebsliga (Bern) and Stiftung zur Krebsbekämpfung (Zurich).
About this article
Cite this article
Martinelli, S., Kostylina, G., Niggli, V. et al. Targeting survivin via PI3K but not c-akt/PKB by anticancer drugs in immature neutrophils. Oncogene 25, 6915–6923 (2006). https://doi.org/10.1038/sj.onc.1209692
Received:

Revised:

Accepted:

Published:

Issue Date:

DOI: https://doi.org/10.1038/sj.onc.1209692
Keywords
apoptosis

cancer

chemotherapy

myelosuppression

neutrophils

survivin