Abstract
The exact duplication of chromosomal DNA during each cell cycle ensures the correct inheritance of genetic material from mother to daughter cells. In eukaryotic cells, DNA replication can occur only when the origin of DNA replication is accurately marked by a group of proteins termed licensing proteins. One such protein is Cdt1, which is recruited first to the origin of DNA replication followed by cell division cycle 6 (Cdc6) and mini-chromosome maintenance proteins (Mcms). We previously reported that NIH3T3 cells overexpressing Cdt1 readily formed tumors in mice. To further investigate its oncogenic mechanism, we generated transgenic mice expressing Cdt1 in thymocytes. Our studies demonstrated that T-cell-directed Cdt1 transgenic mice showed normal T-cell development. However, such transgenic mice developed thymic lymphoblastic lymphoma when crossed with p53 null mice. Furthermore, tumor cells derived from NIH3T3 cells overexpressing Cdt1 displayed numerical and structural chromosomal aberrations in the form of ploidy, double minutes, translocation, inversion, chromosome end-to-end fusion and robertsonian mutation. Collectively, our studies suggest that Cdt1 overexpression most likely contributes to tumorigenecity by causing genomic instability.
Relevant articles
Open Access articles citing this article.
Yitong Liu

,

Zhizhong Hu

…

Chengkun Wang

Cancer Cell International Open Access 25 May 2021

Kristijan Ramadan

,

Swagata Halder

…

Bruno Vaz

Chromosoma Open Access 18 April 2016

Taras Valovka

,

Manuela Schönfeld

…

Klaus Bister

Scientific Reports Open Access 06 December 2013
Access options
Subscribe to Journal
Get full journal access for 1 year
$119.00
only $2.38 per issue
All prices are NET prices.
VAT will be added later in the checkout.
Tax calculation will be finalised during checkout.
Buy article
Get time limited or full article access on ReadCube.
$32.00
All prices are NET prices.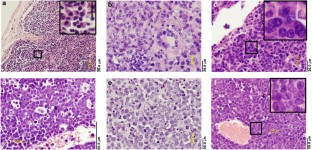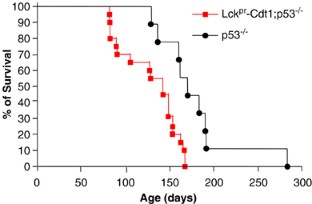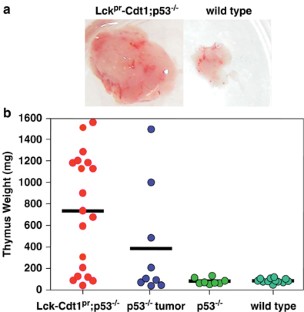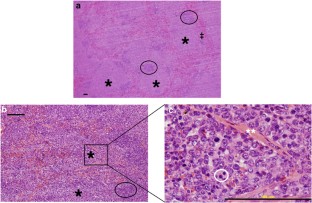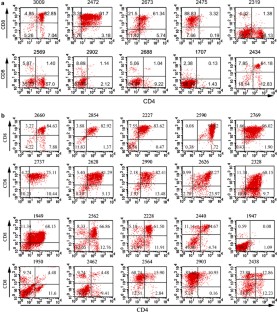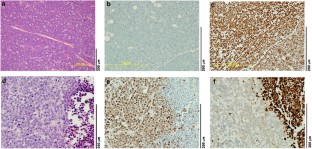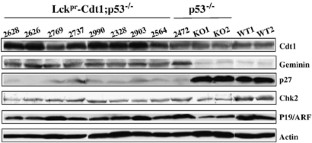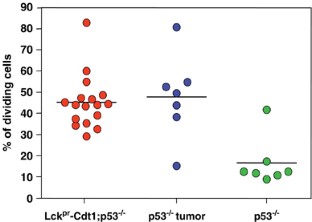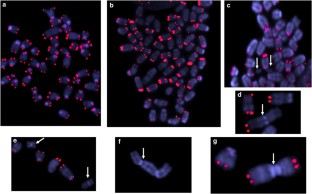 References
Arentson E, Faloon P, Seo J, Moon E, Studts JM, Fremont DH and Choi K . (2002). Oncogene, 21, 1150–1158.

Bell SP and Stillman B . (1992). Nature, 357, 128–134.

Bergers G, Javaherian K, Lo KM, Folkman J and Hanahan D . (1999). Science, 284, 808–812.

Blow JJ and Tada S . (2000). Nature, 404, 560–561.

Bonds L, Baker P, Gup C and Shroyer KR . (2002). Arch. Pathol. Lab. Med., 126, 1163–1168.

Bouck N, Stellmach V and Hsu SC . (1996). Adv. Cancer Res., 69, 135–174.

Chaffin KE, Beals CR, Wilkie TM, Forbush KA, Simon MI and Perlmutter RM . (1990). EMBO J., 9, 3821–3829.

Dhar S, Squire JA, Hande MP, Wellinger RJ and Pandita TK . (2000). Mol. Cell. Biol., 20, 7764–7772.

Donehower LA . (1996). Semin. Cancer Biol., 7, 269–278.

Friend SH, Bernards R, Rogelj S, Weinberg RA, Rapaport JM, Albert DM and Dryja TP . (1986). Nature, 323, 643–646.

Fujita M . (1999). Front. Biosci., 4, D816–D823.

Greenblatt MS, Bennett WP, Hollstein M and Harris CC . (1994). Cancer Res., 54, 4855–4878.

Hall M and Peters G . (1996). Adv. Cancer Res., 68, 67–108.

Hanahan D and Folkman J . (1996). Cell, 86, 353–364.

Hanahan D and Weinberg RA . (2000). Cell, 100, 57–70.

Hartwell LH . (1976). J. Mol. Biol., 104, 803–817.

Hirama T and Koeffler HP . (1995). Blood, 86, 841–854.

Hofmann JF and Beach D . (1994). EMBO J., 13, 425–434.

Hunt CR, Dix DJ, Sharma GG, Pandita RK, Gupta A, Funk M and Pandita TK . (2004). Mol. Cell. Biol., 24, 899–911.

Kamb A, Gruis NA, Weaver-Feldhaus J, Liu Q, Harshman K, Tavtigian SV, Stockert E, Day III RS, Johnson BE and Skolnick MH . (1994). Science, 264, 436–440.

Knudson Jr AG . (1971). Proc. Natl. Acad. Sci. USA, 68, 820–823.

Maine GT, Sinha P and Tye BK . (1984). Genetics, 106, 365–385.

Maiorano D, Moreau J and Mechali M . (2000). Nature, 404, 622–625.

Melixetian M, Ballabeni A, Masiero L, Gasparini P, Zamponi R, Bartek J, Lukas J and Helin K . (2004). J. Cell Biol., 165, 473–482.

Moir D, Stewart SE, Osmond BC and Botstein D . (1982). Genetics, 100, 547–563.

Motokura T, Bloom T, Kim HG, Juppner H, Ruderman JV, Kronenberg HM and Arnold A . (1991). Nature, 350, 512–515.

Nishitani H, Lygerou Z, Nishimoto T and Nurse P . (2000). Nature, 404, 625–628.

Nobori T, Miura K, Wu DJ, Lois A, Takabayashi K and Carson DA . (1994). Nature, 368, 753–756.

Ohta S, Koide M, Tokuyama T, Yokota N, Nishizawa S and Namba H . (2001). Oncol. Rep., 8, 1063–1066.

Quintana DG and Dutta A . (1999). Front. Biosci., 4, D805–D815.

Saxena S and Dutta A . (2003). Cell Cycle, 2, 283–286.

Sherr CJ . (1996). Science, 274, 1672–1677.

Shreeram S and Blow JJ . (2003). Prog. Cell Cycle Res., 5, 287–293.

Slamon DJ, Clark GM, Wong SG, Levin WJ, Ullrich A and McGuire WL . (1987). Science, 235, 177–182.

Tada S, Li A, Maiorano D, Mechali M and Blow J . (2001). Nat. Cell. Biol., 3, 107–113.

Tan DF, Huberman J, Hyland A, Loewen G, Brooks J, Beck A, Todorov I and Bepler G . (2001). BMC Cancer, 1, 6.

Vaux DL, Cory S and Adams JM . (1988). Nature, 335, 440–442.

Vaziri C, Saxena S, Jeon Y, Lee C, Murata K, Machida Y, Wagle N, Hwang DS and Dutta A . (2003). Mol. Cell, 11, 997–1008.

Wharton SB, Hibberd S, Eward KL, Crimmins D, Jellinek DA, Levy D, Stoeber K and Williams GH . (2004). Br. J. Cancer, 91, 262–269.

Whittaker AJ, Royzman I and Orr-Weaver TL . (2000). Genes Dev., 14, 1765–1776.

Wildin RS, Garvin AM, Pawar S, Lewis DB, Abraham KM, Forbush KA, Ziegler SF, Allen JM and Perlmutter RM . (1991). J. Exp. Med., 173, 383–393.

Wohlschlegel JA, Dwyer BT, Dhar SK, Cvetic C, Walter JC and Dutta A . (2000). Science, 290, 2309–2312.

Wohlschlegel JA, Kutok JL, Weng AP and Dutta A . (2002). Am. J. Pathol., 161, 267–273.

Xouri G, Lygerou Z, Nishitani H, Pachnis V, Nurse P and Taraviras S . (2004). Eur. J. Biochem., 271, 3368–3378.

Yarden Y and Ullrich A . (1988). Annu. Rev. Biochem., 57, 443–478.

Zhu W, Chen Y and Dutta A . (2004). Mol. Cell. Biol., 24, 7140–7150.
Acknowledgements
We thank Laura Wells and Michael White for help with mice, Wen Jie Zhang for help with flow cytometry, Herbert W Virgin for p53-deficient mice, Robert Schreiber for the p1017 plasmid, and Jason Weber for p19/ARF and p27 antibodies. We also thank Paul Allen and Lee Ratner for helpful discussion, Laura Mandik-Nayak and Wanghai Zhang for help with immunohistochemistry, and Changwon Park and Jesse Lugus for helpful comments on the manuscript. This work was supported by Grants NS34746 and CA10445-Project 2, Department of Army (TKP) and RTI04-03-05, the Regional Technology Innovation Program of MOCIE, and KMOST 2005-01112, KOSEF (EM).
About this article
Cite this article
Seo, J., Chung, Y., Sharma, G. et al. Cdt1 transgenic mice develop lymphoblastic lymphoma in the absence of p53. Oncogene 24, 8176–8186 (2005). https://doi.org/10.1038/sj.onc.1208881
Received:

Revised:

Accepted:

Published:

Issue Date:

DOI: https://doi.org/10.1038/sj.onc.1208881
Keywords
Cdt1

genomic instability

p53

cancer