Abstract
Thymosin β-4 (Tβ-4), a small peptide originally isolated from calf thymus, modulates the formation of F-actin microfilaments by sequestering the monomeric G-actin. Recent studies have shown that overexpression of the Tβ-4 gene occurs not only in many human carcinomas but also in the highly metastatic melanomas and fibrosarcomas. However, little is known about the specific growth advantages acquired by different tumors from this genetic abnormality. To address the above questions, Tβ-4-overexpressing human colon carcinoma (SW480) cells were established by stable transfection and their phenotypic changes were monitored. We found that both the morphology and the cortical actin cytoskeleton of SW480 cells were altered by Tβ-4 overexpression. Moreover, both cellular level and that distributed over the intercellular junctions of the E-cadherin were decreased in the Tβ-4 overexpressers, which were accompanied by a twofold increase in their saturation densities. Meanwhile, these cells also exhibited an increased ability to form colonies in soft agar. Interestingly, a dramatic increase of growth rate was detected in the Tβ-4 overexpressers, which might be attributed to an accelerated proliferation induced by c-Myc that was activated by nuclear β-catenin. Finally, a motility increase of these cells was demonstrated by two independent migration assays, which was accompanied by an enhanced focal contact. Taken together, our data suggest that the drastic growth property and motility changes of the SW480 cells overexpressing Tβ-4 gene are due mainly to a deregulated cell–cell adhesion arisen from the downregulation of E-cadherin, plus uncontrolled cell proliferation owing to the upregulation of β-catenin, both resulted from a breakdown of actin microfilaments caused by the overexpression of this G-actin sequestering peptide.
Your institute does not have access to this article
Access options
Subscribe to Journal
Get full journal access for 1 year
$119.00
only $2.38 per issue
All prices are NET prices.
VAT will be added later in the checkout.
Tax calculation will be finalised during checkout.
Buy article
Get time limited or full article access on ReadCube.
$32.00
All prices are NET prices.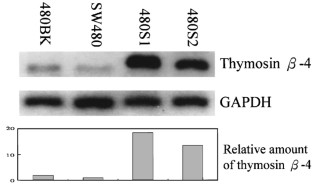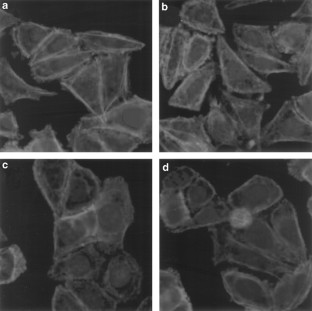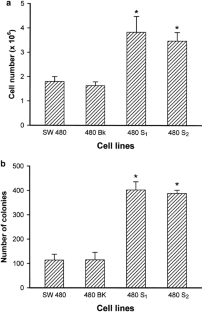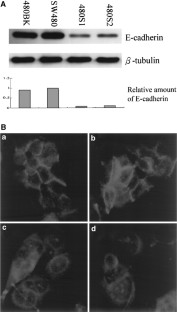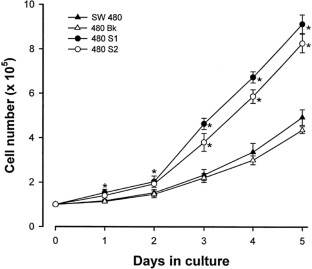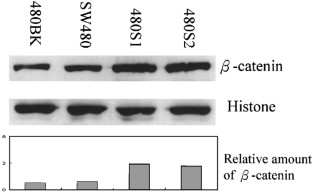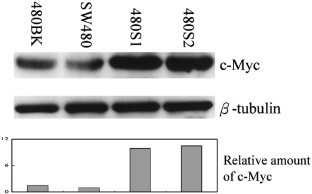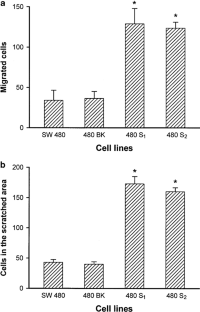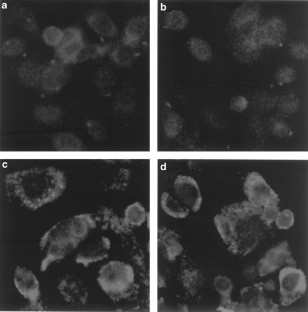 References
Aberle H, Bauer A, Stappert J, Kispert A and Kemler R . (1997). EMBO J., 16, 3797–3804.

Angres B, Barth A and Nelson WJ . (1996). J. Cell Biol., 134, 549–557.

Assoian RK and Schwartz MA . (2001). Curr. Opin. Genet. Dev., 11, 48–53.

Bao LR, Loda M, Janmey PA, Stewart R, Anand-Apte B and Zetter BR (1996) Nat. Med., 2, 1322–1328.

Barker N and Clevers H . (2000). Bioessays, 22, 962–965.

Behrens J, von Kries JP, Kuhl M, Bruhn L, Wedlich D, Grosschedl R and Birchmeier W . (1996). Nature, 382, 638–642.

Boudreau N, Sympson CJ, Werb Z and Bissell MJ . (1995). Science, 267, 891–893.

Brabletz T, Jung A, Dag S, Hlubek F and Kirchner T . (1999). Am. J. Pathol., 155, 1033–1038.

Burridge K, Fath K, Kelly T, Nuckolls G and Turner C . (1988). Annu. Rev. Cell Biol., 4, 487–525.

Califano D, Monaco C, Santelli G, Giuliano A, Veronese ML, Berlingeri MT, de Franciscis V, Berger N, Trapasso F, Santoro M, Viglietto G and Fusco A . (1998). Cancer Res., 58, 823–828.

Cassimeris L, Safer D, Nachmias VT and Zigmond SH . (1992). J. Cell Biol., 119, 1261–1270.

Chakravatri A, Zehr EM, Zietman AL, Shipley WU, Goggins WB, Finkelstein DM, Young RH, Chang EL and Wu CL . (2000). Urology, 55, 635–638.

Christofori G and Semb H . (1999). Trends Biochem. Sci., 24, 73–76.

Clark EA, Golub TR, Lander ES and Hyens RO . (2000). Nature, 406, 532–535.

Ezzell RM, Goldmann WH, Wang N, Parasharama N and Ingber DE . (1997). Exp. Cell Res., 231, 14–26.

Frisch SM and Francis H . (1994). J. Cell Biol., 124, 619–626.

Gold JS, Bao L, Ghoussoub RA, Zetter BR and Rimm DL . (1997). Mol. Pathol., 10, 1106–1112.

Golla R, Philip N, Safer D, Chintapalli J, Hoffman R, Collins L and Nhmias VT . (1997). Cell Motil. Cytoskel., 38, 187–200.

Gumbiner BM . (1996). Cell, 84, 345–357.

Hall AK . (1991). Int. J. Cancer, 48, 672–677.

He TC, Sparks AB, Rago C, Hermeking H, Zawel L, da Costa LT, Morin PJ, Vogelstein B and Kinzler KW . (1998). Science, 281, 1509–1512.

Kobayashi T, Okada F, Fuji N, Tomita N, Ito S, Tazawa H, Aoyama T, Choi SK, Shibata T, Fujita H and Hosokawa M . (2002). Am. J. Pathol., 160, 869–882.

Lee SH, Zhang W, Choi JJ, Cho YS, Lee SH, Kim JW, Hu L, Xu J, Liu J and Lee JH . (2001). Oncogene, 20, 6700–6706.

Liu C, Li Y, Semenov M, Han C, Baeg GH, Tan Y, Zhang Z, Lin X and He X . (2002). Cell, 108, 837–847.

Low TLK and Goldstein AL . (1982). J. Biol. Chem., 257, 1000–1006.

Luna EJ and Hitt AL . (1992). Science, 258, 955–964.

Molenaar M, van de Wetering M, Oosterwegel M, Peterson-Maduro J, Godsave S, Korinek V, Roose J, Destree O and Clevers H . (1996). Cell, 86, 391–399.

Morin PJ, Sparks AB, Korinek V, Barker N, Clevers H, Vogelstein B and Kinzler KW . (1997). Science, 275, 1787–1790.

Nakanishi K, Sakamoto M, Yasuda J, Takamura M, Fujita N, Tsuruo T, Todo S and Hirohashi S . (2002). Cancer Res., 62, 2971–2975.

Newell KJ, Witty JP, Rodgers WH and Matrisian LM . (1994). Mol. Carcinogen., 10, 199–206.

Pawlak G and Helfman DM . (2001). Curr. Opin. Genes Dev., 11, 41–47.

Quigley JP and Armstrong PB . (1998). Cell, 94, 281–284.

Quinlan MP and Hyatt JL . (1999). Cell Growth Differ., 10, 839–854.

Radeva G, Petroceli T, Behrend E, Leung-Hagesteijn C, Filmus J, Singerland J and Dedhar S . (1997). J. Biol. Chem., 272, 13937–13944.

Rodriquez-Fernandez JL, Geiger B, Salomon D and Ben-Ze'ev A . (1993). J. Cell Biol., 122, 1285–1294.

Rubinfeld B, Albert I, Porfiri E, Fiol C, Munemitsu S and Polakis P . (1996). Science, 272, 1023–1026.

Safer D, Elzinga M and Nachmias VT . (1991). J. Biol. Chem., 266, 4029–4032.

Safer D, Golla R and Nachmias VT . (1990). Proc. Natl. Acad. Sci. USA, 87, 2536–2540.

Sanger JM, Golla R, Safer D, Choi JK, Yu KR, Sanger JW and Nachmias VT (1995). Cell Motil. Cytoskel., 31, 307–322.

Santelli G, Califano D, Chiappetta G, Vento MT, Bartoli PC, Zullo F, Trapasso F, Viglietto G and Fusco A . (1999). Am. J. Pathol., 155, 799–804.

Sardi I and Tintori V . (2002). Int. J. Mol. Med., 9, 541–545.

Schreiber E, Matthias P, Muller M and Schaffner W . (1989). Nucleic Acids Res., 17, 6419.

Sellin JH, Umar S, Xiao J and Morris AP . (2001). Cancer Res., 61, 1899–1906.

Sosne G, Hafeez S, Greenberry II AL and Kurpakus-Wheater M . (2002). Curr. Eye Res., 24, 268–273.

Su Y, Chang SL and Hsiao HL . (2000). Mol. Cell. Biochem., 203, 163–167.

Sun HQ, Kwiatkowska K and Yin HL . (1996). J. Biol. Chem., 271, 9223–9230.

Takeichi M . (1991). Science, 251, 1451–1455.

Takeichi M . (1995). Curr. Opin. Cell Biol., 7, 619–627.

Tang RY and Su Y . (1997). J. Virol. Methods, 65, 153–158.

Tetsu O and McCormick F . (1999). Nature, 398, 422–426.

Varnum-Finney B and Reichardt LF . (1994). J. Cell Biol., 127, 1071–1084.

Verghese-Nikolakaki S, Apostolikas N, Livaniou E, Ithakissios DS and Evangelatos GP . (1996). Br. J. Cancer, 74, 1441–1444.

Vogelstein B and Kinzler KW . (1993). Trends Genet., 9, 138–141.

Weterman MA, van-Muijen GN, Ruiter DJ and Bloemers HP . (1993). Int. J. Cancer, 53, 278–284.

Xie D, Jauch A, Miller CW, Bartram CR and Koeffler HP . (2002). Int. J. Oncol., 21, 499–507.

Yamamoto T, Gotoh M, Kitajima M and Hirohashi S . (1993). Biochem. Biophys. Res. Commun., 193, 706–710.

Yu FX, Lin SC, Morrison-Bogorad M, Atkinson MAL and Yin HL . (1994). Cell Motil. Cytoskel., 27, 13–25.
Acknowledgements
This study was supported in part by Grants NSC 89-2320-B-010-126 and NSC 90-2314-B-075-080 from the Nation Science Council and in part by the Grant 89-B-FA22-2-4 (Program for Promoting Academic Excellence of Universities) of the Republic of China.
About this article
Cite this article
Wang, WS., Chen, PM., Hsiao, HL. et al. Overexpression of the thymosin β-4 gene is associated with malignant progression of SW480 colon cancer cells. Oncogene 22, 3297–3306 (2003). https://doi.org/10.1038/sj.onc.1206404
Received:

Revised:

Accepted:

Published:

Issue Date:

DOI: https://doi.org/10.1038/sj.onc.1206404
Keywords
thymosin β-4

SW480

E-cadherin

β-catenin

c-Myc

malignancy