Abstract
Expression of the adenovirus E1A gene in the rat thyroid differentiated cell line PC Cl 3 induces thyrotropin-independent cell growth and impairs differentiation. However, the malignant phenotype is achieved only when the PC E1A cells are infected with other murine retroviruses carrying the v-abl, v-raf or polyoma middle-T genes. To determine through which genes E1A affects thyroid cells, we differentially screened PC Cl 3 and PC E1A cells. Here we report a new gene, named CL2, that is upregulated in PC E1A cells. The CL2 transcript is 4.4 kb long and encodes a 949 amino-acid protein. Conceptual translation of the open reading frame showed one product with a signal peptide, multiple nuclear localization signals and three newly described domains. Furthermore, in vivo, this protein was located juxtanuclear, which is suggestive of Golgian localization, and also in cytoplasm and nucleus/nucleolus. Finally, CL2 gene expression was drastically downregulated in human thyroid neoplastic cell lines and tissues.
Relevant articles
Open Access articles citing this article.
Lei Ma

,

Shulin Yang

…

Kui Li

BMC Genomics Open Access 28 August 2012

Krzysztof Pawłowski

,

Anna Muszewska

…

Marcin Grynberg

BMC Genomics Open Access 21 October 2010

Janet Strath

,

Lindsay J Georgopoulos

…

G Eric Blair

BMC Genomics Open Access 06 February 2009
Access options
Subscribe to Journal
Get full journal access for 1 year
$119.00
only $2.38 per issue
All prices are NET prices.
VAT will be added later in the checkout.
Tax calculation will be finalised during checkout.
Buy article
Get time limited or full article access on ReadCube.
$32.00
All prices are NET prices.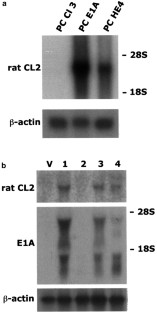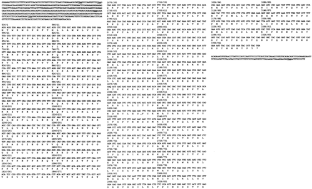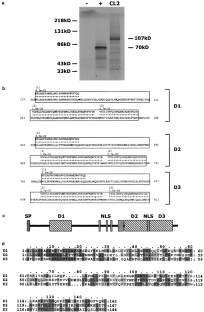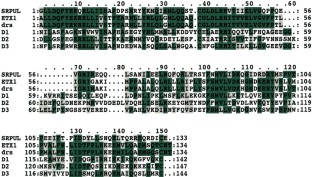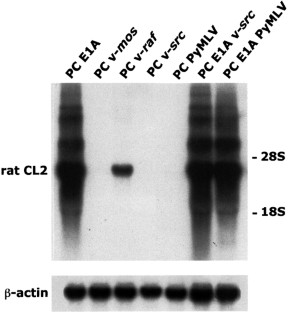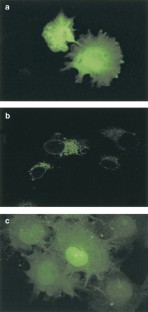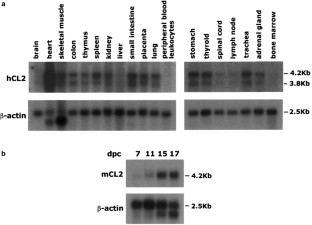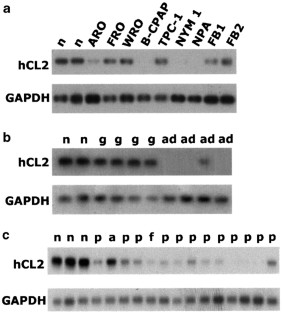 References
Altschul SF, Madden TL, Schaffer AA, Zhang J, Zhang Z, Miller W and Lipman DJ . (1997). Nucleic Acids Res., 25, 3389–3402.

Antoine M, Reimers K, Dickson C and Kiefer P . (1997). J. Biol. Chem., 272, 29475–29481.

Bailey TL and Gribskov M . (1998). J Comput. Biol., 5, 211–221.

Baldin V, Roman AM, Bosc-Bierne I, Amalric F and Bouche G . (1990). EMBO J., 9, 1511–1517.

Basolo F, Giannini R, Toniolo A, Casalone R, Nikiforova M, Pacini F, Elisei R, Miccoli P, Berti P, Faviana P, Fiore L, Monaco C, Pierantoni GM, Fedele M, Nikiforov YE, Santoro M and Fusco A . (2002). Int. J. Cancer, 97, 608–614.

Berlingieri MT, Portella G, Grieco M, Santoro M and Fusco A . (1988). Mol. Cell Biol., 8, 2261–2266.

Berlingieri MT, Santoro M, Battaglia C, Grieco M and Fusco A . (1993). Oncogene, 8, 249–255.

Bouche G, Gas N, Prats H, Baldin V, Tauber JP, Teissie J and Amalric F . (1987). Proc. Natl. Acad. Sci. USA, 84, 6770–6774.

Chinnadurai G . (1992). Oncogene, 7, 1255–1258.

Cone RD, Grodzicker T and Jaramillo M . (1988). Mol. Cell. Biol., 8, 1036–1044.

Dry KL, Aldred MA, Edgar AJ, Brown J, Manson FD, Ho MF, Prosser J, Hardwick LJ, Lennon AA, Thomson K et al. (1995). Hum. Mol. Genet., 4, 2347–2353.

Estour B, Van Herle AJ, Juillard GJ, Totanes TL, Sparkes RS, Giuliano AE and Klandorf H . (1989) Virchows Arch. B Cell Pathol. Incl. Mol. Pathol., 57, 167–174.

Evan G and Littlewood T . (1998). Science, 281, 1317–1322.

Fabien N, Fusco A, Santoro M, Barbier Y, Dubois PM and Paulin C . (1994). Cancer, 73, 2206–2212.

Fagin JA, Matsuo K, Karmakar A, Chen DL, Tang SH and Koeffler HP . (1993). J. Clin. Invest., 91, 179–184.

Fearnhead HO, McCurrach ME, O'Neill J, Zhang K, Lowe SW and Lazebnik YA . (1997). Genes Dev., 11, 1266–1276.

Fiore L, Pollina LE, Fontanini G, Casalone R, Berlingieri MT, Giannini R, Pacini F, Miccoli P, Toniolo A, Fusco A and Basolo F . (1997). J. Clin. Endocrinol. Metab., 82, 4094–4100.

Fusco A, Berlingieri MT, Di Fiore PP, Portella G, Grieco M and Vecchio G . (1987). Mol. Cell. Biol., 7, 3365–3370.

Gallimore PH and Turnell AS . (2001). Oncogene, 20, 7824–7835.

Gluzman Y . (1981). Cell, 23, 175–182.

Henderson JE, Amizuka N, Warshawsky H, Biasotto D, Lanske BM, Goltzman D and Karaplis AC . (1995). Mol. Cell Biol., 15, 4064–4075.

Hill DJ, Logan A, Ong M, De Sousa D and Gonzalez AM . (1992). Growth Factors, 6, 277–294.

Imamura T, Engleka K, Zhan X, Tokita Y, Forough R, Roeder D, Jackson A, Maier JA, Hla T and Maciag T . (1990). Science, 249, 1567–1570.

Kurosawa H, Goi K, Inukai T, Inaba T, Chang KS, Shinjyo T, Rakestraw KM, Naeve CW and Look AT . (1999). Blood, 93, 321–332.

Lynch MJ and Trainer DL . (1989). Cancer Res., 49, 5429–5434.

Maher DW, Lee BA and Donoghue DJ . (1989). Mol. Cell. Biol., 9, 2251–2253.

Marais R, Light Y, Paterson HF, Mason CS and Marshall CJ . (1997). J. Biol. Chem., 272, 4378–4383.

Marshall CJ . (1994). Curr. Opin. Genet. Dev., 4, 82–89.

Melillo RM, Santoro M, Ong SH, Billaud M, Fusco A, Hadari YR, Schlessinger J and Lax I . (2001). Mol. Cell. Biol., 21, 4177–4187.

Moroianu J and Riordan JF . (1994). Proc. Natl. Acad. Sci. USA, 91, 1677–1681.

Nakai K and Kanehisa M . (1992). Genomics, 14, 897–911.

Nielsen H, Engelbrecht J, Brunak S and von Heijne G . (1997). Protein Eng., 10, 1–6.

Pan J, Nakanishi K, Yutsudo M, Inoue H, Li Q, Oka K, Yoshioka N and Hakura A . (1996). FEBS Lett., 383, 21–25.

Pang XP, Hershman JM, Chung M and Pekary AE . (1989). Endocrinology, 125, 1783–1788.

Paraskeva C and Gallimore PH . (1980). Int. J. Cancer, 25, 631–639.

Rossini M . (1983). Virology, 131, 49–58.

Ruley HE . (1983). Nature, 304, 602–606.

Sambrook J, Fritsch EF and Maniatis T . (1989). Molecular Cloning: A Laboratory Manual. Cold Spring Harbor Laboratory, Cold Spring Harbor, New York.

Santoro M, Melillo RM, Grieco M, Berlingieri MT, Vecchio G and Fusco A . (1993). Cell Growth Differ., 4, 77–84.

Stow ND . (1982). Nucleic Acids Res., 10, 5105–5119.

Tanaka J, Ogura T, Sato H and Hatano M . (1987). Virology, 161, 62–72.

Thompson JD, Higgins DG and Gibson TJ . (1994). Nucleic Acids Res., 22, 4673–4680.

Tokunaga K, Taniguchi H, Yoda K, Shimizu M and Sakiyama S . (1986). Nucleic Acids Res., 14, 2829.

White E . (1995). Current Topics in Microbiology and Immunology: The Molecular Repertoire of Adenovirus. Doerfler W (ed). Spinger-Verlag: Berlin, Heidelberg, pp. 33–58.

White E . (2001). Oncogene, 20, 7836–7846.

Whyte P, Ruley HE and Harlow E . (1988). J. Virol., 62, 257–265.

Whyte P, Williamson NM and Harlow E . (1989). Cell, 56, 67–75.

Zeki K, Azuma H, Suzuki H, Morimoto I and Eto S . (1991). Acta Endocrinol., 124, 60–66.
About this article
Cite this article
Visconti, R., Schepis, F., Iuliano, R. et al. Cloning and molecular characterization of a novel gene strongly induced by the adenovirus E1A gene in rat thyroid cells. Oncogene 22, 1087–1097 (2003). https://doi.org/10.1038/sj.onc.1206194
Received:

Revised:

Accepted:

Published:

Issue Date:

DOI: https://doi.org/10.1038/sj.onc.1206194
Keywords
thyroid

carcinoma

E1A

transformation