Abstract
The release of cytochrome c from the intermembrane space of mitochondria into the cytosol is one of the critical events in apoptotic cell death. In the present study, it is shown that release of cytochrome c and apoptosis induced by tumor necrosis factor α (TNF) in HeLa cells can be inhibited by (i) overexpression of an oncoprotein Bcl-2, (ii) Cyclosporin A, an inhibitor of the mitochondrial permeability transition pore (PTP) or (iii) oligomycin, an inhibitor of H+- ATP-synthase. Staurosporine-induced apoptosis is sensitive to Bcl-2 but insensitive to Cyclosporin A and oligomycin. The effect of oligomycin is not due to changes in mitochondrial membrane potential or to inhibition of ATP synthesis/hydrolysis since (a) uncouplers (CCCP, DNP) which discharge the membrane potential fail to abolish the protective action of oligomycin and (b) aurovertin B (another inhibitor of H+-ATP-synthase, affecting its F1 component) do not affect apoptosis. A role of oligomycin-sensitive F0 component of H+-ATP-synthase in the TNF-induced PTP opening and apoptosis is suggested.
Relevant articles
Open Access articles citing this article.
Ziming Li

,

Zhuo Wang

…

Qihui Shi

Nature Communications Open Access 26 August 2019

Li-Yuan Yu

,

Lu-Ning Sun

…

Yong-Qing Wang

Advances in Therapy Open Access 20 April 2017

Gang Han

,

Ben Gu

…

HaiFang Yin

Nature Communications Open Access 11 March 2016
Access options
Subscribe to this journal
Receive 50 print issues and online access
$259.00 per year
only $5.18 per issue
Rent or buy this article
Prices vary by article type
from$1.95
to$39.95
Prices may be subject to local taxes which are calculated during checkout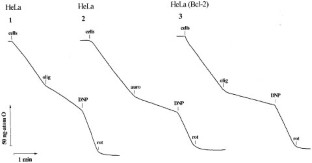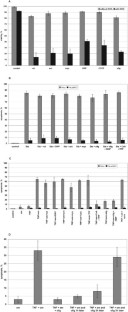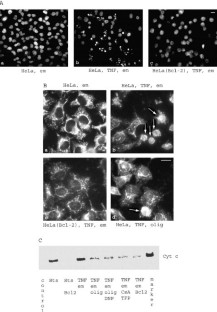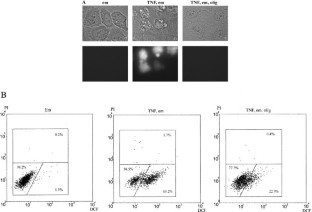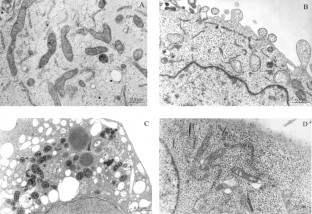 Abbreviations
ANT:

adenine nucleotide translocator

CCCP:

carbonyl cyanide m-chlorophenylhydrazone

CsA:

Cyclosporin A

DCF:

dichlorofluorescine

DCFDA:

dichlorofluorescine diacetate

DMEM:

Dulbecco's modified Eagle's medium

DNP:

2,4-p-dinitrophenol

DOG:

2-deoxiglucose

MTT:

3-(4,5-dimethylthiazol-2-yl)-2,5-diphenyltetrazolium bromide

PTP:

permeability transition pore

Sts:

staurosporine

TFP:

trifluoropyrasine

TNF:

tumor necrosis factor α
References
Bradham CA, Qian T, Streetz K, Tratwein C, Brenner DA, Lemasters JJ . 1998 Mol. Cell. Biol. 18: 6353–6364

Broekemeier KM, Pfeiffer DR . 1995 Biochemistry 34: 16440–16449

Domnina LV, Ivanova OY, Chernyck BV, Skulachev VP, Vasiliev YM . 2002 Biochemistry (Moscow) 67: 737–746

Du C, Fang M, Li Y, Li L, Wang X . 2000 Cell 102: 33–42

Eguchi Y, Shimizu S, Tsujimoto Y . 1997 Cancer Res. 57: 1835–1840

Goldstein JC, Waterhouse NJ, Juin P, Evans GI, Green DR . 2000 Nature Cell. Biol. 2: 156–162

Hsu YT, Walter KG, Joule RJ . 1997 Proc. Natl. Acad. Sci. USA 94: 3668–3672

Ikemoto H, Tani E, Ozaki I, Kitagawa H, Arita N . 2000 Cell Death Diff. 7: 511–520

Kluck RM, Bossy-Wetzel E, Green DR, Newmeyer DD . 1997 Science 275: 1132–1136

Korsmeyer SJ, Wei MC, Saito M, Weiler S, Oh KJ, Shlesinger PH . 2000 Cell Death Diff. 7: 1166–1173

Kroemer G . 1997 Nature Med. 3: 614–620

Kroemer G, Dallaporta B, Reshe-Rigon M . 1998 Ann. Rev. Physiol. 60: 619–642

Kroemer G, Reed JC . 2000 Nature Med. 6: 513–519

Leist M, Single B, Castoldi AF, Kuhnle S, Nicotera P . 1997 J. Exp. Med. 185: 1481–1486

Li LY, Luo X, Wang X . 2001 Nature 412: 95–99

Liu Y, Peterson DA, Kimura H, Schubert D . 1997 J. Neurochem. 69: 581–593

Matsuyama S, Xu Q, Velours J, Reed JC . 1998 Mol. Cell 1: 327–336

Narita M, Shimizu S, Ito T, Chittenden T, Lutz RJ, Matsuda H, Tsujimoto Y . 1998 Proc. Natl. Acad. Sci. USA 95: 14681–14686

Novgorodov SA, Gudz TI, Mohr Yu E, Goncharenko EN, Yaguzhinsky LS . 1989 FEBS Lett. 247: 255–258

Ott M, Robertson JD, Gogvadze V, Zhivotovsky B, Orrenius S . 2002 Proc. Natl. Acad. Sci. USA 99: 1259–1263

Peachman KK, Lyles DS, Bass DA . 2001 Proc. Natl. Acad. Sci. USA 98: 1717–1722

Salomon AR, Voehringer DW, Herzenberg LA, Khosla C . 2000 Proc. Natl. Acad. Sci. USA 97: 14766–14771

Samali A, Cai J, Zhivotovsky B, Jones DP, Orrenius S . 1999 EMBO J. 18: 2040–2048

Scorrano L, Ashiya M, Buttle K, Weiler S, Oakes SA, Mannella CA, Korsmeyer SJ . 2002 Dev. Cell 2: 55–67

Shchepina LA, Popova EN, Pletjushkina OYu, Chernyak BV . 2002 Biochemistry (Moscow) 67: 222–226

Sidoti-de Fraisse C, Rincheval V, Risler Y, Mignotte B, Vayssiere J-L . 1998 Oncogene 17: 1639–1651

Skulachev VP . 1996a FEBS Lett. 397: 7–10

Skulachev VP . 1996b Quart. Rev. Biophys. 29: 169–202

Skulachev VP . 1998 FEBS Lett. 423: 275–280

Skulachev VP . 1999 Mol. Asp. Med. 20: 139–184

Tafani M, Minchenko DA, Serroni A, Farber JL . 2001 Cancer Res. 61: 2459–2466

Tafani M, Schneider TG, Pastorino JG, Farber JL . 2000 Am. J. Physiol. 156: 2111–2121

Vander Heiden MG, Chandel NS, Williamson EK, Schumacker PT, Thompson CB . 1997 Cell 91: 627–637

Verhagen AM, Ekert PG, Pakush M, Silke J, Connoly LM, Reid GE, Moritz RL, Simpson RJ, Vaux DL . 2000 Cell 102: 45–53

Wei MC, Lindsten T, Mootha VK, Weiler S, Gross A, Ashiya M, Thompson CB, Korsmeyer SJ . 2000 Genes Dev. 14: 2060–2071

Wolvetang EJ, Johnson KL, Krauer K, Ralph SJ, Linnane AW . 1994 FEBS Lett. 339: 40–44

Yang J, Liu X, Bhalla K, Kim CN, Ibrado AM, Cai J, Peng I-I, Jones DP, Wang X . 1997 Science 275: 1129–1132

Zhuang J, Dinsdale D, Cohen GM . 1998 Cell Death Diff. 5: 953–962
Acknowledgements
The authors wish to thank Professor YM Vasiliev for intellectual support and helpful discussions, Dr LV Domnina, Dr OY Ivanova and Ms N Korovkina for help in some experiments, Dr G Belov for cells lines, and Dr V Korobko for a sample of TNF. This work was supported by Ludwig Cancer Research Institute Grant ROB 0863 and by RFBR Grants No 00-04-48090, 01-04-06048; 99-04-49256, 00-15-97799, 01-04-48606.
About this article
Cite this article
Shchepina, L., Pletjushkina, O., Avetisyan, A. et al. Oligomycin, inhibitor of the F0 part of H+-ATP-synthase, suppresses the TNF-induced apoptosis. Oncogene 21, 8149–8157 (2002). https://doi.org/10.1038/sj.onc.1206053
Received:

Revised:

Accepted:

Published:

Issue Date:

DOI: https://doi.org/10.1038/sj.onc.1206053
Keywords