Abstract
C-myc availability is central for its ability to serve as a regulator of cell growth and death. Here we study the regulation of c-myc protein stability and identify domains of c-myc that are important for its stabilization in response to stress kinases activated following selective stress conditions. UV-irradiation elicited an increase in c-myc protein levels, which could be attenuated by inhibitors of stress kinases but also by actinomycin D-inhibitor of transcription. Inhibition of protein synthesis results in a noticeable decrease in c-myc levels, further pointing to the short half-life of the protein. However, in combination with tumor necrosis factor-alpha (TNF-α), cycloheximide efficiently increases steady-state levels of c-myc, suggesting that selective stress conditions are required to increase c-myc protein stability. Expression of MEKK1, an upstream regulator of protein kinases that has been implicated in mediating the response to diverse stress conditions, also results in an efficient increase in the half-life of c-myc protein. To map c-myc domains that are responsive to stress kinases, we monitored changes in the level of c-myc deletion mutants following MEKK1 expression. Of the seven c-myc deletion mutants analysed, the domain spanning amino acids 127–189 was found to be required for MEKK1-dependent increase in c-myc stability. In all, the present study identifies a novel domain that is important for the regulation of c-myc stability by stress kinases in response to selective stress conditions.
Access options
Subscribe to Journal
Get full journal access for 1 year
$119.00
only $2.38 per issue
All prices are NET prices.
VAT will be added later in the checkout.
Tax calculation will be finalised during checkout.
Buy article
Get time limited or full article access on ReadCube.
$32.00
All prices are NET prices.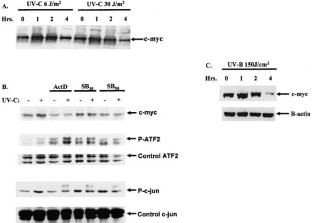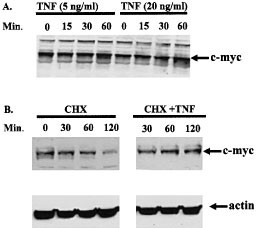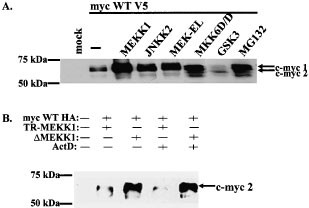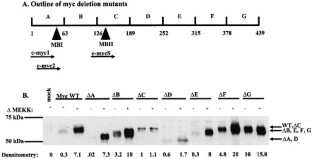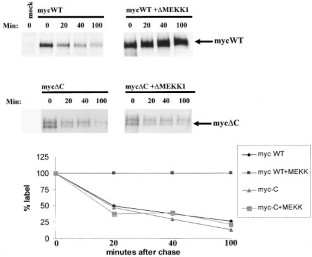 References
Alvarez E, Northwood IC, Gonzalez FA, Latour DA, Seth A, Abate C, Curran T, Davis RJ . 1991 J. Biol. Chem. 266: 15277–15285

Askew DS, Ashmun RA, Simmons BC, Cleveland JL . 1991 Oncogene 6: 1915–1922

Bahram F, von der Lehr N, Cetinkaya C, Larsson LG . 2000 Blood 95: 2104–2110

Baud V, Liu ZG, Bennett B, Suzuki N, Xia Y, Karin M . 1999 Genes Dev. 13: 1297–1308

Blattner C, Kannouche P, Litfin M, Bender K, Rahmsdorf HJ, Angulo JF, Herrlich P . 2000 Mol. Cell Biol. 20: 3616–3625

Bonvini P, Nguyen P, Trepel J, Neckers LM . 1998 Oncogene 16: 131–139

Chen CY, DelGatto-Konczak F, Wu Z, Karin M . 1998 Science 280: 1945–1949

Chen L, Smith L, Accavitti-Loper MA, Omura S, Smith JB . 2000 Arc. Biochem. Biophys. 374: 306–312

Cheng M, Wang D, Roussel MF . 1999 J. Biol. Chem. 274: 6553–6558

Ciechanover A, DiGiuseppe JA, Bercovich B, Orian A, Richter JD, Schwartz AL, Brodeur GM . 1991 PNAS 88: 139–143

Dang CV . 1999 Mol. Cell. Biol. 19: 1–11

Eldar-Finkelman H, Argast GM, Foord O, Fischer EH, Krebs EG . 1996 PNAS 93: 10228–10233

Evan G, Wyllie AH, Gilbert CS, Littlewood TD, Land H, Brooks M, Waters M, Waters CM, Penn LZ, Hancock DC . 1992 Cell 69: 119–128

Flinn EM, Busch CMC, Wright APH . 1998 Mol. Cell. Biol. 18: 5961–5969

Fuchs SY, Fried V, Ronai Z . 1998 Oncogene 17: 1483–1490

Gavine PR, Neil JC, Crouch DH . 1999 Oncogene 18: 7552–7558

Gregory MA, Hann SR . 2000 Mol. Cell. Biol. 20: 2423–2435

Gross-Mesilaty S, Reinstein E, Bercovich B, Tobias KE, Schwartz AL, Kahana C, Ciechanover A . 1998 PNAS 95: 8058–8063

Gupta S, Seth A, Davis R . 1993 PNAS 90: 3216–3220

Henriksson M, Bakardjiev A, Klein G, Luscher B . 1993 Oncogene 8: 3199–3209

Herbst A, Tansey WP . 2001 Mol. Biol. Rep. 27: 203–208

Hoang AT, Lutterbach B, Lewis BC, Yano T, Chou TY, Barret JF, Raffeld M, Hann SR, Dang CV . 1995 Mol. Cell. Biol. 15: 4031–4042

Kim JW, Joe CO, Choi EJ . 2001 J. Biol. Chem. 276: 27064–27070

Li H, Zhu H, Xu CJ, Yuan J . 1998 Cell 94: 491–501

Li L, Nerlov C, Prendergast G, MacGregor D, Ziff EB . 1994 EMBO J. 13: 4070–4079

Luscher B, Eisenman RN . 1988 Mol. Cell. Biol. 8: 2504–2512

Lutterbach B, Hann SR . 1994 Mol. Cell. Biol. 14: 5510–5522

Mateyak MK, Obaya AJ, Adachi S, Sedivy JM . 1997 Cell Growth & Diff. 8: 1039–1048

Minden A, Lin A, McMahon M, Lange-Carter C, Derijard B, Davis RJ, Johnson GL, Karin M . 1994 Science 266: 1719–1723

Noguchi K, Kitanaka C, Yamana H, Kokubu A, Mochizuki T, Kuchino Y . 1999 J. Biol. Chem. 274: 32580–32587

Park IC, Park MJ, Lee SH, Choe TB, Jang JJ, Hong SI . 1998 Cancer Lett. 125: 17–23

Potter M, Marcu KB . 1997 Curr. Top. Micro. Immunol. 224: 1–17

Pulverer BJ, Fisher C, Vousden K, Littlewood T, Evan G, Woodgett JR . 1994 Oncogene 9: 59–70

Salghetti SE, Kim SY, Tansey WP . 1999 EMBO J. 18: 717–726

Sears R, Leone G, DeGregori J, Nevins JR . 1999 Mol. Cell. 3: 169–179

Sears R, Nuckolls F, Haura E, Taya Y, Tamai K, Nevins JR . 2000 Genes Dev. 14: 2501–2514

Seth A, Alvarez E, Gupta S, Davis R . 1991 J. Biol. Chem. 266: 23521–23524

Shi CS, Kehrl JH . 1997 J. Biol. Chem. 272: 32102–32107

Shindo H, Tani E, Matsumuto T, Hashimoto T, Furuyama J . 1993 Acta Neuropathol. (Berl.) 86: 345–352

Spotts GD, Patel SV, Xiao Q, Hann SR . 1997 Mol. Cell. Biol. 17: 1459–1468

Thompson EB . 1998 Annu. Rev. Physiol. 60: 575–600

Waters CM, Littlewood TD, Hancock DC, Moore JP, Evan GI . 1991 Oncogene 6: 797–805

Xiao Q, Claassen G, Shi J, Adachi S, Sedivy J, Hann SR . 1998 Genes Dev. 12: 3803–3808

Yuasa T, Ohno S, Kehrl JH, Kyriakis JM . 1998 J. Biol. Chem. 273: 22681–22692

Yujiri T, Sather S, Fanger GR, Johnson GL . 1998 Science 282: 1911–1914
Acknowledgements
We thank Mitch Goldfarb and Lu Hai Wang for advice, and Zhen Qian Pan, Serge Fuchs and members of the Ronai lab for discussions. We thank Alisa Helfgott for technical assistance. Support from NCI grants (CA85197 to D Alarcon-Vargas; CA78419 to Z Ronai; CA13106 to WP Tansey; a Leukemia and Lymphoma Society Scholar) is greatly acknowledged.
About this article
Cite this article
Alarcon-Vargas, D., Tansey, W. & Ronai, Z. Regulation of c-myc stability by selective stress conditions and by MEKK1 requires aa 127–189 of c-myc. Oncogene 21, 4384–4391 (2002). https://doi.org/10.1038/sj.onc.1205543
Received:

Revised:

Accepted:

Published:

Issue Date:

DOI: https://doi.org/10.1038/sj.onc.1205543
Keywords
c-myc

stress kinases

MEKK1

protein stability

cytokines

TNFα