Abstract
The recurrent t(12;22) (q13;q12) chromosomal translocation associated with soft tissue clear cell sarcoma results in a chimeric protein EWS-ATF-1 that acts as a constitutive transcriptional activator. The CBP/p300 transcriptional coactivator, which links various transcriptional factors to basal transcription apparatus, participates in transcriptional activation, growth and cell cycle control and differentiation. In this study, we show that EWS-ATF-1 associates constitutively with CBP both in vitro and in vivo. Both EWS and ATF-1 fusion domains are needed for this interaction. Here, we demonstrate that EWS-ATF-1 represses p53/CBP-mediated trans-activation function. Overexpression of CBP can counteract this repressive effect of EWS-ATF-1. Taken together, these findings suggest that one of the mechanisms by which EWS-ATF-1 may cause tumors is through targeting CBP/p300 resulting in the loss of function of p53. This novel mechanism may be responsible for the development of these and other related solid tumors.
Your institute does not have access to this article
Access options
Subscribe to Journal
Get full journal access for 1 year
$119.00
only $2.38 per issue
All prices are NET prices.
VAT will be added later in the checkout.
Tax calculation will be finalised during checkout.
Buy article
Get time limited or full article access on ReadCube.
$32.00
All prices are NET prices.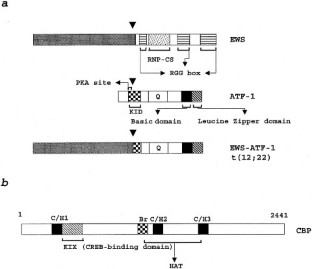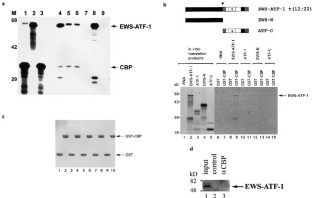 References
Arias J, Alberts AS, Brindle P, Claret FX, Smeal T, Karin M, Feramisco J, Montminy M . 1994 Nature 370: 226–229

Ariumi Y, Kaida A, Lin JY, Hirota M, Masui O, Yamaoka S, Taya Y, Shimotohno K . 2000 Oncogene 19: 1491–1499

Avantaggiati ML, Ogryzko V, Gardner K, Giordano A, Levine AS, Kelly K . 1997 Cell 89: 1175–1184

Bailly RA, Bosselut R, Zucman J, Cormier F, Delattre O, Roussel M, Thomas G, Ghysdael J . 1994 Mol. Cell Biol. 14: 3230–3241

Ben-David Y, Giddens EB, Letwin K, Bernstein A . 1991 Genes Dev. 5: 908–918

Bertolotti A, Lutz Y, Heard DJ, Chambon P, Tora L . 1996 EMBO J. 15: 5022–5031

Borrow J, Stanton Jr VP, Andresen JM, Becher R, Behm FG, Chaganti RS, Civin CI, Disteche C, Dube I, Frischauf AM, Horsman D, Mitelman F, Volinia S, Watmore AE, Housman DE . 1996 Nat. Genet. 14: 33–41

Brown AD, Lopez-Terrada D, Denny C, Lee KA . 1995 Oncogene 10: 1749–1756

Burd CG, Dreyfuss G . 1994 Science 265: 615–621

Chrivia JC, Kwok RP, Lamb N, Hagiwara M, Montminy MR, Goodman RH . 1993 Nature 365: 855–859

Crozat A, Aman P, Mandahl N, Ron D . 1993 Nature 363: 640–644

Delattre O, Zucman J, Plougastel B, Desmaze C, Melot T, Peter M, Kovar H, Joubert I, de Jong P, Rouleau G, Aurias A, Thomas G . 1992 Nature 359: 162–165

Epstein AL, Martin AO, Kempson R . 1984 Cancer Res. 44: 1265–1274

Fujimura Y, Ohno T, Siddique H, Lee L, Rao VN, Reddy ES . 1996 Oncogene 12: 159–167

Gayther SA, Batley SJ, Linger L, Bannister A, Thorpe K, Chin SF, Daigo Y, Russell P, Wilson A, Sowter HM, Delhanty JD, Ponder BA, Kouzarides T, Caldas C . 2000 Nat. Genet. 24: 300–303

Gerald WL, Rosai J, Ladanyi M . 1995 Proc. Natl. Acad. Sci. USA 92: 1028–1032

Giles RH, Peters DJ, Breuning MH . 1998 Trends Genet. 14: 178–183

Gu Y, Nakamura T, Alder H, Prasad R, Canaani O, Cimino G, Croce CM, Canaani E . 1992 Cell 71: 701–708

Gu W, Roeder RG . 1997 Cell 90: 595–606

Gu W, Shi XL, Roeder RG . 1997 Nature 387: 819–823

Ichikawa H, Shimizu K, Hayashi Y, Ohki M . 1994 Cancer Res. 54: 2865–2868

Immanuel D, Zinszner H, Ron D . 1995 Mol. Cell Biol. 15: 4562–4571

Jeon IS, Davis JN, Braun BS, Sublett JE, Roussel MF, Denny CT, Shapiro DN . 1995 Oncogene 10: 1229–1234

Kaneko Y, Yoshida K, Handa M, Toyoda Y, Nishihira H, Tanaka Y, Sasaki Y, Ishida S, Higashino F, Fujinaga K . 1996 Genes Chromosomes Cancer 15: 115–121

Kastan MB, Zhan Q, el-Deiry WS, Carrier F, Jacks T, Walsh WV, Plunkett BS, Vogelstein B, Fornace Jr AJ . 1992 Cell 71: 587–597

Kern SE, Pietenpol JA, Thiagalingam S, Seymour A, Kinzler KW, Vogelstein B . 1992 Science 256: 827–830

Kung AL, Rebel VI, Bronson RT, Ch'ng LE, Sieff CA, Livingston DM, Yao TP . 2000 Genes Dev. 14: 272–277

Labelle Y, Zucman J, Stenman G, Kindblom LG, Knight J, Turc-Carel C, Dockhorn-Dworniczak B, Mandahl N, Desmaze C, Peter M . 1995 Hum. Mol. Genet. 4: 2219–2226

Levine AJ . 1997 Cell 88: 323–331

Lill NL, Grossman SR, Ginsberg D, DeCaprio J, Livingston DM . 1997 Nature 387: 823–827

May WA, Lessnick SL, Braun BS, Klemsz M, Lewis BC, Lunsford LB, Hromas R, Denny CT . 1993 Mol. Cell Biol. 13: 7393–7398

Miller RW, Rubinstein JH . 1995 Am. J. Med. Genet. 56: 112–115

Ohno T, Ouchida M, Lee L, Gatalica Z, Rao VN, Reddy ES . 1994 Oncogene 9: 3087–3097

Ohno T, Rao VN, Reddy ES . 1993 Cancer Res. 53: 5859–5863

Ouchida M, Ohno T, Fujimura Y, Rao VN, Reddy ES . 1995 Oncogene 11: 1049–1054

Panagopoulos I, Aman P, Fioretos T, Hoglund M, Johansson B, Mandahl N, Heim S, Behrendtz M, Mitelman F . 1994 Genes Chromosomes Cancer 11: 256–262

Panagopoulos I, Hoglund M, Mertens F, Mandahl N, Mitelman F, Aman P . 1996 Oncogene 12: 489–494

Peter M, Couturier J, Pacquement H, Michon J, Thomas G, Magdelenat H, Delattre O . 1997 Oncogene 14: 1159–1164

Prasad DD, Rao VN, Reddy ES . 1992 Cancer Res. 52: 5833–5837

Prasad DD, Ouchida M, Lee L, Rao VN, Reddy ES . 1994 Oncogene 9: 3717–3729

Rabbitts TH, Forster A, Larson R, Nathan P . 1993 Nat, Genet. 4: 175–180

Rao VN, Papas TS, Reddy ES . 1987 Science 237: 635–639

Reddy ES, Rao VN, Papas TS . 1987 Proc. Natl. Acad. Sci. USA 84: 6131–6135

Satake N, Ishida Y, Otoh Y, Hinohara S, Kobayashi H, Sakashita A, Maseki N, Kaneko Y . 1997 Genes Chromosomes Cancer 20: 60–63

Shimomura A, Ogawa Y, Kitani T, Fujisawa H, Hagiwara M . 1996 J. Biol. Chem. 271: 17957–17960

Somasundaram K, El-Deiry WS . 1997 Oncogene 14: 1047–1057

Sorensen PH, Lessnick SL, Lopez-Terrada D, Liu XF, Triche TJ, Denny CT . 1994 Nat. Genet. 6: 146–151

Stolow DT, Haynes SR . 1995 Nucleic Acids Res. 23: 835–843

Urano F, Umezawa A, Hong W, Kikuchi H, Hata J . 1996 Biochem. Biophys. Res. Commun. 219: 608–612

Van Orden K, Giebler HA, Lemasson I, Gonzales M, Nyborg JK . 1999 J. Biol. Chem. 274: 26321–26328

Yi H, Fujimura Y, Ouchida M, Prasad DD, Rao VN, Reddy ES . 1997 Oncogene 14: 1259–1268

Zucman J, Delattre O, Desmaze C, Epstein AL, Stenman G, Speleman F, Fletchers CD, Aurias A, Thomas G . 1993 Nat. Genet. 4: 341–345
Acknowledgements
We thank other colleagues of Reddy and Rao's laboratories for their kind cooperation. This work is supported in part by NIH grants RO1 CA 85343, RO1 CA 58642 and US Army medical research and command grant DAMD-17-99-1-9060 to ESP Reddy and CA 57322 to VN Rao.
About this article
Cite this article
Fujimura, Y., Siddique, H., Lee, L. et al. EWS-ATF-1 chimeric protein in soft tissue clear cell sarcoma associates with CREB-binding protein and interferes with p53-mediated trans-activation function. Oncogene 20, 6653–6659 (2001). https://doi.org/10.1038/sj.onc.1204684
Received:

Revised:

Accepted:

Published:

Issue Date:

DOI: https://doi.org/10.1038/sj.onc.1204684
Keywords
EWS-ATF-1

CBP

p53

Ewing's sarcoma

clear cell sarcoma
Further reading
Rajiv M Patel
Erinn Downs-Kelly
Marek Skacel

Modern Pathology (2005)

Ramugounder Ramakrishnan
Yasuo Fujimura
E Shyam P Reddy

Oncogene (2004)