Abstract
The influence of acidosis on the expression of the vascular endothelial growth factor (VEGF) gene was determined. FG human pancreatic adenocarcinoma cells were incubated for various time periods in media at a physiologically relevant pH level (6.7–7.4). The expression of VEGF mRNA and protein secretion was inversely correlated with pH in a pH- and time-dependent manner. Transient acidosis also activated the VEGF promoter/enhancer luciferase reporter, which was consistent with an increased VEGF gene transcription rate and VEGF mRNA half-life. These data indicated that acidosis transcriptionally and posttranscriptionally regulates VEGF expression, suggesting that an acidic tumor microenvironment contributes to tumor angiogenesis and progression.
This is a preview of subscription content
Access options
Subscribe to Journal
Get full journal access for 1 year
$119.00
only $2.38 per issue
All prices are NET prices.
VAT will be added later in the checkout.
Tax calculation will be finalised during checkout.
Buy article
Get time limited or full article access on ReadCube.
$32.00
All prices are NET prices.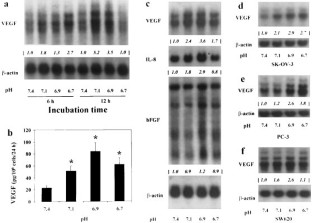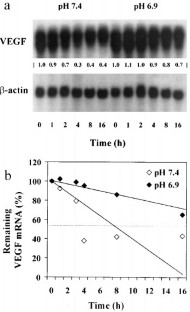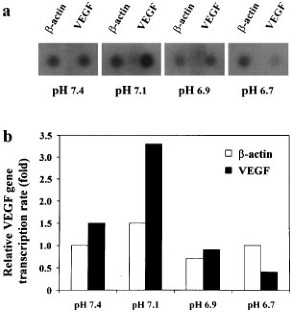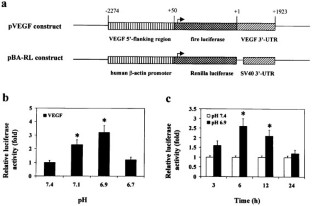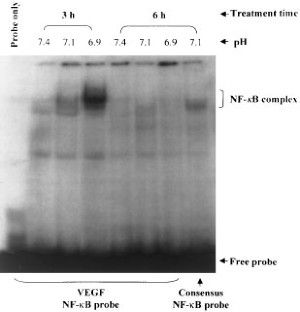 References
Akiri G, Nahari D, Finkelstein Y, Le S, Elroy-Stein O, Levi B . 1998 Oncogene 12: 227–236

Bellocq A, Suberville S, Philippe C, Bertrand F, Perez J, Fouqueray B, Cherqui G, Baud L . 1998 J. Biol. Chem. 273: 5086–5092

Blancher C, Harris AL . 1998 Cancer Metastasis Rev. 17: 187–194

Boucher Y, Baxter LT, Jain RK . 1990 Cancer Res. 50: 4478–4484

Brooks SE, Gu X, Kaufmann PM, Marcus DM, Caldwell RB . 1998 Curr. Eye Res. 17: 875–882

Claffey KP, Shih SC, Mullen A, Dziennis S, Cusick JL, Abrams KR, Lee SW, Detmar M . 1998 Mol. Biol. Cell 9: 469–481

Damert A, Machein M, Breier G, Fujita MQ, Hanahan D, Risau W, Plate KH . 1997 Cancer Res. 57: 3860–3864

D'Arcangelo D, Facchiano F, Barlucchi LM, Melillo G, Illi B, Testolin L, Gaetano C, Capogrossi MC . 2000 Circ. Res. 86: 312–318

Ema M, Taya S, Yokotani N, Sogawa K, Matsuda Y, Fujii-Kuriyama Y . 1997 Proc. Natl. Acad. Sci. USA 94: 4273–4278

Finkenzeller G, Technau A, Marme D . 1995 Biochem. Biophys. Res. Commun. 208: 432–439

Flamme I, Frohlich T, Vonreutern M, Kappel A, Damert A, Risau W . 1997 Mech. Dev. 63: 51–60

Folkman J . 1996 Nat. Med. 2: 167–168

Forsythe JA, Jiang BH, Iyer NV, Agani F, Leung SW, Koos RD, Semenza GL . 1996 Mol. Cell Biol. 16: 4604–4613

Griffiths L, Dachs GU, Bicknell R, Harris AL, Stratford IJ . 1997 Cancer Res. 57: 570–572

Huang S, Jean D, Luca M, Tainsky MA, Bar-Eli M . 1998 EMBO J. 17: 4358–4369

Huang S, Robinson JB, DeGuzman A, Bucana CD, Fidler IJ . 2000 Cancer Res. 60: 5334–5339

Intaglietta M . 1977 Med. Instrum. 11: 149–152

Itakura J, Ishiwata T, Friess H, Fujii H, Matsumoto Y, Buchler MW, Korc M . 1997 Clin. Cancer Res. 3: 1309–1316

Jang A, Hill RP . 1997 Clin. Exp. Metastasis 15: 469–483

Kallinowski F, Vaupel P . 1988 Br. J. Cancer 58: 314–321

Ladoux A, Frelin C . 1994 Biochem. Biophys. Res. Commun. 204: 794–798

Leung DW, Cachianes G, Kuang WJ, Goeddel DV, Ferrara N . 1989 Science 246: 1306–1309

Levy AP, Levy NS, Goldberg MA . 1996 J. Biol. Chem. 271: 25492–25497

Liu YX, Cox SR, Morita T, Kourembanas S . 1995 Circ. Res. 77: 638–643

Rotin D, Steele-Norwood D, Grinstein S, Tannock I . 1989 Cancer Res. 49: 205–211

Scott PA, Gleadie JM, Bicknell R, Harris AL . 1998 Int. J. Cancer 75: 706–712

Senger DR, Galli SJ, Dvorak AM, Perruzzi CA, Harvey VS, Dvorak HF . 1983 Science 219: 983–985

Shi Q, Abbruzzese JL, Huang S, Fidler IJ, Xiong Q, Xie K . 1999 Clin. Cancer Res. 5: 7234–7243

Shi Q, Le X, Wang B, Xiong Q, Abbruzzese JL, Xie K . 2000 J. Interferon Cytokine Res. 20: 1544–1548

Shubik P . 1982 J. Cancer Res. Clin. Oncol. 103: 211–226

Shweiki D, Itin A, Soffer D, Keshet E . 1992 Nature (London) 359: 843–845

Stein I, Neeman M, Shweiki D, Itin A, Keshet E . 1995 Mol. Cell. Biol. 15: 5363–5368

Tannock IF . 1996 J. Clin. Oncol. 14: 3156–3174

Tischer E, Mitchell R, Hartman T, Silva M, Gospodarowicz D, Fiddes JC, Abraham JA . 1991 J. Biol. Chem. 266: 11947–11954

Vezeridis MP, Doremus CM, Tibbetts LM, Tzanakakis G, Jackson BT . 1989 J. Surg. Oncol. 40: 261–265

Vaupel P, Kallinowski F, Okunieff P . 1989 Cancer Res. 49: 6449–6465

Wike-Hooley JL, Haveman J, Reinhold HS . 1984 Radiother. Oncol. 2: 343–366

Watanabe Y, Miura I, Ohgami Y, Fujiwara M . 1998 Life Sci. 63: 1037–1046

Xie K . 2001 Cytokine and Growth Factor Rev. in press
Acknowledgements
We thank Don Norwood for editorial comments and Judy King for assistance in the preparation of this manuscript. This work was supported in part by the Multidisciplinary Pancreatic Program Research Grant, by Research Project Grant #RPG-00-054-01-CMS from the American Cancer Society, and by Cancer Center Support Core Grant CA16672-23 from the National Cancer Institute (to K Xie).
About this article
Cite this article
Shi, Q., Le, X., Wang, B. et al. Regulation of vascular endothelial growth factor expression by acidosis in human cancer cells. Oncogene 20, 3751–3756 (2001). https://doi.org/10.1038/sj.onc.1204500
Received:

Revised:

Accepted:

Published:

Issue Date:

DOI: https://doi.org/10.1038/sj.onc.1204500
Keywords
angiogenesis

VEGF

regulation

acidosis

pancreatic cancer